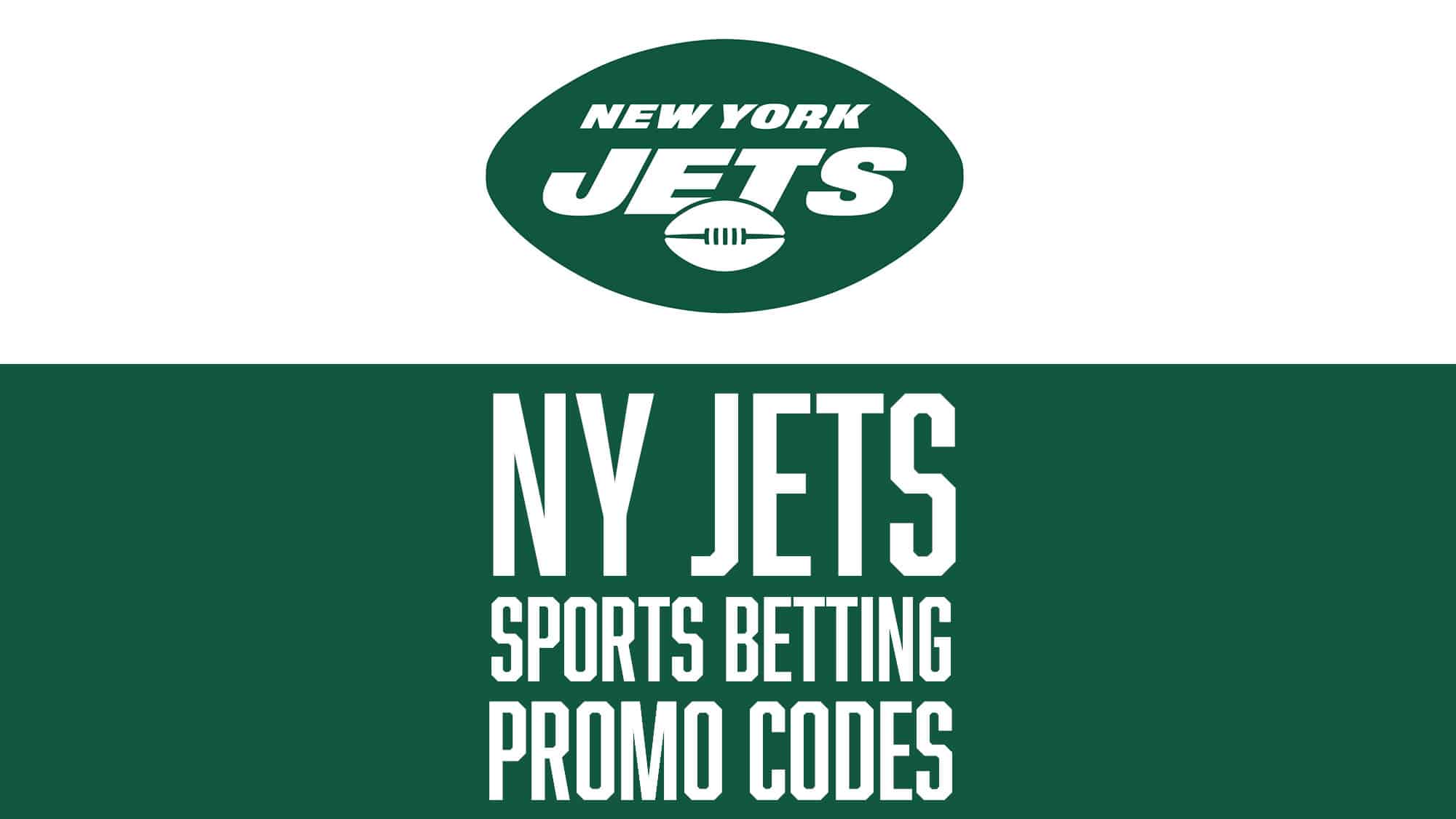 Stop pinching yourself, New York Jets fans. Please, we beg of you. Your team has, indeed, turned things around to a point where the rest of the NFL has taken notice.
Therefore, excited Jets fans can take things even further by diving into the wonderful world of legalized NY online sports betting. Here, you can find the best of New York Jets sports betting promo codes and bonuses:
NY Jets Promo Codes Quick Facts
Legalized online sports betting launched in New York on Jan. 8, 2022, at 9 a.m. ET.
Retail sports betting is available in New York.
New York users can bet on both NFL games and college football games through a number of regular sportsbook app providers such as DraftKings, Barstool Sportsbook, FanDuel and more. The one exception is that of college programs that are located within New York state limits, as those teams cannot be wagered on.
Before signing up, make sure you take advantage of a sportsbook's sign-up bonus or promo code to maximize the value of your signup. You can view the best ones available below.
How to bet on the NY Jets in New York
Once New York sports betting was legally launched in New York, the floodgates opened. Finally, the white whale of the online sports betting world officially joined the legalized-online-sorts-gambling party.
Just a few short weeks is all it took to realize how massive the New York market would be in terms of sports betting state revenue. Records were shattered and enthusiasm reached an all-time high.
NY online sports betting made it possible for those character-driven New York Jets fans to bet on their team. So, while Robert Saleh's young squad is busy shocking the world during 2022 NFL play, the gritty New York sports fan can capitalize in a way that pads bank accounts—in addition to simply experiencing the sheer joy that is watching young studs such as Zach Wilson, Sauce Gardner and Breece Hall do their usually dominant thing.
Never has it been better to be a Jets fan (well, at least in over a decade), and never has it been a better time for the New York sports wagerer, for he or she can combine the best of both worlds.
Can you bet on the NY Jets with multiple apps?
Yes, of course you can.
It's commonplace for legal U.S. sports bettors to sign up for more than one sports-betting app en route to utilizing three or even four at once.
The reasons, while apparent, are undoubtedly worthwhile to dig into just a bit. For one, each sportsbook offers its own unique new-user promotion, in addition to constantly-running promos and bonuses that the NY online sports bettor can take utilize.
Moreover, each sportsbook unveils unique odds that are specific to that operator. So, while your Jets may find themselves as 1.5-point underdogs to the Buffalo Bills in a given week, a different sportsbook may have them at just a point off of a pick 'em game.
Additionally, the types of bets and sports available to bet widely vary between sports betting apps. Each features its own unique set of options in this regard as well as the mobile app features and technology.
Can you bet on the NY Jets in other states?
You can bet on the New York Jets in any state that has officially launched legalized online sports betting. This quick-and-easy yet fulfilled activity is not limited to just betting within New York state limits.
How to use promo codes to bet on the NY Jets
The simplest way to get going is to use one of the tremendous new-user promo codes available in NY online sports betting.
For instance, PointsBet NY Sportsbook is offering a massive $2,000 new-user promo that features second-chance bets. So, in short, the new PointsBet NY bettor is suddenly placed in a position in which there is no risk.
Elsewhere, DraftKings NY Sportsbook is offering a $1,050 sign-up bonus ($1,000 deposit bonus max and a $50 risk-free bet), while Caesars NY Sportsbook users can snag up to $1,250 in free bets.
Ensuring that you shop around for the new-user promo code that suits you best, while also keeping variety and versatility at the forefront, is an excellent strategy when hopping into the NY sports betting market via betting on the New York Jets.
New York Jets Odds
Well, the oddsmakers have to rethink the strategy surrounding the 2022 New York Jets.
Now that Robert Saleh's squad has gotten off to a tremendous start, figuring out where the Baby Jets fit into the weekly mix is a critical matter for New York sports bettors.
Understanding how to bet on the NY Jets and the NFL
The quickest way to use promo codes when betting on New York games is to sign-up for a sportsbook using one of the promo links above, which ESNY proudly offers.
Furthermore, maximizing the risk-free bet or deposit bonus that usually comes with signing up for a sportsbook is of the utmost importance. For example, if you're presented with a $1,000 risk-free bet at signup, you can bet on a Jets game with little anxiety or worry.
The sportsbook will refund your account with the money you bet on the game (up to $1,000)—if you happen to lose (which, we of course know is very unlikely to happen to such a knowledgeable sports fan).
Moneyline
The moneyline is used when betting on who will win the game outright. The general consensus assumes one team is better than the other, so the odds will bakery's vary based on which team is perceived to be the favorite.
For example, if the Jets have -190 odds to win a game against the Miami Dolphins, it means they are the underdog. In this scenario, you would win $190 if you bet $100 on the Jets.
If the Jets are +190 to win, the favored Dolphins might be something like -150 to win the game. This means you'd have to bet $150 to win $100 on the Dolphins in this scenario.
Point Spread
Most bettors are familiar with point spreads. These are the game lines that are often heard in plus or minus terms, such as the Jets are -7 underdogs against the Dolphins.
Miami would then be +7 for n the game, and must win by 7.5 or more points to beat the spread. The Jets would have to win outright or lose by 6.5 or fewer points to cover the spread.
Total Points-Over/Under
You can also bet on total points scored in a game, and this is bet using an over/under selection. For example, the total points over/under might be set by a sportsbook at 47.5.
You can bet that the total points will be over or under that total. It does not matter how that point total is reached and which teams contribute how much to that total. All that matters is the combined total.
New York Jets Schedule
The New York Jets 2022 NFL schedule looked much more imposing prior to the season. While it's still a tougher schedule, in reality, the idea that the Jets have already put excellent results on the field is an encouraging sign.
Splitting the first four games—all of which consisted of AFC North teams—and then knocking off the Miami Dolphins at home and the Green Bay Packers on the road, have Joe Douglas's team in a great spot.
WEEK
DATE/TIME
OPPONENT
VENUE/LOCATION
TV
1
Sun, Sept. 11
1:00 p.m. ET
🗽vs Baltimore Ravens
MetLife Stadium
East Rutherford, NJ
CBS
2
Sun, Sept. 18
1:00 p.m. ET
✈️@ Cleveland Browns
FirstEnergy Stadium
Cleveland, OH
CBS
3
Sun, Sept. 25
1:00 p.m. ET
🗽vs Cincinnati Bengals
MetLife Stadium
East Rutherford, NJ
CBS
4
Sun, Oct. 2
1:00 p.m. ET
✈️@ Pittsburgh Steelers
Acrisure Stadium
Pittsburgh, PA
CBS
5
Sun, Oct. 9
1:00 p.m. ET
🗽vs Miami Dolphins
MetLife Stadium
East Rutherford, NJ
CBS
6
Sun, Oct. 16
1:00 p.m. ET
✈️@ Green Bay Packers
Lambeau Field
Green Bay, WI
FOX
7
Sun, Oct. 23
1:00 p.m. ET
✈️@ Denver Broncos
Empower Field at Mile High
Denver, CO
CBS
8
Sun, Oct. 30
1:00 p.m. ET
🗽vs New England Patriots
MetLife Stadium
East Rutherford, NJ
CBS
9
Sun, Nov. 6
1:00 p.m. ET
🗽vs Buffalo Bills
MetLife Stadium
East Rutherford, NJ
CBS
10
bye
11
Sun, Nov. 20
1:00 p.m. ET
✈️@ New England Patriots
Gillette Stadium
Foxborough, MA
CBS
12
Sun, Sept. 11
1:00 p.m. ET
🗽vs Chicago Bears
MetLife Stadium
East Rutherford, NJ
FOX
13
Sun, Dec. 4
1:00 p.m. ET
✈️@ Minnesota Vikings
U.S. Bank Stadium
CBS
14
Sun, Dec. 11
1:00 p.m. ET
✈️@ Buffalo Bills
Highmark Stadium
Orchard Park, NY
CBS
15
Sun, Dec. 18
1:00 p.m. ET
🗽vs Detroit Lions
MetLife Stadium
East Rutherford, NJ
FOX
16
Thu, Dec. 22
8:15 p.m. ET
🗽vs Jacksonville Jaguars
MetLife Stadium
East Rutherford, NJ
Amazon
17
Sun, Jan. 1
4:05 p.m. ET
✈️@ Seattle Seahawks
Lumen Field
Seattle, WA
FOX
18
TBD
✈️@ Miami Dolphins
Hard Rock Stadium
Miami Gardens, FL
TBD
New York Jets Standings
Where the New York Jets fit into the AFC East is usually an easy topic to breeze through. Most would label it as the "basement."
However, in 2022, the Baby Jets, as some have dubbed them, are flying high to start the season, and hardened online sports bettors have taken notice.
| PLACE | TEAM | WINS | LOSSES | TIES | PCT. |
| --- | --- | --- | --- | --- | --- |
| 1 | Buffalo Bills | 5 | 1 | 0 | 0.833 |
| 2 | New York Jets | 4 | 2 | 0 | 0.667 |
| 3 | Miami Dolphins | 3 | 3 | 0 | 0.5 |
| 4 | New England Patriots | 3 | 3 | 0 | 0.5 |
New York Jets Stadium
The New York Jets play their home games at MetLife Stadium in East Rutherford, NJ. So, while the organization has "New York" associated with the football team, it's technical headquarters is located in Florham Park, NJ.
The Jets share a home stadium with the New York Giants, as has been the case since Leon Hess moved the Jets from Queens, NY to Giants Stadium in the swamps of Northern New Jersey back in the early 1980s.