Elite Sports NY is a Digital Sports Media Publication delivering News, Views, Interviews, Real-Time Coverage, and Unique Commentary on everything New York Sports and National/Trending Topics.
ESNY is, by far, the most read independent New York City regional digital sports destination in the world (nearly half a million monthly visitors).
The Elite Sports Regional Network is where the "Diehards Come to Play."
When it comes to sports, diehard knowledge will always be respected, especially in New York City. With too many outlets thinking entertainment and about the casual fan only, the diehards have few places to legitimately turn to. They have nowhere to go in terms of platforms actually talking about the game itself or "breaking plays down" at the level of respect it deserves.
The big guys simply cannot do it from a national level. What's worse is those satellite team blogs under the big guys' name employ writers who wouldn't know a Cover 1 Robber or the difference between Control and Command if it smacked them in the face. Elite Sports doesn't come at you with fancy dressed-up blog names like "Yanks in the Yard," either. We simply deliver you the diehard information and analysis you crave.
City-by-city, sport-by-sport, ESRN will take over the sports landscape with a regional diehard mindset, starting with New York City and Elite Sports NY.
Further Regionalizing Sports
–Our Mission is to further "Regionalize" Sports using only Area Expertise. Unlike other Publishers who work off a National Platform, Elite Sports NY will never employ an Average Joe with no clue to be equipped with an important NYC Sports voice. Elite Sports NY Writers live and breathe the Big Apple in more ways than one.
–Each Region across the Nation provides unique viewpoints about specific topics, including National/Trending coverage. This is the very essence of "Elite Sports," to allow a specific Region to cover Regional and National/Trending news in their own unique style.
–For instance, New York City didn't cover Michael Jordan torturing the Knicks the same way Chicago did. It is this mindset of combining an interesting opinionated narrative with the news that is compelling on a Region by Region basis.
–The Industry Standard brings websites to the table that cover with a National mindset. Its regional/team websites oftentimes employ writers who leave the diehard fan scratching his/her head. We believe sports are a Regional endeavor that should only be covered by the diehards themselves. What's important to New York City sports fans isn't necessarily important to people in the South East.
–As Writers, we Take Pride in the Delivery of our Content to the Diehard Fan: a Brutally Honest, Interestingly Unique-Take on the World of Sports and Trending Topics from the Professional Fan Angle.
Recognition, Credentials, Interviews
Elite Sports NY content has been featured/included on some of the most prestigious sports platforms in the world: Bleacher Report, ESPN's SportsCenter, Sports Illustrated, Fox Sports, CBS Sports, New York Daily News, New York Post, Newsday, Yahoo Sports, SB Nation and more.
Full-access team credentials include some of the top New York sports teams in the area: New York Giants, New York Knicks, New York Islanders, New York City FC, New York Red Bulls, Scranton/Wilkes-Barre Railriders, St. John's Red Storm Men's Basketball, New York Lizards, New York Cosmos, Long Island Ducks and more.
Credentials to specific events have included the Sports Illustrated's Sportsperson of the Year, 2018 Winter Classic, Big East and Big Ten Tournament at Madison Square Garden, ACC Tournament at Barclays Center, NFL Experience in Times Square and more.
ESNY Interviews and Video Spots include some of the biggest names in the industry: J.J. Watt, Robinson Cano, Denis Potvin, Kate Bock, Chad Pennington, Jim Breuer, Billie Jean King, Patrik Elias, Anders Lee, Mike Singletary, Jose Altuve, Carlos Beltran, Jenny McCarthy, Brian Urlacher, Triple H, Stephanie McMahon, Jeremy Roenick, D'Angelo Russell, Greg Oden, Justin Pugh, Julian Edelman, Joel Embiid, Brandon Marshall, Camille Kostek, Marshall Faulk, Larry Johnson, Tanya Mityushina, Quincy Enunwa, Kelvin Beachum, Cris Carter, Dwayne Harris, Shane Vereen, Buster Skrine, Bubba Wallace, Matt Forte, Brandon Steiner, Bryce Salvador, Giovanni Savarese, Carlos Mendes, Kyle Busch, Ryan O'Reilly, Devon Toews, Shep Messing, Stephen Gionta, Josh Ho-Sang, Keiffer Bellows, Brian Bellows, Chris Weidman, Mike DelGuidace, Paul Rabil, Pat LaFontaine and more.
Inception
–John Madden is the man to thank for ESNY's inception. After joining an online Madden NFL league, Robby Sabo, sales/marketing during the day, was encouraged to start writing sports (as his commish skills were noticed). After writing featured columns for Fansided.com, he quickly realized regional sports were always the key to unlocking critical, diehard sports knowledge.
–Unlike the big boys who trickle down to team sites from a national mindset, Elite Sports NY (founded in March of 2015) understands true sports talent. We can properly identify and evaluate not just talented writing, but superb sports minds. This, the collection of outstanding sports people, will always remain the heart of ESNY.
Elite Sports NY's Readership has rapidly increased since its publishing inception in March of 2015.
Elite Sports NY, LLC., Elite Sports Radio, ESNY Video, ESNY Film Room, ESNY City Stream, Elite Sports Regional Network, and all relative properties are 100 percent owned and operated by Robby Sabo.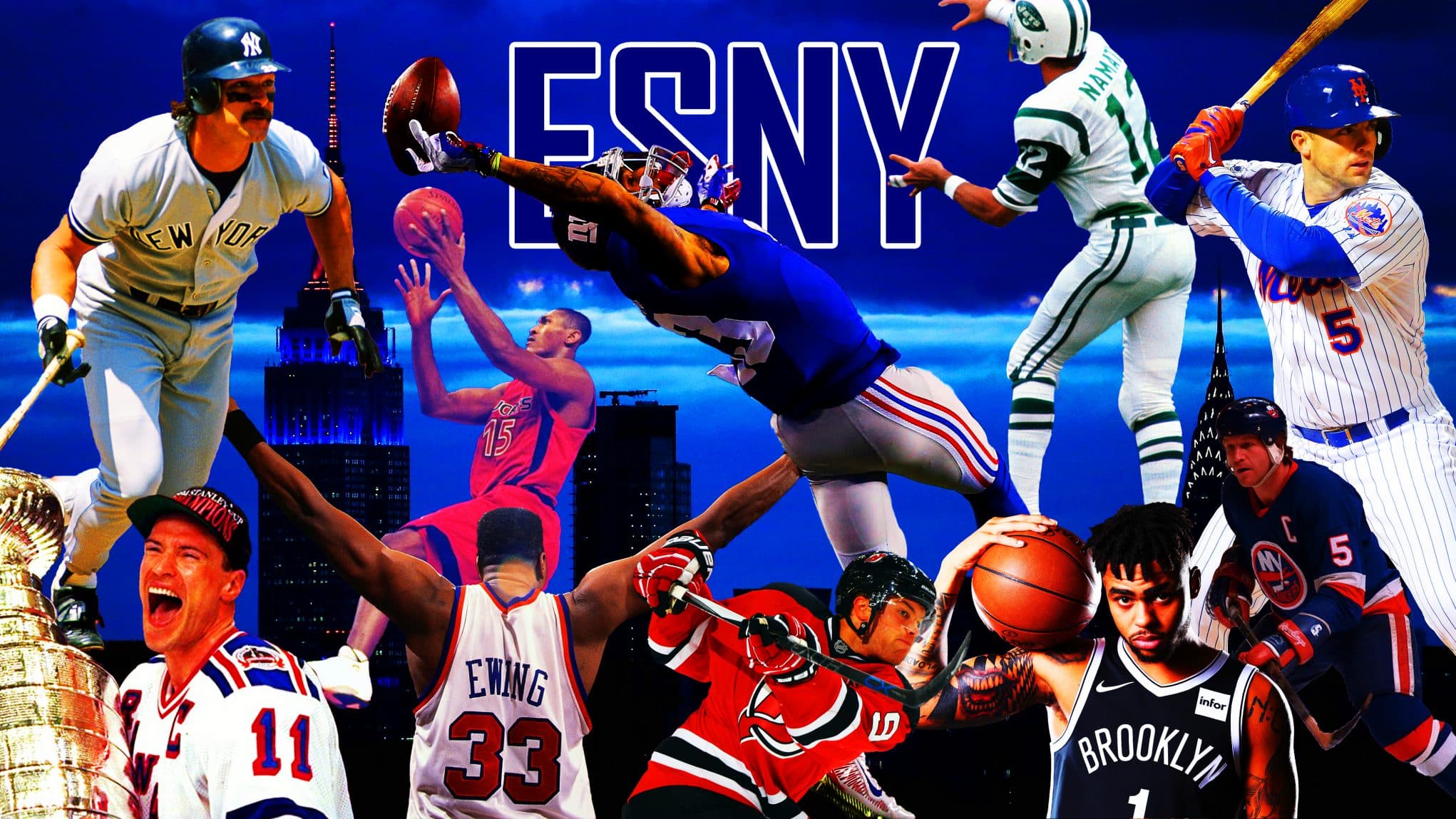 Elite Roster
Robby covers most topics. Founder of Elite Sports NY in March 2015 after realizing most national publications fail in the area of properly evaluating true diehard sports talent.
Formerly a Featured Columnist for FanSided, Editor for other publications.
Former strong safety, point guard and 400-meter hustler. North Jersey.
Has interviewed the likes of Rob Dyrdek, Michael Waltrip and Dominique Wilkins and has seen his work shared on major publications such as Bleacher Report, Sports Illustrated, Fox Sports, Yahoo Sports, and Yardbarker. Born as a New York Sports Fan, something unexplainable in his blood that'll never be shaken. Remembers the Kevin Maas days, the Yankees on MSG, the Bruce Coslet era, and the Spring of '94.
2. Danny Small – Editor in Chief, Knicks Boss

Danny Small is one of ESNY's more versatile individuals and leads as ESNY's Editor in Chief.
Danny is a fan of all things Yankees, Jets, Knicks, and Islanders. He spends most of his time watching sports and scrolling through twitter. Reach out on twitter @DWSmall8 or feel free to email DWSmall8@gmail.com. Eventually, the Jets will win a Super Bowl.
3. Allison Case – Managing Editor, Yankees Boss

If there's a Yankee somewhere, Allison will be there.
Allison is just a girl with an enormous passion for the game of baseball and the written word. Based in Upstate New York, her life-long relationship with the New York Yankees is something that she developed through close relationships with her mother and grandfather. An aspiring sports writer, she graduated with a journalism degree and is finding places to share her excitement about the sporting world and how it affects us all.
Renna is the Rangers.
Dominick is a junior studying communication and journalism at Canisius college. He has covered the Rangers for over five years on the twitter handle @NYRZone as well as covering the Yankees for an independent website.
From the Mets to the Knicks, Birny's words speak for itself.
Former disciple of Stan Fischler. IBWAA member. Bylines at Baseball Prospectus Mets, Elite Sports New York, and my own creation: Baseknock MLB. Formerly Amazin' Avenue of SB Nation. Proud UAlbany Alum.
You've heard Peter Schwartz on the radio, but he's everywhere, including Elite Sports NY.
Peter has been working in the New York sports media since 1989. He is currently an update anchor for CBS Sports Radio and WFAN. Peter is also the public address announcer for the NY Cosmos of the NASL and is a play by play announcer for high school sports on News 12 Varsity. An avid Islanders, Jets, and Yankees fan, Peter resides on Long Island with his wife Sheryl and their sons Bradley and Jared who side with their mother in rooting for the Mets!

Magliocchetti is one of ESNY's talented on-field Giants beat writers.
Marist grad, Ex-Long Snapper, Current Sportswriter/Analyst for @GiantInsider, @NYRFanClub and @EliteSportsNY. Learning to fly but I ain't got wings!
Bryan Pol – Senior Writer, Longform
Bryan is a master of the English language and one of the more skilled long-form writers in the industry.
I am an English teacher, music and film aficionado, husband, father of two delightful boys, writer, sports fanatic, former Long Islander, and follower of Christ. Based on my Long Island upbringing, I was groomed as a Yankees, Giants, Rangers, and Knicks fan, and picked up Duke basketball, Notre Dame Football, and Tottenham Hotspurs Football fandom along the way.
Russell is ESNY's resident expert National Football League and Super Bowl expert/historian.
@NFLSpinZone @FanSided @OPSN_NFL @SportsPostHome @pfspot @BlastingNews @EliteSportsNY http://ProFootballGuru.com @GMFB Nerd Bowl Historian/Research/TV/Radio

If you're not On the Scene with Mike Vivalo, you're just small potatoes.
Walking content machine. Host of "On The Scene with Mike Vivalo" for @EliteSportsNY. Check out my adventures
Paul bleeds green unlike any human in this great country of ours.
People call me Boy Green for my unwavering dedication to all things New York Jets. I work at ESPN Radio in Syracuse and I'm extremely passionate about sports. I aspire to continue my rise through the business and hopefully, I'll end up working for the New York Jets in some capacity.
McKenna is ESNY's Devils boss as well as an NHL columnist.
Kyle McKenna is a freelancer who covers the NHL for Elite Sports New York, Hooked On Hockey Magazine & The Sportster. Follow him on Twitter @KMcKenna_tLT5 and use the hashtag #McKennasDigest to have your NHL questions featured in an article or answered over his weekly NHL podcast.

Musico is the big Mets boss in ESNY land.
Matt is a college counselor during the day and baseball writer at night. His work has been featured at places like Bleacher Report, FanSided, numberFire, The Sports Daily and MLB Trade Rumors. He's a lover of all baseball, but the Mets have his heart — for better or worse.
Curto bleeds Broadway blue unlike any other human.
Facebook/RangerProud, #ESNY Staff Writer – https://www.Elitesportsny.com
You can find Di Giacomo speaking on the Isles, wherever and whenever.
Diehard Islanders and Mets fan growing up in North Jersey. You can hear me in 204 at the Barclays Center. These are just my opinions, feel free to debate them. I upload rants/reviews/postgames on my YouTube channel, please subscribe! Go Isles, Mets, Jets, and NYCFC.

Jason Leach, AKA "Big Jay," is ESNY"s Giants beat writer.
Jason's first love was football while growing up in northern New Jersey. For the past three years, he has covered the New York Giants, as well as several boxing events along the East Coast.

Hailing from St. John's University is Ricky Keeler, ESNY's Johnnies Boss.
I graduated from St. John's University with a degree in sports management. I previously wrote about the Johnnies at Rumble In the Garden.


Billy the kid comes at you from a multiple-sport perspective.
I'm a student at Binghamton University. I'm a huge fan of the Mets, Rangers, Giants, and Jets, and will be covering them for the site, as well as fantasy hockey, football, and baseball.

If there's basketball being played anywhere on God's Green Earth, Chip Murphy will be there to cover it.
I cover the New York Knicks and Brooklyn Nets. Email: chip.murphy@elitesportsny.com. Chip Murphy covers the NBA for Elite Sports NY. You can find him on Twitter @ChipperMurphy.
Gary Harding – Staff Writer, Podcast Host
Harding is an Isles writer and NHL Podcast Host for ESNY.
Was an Islanders Blogger for many years. Started Eyes On Isles (can not accept responsibility for it now…), and started Isles Talk, before passing it on. For the last 5 years, I have been a host on Sports Talk 1240 on WGBB 1240 AM on Long Island. While my primary focus is of the NY Islanders, I love talking Hockey in general (including the Sheffield Steelers in England), as well as dabble in a little baseball (Mets and Long Island Ducks), and support the Fighting Irish of Notre Dame, and Everton in the EPL.

Campbell is an ESNY Knicks columnist.
School Psychologist by day, staff writer for @ElitesportsNY, former writer for @FanSided | @DailyKnicksFS geoffrey.campbell21@gmail.com
Your boy Ty Butler is one of ESNY's radio kings.
Content provider, producer and on-air talent at ESPN Radio in Syracuse (@ESPNSyracuse). Disc Jockey for @TKClassicRock. Play by play announcer. Live and breathe sports – for better or for worse. Aspirations are that of becoming the greatest.
Matt Castillo – Staff Writer, Radio/Video

Castillo is a Knicks writer and host of the Knicks State of Mind Podcast.
Originally from Long Island, Matt grew up as a die heart Yankees, Jets, Knicks, and Rangers fan. Matt moved to South Carolina when he was 13, but this did not stop him from watching his favorite teams. He graduated with a Bachelor degree in Mass Communications from the University of South Carolina Upstate. Other than a contributor for Elite Sports NY, Matt was a former writer for Skyscrapersports and currently is a writer and co-host for The Assist Podcast. He is also a sports reporter for Greer Today.
Spencer Hazen – Staff Writer, Graphic Design

Orellana is ESNY's go-to Isles writers and overall graphic design studs.
As a die-hard New York Islanders fan, I joined ESNY to help keep other Isles fans updated on what's going on with their favorite team. Follow me on Twitter (@Shazen21) for updates on the team and when I post new content and check out my YouTube (Islanders Highlights) for player highlight videos, pump up videos, and more!
Orellana is ESNY's graphic design king.
Graphic design for ESNY.