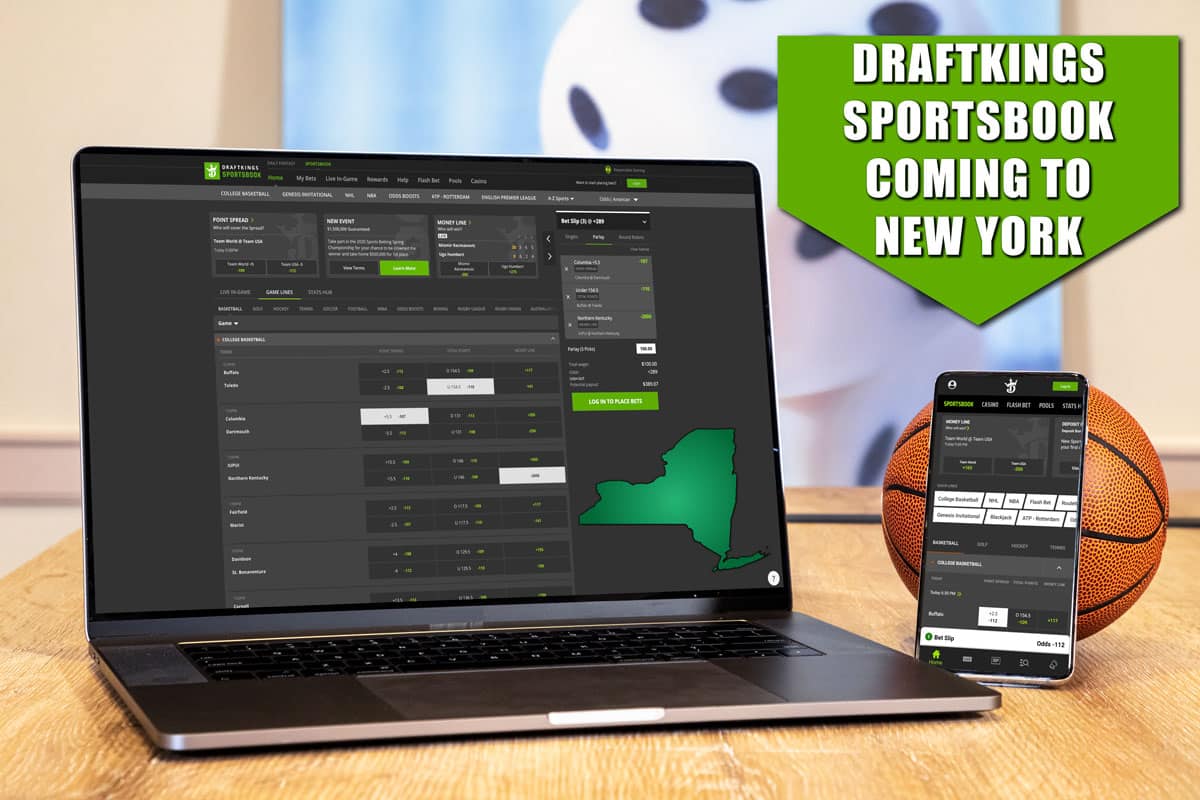 DraftKings Sportsbook NY figures to be a major player in the state when legal NY online sports betting finally gets the green light from state politicians.
When will that green light happen, clearing the way for DraftKings' sports betting app in New York? That answer remains unclear.
When Will DraftKings Sportsbook NY Be Available?
It is expected that DraftKings Sportsbook will be among the first legal online sportsbook to go live in New York when the switch is flipped on online sports betting.
In fact, DraftKings Sportsbook already has roots in New York as it operates a retail location at the del Lago Resort & Casino in Waterloo, positioning itself well for an eventual online launch.
As for when online sports betting will be legalized, well, that's not quite as clear.
While neighboring states such as Pennsylvania and New Jersey reap the benefits of substantial new tax revenue generated by the significant interest in online and mobile sports wagering, some key New York politicians, including Governor Andrew Cuomo, have been slow to embrace what seems to be an inevitable outcome.
Following the 2018 U.S. Supreme Court's decision to repeal the ban on sports wagering, Senator Joseph Addabbo Jr. took the lead on bringing it online and to mobile platforms.
After failing to generate enough urgency from the State Assembly to help push online sports betting into New York's final budget a year ago, Addabbo has gained the public support of Assemblyman Gary Pretlow. For those in New York hoping to see legal online sports betting sooner rather than later, there is hope that the joint effort by the two chambers will apply enough pressure on Cuomo (and others who remain opposed) to include it in the final draft of the state budget due on April 1.
As for the question of when will people be able to utilize DraftKings Sportsbook NY within New York's state limits, there are a few different possibilities.
If the push from Addabbo and Pretlow gains enough traction, it's possible that online sports betting could go live late in 2020. That projection, however, might be a bit optimistic. Even if Cuomo is ultimately persuaded on the issue, an early 2021 launch may be more reasonable as rules and regulations are drawn and agreed upon by policymakers.
Of course, if this latest and strongest push to date is stonewalled, it could be two or more years before platforms such as DraftKings Sportsbook go live–an almost absurd outcome given the public's overwhelming appetite for legal online sports betting.
DraftKings Sportsbook NY Promo Code and Bonuses
DraftKings Sportsbook has been immensely successful in states such as Pennsylvania, New Jersey, and Indiana for far more reasons than its $1,000 new deposit bonus. Bettors in these states take advantage of daily odds boosts, customer loyalty rewards, and other creative promotional offers.
Here is what New Yorkers can expect whenever the best DraftKings Sportsbook Deposit Bonus does go live in the Empire State.
DraftKings offers new players a $50 risk-free first bet, while both new and current players can grab a $1,000 deposit bonus. The risk-free bet, which must be used within 30 days of registration, is fairly straightforward in that a losing wager will be refunded up to $500.
However, the deposit match has some less appetizing fine print.
In short, the bonus amount issued by DraftKings to users is only 20% of the total deposit, so a user would have to deposit $2,500 in order to obtain the maximum $500 bonus. Moreover, bonus money requires a 25x playthrough requirement as DraftKings releases $1 for every $25 risked. This means a bettor would have to wager $12,500 in order to take advantage of the full bonus cash.
Other DraftKings Sportsbook Promos
In our estimation, one of DraftKings Sportsbook's greatest strengths is its user-friendly betting promos that are simple to find in the app. Typically, players can locate special offers in the top scroll of the home menu. From there, It's easy to view terms and opt-in.
The "quick links" feature located underneath the main scroll makes it convenient to navigate the betting slate by league, while the day's top action is easy to vertically toggle on the home page without much effort required.
During last football season, DraftKings Sportsbook users in Pennsylvania were able to grab the Eagles at +300 moneyline odds–even if the Eagles were strongly favored–providing crazy betting value on a handful of contests.
We expect something similar in NY.
More recently, college hoops bettors in both Pennsylvania and Indiana were able to cash a $50 max bet on the total of the Jan. 29 Penn State-Indiana game. That was notable because the total was set at a ridiculously low 51 points. Needless to say, the over cashed easily.
Another notable promo ran prior to Super Bowl 54 when football bettors scored a 500 to 1 payout by correctly picking the game's winner.
While the aforementioned promos represent some of DraftKings Sportsbook's more extreme offers, daily odds boosts on moneyline, spread, and prop outcomes consistently bolster bettors' odds and payouts, and best of all, they are always available.
DraftKings Sportsbook also offers its users "Missions" in which they are rewarded with deposit bonuses by meeting certain wagering requirements. The "Missions" feature requires users to opt-in, often by simply clicking a button.
For example, a "Mission" might require a player to place X amount of bets to earn a deposit bonus of varying worth. Once completed, DraftKings Sportsbook will apply the bonus money to an account. This promo tends to reward higher volume bettors.
DraftKings Sportsbook NY App
Both iOS and Android users in New York will be able to download and enjoy all of the features of the DraftKings Sportsbook app once it goes live.
The app is sleek and easy to use for novice bettors, while also providing more advanced wagering propositions for experienced sports bettors.
Desktop users can also access a similar-looking web-based interface to place bets online, though a third-part geolocation application will likely be necessary in order to ensure transactions occur within state limits.
Sports You Can Bet On
DraftKings Sportsbook NY will allow bettors to wager on a wide range of both professional and amateur sports as well as national and international leagues. Some of the sports offered include:
Baseball
Basketball
Boxing
Cricket
Darts
Football
Golf
Hockey
MMA
Motorsports
Soccer
Tennis
The NFL is king when it comes to sports betting, but other major sports leagues, along with both college football and college basketball, are extremely popular. Currently, bettors at the state's retail casinos in New York cannot wager on in-state colleges and universities. For instance, a bettor cannot wager on teams such as St. Johns or Syracuse.
There is also a betting ban on tournaments that take place in the state, meaning that the Big East Tournament, which takes place at Madison Square Garden, is off-limits to New York sports bettors. However, there has recently been some momentum to lift that ban.
Deposit and Withdrawal Options
One of the best things about DraftKings Sportsbook is how easy it is to move money in and out of an account. Users can fund their accounts through a variety of deposit options, including:
Credit Card
Debit Card
Online Banking (recommended)
PayPal
Play+ Prepaid Card
Skrill
Wire Transfer
Online banking and PayPal are the most common methods. While some bettors, particularly those in New Jersey, experienced early complications getting money into their accounts, it appears those hiccups have been widely resolved. In most cases, a deposit transaction can be completed in a minute or less.
In terms of getting money out of an account, users can either move the total or partial account balance to a checking account, PayPal, or prepaid card.
DraftKings Sportsbook NY FAQs
Does DraftKings Sportsbook Have a Mobile App?
Yes, DraftKings Sportsbook has its own mobile app that's available on the App Store and Google Play. This application is separate from DraftKings' daily fantasy sports app. While the sports bettor's accounts can be linked between the sportsbook and DFS, he or she will need the separate apps on your phone to use each.
Does DraftKings Sportsbook NY Offer Parlays?
Yes, at the physical sportsbook in New York, DraftKings does offer parlay bets. When online/mobile betting goes live, the bettor should also expect to be able to place parlays, teasers, and round-robins on DraftKings Sportsbook's mobile app or desktop site.
Does DraftKings Sportsbook Have Betting Limits?
Yes, DraftKings has betting limits that abide by state regulations and federal governments. The exact betting limit will depend on the sport in question.
Does DraftKings Have a Physical Sportsbook in NY?
Yes, the sports gambler can find DraftKings' physical sportsbook at the del Lago Resort Casino, at 1133 NY-414, Waterloo, NY 13165.
Can Money be Transferred from DraftKings' DFS and Sportsbook Accounts?
Yes. The bettor can transfer winnings between the two accounts, although he or she cannot deposit money straight into DFS and then transfer it to your sportsbook. This is to avoid players from taking advantage of certain deposits and promotional bonuses.