The battle for New York in the annual preseason game between the New York Giants and New York Jets is chock full of storylines.
I've got good news and bad news. The good news is with preseason Week 3, we're one step closer to the season. Actually, to be politically correct, this is the dress rehearsal for the season.
Starters typically see up to three quarters of action. The bad news is probably the worst news I've ever had to reveal in an article. Brace yourselves. The Snoopy Bowl trophy has been…retired.
I know…devastating. Instead they've opted for "The MetLife Bowl." Not nearly as sexy, but I digress.
More importantly, there are several questions that need to be answered before the New York Jets kick off their season in Buffalo. Here are the top 5 things to watch on the Jets side of things in the newly named MetLife Bowl.
5. No injuries
On Friday night, two big injuries occured for the two teams that'll kick off the 2017 NFL season. That's Spencer Ware, versatile running back for the Kansas City Chiefs and Julian Edelman, who is a key cog in the New England Patriots' passing attack.
So far this offseason the Jets have avoided serious injury *knocks on wood.* New Jet Lucky Whitehead suffered a broken foot, but Quincy Enunwa (neck) was the biggest player lost to injury.
The preseason is about reps and all teams want to make it through healthy. But it's tough because you have some players taking it easy and others trying to make an impact and ultimately make a NFL roster.
It's not as if players are going Pro Bowl-speed in terms of their effort, but there are significant differences between a lot of the players in the games. The Jets can't afford any key injuries, mostly because they don't have depth at several positions.
4. Position battles galore
Despite this being the dress rehearsal for the season, there's still much to be decided at 1 Jets Drive. To name a few: QB, both tackle spots on offense…and don't forget about center. You could even say both cornerback spots. Outside linebacker is still undecided and, of course, kicker. Plus, throw in the returning gigs.
So with that being said, there's a ton on the line besides a copper trophy. The Jets need to use this game as a barometer for these players. Ultimately, whoever shines brightest under the lights deserves the job.
Some quick notes on some of those positional battles: Juston Burris at corner is someone I'm watching along with Morris Claiborne, a favorite all offseason, who should lock in one of the spots.
Outside linebacker is the big mystery. There's a ton of candidates, but who's going to step up? Lorenzo Mauldin has been injured. Can Dylan Donahue or Jordan Jenkins take advantage of excess reps? Freddie Bishop also sneaking into the conversation.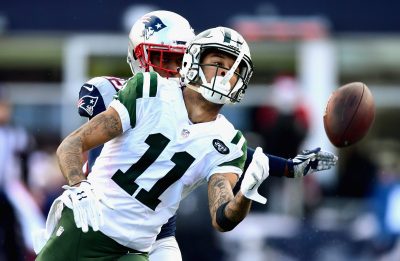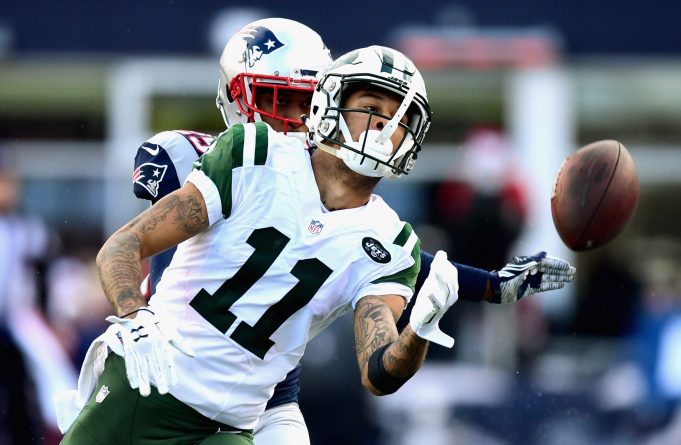 I usually don't single out any one player, but this is a situation where I feel it's necessary. I'm issuing a challenge to the No. 1 WR on paper for the Jets. Prove to me that you're worthy of that tile.
You're going up against one of the top flight defenses in the league. Make plays. Don't give excuses. I don't care who's throwing you the ball. Beat the press at the line of scrimmage. Take advantage when they give you cushion and burn them over the top.
We saw what can happen when they do that (Preseason Week 1 tale of the tape). You're ultra talented and as an undrafted free agent WR out of Temple, you should have a huge chip on your shoulder. Regardless of the success you have in this league, never lose that motivation.
Those are my words of advice. I'm going to have jersey No. 11 circled on my time sheet while watching the game. With Quincy Enunwa out for the season, with veterans in Brandon Marshall and Eric Decker gone, it's time to show what you're made of and give Jets fans a glimpse of what's in store for the regular season.
2. Trench warfare
The Jets allowed three sacks, five TFL's, and several turnovers in the game. Not a recipe for success. While Hackenberg certainly struggled on his own, the offensive line didn't help.
Three offensive line positions are up for grabs tonight. Both tackle spots are undecided, plus the center position. I know the Jets are trying to find out what combination works best. But there's got to be a healthy balance.
You got to think Kelvin Beachum is a lock for one of the tackle spots with his $12 million guarantee. Then since this season is about progress and development and peaches and rainbows, Brandon Shell would make sense at the right tackle spot.
All kidding aside, I like Shell's potential and he makes more sense as a starting right tackle than Ben Ijalana, for example. Ijalana, at 28 years old, is who he is. It's not going to change dramatically. So this goes for rest of roster, if it's close, play the young guy.
I don't want to waste much time on it, but it was painfully obvious that Preseason Game No. 2 for Hackenberg wasn't his finest performance. Josh McCown didn't play and that was clearly Hack's time to step up and claim the job the Jets are begging him to take.
Most pundits figured he had completely blown his chance at the starting gig for Week 1. Yet apparently God has looked upon his sacrifices with favor. (Year One reference)
It seems as if, despite Todd Bowles' best poker face, Hackenberg will start tonight. If that's the case he's likely going to play the majority of the first and second quarter. This is clearly the biggest test of his young career against a very well-practiced Giants defense.
The Jets are yet again providing him with a golden opportunity to claim the job. It's his for the taking but it won't be easy, especially with the musical chairs at offensive line. I'd like to think Hack takes advantage and claims the starting job for Week 1.
Listen to "The Jets Zone: MetLife Bowl Preview + Jetta trivia contest" on Spreaker.