There are two players who can turn the New York Jets defense into a dominant NFL unit. Their names are Dylan Donahue and Juston Burris.
O
ver the course of the next five months, the
New York Jets
could boast a dominant defense.
Allow me to say it again while your smirks are firmly engraved on your face and your "get out of here" attitude remains. Over the course of the next five months, the New York Jets, yes, the horrid, pathetic, stink-smelling New York Jets could boast one nasty National Football League defense.
Mistake it not. There's more than enough ammunition on that side of the ball to create such nastiness.
Look up and down the depth chart for a moment.
Along the interior of the defensive line, the Jets employ three of the nastier individuals in the game. Muhammad Wilkerson, despite his poor 2016, is still a two-time 2nd-team All-Pro football player. Sheldon Richardson, when played correctly on the inside (instead of running like a heavyweight on the edge), is a straight monster. And Leonard Williams, evidenced by his NFL Pro Bowl nod a season ago, is studly.
Even Steve McLendon and Deon Simon as a dominant duo at the nose tackle is a nice extra. The only issue comes when Todd Bowles attempts to fit all five guys within a three-man max in the both the base and sub package (technically, a two-man max in the sub as three is pushing it).
At linebacker, Darron Lee, Demario Davis and Bruce Carter are more than enough to get it done. Much hinges on serious development of Lee.
At safety, forget about it. Though young, Jamal Adams and Marcus Maye can immediately make up the NFL's most dangerous and effective safety duo.
The two spots this unit is desperately weak at, obviously, are edge rusher and corner.
We now introduce to you, Dylan Donahue and Juston Burris.
Granted, never do two single souls make or break one unit. Never is it that simple. Entirely too many factors are involved.
Having said that and pushed that aside, both Donahue and Burris represent serious opportunity for the Jets defense. Employing both a rabid edge rusher (something that's been fleeting since John Abraham) and a lockdown cover-corner would magically complete a young defense extremely early in the process.
?

Snapchat ➡️ officialnyjets pic.twitter.com/3LFoOQFpXJ

— New York Jets (@nyjets) July 30, 2017
Work. #JetsCamp pic.twitter.com/xTrmMUBc4K

— New York Jets (@nyjets) July 29, 2017
Dylan Donahue
Donahue, 24, is a 6-foot-3, 248-pound high-motor over worker who honestly resembles his positional coach, Kevin Greene. Only a fifth-round pick, Donahue's already impressed many early in camp.
I'll tell you what: Dylan Donahue is really making case for himself early. Getting first-team reps & powering his way into backfield #Jets

— Dennis Waszak Jr. (@DWAZ73) August 1, 2017
Not only is he a madman along the edge when asked to pin his ears back and get the quarterback, he can cover in space, something a 3-4 outside backer is often tasked with.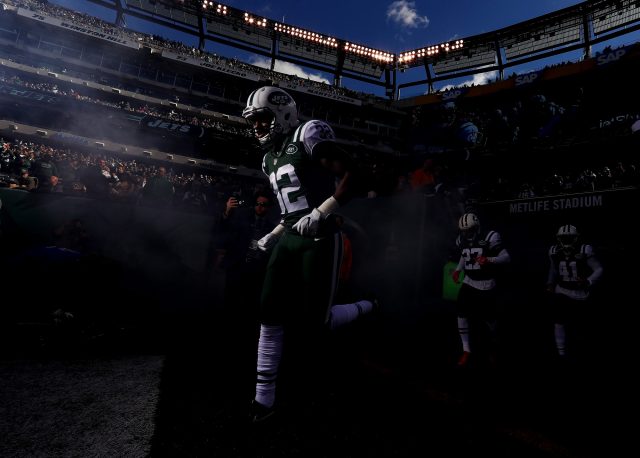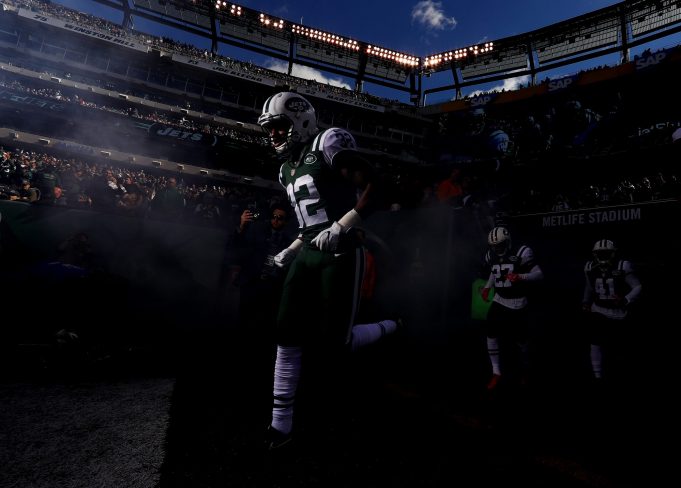 Juston Burris
Then there's Juston Burris, the second-year corner who's elevation is needed to kick Buster Skrine out of the No. 2 spot.
A season ago, he started just one game. In fact, aside from his spot starring role against Pittsburgh in Week 5, he was hardly used. It made very little sense from a standpoint that revolved around a terrible Darrelle Revis and position that was an all-out disaster.
Physically, he possesses all the tools. He possesses the necessary straight-line speed (4.53 in the 40), is quick with great hips, and never seems to be defeated on the field in the raw ability area.
Even Kacy Rodgers admitted that Burris should have plaed more in 2016, via Connor Hughes of NJ.com.
"[He] probably should have played more last year," Rodgers said.
But sadly, it was the over-the-hill veteran presence of too many that force Buris to sit the sidelines during a year he could have gained valuable on-field time.
At 6-foot, 212-pounds, Burris has every opportunity to compete with Morris Claiborne for the No. 1 CB on the chart.
Final Thoughts
Are you still smirking?
If so, that's OK. It's tough to ignore the media narrative that has plagued this franchise for the last several months. When names like Revis, Mangold, Decker and Marshall are sent packing, a nice-fitting headline is passed along on a silver platter.
Fortunately for these Jets youngsters, those guys who were let go were more name than value.
There is serious talent on the defensive side of the football in Florham Park, New Jersey right now. While the offense will turn out putrid, this defense can outperform everybody's expectation.
… especially if Dylan Donahue and Juston Burris shine.