Locked in a battle for the Giants' backup quarterback, Geno Smith bears no ill-will toward Saturday's opponent, the New York Jets.
G
eno Smith is returning to the stadium he used to call home — and he won't even have to leave the comforts of his new home to do so.
Saturday night marks the annual exhibition between the New York Giants and New York Jets (7:00 p.m. ET, WNBC) at their shared home of MetLife Stadium. It marks a homecoming of sorts for Smith, who was part of the never-ending quarterback carousel that is the Jets from 2013-16. Smith started 30 games for the Jets, including one last season, throwing for 5,962 yards and 28 touchdowns in a roller-coaster tenure.
Though Smith's career in green came to a highly publicized and unceremonious end, he had nothing but positive things to say about his former employers on Thursday afternoon.
"I've got so many," Smith said when asked about his favorite Jets memory. "All those guys on the team, guys who are still there, like Mo (Muhammad Wilkerson), some guys who are gone like (Nick) Mangold. (They were) a couple of guys that were on the team my rookie year. We built some great bonds and became more than just teammates, we became friends. And I think that was something that's really special."
Though the Giants-Jets rivalry is relegated to a mere regular season meeting every four years, the teams have met annually in the preseason since 1969. The results are typically forgotten hours after the final gun sounds but Smith's introduction to the series was one to remember.
Expected to take a learner's role behind veteran Mark Sanchez in his rookie year, Smith nonetheless got the start in the 2013 edition of the Snoopy Bowl. He played into the fourth quarter, going 16-for-30 for 199 yards, throwing one touchdown and three interceptions. Smith also ran into the back of his own end zone during a fourth quarter drive, leading to a Giants safety.
Then-Jets head coach Rex Ryan inserted Sanchez into the game in Smith's place. It would end up being the final time Sanchez appeared in a Jets uniform.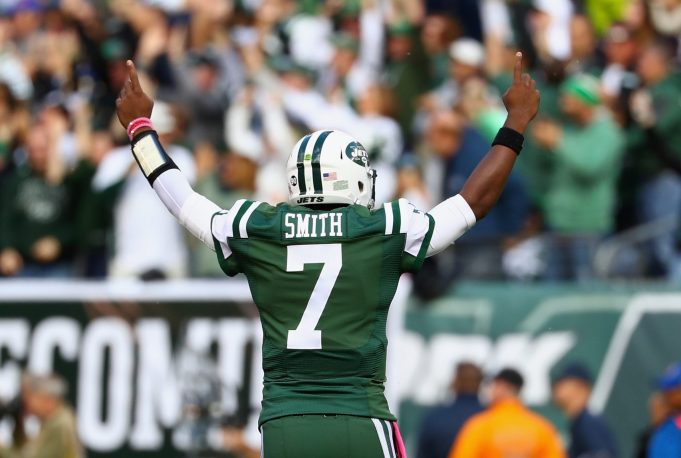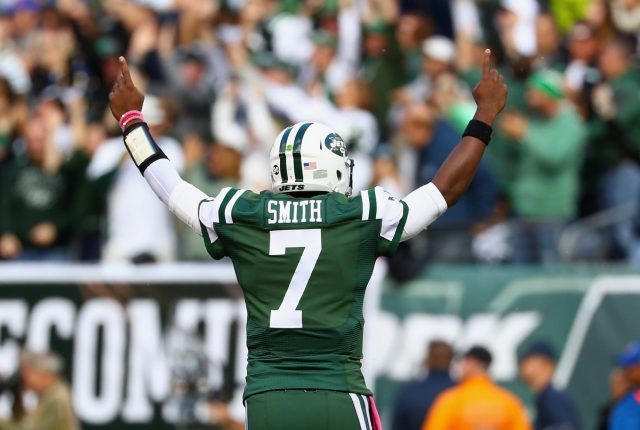 Sanchez suffered a shoulder injury on a hit by Giants defensive tackle Marvin Austin, forcing him to miss the remainder of the game as well as the rest of the season. In Sanchez's place, Smith was immediately thrust into the starter's role and started all 16 games in the 2013 season. Smith guided the Jets to an 8-8 season, narrowly missing out on the AFC playoffs. As a rookie, he threw 21 interceptions but also tallied 3,046 yards, becoming just the 13th rookie in NFL history to eclipse 3,000.
Smith doesn't believe, however, that that particular Snoopy Bowl changed the course of his career.
"Honestly, that's neither here nor there," Smith said. "I don't know what could've transpired from that. Honestly, we didn't want Mark to get hurt, obviously, but I mean, that's kind of the way things happen. You can't really draw it up to be perfect. Sometimes you've got to kind of roll with what you're given and I think for the most part I did that."
Smith's sophomore season was not as successful, going 3-10 in 13 starts and was later benched in favor of Michael Vick for a three game stretch in November. He was able to cut his interceptions down to 13 but his yardage dropped to 2,525. Despite the addition of veteran Ryan Fitzpatrick, Smith was penciled in as the Jets' 2015 starter — but then came the infamous locker room confrontation with IK Enemkpali, who broke Smith's jaw in that showdown, reportedly over a $600 plane ticket. Relegated to one relief appearance that season, Smith's final season with the Jets last year featured more fill-in duty and a single start in an October win over Baltimore, during which he suffered a torn ACL, ending his season.
Despite the painful exit, Smith, 26, remembers his Jet years fondly, mentioning he remains in contact with former teammates wide receiver Quincy Enunwa and defensive end Muhammad Wilkerson.
"Quincy and I, we're still good friends. I reached out to him when he got injured," Smith said "Mo, we always Snapchat each other, we always talk and check on each other. So, a lot of the guys on the team and even guys who aren't there anymore, we keep in touch."
Over his final two years with the Jets — primarily as a backup — Smith completed 63 percent (35-of-56) of his passes and tallied 391 yards. He signed a one-year, $2 million deal with the Giants in March, entering a quarterback situation that could be described as anything but Jet-like. Eli Manning, 36, has made every start for the Giants since November 2004. During that span, 12 different quarterbacks, including Smith, have started at least one game for the Jets. Smith is currently embroiled in a battle for the Giants' backup job, competing with fellow former Jet Josh Johnson and rookie Davis Webb.
After Smith's signing, Giants head coach Ben McAdoo replied "I can't see why not" when asked if Smith could potentially be the heir to Manning's blue empire. While McAdoo quickly acknowledged there's a long way to go before that's talked about, he has kept a close on eye on Smith's summer showings.
"I think he is picking up the offense. He is working hard at it. He gets football," McAdoo said of Smith's preseason performance thus far. "He throws a nice, catchable ball and he completes a lot of balls, so we just have to eliminate the negative plays."
Despite starting neither game, Smith has taken a majority of the Giants' offensive snaps thus far in their preseason games. Though he has led the Giants on some strong drives, critics have spotlighted three interceptions Smith has thrown, two of which were thrown in the red zone (though one of those was negated by a penalty). The Giants have yet to score a touchdown through their two preseason games.
"I think I've done a pretty decent job of getting completions, but I can do a lot better," Smith said in a self-assessment. "I'm still learning the offense and still progressing, but there are some things I could've done better as far as, you know, being more detailed. So, those are things that I've got to clean up, and I'll focus on that this week and continue it on in practice."
Smith is keen to break that streak but reiterated that he would just like to perform well, and the idea that he can earn a score against his former team doesn't matter to him.
"You always want to go out there and prove yourself. But, nothing extra added towards (the Jets), though," he said, "I have a lot of great respect for a lot of people in that organization and I appreciated my time there, but now it's just focusing on what we have to focus on, which is going out there and executing on game day."
Thus far on the preseason, Smith has completed 64 percent of his passes (21-of -33) for 193 yards. Smith and the Giants will conclude their preseason slate next week against the New England Patriots next Thursday in Foxborough.