There's no shame in losing to the 2018 Cleveland Browns. It's how the New York Jets did so on Thursday night that's most troubling.

With so much pomp and circumstance behind the Cleveland Browns first win in nearly two years, the Rock and Roll Capital of the World engulfed in celebration fueled by free Bud Light, it's easy to forget that, to earn this win, the orange-helmeted redemption-gainers had to actually beat another team to start the party.
That unlikely squadron was the New York Jets, proving that, should they exist, the football gods have a dark sense of humor.
In many ways, the Jets are the Browns' Northeast-dwelling brother in the fraternity of football futility. Their many losses are often punctuated by unintentional hilarity, normally headlined by the latest horse of broken-down quarterback carousel. Save for a few differences, like their location, a coat of green paint, and a lone Super Bowl won during Lyndon B. Johnson's final days in the White House, they're almost the same team.
Thursday night showed exactly why.
The evening featured the most hyped event in Cleveland football history since the film Draft Day opened in April 2014, a nationally televised showdown with the Jets. After opening with seven consecutive punts, the showdown became an early contender for game of the year, featuring obscene touchdowns celebrations, crushing sacks, and, most notably, Baker Mayfield's NFL debut.
The top overall pick in the most recent (non-fictional) NFL Draft relieved an injured Tyrod Taylor and led the Browns to 21 points, scoring on all but one of his drives upon entry (not counting two drives that ended in kneel-downs to end each half). He would conclude the game with a line of 17-for-23 for 201 yards, playing just over half of the game. While a touchdown pass was not to be, Mayfield did tie the game by nabbing a trick play pass from Jarvis Landry on a two-point conversion that might've officially granted Mayfield the key to the city.
Despite the notorious Cleveland winless streak, the mere concept of losing to the Browns in 2018 isn't all too humiliating on its own. They could've just as easily entered the game 2-0, opening the season with an eccentric tie against their classic rivals from Pittsburgh before crucial missed field goals cost them a game in New Orleans the week after.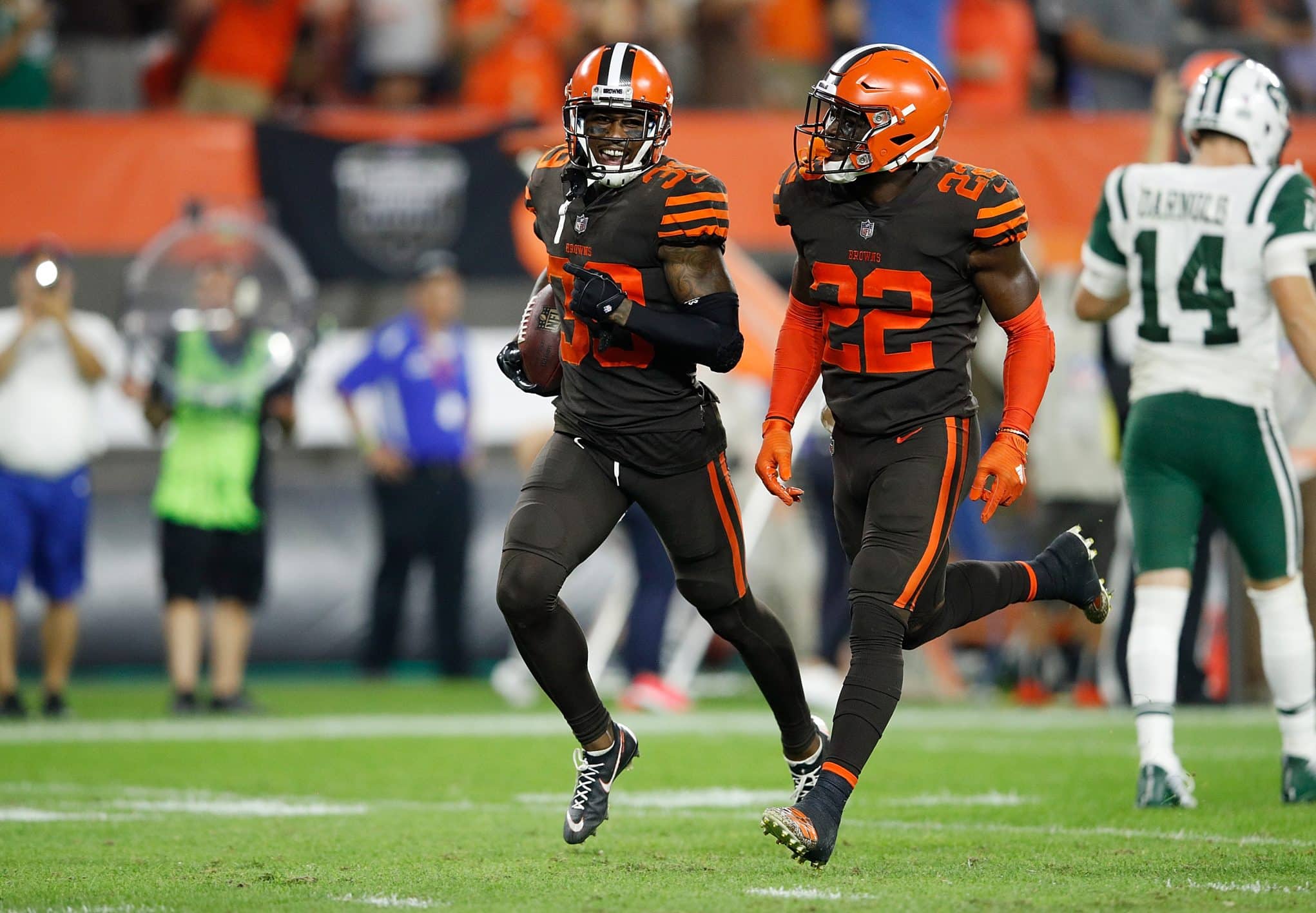 The momentum of home miracles would be difficult for anyone to overcome, as the Browns' prime time comeback in front of a euphoric home crowd seemed to come off the pages of a Hollywood script. Nothing more needs to be said about Mayfield's heroics, as his debut might've overshadowed the glorious 24 hours of Carlos Hyde.
In addition to turning 28 on Thursday, Hyde scored the two Browns touchdowns in the historic win, and rushed immediately to a local hospital shortly after the final gun, where he and his girlfriend welcomed their first child. Add the darkly humorous Bud Light promotion and it very well could go down as the biggest win in Browns history since the 1999 reboot.
Monumental as the Jets' task may have been, especially after the Mayfield entry, there was still a chance to win the game. That's what makes this loss so embarrassing.
The 48-17 victory in Detroit to open the season was supposed to also open a new era of Jets football, but after consecutive sloppy defeats, the common themes of Gang Green goofiness have already infected the 2018 campaign. They were all prominently on display for a national audience on Thursday.
For example, a trope that has become far too common in the Todd Bowles era has been a lack of on-field discipline, as New York's green team has become accustomed to seeing yellow. The tragic part of the equation is that a good part of the penalties is avoidable. Isaiah Crowell stole the show early for the Jets, his two scores creating the early 14-0 lead, but his night will be better remembered for a far more foul situation … literally. After scoring his second touchdown, Crowell, former wearer of the orange helmet, gave a new definition to "Cleveland Browns" with an obscene celebration that drew a 15-yard unsportsmanlike conduct penalty.
While that flag didn't bite the Jets too badly, several other infractions steered momentum into the Cleveland corner.
For example, backed up in the shadow of their own end zone midway through the third quarter, any traction the Jets were hoping to gain was hyped out by a pair of false starts. The drive of incompetency was ended in further silliness, as a Robby Anderson fumble set Cleveland up in prime position to reduce the lead to one-possession.
On the kickoff, after the Browns field goal that made it 14-6, the Jets started at their own 10 instead of the 29 when Chris Herndon was called for a holding. The aforementioned two-point try that tied the game could've been avoided, as Morris Claiborne was called for defensive holding in a pair of offsetting fouls on a futile first attempt.
All in all, the Jets were penalized six times for 55 yards. Though they've played one more game than 30 other teams, the numbers and rankings in terms of penalties are already getting disturbing. The team currently leads the league with nine pre-snap flags, and their net penalty yardage (-88) ranks second to last, besting only Jacksonville.
In what's become a far too common postgame musing from Bowles, he took responsibility for the careless mistakes that led to Cleveland momentum shifts.
"This whole ball game falls on me," Bowles said, according to NJ Advance Media's Darryl Slater. "We let them back in the game with some key penalties, and it cost us. We lost our composure."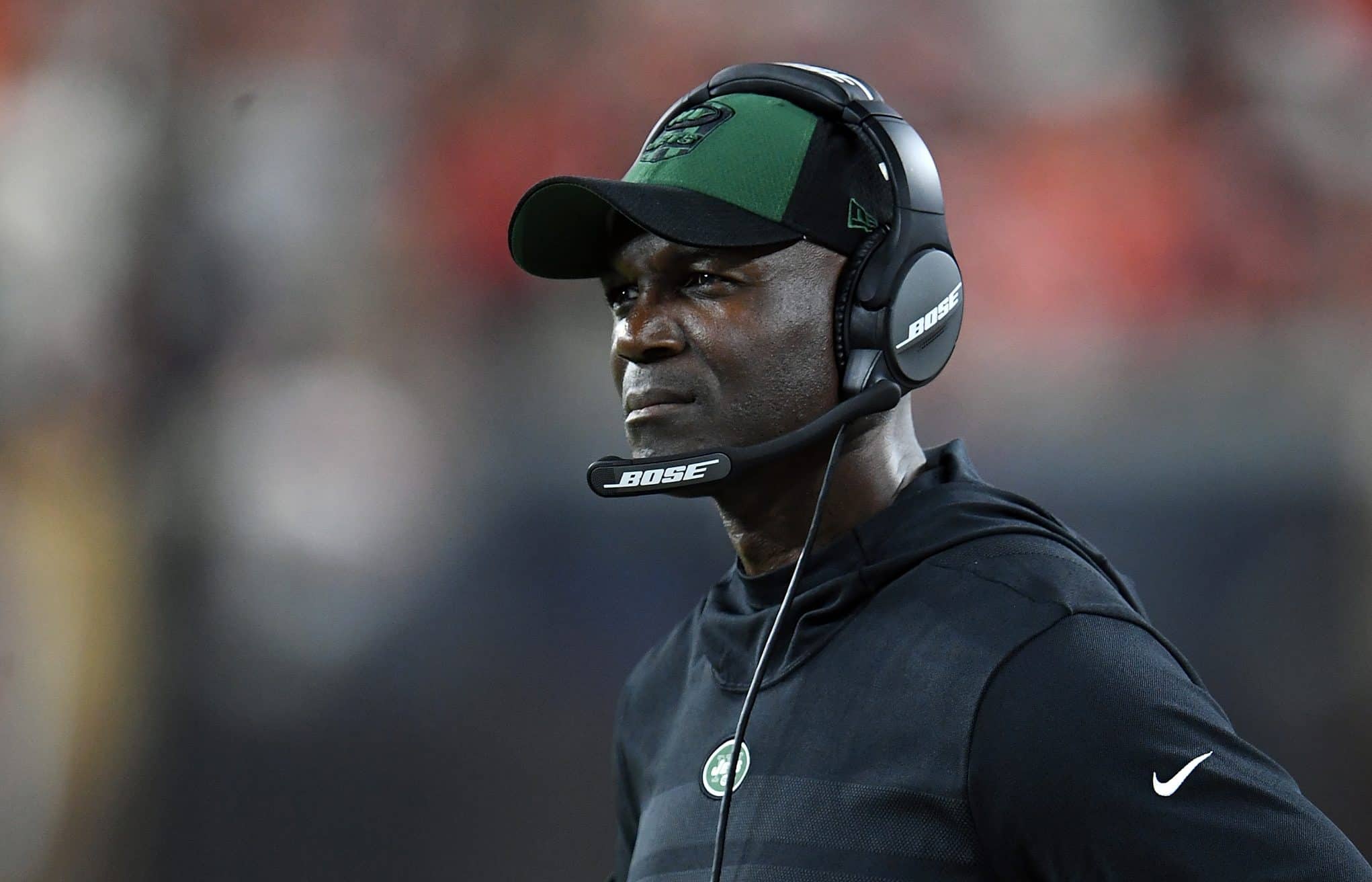 When the offensive line isn't taking pre-snap penalties, they're challenging the Giants and Rikers Island for the worst blocks in New York. Sam Darnold, the losing rookie in Thursday's showdown, has been forced into bad, desperate decisions since an inspiring debut, sacked seven times thus far in his career. Nursing a shrinking lead, the Jets found success running the ball early, a solid run game, headlined by Crowell and Bilal Powell, taking a pressure off of the rookie thrower. But once the offensive line broke down completely, the Cleveland onslaught causing the Jets' average rush to plummet to 3.6 yards, which was shockingly a drastic improvement from a 2.2 output against Miami in the heartbreaking home opener.
Darnold undoubtedly has room to improve, but forcing him to win games on his own from the onset of his NFL career has the ability to end any forward momentum before it even begins.
Speaking of momentum, the current game plans aren't allowing Darnold to get much, mainly limiting him to a preseason-esque diet of conservative football. After averaging just under 8.8 yards per attempt over his first two games against Detroit and Miami, Darnold's passing playbook seemed limited, completing just a single pass over 20 yards, a lone desperation gain of 25 yards to Terrelle Pryor, two plays before he threw his second interception in as many two-minute drives to end the game.
Unfortunately for Pryor, his early season has been defined by ill efforts and missed opportunities, the biggest being an intercept at the cusp of the end zone against the Dolphins, as the Jets never truly threatened for a touchdown again after Xavien Howard read Pryor's route and stole the ball away.
Dolphins secondary looks nice. Xavien Howard runs Terrelle Pryor's route for him and steals this pass for the interception. pic.twitter.com/3O5Ih7Q63f

— Johnny Kinsley (@Brickwallblitz) September 17, 2018
Unlike Aaron Rodgers' offenses in Green Bay, there's no fear, at least not yet, in leaving the Jets too much time on the clock to stage a comeback.
Darnold has pointed no fingers toward fellow offensive personnel, be it fellow players or coaches, making an exception for one firmly positioned toward himself, as he took responsibility, as he took the blame for the offense's second-half no-show on Thursday.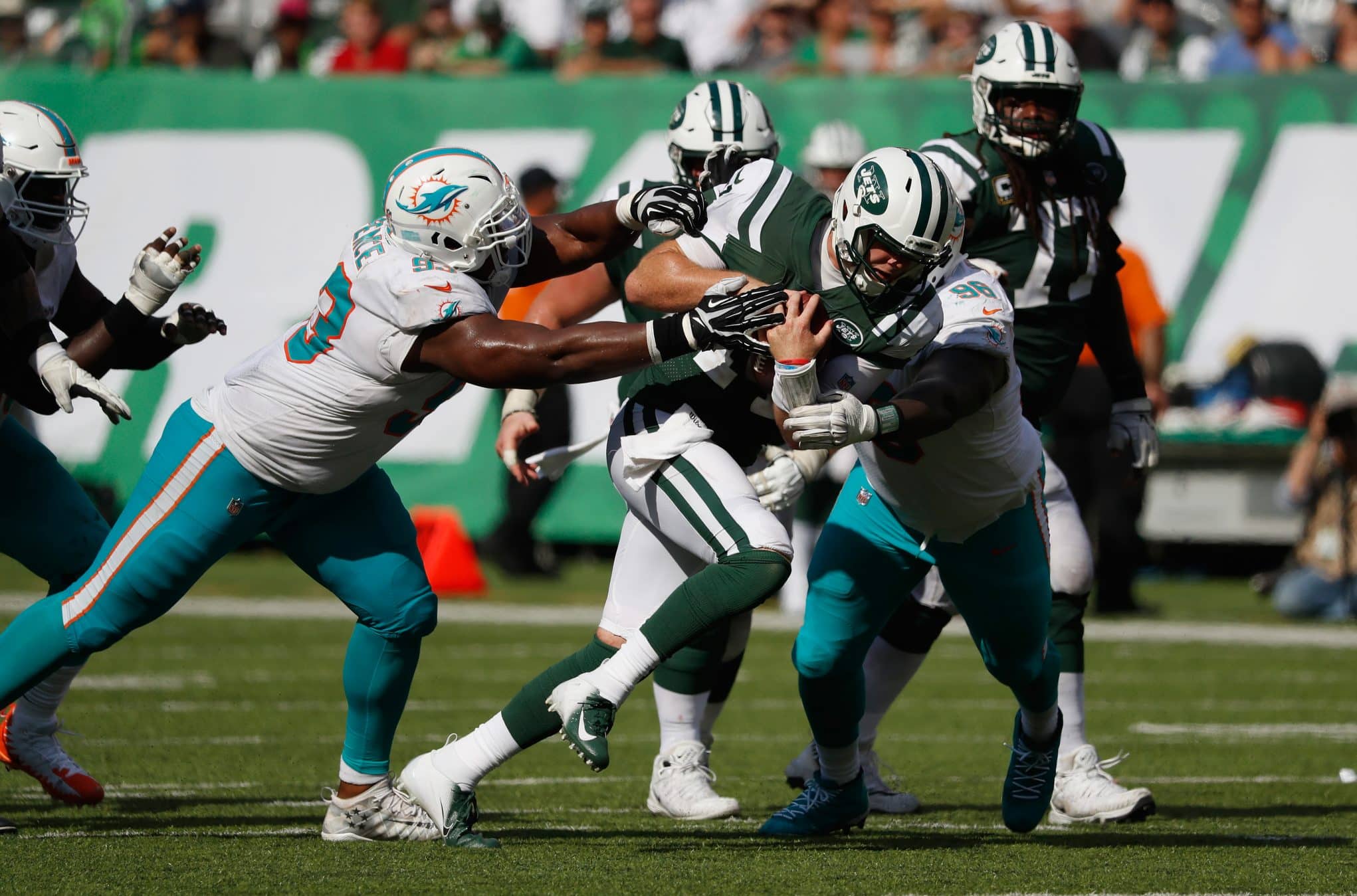 "From my point of view, I just have to play better, simple as that," Darnold said in another Cimini piece. "It's not acceptable, the way I played. I know that, and I have to take it like a man. I feel like I'm responsible for some of the stagnant offense we had. I just have to play better, that's it."
With Mayfield now the talk of the NFL circuit, there might be some additional pressure placed on Darnold, who went 9-for-23 on non-screen passes on Thursday night. He says that's not going to be an issue.
"He did some great things at Oklahoma, and he continued to do great things tonight," Darnold said of the man chosen two picks before him "I felt the crowd rallied pretty well around him. At the same time, I have to continue to do my job and keep the offense rolling. I'm not worried about (Mayfield)."
Granted, there's plenty of positives to glean from the Jets' opening stretch, impressive considering the NFL schedule makers cruelly subjected the Jets to three games in an 11-day span. Additionally, the Jets are still in the midst of a rebuilding project, and, with the division likely in New England's control for the umpteenth year, few were expecting them to break through and make a surprise playoff run.
However, with the promise of Week 1 giving away to tantalizing defeats, including one on a national level that might've opened some eyes on the road, fans are forced to experience a sense of "same old Jets", yet another green hype train derailing in the most dramatic of fashions. The bright side of the inhumane scheduling allows for nearly a week and a half off before facing the gargantuan task of a road meeting with the Jacksonville Jaguars, de facto AFC favorites after taking care of the Patriots last week.
"We're going to be a good football team," Bowles promised, according to ESPN's Rich Cimini. "We do some good things. We just have to be consistent."
It'll be hard to reach this level of heartbreak for the remainder of the season. But the Jets, like their Midwestern counterparts, always seem to answer the maxim "never say never" in the most foolhardy of fashions. If this truly is the start of something special, a repeat of Thursday night cannot happen. Time will only tell if some of the key cogs of this machine under construction, like Bowles, will be around to reap the benefits of patience and rebuilding.
Modern Browns fans will likely want to relive the joy of Thursday night over and over again, even if complimentary blue bottles of Bud Light may cause some gaps in their memory. For the Jets, it should never be staged again, no matter the opponent.
Follow Geoff Magliocchetti on TWITTER