The New York Jets have handcuffed Sam Darnold to such a degree that it shows no trust whatsoever while also hindering his development.

Every New York Jets football fan knew what was coming on Thursday night. The predictability was so obvious that the gameplan was etched in stone back in July.
Todd Bowles, the defense-minded head coach that he is, orchestrated an ultra-conservative approach. The rushing attack paired with an aggressive defense was out in full force and until Tyrod Taylor left the game, it worked.
But it only worked due to the ineptitude of the Cleveland Browns offense. In the National Football League during the high-flying times of 2018, winning just doesn't happen by playing conservatively while "hoping" the opposition is inept.
Baker Mayfield entered the game and proceeded to tear up Bowles's seemingly stout defense. What he also did was expose the Jets offensive gameplan in terms of just how the team doesn't trust rookie Sam Darnold.
There's no way to know exactly who the mastermind is behind such a conservative offensive attack. It could very well be Jeremy Bates himself. It could be Bowles as the top boss, forcing Bates to construct a gameplan-specific tone. We just don't know so we'll lump them all together (even Rick Dennison for that matter). Whoever truly represents the top culprit, the offensive sideline leadership is not putting Sam Darnold in the best situation to succeed.
Very Few Standard Pass Plays Called
In Cleveland, Bates called very few standard 5-to-7-step drops. In fact, only 16 such plays (of a total 61) were called all game. The worst part is that the last two desperation drives accounted for seven of these 16.
Only nine standard passing plays were called prior to the moment the offense was forced to sling it at least a little bit downfield.
First Half (32 Total Plays)
Run: 19
Quick Designed Pass (Non-Screen): 1
Screen Pass: 5
Standard Boot (Non-Screen, Quick Designed Pass): 2
5 or 7-Step Drop Passing Play: 4
3-Step Drop Passing Play: 2
Complete Game (61 Total Plays)
Run: 30
Quick Designed Pass (Non-Screen): 1
Screen Pass: 8
Standard Boot (Non-Screen, Quick Designed Pass): 3
5 or 7-Step Drop Passing Play: 16
3-Step Drop Passing Play: 3
First and foremost, we don't know to what degree the offensive line plays as a factor here. Mike Shanahan's zone-running scheme combined with many bootlegs helps the lack of offensive line talent. Not calling standard 5-to-7-step drops does the same thing.
It's easy to understand why eight total screenplays (all to the wide receiver) were called. Browns defensive coordinator Gregg Williams is one of the most aggressive play-callers in the game. The screen is a terrific way to combat his designs.
Still, only six standard passing plays that would even allow Darnold to look downfield isn't close to showing any faith in the kid. Not only that, but how is this going to get the kid going? How's it going to boost his confidence early in the game?
The point of the gameplan is to win. But the point of drafting a franchise quarterback is to develop him with a long-term eye towards winning Super Bowls.
Sam Darnold Has No Freedom At The Line Of Scrimmage
Watch closely as the Jets offense breaks the huddle. Unless in a hurry-up situation, Sam Darnold never makes adjustments at the line of scrimmage.
He'll call out the MIKE in conjunction with his center, but there are no "check with me's" or straight audibles that one would expect in a league that rewards simple pre-snap offensive concepts.
What this lack of trust leads to is Bates attempting to read the mind of the defensive coordinator. He'll try to guess the next defensive play while calling his own play. This is always what should happen when calling plays, but to not have the freedom of changing it up at the line of scrimmage is a recipe for disaster.
Running into loaded eight and nine-man boxes while throwing into two-deep happens far too often in this scenario.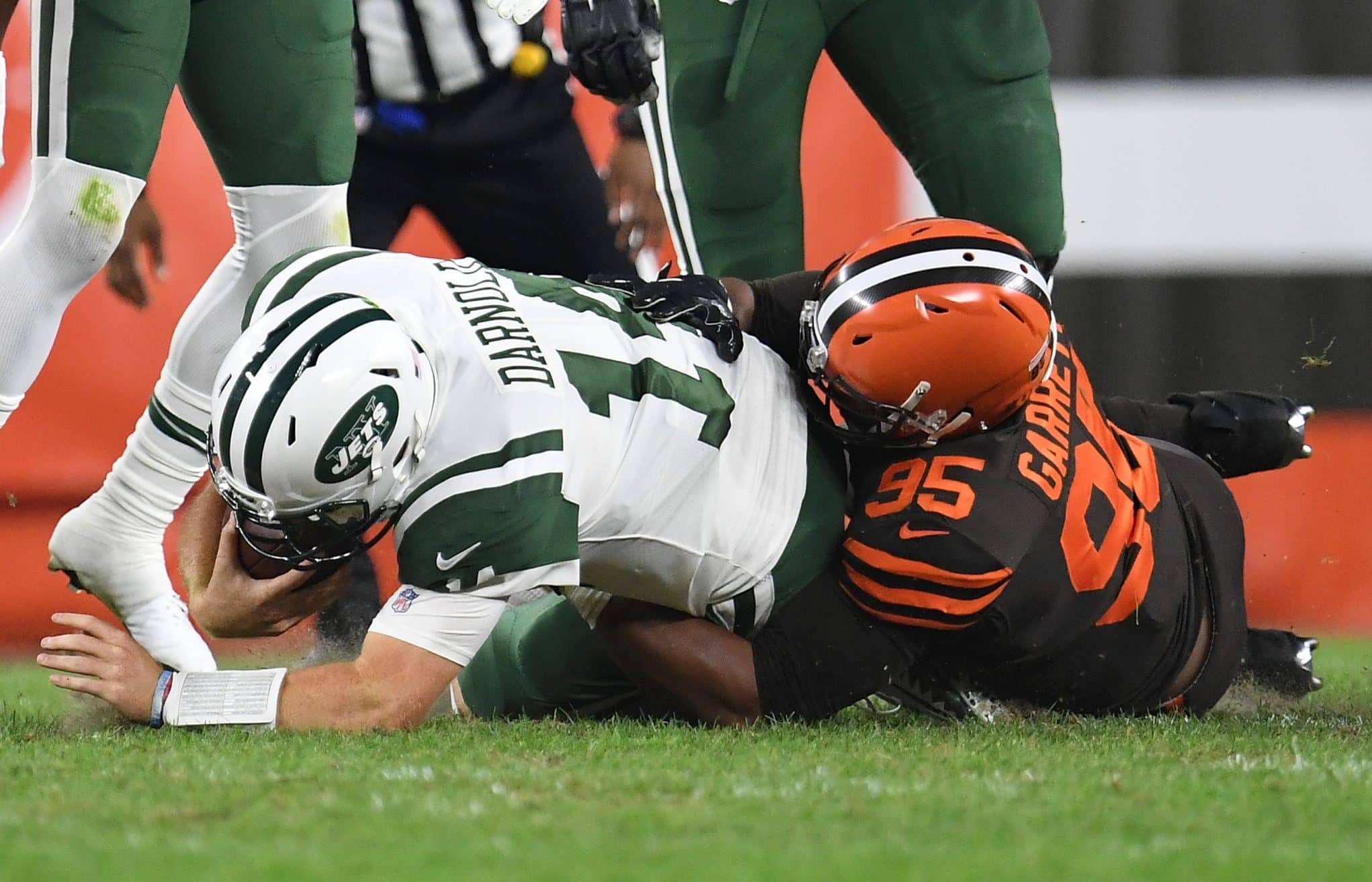 First-Down Rushing
The Jets rushed the ball on first down 15 times of a possible 21 first downs prior to the last two desperation drives.
Think about that. In a league in which passing rules all and rushing the ball isn't even necessary (the 2011 Giants win the Super Bowl while finishing dead last in rushing), Bates ran the ball 15 times on first down and passed it on just six occasions.
It's too predictable. The old-school mindset of rushing the ball down a defense's throat even though they know it's coming is so 1980s. It just isn't done in today's day in football age. On Thursday night, the Jets 3.6 yards per carry just isn't good enough.
Of course, Darnold won't say anything. The kid is too smart to ever say anything publicly. Instead, he puts it on himself. It's a terrific trait for a youngster yet very dangerous if games like this continue to pile up.
The greatest fear for the Jets fan right now is that Rex Ryan overseeing young Mark Sanchez turns into Todd Bowles-Sam Darnold. Both men are defensive-hardened coaches who remain stubborn to their beliefs. Both stress "turnovers" more than anything else as it pertains to the young quarterback. Both have, thus far, engineered extremely conservative offenses that don't help the young thrower progress as a professional.
The Jets offense shuts themselves down much more than the defense does and if they can't figure that out soon, Sam Darnold won't develop one bit during his rookie campaign. In fact, it could go the other way. And this is what makes this situation so tough.
The New York Jets organization has a ton of confidence in young Sam Darnold. It simply doesn't show that way during game time thanks to such a conservative and defensive mindset leading the way.