The playoffs are probably a pipe dream, but there's plenty on the line for members of the 3-5 New York Jets.

FLORHAM PARK, NEW JERSEY—Ah, autumn in the AFC East, a period defined by traditions. Buffalo Bills fans' folding tables are being lit and smashed, the focus of Miami Dolphins supporters has already shifted to the hardwood of the Heat, and the New England Patriots' division championship t-shirts are already being printed.
Oh, and the New York Jets are 3-5.
For the third consecutive season, the Jets have posted a win percentage of .375 at the midway mark, currently reeling from back-to-back losses. Members of the team reflected on the familiar posting during conferences calls on Monday afternoon.
"Were 3-5. Mentally we're in a good place," head coach Todd Bowles said. "We just got to correct things on both sides of the ball."
"You can't be behind schedule. I think it's a mix of a lot of things," quarterback Sam Darnold added. "We got to be better, we got to execute."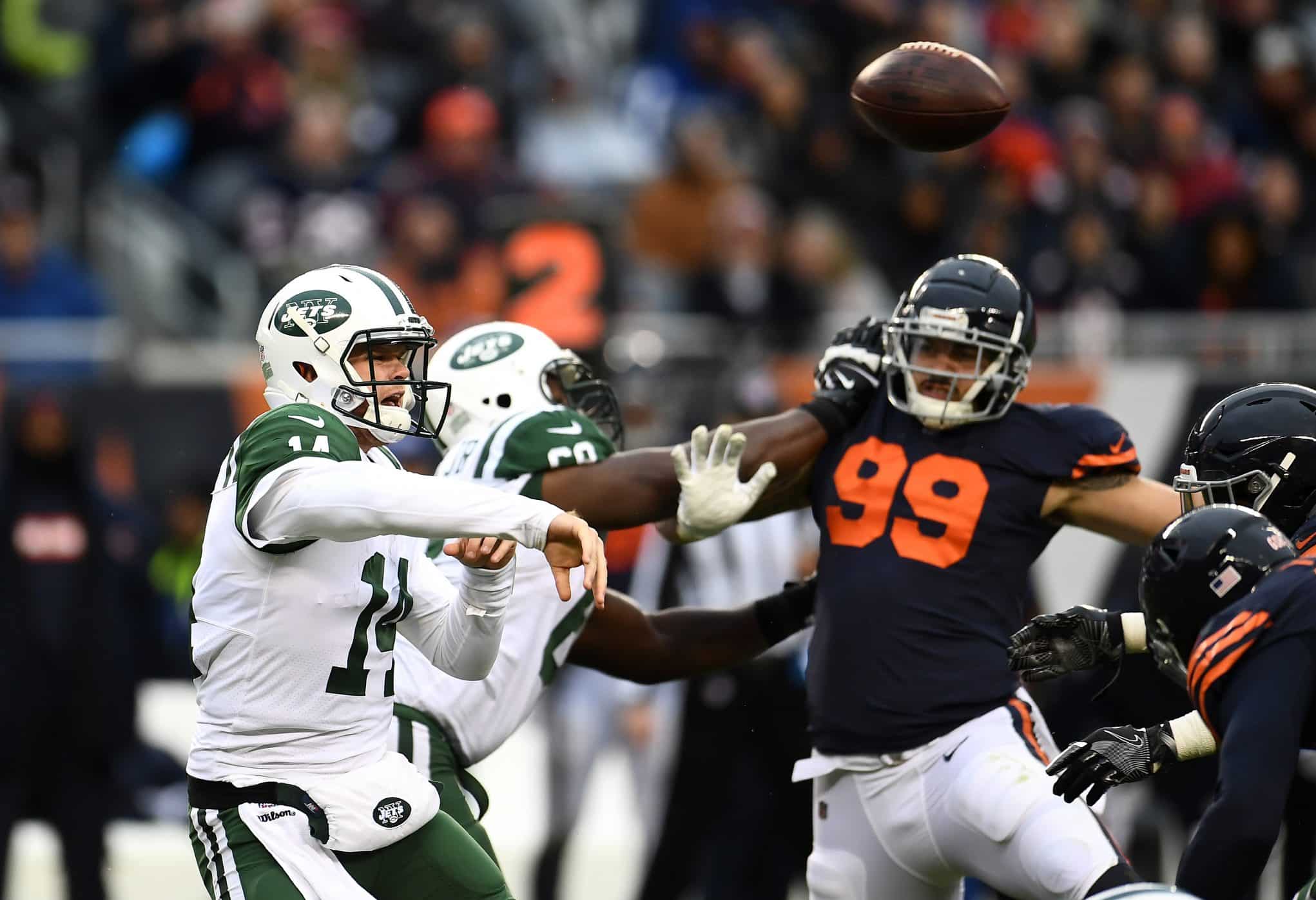 With the Patriots up to their traditional winning ways, up ahead at 6-2 after a Monday night win over the Bills, the Jets' easiest option to a postseason berth would be the AFC's second wild card, but that scenario is likewise vanishing, the Jets currently entrapped in a four-team logjam in the worse half of the conference. The team has landed themselves in that position with inconsistency and carelessness, both negative traits prominently on display during Sunday's most recent loss.
In the 24-10 debacle at the hands of the Chicago Bears, the Jets struggled to move the ball and took eight penalties on the road. Several deep Chicago plays, namely a 70-yard Tarik Cohen touchdown reception, also proved to be backbreakers, dooming a Jets offense missing several starters.
The team's leaders were not willing to use the various ailments as an excuse in defeat.
"(It's) mental, on the individual players. That's more on yourself," guard Brian Winters said, remarking on the Jets' penalties. "We just have to finish. We have to finish everything that we do. We played hard, but we just got to finish."
With little to no preseason expectations bestowed upon them after back-to-back 5-11 campaigns, it's possible to view the fact the Jets somehow earned three wins as a positive, but with another seemingly moot by Halloween, some fans may be tempted to spend their Sundays in more constructive ways, and, in worst-case scenarios, express early regret in the Darnold era.
While no one was booking tickets to Atlanta for February's Super Bowl upon his arrival, some indeed made the mistake of anointing Darnold as the one missing piece in a big green puzzle. They can't even be fully blamed. Andrew Luck, for example, turned a 2-14 team into a playoff squad in just a year's work. The Houston Texans were one of the hottest teams in the league before losing Deshaun Watson to injury last season.
Jets fans, however, have to be a little more patient. It does make 2018 a relative wash moving forward, but there's plenty on the line for this team. These final eight games will determine who will stick around for the true beginnings of the Jets' potential return to glory.
With Darnold in the fold, the Jets have a firm plan moving forward, the largest component handled. These next eight games are going to determine who's going to be there to help him out.
Inspiration can be found in an unlikely source. That fount comes in the form of a rookie, a first-year man who has the potential to contribute points for years to come: fourth-round pick Chris Herndon.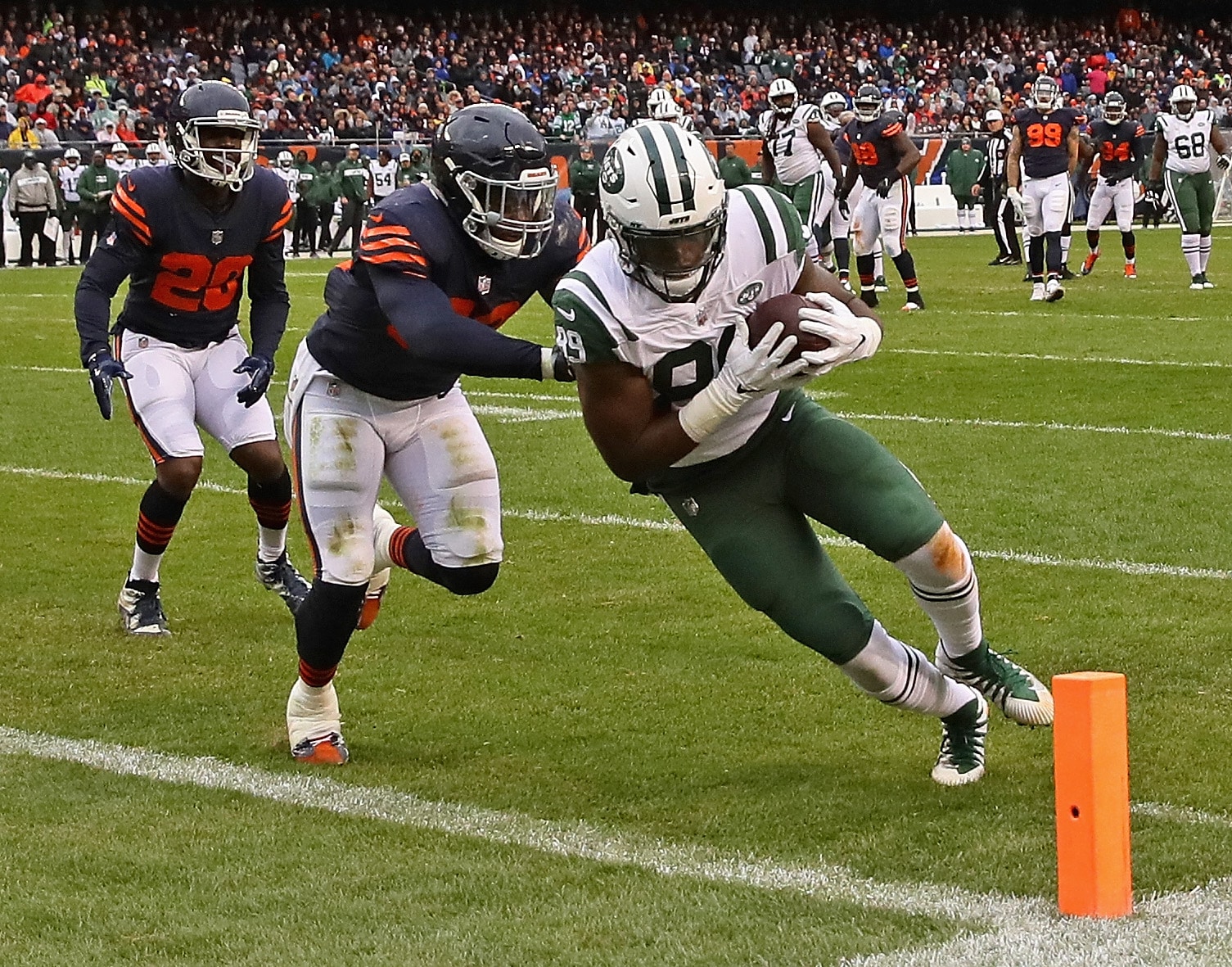 The Jets' third overall selection this past spring, Herndon has been the reserve who has best-taken advantage of the Jets' injury situation. The tight end group as a whole, aided by veterans Eric Tomlinson, Jordan Leggett, and Neal Sterling (though the latter may be out multiple games with a concussion), has stepped it up for the Jets, but Herndon has truly done his part. Darnold's training camp roommate, Herndon has set an example for veterans and fellow youngsters alike. He has scored touchdowns in three consecutive games.
"Me and Chris, we've developed a great chemistry," Darnold said, according to Randy Lange of Jets.com. "We've just got to keep going and continue to develop that chemistry with the other guys as well."
"He's a guy that's playing good right now," guard James Carpenter relayed in Lange's report. "We've just got to do it as a whole. We're going to get there. We're going to get better."
As for Darnold, this could be a big stretch for him, a risk-free stretch that can allow him to develop. Unlike the instant heroics players like Luck and Watson displayed in their respective debuts, Darnold's work is going to be a process, more resembling the struggles that Jared Goff went through in his rookie debut in Los Angeles. Undoubtedly, some quick-thinker is going to label him an early bust, but that should be regarded as ignorance at best.
With one of his pre-draft knocks being a turnover problem prevalent at USC, Darnold has brought interceptions with New York to him in the early going, throwing 10 interceptions thus far, including five over the three games prior to the Chicago visit, ending the scary streak in the loss.
"Mentally he's grown, it doesn't show on the stat category, but it's not always going to show on the stat category," coach Todd Bowles said last week, per Brian Costello of the New York Post. "As far as his maturation process and progress of reading defenses, making audibles and getting in and out of the huddle and understanding where he's going with the football, I'm very pleased with that."
Darnold gets a prime opportunity to build for the future on Sunday, as the Jets make a road trip to Miami to take on the Dolphins (1:00 p.m. ET, CBS). It was Miami that sent the Jets on this mini, if not entirely expected, tailspin, a 20-12 slugfest at MetLife Stadium that brought Jets fans back down to Earth after the glory of opening night in Detroit. Dating back to November 2016, the Dolphins have won four of the past five meetings, and the Jets undoubtedly would love a chance to regain the edge in the rivalry.
Additionally, this stretch that begins in South Florida will be crucial for several upcoming free agents, particularly on the defensive front. Several impending departures have enjoyed breakthrough seasons, such as linebackers Avery Williamson and Brandon Copeland and cornerback Morris Claiborne, while other proven talents like safety Buster Skrine have dealt with injuries. These final eight games could lead to not just a big contract, but a chance to partake in something bigger: the rebirth of an NFL franchise.
With no major trade deadline moves to come, the Jets have their squad for the rest of the year. They consolidated their future by not going for an instant fix for 2018, as the Dallas Cowboys did in their move for Amari Cooper. With the team intact for the present, the battle for the future can now truly begin.
The coaching staff knows the importance as well, as these final eight games could ultimately decide their New York fates as well. In his conference call segment, Bowles didn't look beyond the final half of the season, instead focusing on getting things right immediately.
"The season's not over," Bowles said. "But we're halfway through and we're 3-5 and you don't like where you are, but we've dug ourselves this hole, we've got to dig ourselves out."
He has eight precious opportunities to right these errors. Time will only tell if they're his, and several others', last opportunity in green.
Quotes obtained firsthand unless noted.
Follow Geoff Magliocchetti on TWITTER