We have big drama in Old Bridge, a Central Jersey town that has the right to petition for admittance into the Shore region if it desires.
From NJ.com:
Local police are investigating the mysterious dumping of 15 wheelbarrow loads of pasta along a creek in a residential section of Old Bridge last week, officials said.
Police were contacted after local officials learned of the piles of pasta April 28 from photos circulated on several local Facebook groups, said Himanshu Shah, Old Bridge's business administrator. The town's Department of Public Works cleaned up the pasta.
(…)
It is unclear if the pasta — which appeared in the photos to be spaghetti and macaroni — was already cooked or if it had been left at the site uncooked and softened when it was exposed to moisture.
Old Bridge officials estimated the total weight of the pasta at around 500 pounds. The saga began when a politically-active resident took to Facebook and blasted the mayor and his "possy." As one does when there is a crapload of pasta in nature.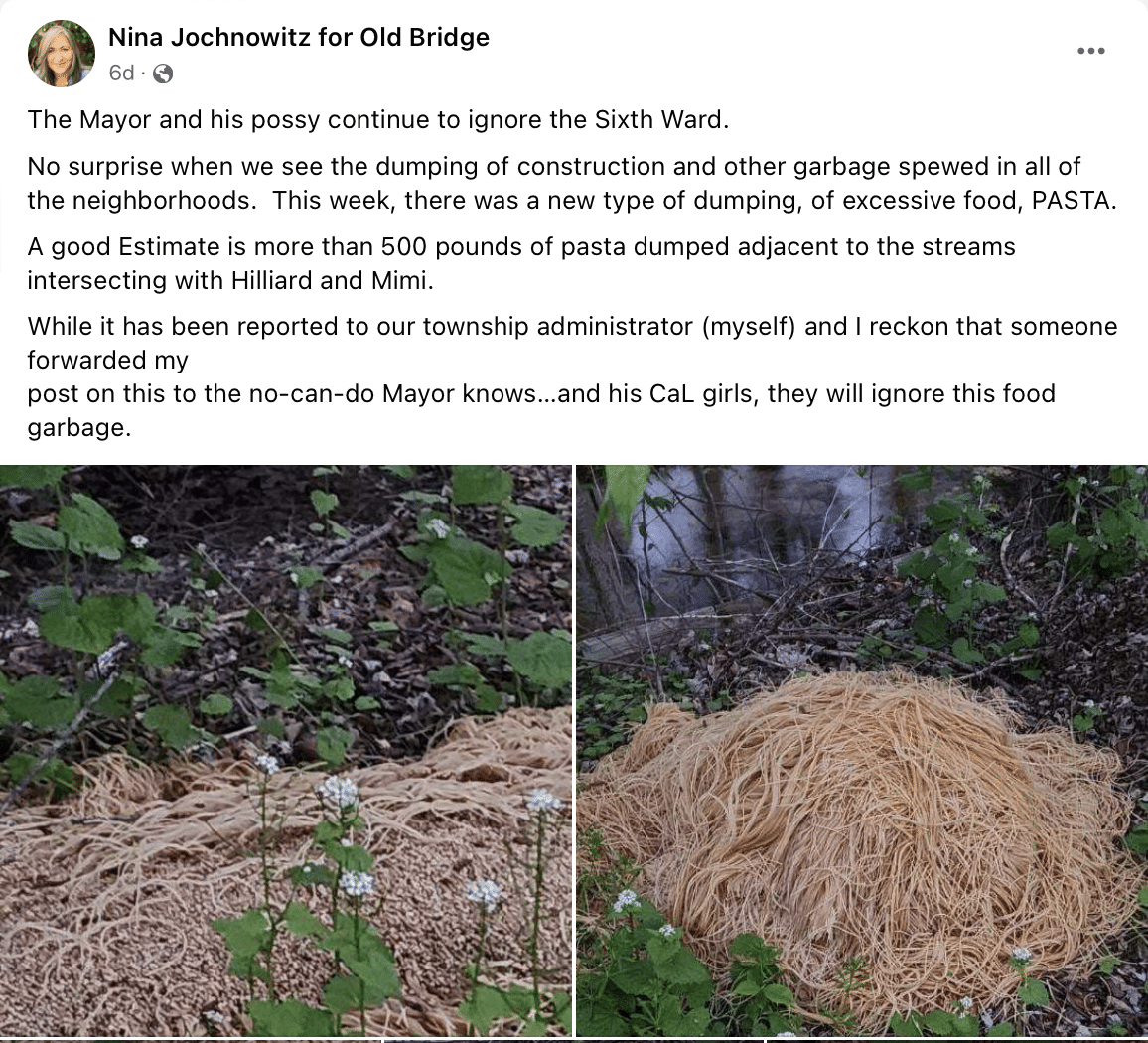 PLUS: Michael Kay's temper has generated another unflattering headline
My first thought: Maybe it's a really bad senior prank? If someone had that much pasta to throw away, they would just throw it away. You don't need to dump it in public. This has to be a prank. Or performance art. So, so strange. Kudos to the clean-up crew.
MORE ON ESNY:
• Who is Brian Cashman kidding about Yankees' infield 'surplus?'
• Yankees' Gerrit Cole is off to a dominant start, but this is nothing new
• Ex-Yankees star Didi Gregorius trying to revive career in Mexican League
• Gronk: Giants' Darren Waller primed for 'Pro Bowl-caliber' year
• NFL thinks Bill Belichick played 10-dimensional draft chess to screw Jets
James Kratch can be reached at [email protected]. Follow him on Twitter @jameskratch.