Michael Kay's newest feud: Some guy on Twitter.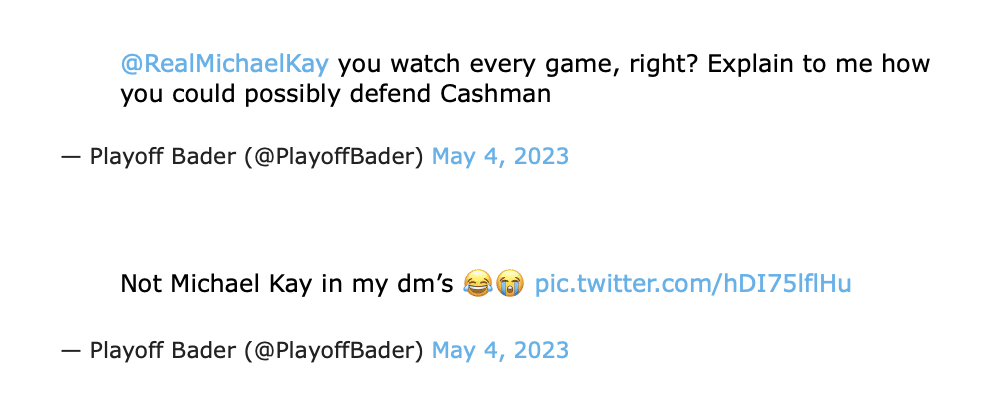 And still no answer. That's all you have. I never DM anyone anything I wouldn't make public so this is fine but the fact I gave you the consideration of DMing you a response and you made it public tells me all I need to know about you and your opinion. LOL. https://t.co/7qpHIK1Huv

— Michael Kay (@RealMichaelKay) May 4, 2023
Kay, bomaye! Kay, bomaye!
This should not surprise anyone. Kay is on record admitting he is extremely sensitive. And we all know he is a big fan of performative expression. So perhaps this is all just shtick. Because as we all know, the best shtick is shtick where you cannot tell it is actually shtick and is not in fact genuine anger. That is just how great of a performer Kay is.
Anyway … Kay can handle his Twitter trolls however he wants. It's a free country and he is an adult. But this — like the time he threatened on air to get a ESPN Radio New York producer fired — is pathetic and petty. And unbecoming of the television voice of the Yankees for YES Network and Amazon Prime. No guy talk, OK?
Maybe Kay did defend Cashman, maybe he didn't, maybe opinions would vary. Who knows. I was listening to John Sterling and cleaning the kitchen. But no matter where the truth lies, there is no reason for Kay to punch down on some nameless, faceless guy on Twitter. But then again, we know Kay cannot punch up. Test patterns are currently more competitive against WFAN's Craig Carton and Evan Roberts than the self-proclaimed "best sports talk show in the country."
Back after this.
MORE ON ESNY:
• Who is GM Brian Cashman kidding about Yankees' infield 'surplus?'
• Yankees ace Gerrit Cole is off to a dominant start, but this is nothing new
• Former Yankees SS Didi Gregorius trying to revive career in Mexican League
• Giants TE Darren Waller primed for 'Pro Bowl-caliber' year, according to Rob Gronkowski
• NFL thinks Patriots coach Bill Belichick played 10-dimensional draft chess to screw Jets
James Kratch can be reached at [email protected]. Follow him on Twitter @jameskratch.