The New York Jets have struggled with consistency this season on offense. That is due to the lack of involvement of Austin Seferian-Jenkins.
The New York Jets are 5-7 and their slim playoff hopes stayed alive thanks to their heroic performance at MetLife Stadium against the Kansas City Chiefs on Sunday.
But if the Jets truly want to reach their offensive potential they need to use their talented tight end Austin Seferian-Jenkins a lot more. His usage rate is confusing. His overall usage rate is 12.6 percent. That's in the bottom half of eligible starting tight ends this season.
In this past game against the Chiefs, he finished with three targets and two receptions for seven yards. Overall on the season, his overall numbers are marginal: 41 receptions for 315 yards and three touchdowns. Although, if those numbers were compared to the last several years, seasons in which the Jets completely ignored the tight end position, they'd look pro bowl good.
But here's the thing, ASJ is in a contract year and the Jets have to figure out whether they're going to use some of their jackpot money on him. On paper, he checks off all the boxes you look for in a prototypical tight end prospect: size (6-foot-6, 250-plus pounds), hands (9 3/4), and wingspan (33 3/4).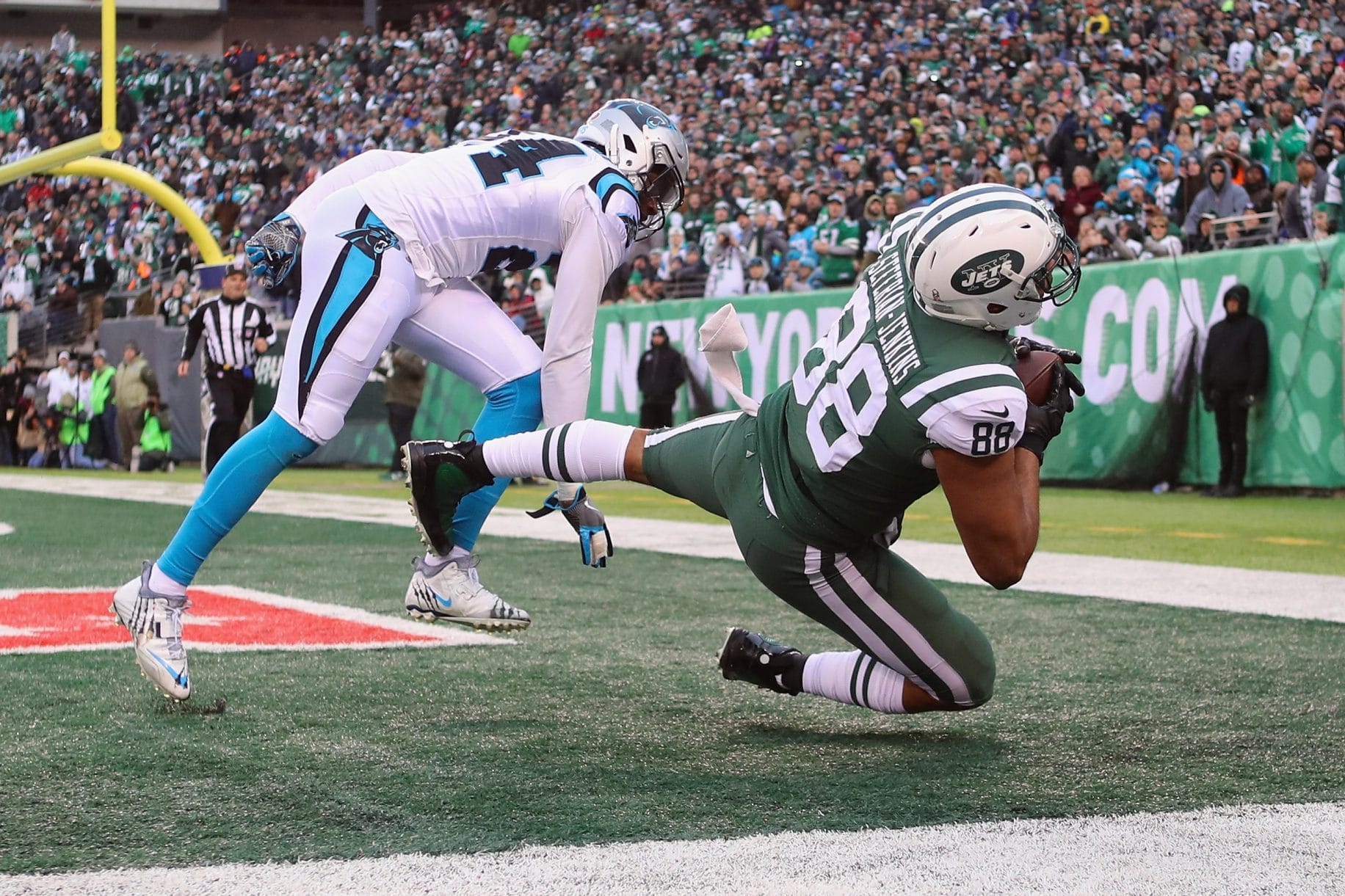 When you've got that kind of prospect you need to get him the ball early and often. While the Jets receiving corps has done a phenomenal job in their own right, they could benefit from having a weapon in the middle of the field.
A corner is too small, a linebacker is to slow. When a 6-foot-6 corner or linebacker comes out of the draft and runs a sub 4.6 call me. Until that happens, ASJ is going to continue to be a matchup nightmare.
When you go to the tale of the tape, Jets quarterback Josh McCown seems to have a more than friendly business relationship with Robby Anderson and Jermaine Kearse. Due to that, he often will try to force the ball there. Sometimes it works (17 receptions for 264 yards combined in the win vs Kansas City) and sometimes it doesn't (seven losses on the season).
So what kind of contract could ASJ command on the open market?
Well the tight end market is broken down into tiers. In the upper echelon that includes: Rob Gronkowski, Jimmy Graham, Travis Kelce, and Zach Ertz. Those contracts average out to $9.2M per season with 27.6 guaranteed percentage average over  the entire contract.
The next tier includes: Jordan Reed, Charles Clay, Greg Olson, Kyle Rudolph, etc. I'd estimate that ASJ is right below this tier in terms of talent, not necessarily statistically speaking. Those contracts average out to $7.9m per season with 45.5 guaranteed percentage average over the entire contract. Although that number may be surprising, it is a bit skewed due to the Clay transition tag extension that the Buffalo Bills were forced to utilized to steal him from the Miami Dolphins in a poison pill offer.
According to the analytics and simulations I used, ASJ should command around a four-year deal for around $24.4M in totality. That's an average of just over six million per season with incentives and guarantees around that 40 percent plateau.
The moral of this story is simple, there are four games left in ASJ's audition with the Jets. Gang green has four dates left to decide if they want to marry ASJ to a long term deal. If they opt for the franchise tag it would be cost prohibitive. The tag is the average of the top five players at the position which equates to just under $10M. ASJ has Pro Bowl potential if used correctly and if the Jets are going to pay him an exorbitant amount of money, they better use him as more than just a decoy.
**All stats, analytics, and calculations were configured using Over The Cap, Spotrac, and a simple math calculator.**