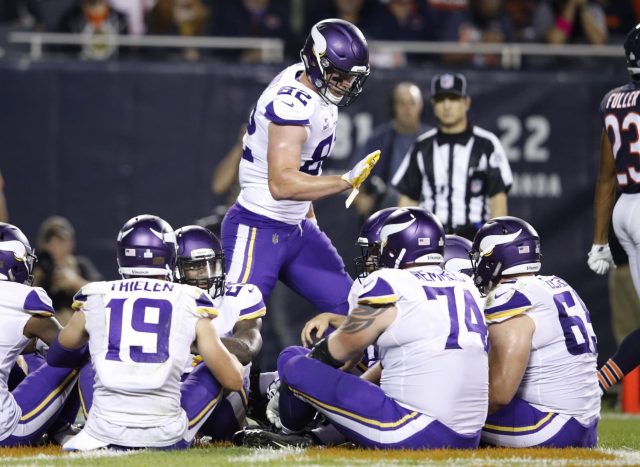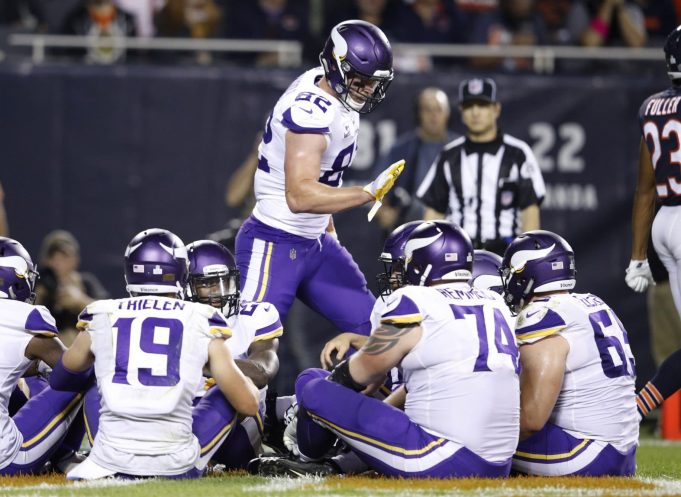 After scoring a touchdown against the Chicago Bears the Minnesota Vikings decided to play Duck, Duck, Goose in the end zone.
The Minnesota Vikings brought up an age-old controversy on Monday night; is it Duck, Duck, Goose or Duck, Duck, Gray Duck?
As Vikings tight end Kyle Rudolph told Courtney Cronin of ESPN, some people in Minnesota call the game Duck, Duck, Gray Duck while others refer to the childhood game as Duck, Duck, Goose.
In the third quarter of Monday night's game against the Chicago Bears, Vikings quarterback Case Keenum threw a 13-yard touchdown pass to  Rudolph for the game's first touchdown. After the touchdown the Vikings celebrated by playing Duck, Duck, Goose in the end zone. Yes that right, they played a children's game in the end zone after scoring a touchdown. Apparently the celebration was planned.
Just to be clear here, it's duck duck grey duck. #Vikings #MINvsCHI #MNF pic.twitter.com/iFMnQ5vX3C

— Nick Lewis (@NickLewis37) October 10, 2017
"'Duck, Duck, Goose' was planned in the huddle right before we went out," Rudolph told Lindsey Young of the Vikings website. "We called the play, a play we ran all week in practice, and I knew somebody was going to score. I said, 'Look, when we score here, whoever scores, you're the duck. Everybody else sit down in a circle, and we'll have some fun.'"
Rudolph added, "Of course I picked one of the linemen as the goose. Everybody jumped up and kind of got in the way, but it was fun for a little while."
So let me get this straight, Kyle; you and your teammates' idea of having fun is playing a children's game? Aren't you guy too old to be playing a game like Duck, Duck, Goose? I know the NFL has cracked down on touchdown celebrations but you couldn't come up with a better celebration than Duck, Duck, Goose?
The Vikings weren't penalized for the celebration but they should have been penalized for having the worst touchdown celebration ever.
Luckily for the Vikings, their goose wasn't cooked as they won the game 20-17.