When ranking the 2017 fantasy football tight ends, Rob Gronkowski leads the way of a talented and exciting group.
I
t's that magical time of the year: fantasy football rankings time.
I decided to go with the tight end position first because this is the most cut and dry position there is. Tight end is a lot like catcher in fantasy baseball. You need to be one of the first two or three to draft a tight end or be one of the last.
Rob Gronkowski is the first to be drafted every year, but last year, that back fired. He is hands down the top tight end but he comes with injury concerns. The biggest problem with drafting Gronk is that he goes in the first two or three rounds and if you draft him, it comes at the expense of a top running back or wide receiver.
Travis Kelce was the top scoring at tight end last year (Gronk only played eight games and that killed his average per game) and he only averaged eight fantasy points per game. Most kickers and defenses will get you that on any given week. That shows you how weak the position is and that is why I am usually the last one to draft one in my league. If you are ever in doubt on who to start for tight end, always go with whoever has the better QB throwing him the ball.
Here are my fantasy tight end rankings for the 2017 fantasy football season. Let me know who I missed or if I am too high or too low on a certain player.
Notables Outside of the Top 10:
Martellus Bennett is now in a great Green Bay Packers passing offense. He will be third in the pecking order for receptions but that isn't a bad place to be when Aaron Rodgers is throwing him the ball. He led all TEs in points per target last year at 1.55. When he is starting and healthy, Bennett is one of the best two way tight ends in the league. Draft him late and he can give you top-five production this season.
Eric Ebron finished in the top ten at tight ends in receiving yards per game (55), receiving yards (711), targets per game (6.5) and catches per game (4.7). Why is he outside the top 10 at the position?
He only had one touchdown for the year.
Touchdowns are what win fantasy football games but they are the hardest fantasy statistic to predict. If he gets that number up to five, he will be a solid option all year and he will go undrafted in most leagues.
Cameron Brate finished the 2016 season as the number six scoring fantasy tight end. He was tied for the league lead in touchdowns at the position with eight and was one of the most consistent tight ends last year.
The reason he isn't higher on the list is that Tampa Bay drafted O.J. Howard with their first pick. Most rookie tight ends don't do well in fantasy terms in the first year so for 2017, Cameron Brate is the Tampa Bay TE that I want.
10. Hunter Henry, Los Angeles Chargers
Hunter Henry was tied for the most touch downs last season at tight end with eight. Henry was a backup for most of the year and showed in his limited amount of snaps that he has the talent to be a stud and showed Phillip Rivers that he can trust him in the red zone.
Having Keenan Allen back will only help Henry's production and Antonio Gates will be the backup heading into the season. He is a great red zone threat and if he plays more between the twenties, his value will only go up.
Hunter Henry will be a tight end that I own in a lot of leagues this year.
9. Zack Ertz, Philadelphia Eagles
Zack Ertz gets over drafted every year and always finishes the season strong in the last month. Ertz finished with 112 targets last year and was Carson Wentz's go to guy at the end of the season. He was fourth in receiving yards per game at tight end with 58 and will continue to get better this season.
Ertz has the potential to finish in the top five at the position but everything needs to go right for him. He has high upside but his slow starts over the last few seasons have me a little worried heading into the season.
8. Delanie Walker, Tennessee Titans
Delaine Walker was on every one of my fantasy teams in 2016. He finished the season tied for third in touch downs with seven and finished sixth overall with 800 receiving yards. Walker goes under the radar every year and I take advantage of it. He doesn't have the upside of the other top seven tight ends but he finished the season as the fifth highest scoring tight end last year.
Walker had six games of double-digit points or more last year and he won't hurt you most weeks like other tight ends. If you draft Walker next year, just plug him in your lineups every week and you won't have to worry about him throwing up a dud often.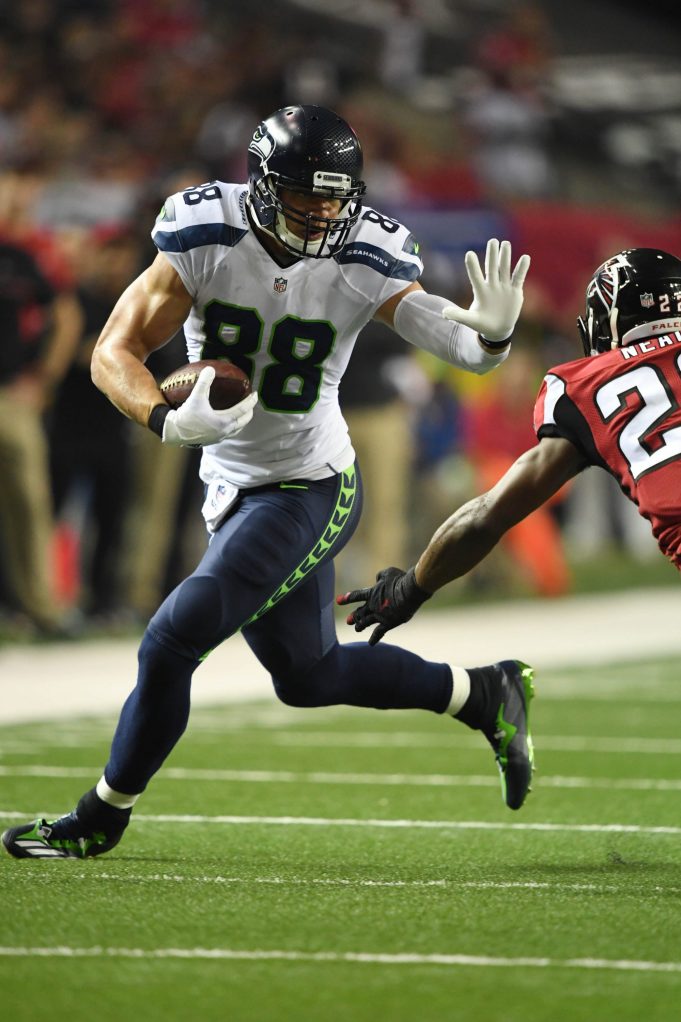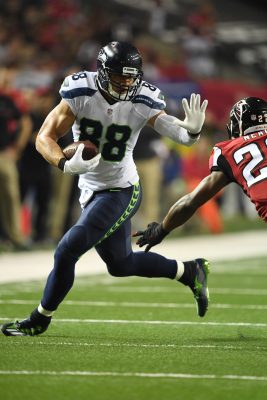 Jimmy Graham finished the 2016 as the number two scoring tight end overall. The amazing part about that is last year he had more games of scoring less than five fantasy points (seven times) than he scored in double digits (six times).
He is a boom or bust type of player but when it comes to talent, him, Jordan Reed and Gronk are in a tier of their own. If Russell Wilson can look his way more often in 2017, he can easily finish the season as a top five tight end.
When Tyler Eifert is healthy, he is a touch down machine. Over the last two seasons (21 games), he has eighteen touch downs. Last season he averaged almost six targets per game and he is a big red zone target for Andy Dalton.
There is no doubting his talent but Eifert had off-season back surgery and that can slow him down at the start of the season. He is a good pick later in drafts because not many tight ends have his touch down upside.
If you wait on tight end this year, Eifert should be on your radar.
Kyle Rudolph lead the Minnesota Vikings and all tight end's in targets in 2016 with 132. He also had the same amount of receptions as Amari Cooper and Julio Jones. Rudolph will go in the later rounds in most drafts and he will be on most of my teams because of it.
He is consistent every week and has a solid floor for fantasy players. Anytime a tight end leads his team in targets, he needs to be on your team. He isn't a deep threat but he should be the Vikings main target in the red zone in 2017.
4. Travis Kelce, Kansas City Chiefs
Travis Kelce finished as the highest scoring tight end in fantasy football last season. The only problem with that in fantasy terms is, he finished with only twelve more points higher than the second-place finisher and he is being drafted close to ten rounds higher. This is why you should be the first or last to draft a tight end in your league. Kelce lead all TE's in receiving yards per game (70) and receiving yards (1125).
He finished fourth in catches per game (five) and sixth in targets per game (seven). The biggest problem with Kelce is his QB play, he only caught three touchdowns. The Kansas City Chiefs don't throw often and that is hurting Kelce's touchdown production.
He is a top three TE but he is better in PPR formats.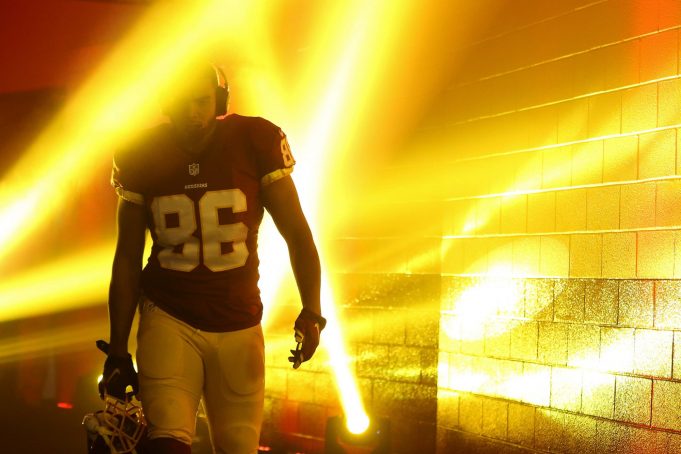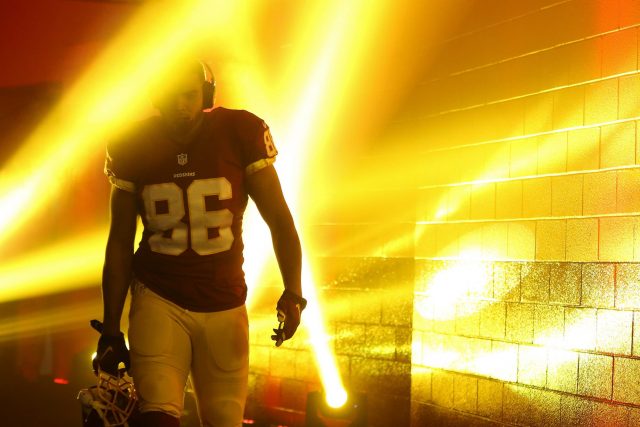 3. Jordan Reed, Washington Redskins
Jordan Reed plays the game like a wide receiver and is built like a tight end. He has scored seventeen touchdowns in the last two years. Reed was second in catches per game at the position with 5.5. The Washington Redskins lost Desean Jackson and Pierre Garcon to free agency, this will open up a ton of targets for him. There is no doubt that Reed is the number one target and can finish the season as the top TE if he stays healthy.
He is a major injury risk but his production on the field is only matched by Rob Gronkowski when he plays. He has great upside but if you draft Jordan Reed, make sure you have solid backup in place.
2. Greg Olsen, Carolina Panthers
Greg Olsen lead the Panthers with 129 targets last year and was second among tight ends. He has played and started in every game over the last five years. Greg Olsen was second in receiving yards at the tight end position last year. He is Cam Newton's favorite target and this year his touchdown numbers should get back up to around six or seven.
Olsen is as consistent as they come and there is no reason he shouldn't finish inside the top three at the position. He might be the safest pick at tight end this year.
1. Rob Gronkowski, New England Patriots
When Rob Gronkowski is healthy, he gives you the same production as a top wide receiver. Last year he only played in eight games and he hurt everyone that drafted him. He has 68 TDs since 2010 which is why fantasy players drool over him in the early rounds. He led all TEs in yards per catch (21.6 yards) and was second in receiving yards per game at 67.5.
When he plays, he is the top tight end and it's not even close. He has the best QB in the league throwing him the ball and he is Tom Brady's favorite red zone target. Draft Gronk with confidence this year because he has a legitimate shot to lead the league in receiving touchdowns.