What a difference a season can make. For the New York Yankees, one whole season makes completely different people for this year's squad.
L
ast year, the New York Yankees were out of it for the entirety of the season. Now, they've had a fighting chance since April and it's been a beautiful thing to watch.
The 2017 season has been rainbows and unicorns for this Yankees team, while last year had been a struggle from day one. All we got last year were the depressing moments, the ones that made us almost give up on this team entirely.
Now, we've got excitement and thrills. We've seen so many incredible things happen and the season is far from over for these Yankees.
That's what happens, folks. Just like John Sterling says, "you can't predict baseball, Suzyn."
In addition to these teams being complete opposites, there are also several players who have either turned it around or turned it off from last season. Let's take a true look at how these players have become their exact opposites after one year.
6. Luis Severino
This is a big one. Luis Severino performed so poorly last season in the starting rotation that he was demoted to the bullpen.
Severino started 11 games in 2016, including a 1-4 record at Yankee Stadium. As a starter, batters were hitting .337 against Severino.
The worst part of 2016 was his month-to-month ERAs as a starter. April, May and August found Sevy's ERA ballooning all the way up to 8.76.
Let's face it; Severino was not ready for the spotlight in the rotation last season. This season, however, he's a completely different man and for the better.
Severino is currently 7-4 on the season with a 3.03 ERA. He has quickly proven himself to be the ace of the staff that has struggled this season. In fact, Severino made the All-Star team for the first time in his career this year.
What a turnaround for a pitcher that several people (myself included) felt should be banished to the bullpen. Well, haters, look at him now. He's far more valuable than we ever realized.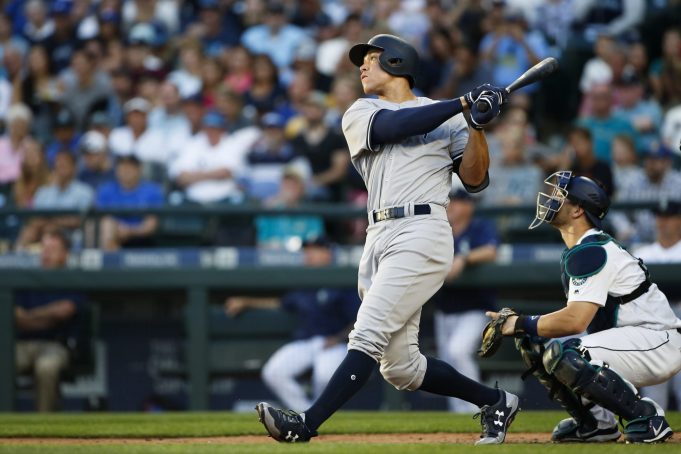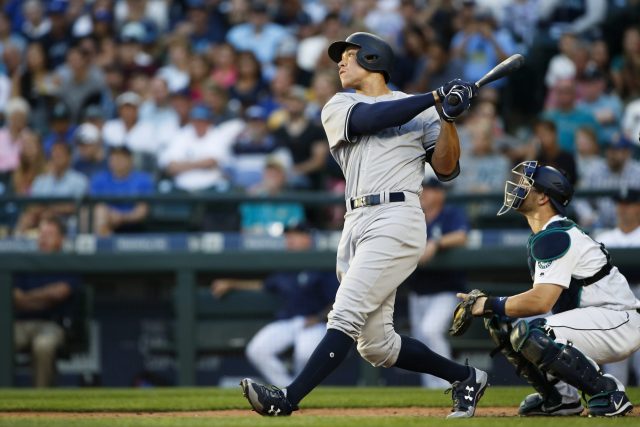 5. Aaron Judge
Aaron Judge had a rough go after breaking into the Major Leagues last season. Sure, he didn't have a full season to work with but, nonetheless, he struggled.
How much? He ended up posting a .179/.263/.345 line to cap off his 2016 introduction to the big leagues. He only hit four home runs in 84 at-bats, while striking out 50 percent of the time.
This season started off with fans questioning whether Judge deserved the starting job over right fielder Aaron Hicks. Well, he's done his damage and showed by the Yankees hung on to him.
Judge turned quickly from a sub .200 hitter to a player on the cusp of potentially winning both AL Rookie of the Year and AL MVP. He leads the team in batting average (.310), home runs (32), RBIs (73), OBP (.434) and hits (106).
Aaron Judge entered this season with low expectations in the eyes of fans. Now, he's our savior. Cheers to the Judge for making the Yankees great again.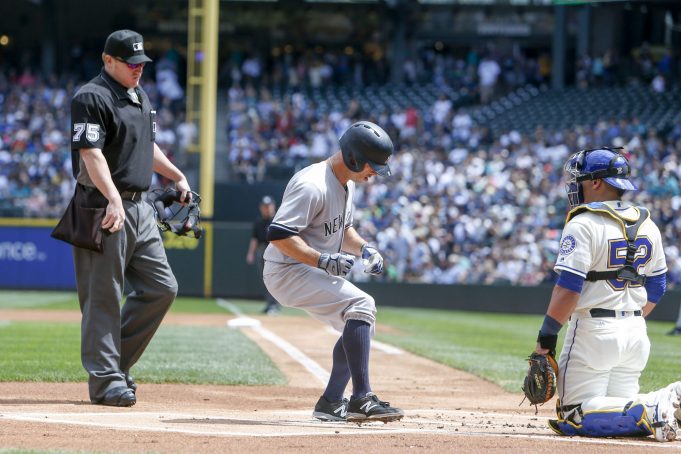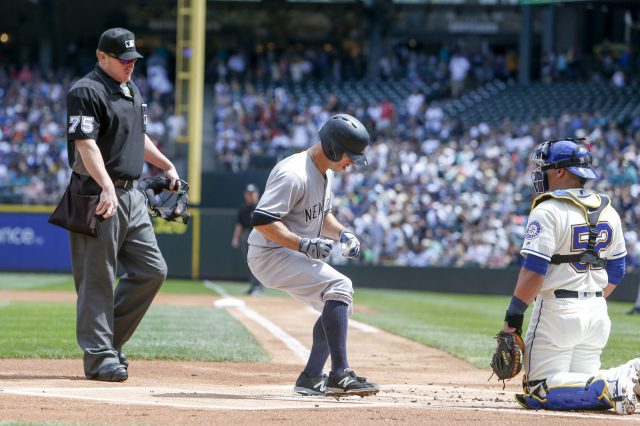 4. Brett Gardner
No, Brett Gardner has not suddenly started hitting .400 while driving in hundreds of runs. Instead, Gardner has become a force to be reckoned with in the power department.
Last season, Gardner slugged seven home runs and drove in 41 runs. This season, he's tied a career-high with 17 home runs and surpassed last year's RBI total.
The speedster is mainly known for his stolen bases and sharp singles but adding power to the mix? He's a brand new player for the New York Yankees and they're loving it.
And these home runs he's hit haven't just gotten over the fence. He has absolutely demolished them at the most opportune times. That's a HUGE difference from last season.
We've still got our speedy Gardner. However, we've also got the power hitter Brett Gardner, who is helping the Yankees rack up the wins all season long.
3. Aaron Hicks
We all know the story of Aaron Hicks. He was 2016's version of Stephen Drew. He was, in a word, pitiful.
He batted .217 and had 110 total bases in 123 games. So far this season, despite being placed on the DL for a significant amount of time, he's slashing .291 and already has 103 total bases in 63 fewer games.
This year, Hicks has driven in a career-high in RBIs and has 10 home runs on the season. Hicks last year was a player that should have been cut. Hicks this year, however, is a sparkplug that kept the Yankees going.
Hicks is on the DL right now but he has performed a significant role for the Yankees in terms of production. He has finally made the Yankees look good for believing in him.
When Hicks comes back, he'll play a huge role in getting the Yankees to the playoffs. Well, at least a much bigger role than he had on the team last year.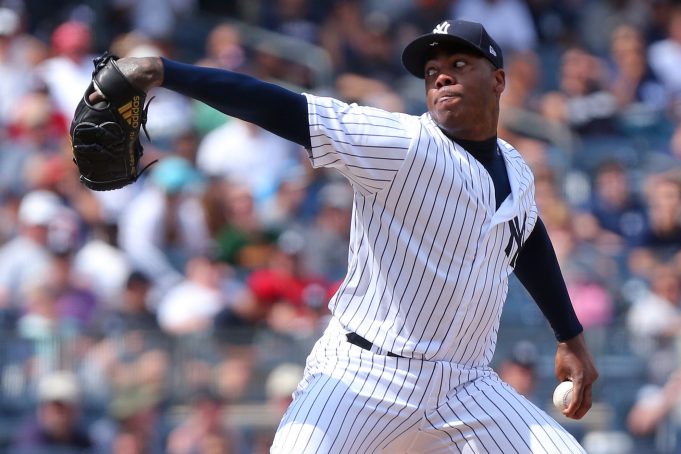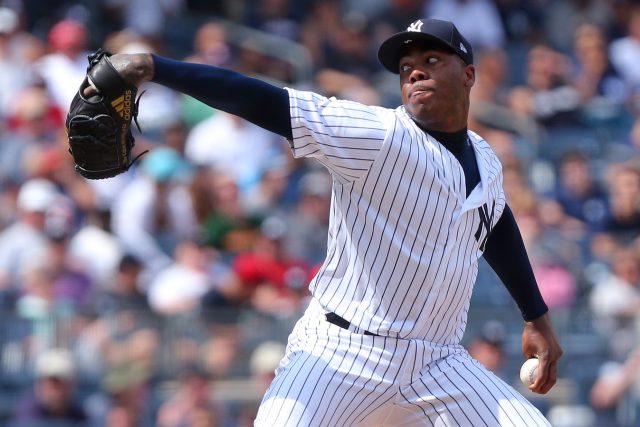 2. Aroldis Chapman
The bullpen had the reputation of being unstoppable, especially last season. As the 2017 season wears on, Aroldis Chapman has proven to be incredibly inconsistent.
In 2016, Chapman's stint in the Bronx was met with cheers and confidence. The flamethrower pitched in 31 games and saved 20 games for the Bombers prior to his trade to the Chicago Cubs.
In just 30 games this year, he's given up more hits, more walks and had fewer strikeouts to place alongside his 3.38 ERA.
For a closer the Yankees paid millions of dollars for in the offseason, Chapman has since let them down. Maybe he'll be able to turn it around. But right now, Chapman looks like the exact opposite of the stud pitcher we saw last season.
One season, he can throw 100+ MPH and get the outs. The next? Players are hitting him around the ballpark. That's a huge change from one season to the next.
The former ace of the New York Yankees is now the resident chump in the starting rotation. And his decline from the top has been absolutely astounding to watch.
Tanaka was 14-4 in 2016 with a 3.03 ERA in 31 games. He also pitched just under 200 innings while allowing 68 earned runs.
So far this season, Tanaka is 7-9 with a horrific 5.37 ERA. Not only that, but he has allowed 69 earned runs, surpassing last season's total in 11 fewer games.
Tanaka has also given up a career-high 26 home runs in 2017 which definitely proves to be his biggest issue this year.
The puzzle that is Masahiro Tanaka is still unsolved. Some days he has good outings and other days he gives up eight runs before finishing an inning. It's all about balance.
When it comes to Tanaka, the Yankees don't know what to expect. That's a far cry from the former, reliable ace.
So, there you have it. The New York Yankees are the perfect example of how one season can change everything. These players, regardless of whether they changed for better or worse, now have a chance to go for the gold. Time to take it.