The Brooklyn Nets have been on a tear over the past two weeks, winning a league-best seven straight games against some very tough teams.
With the longest active winning streak, the Brooklyn Nets have burst upon the scene. Many great moments have defined this extended streak. D'Angelo Russell's dagger three-pointer had Magic Johnson frantically searching "rules for rescinding NBA trades" on Google. Spencer Dinwiddie earned practically a million dollars for every point he scored against the 76ers.
Jarrett Allen blocked LeBron James so badly that The King played the wimpy old age card to the press. (Seriously, LeBron is probably one of my three favorite players of all time, but what was that explanation? "It takes me longer to warm up?" What does that even mean? You're not a 1920s Model T for crying out loud. Sorry. Carrying on … )
Brooklyn's robust performance has propped them right back into the playoff race (as my colleague Collin Loring pointed out yesterday).
However, of all the exciting moments in the past two weeks, it was the very first game of this streak that stood out to me the most.
On Dec. 7, the Nets matched up with the Toronto Raptors, who currently holds the league's best record even amidst an iffy 5-and-5 stretch. Like many games previously, the Nets were able to stay with one of the league's premier giants, going punch for punch through three and a half quarters.
However, as the game entered the final five minutes, neither team was able to gain an advantage. Because of this, fans at the Barclays Center began to tighten up, preparing for yet another heartbreaking loss. (The Nets were, at this point, on a tough eight-game losing skid.)
However, to the surprise of the fans, Brooklyn's young crew did not topple over in the face of opposition, and the game headed into overtime.
With 24 seconds remaining, and a 106-105 score in favor of the Nets, the Toronto Raptors had the ball. It seemed all but certain that Kawhi Leonard, one the of toughest covers in basketball and an MVP candidate, would go to work. Make it nine straight losses, I thought to myself.
The Raptors inbounded the ball to Kawhi Leonard. Feeling his defender (Rondae Hollis-Jefferson) close to his body, Kawhi put his head down and drove to the hoop.
Well, here's where I knew we were in for something special, Nets fans.
Kawhi Leonard is one of the most ferocious downhill attackers in the game. With quick feet, excellent timing, and a physique that Zeus himself could only dream of, the man is a nightmare to defend on drives to the rim.
Hollis-Jefferson got beat … instantly. He then frantically back-peddled toward the baseline, doing all he can to stop the play.
And you know what? It worked! Somehow, Hollis-Jefferson recovered, riding a thin tightrope of falling on his ass and staying in front of Kawhi.
Hollis-Jefferson didn't stop there, though. The Raptors regrouped, setting a pick for Kawhi to give him some space. Rondae Hollis-Jefferson battled back, throwing himself around the opposing screen to remain eye-to-eye with Kawhi.
At this point, the Raptors ran yet another pick-and-roll; this time between Kawhi Leonard and his running mate, Kyle Lowry. Hollis-Jefferson expertly jumped over the screen, switched with his teammate (Spencer Dinwiddie) on the fly, and lunged over towards Lowry.
Lowry, feeling the pressure from the tireless Hollis-Jefferson, gave the ball up to Fred Van Vleet who … um … did this again:
You could practically feel the collective exhale of relief from the Nets. This right here is the face of a team who just broke an eight-game losing streak against the best team in the league: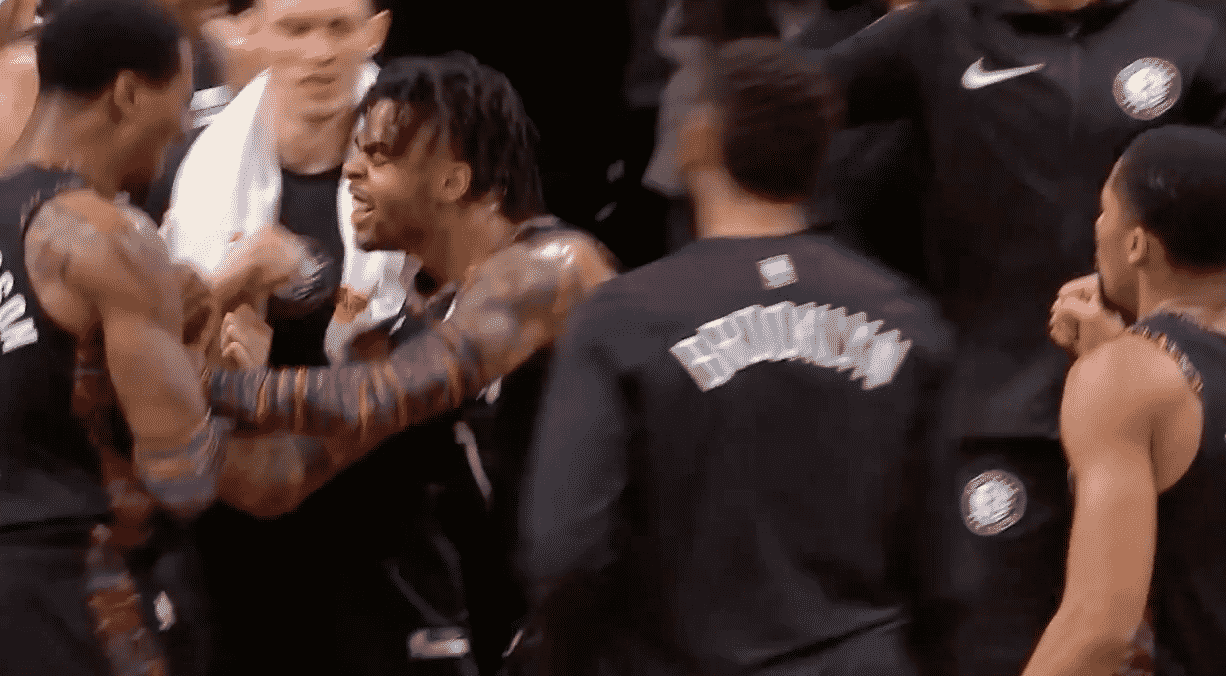 Since their victory against the number one seed of the Eastern Conference, the Nets have gone on a well-chronicled tear. The team has been playing with some added confidence, especially when the game gets tight. The stagnant offense, shrugged shoulders, and tentativeness that we saw in November no longer plagues this team.
Before Dec. 7 (the game against the Raptors), the Nets were one of the worst-performing teams in the clutch after losing their star, Caris LeVert. Their 6.4 points represented the 10th-worst clutch scoring average in the league. This putrid scoring average was also paired with a frigid 32.9 percent from the field (and 25 percent from three).
During their win streak, however, they've looked completely revamped. They've upped their crunchtime scoring to a nine-point average, good for ninth out of 30 teams. Their efficiency has also improved, as Brooklyn has raised that piss-poor shooting percentage to a strong 48.5 percent from the field.
Part of this has been a by-product of their improved decisiveness on the court. The team has bided their time wisely, waiting for the best shots available to come to them.
During regulation, one of Brooklyn's main sources of offense is drives to the rim. In fact, they are second in the NBA only to the Charlotte Hornets when it comes to team drives per game. This makes sense, considering that The Nets currently have two players who rank in the top 20 in player drives per game.
The difference between November's Nets and the Nets of recent is that the current iteration continues its tireless pursuit of at-rim baskets, even as regulation comes to a close. Since Dec. 7, the Nets rank fourth in the league in crunchtime points in the paint.
Much of this can be attributed to Spencer Dinwiddie's improved decision-making. Last month, I published an article highlighting Dinwiddie's biggest weakness: his end-of-game antics. Dinwiddie would frequently barf up low-percentage, step-back threes with plenty of time remaining on the shot clock.
Since that article's release, Dinwiddie has looked like a new man in the clutch. He's replaced those awful jump shots with aggressive drives to the rim. Due to his stature alone, these are plays that very few opponents can stop.
This play, in particular, got me out of my seat. I couldn't believe my eyes when Dinwiddie overcame the league's most frightening come-from-behind shot blocker, Joel Embiid. On defense, Embiid is some sort of horrifying mix between Andrei Kirilenko's lightness of foot and defensive integrity and Dwight Howard's physicality. It's unfair. Yet, still, Dinwiddie managed to beat him off the dribble and eek a shot past Embiid's condor-like wingspan.
Dinwiddie's backcourt partner, D'Angelo Russell, has also been quite impressive. The biggest thing I've noticed about Russell is his willingness to pick up the slack when Dinwiddie's shots stop falling. Unlike Dinwiddie, however, a majority of D'Angelo's offense comes through jump shots, especially from the mid-range.
While many people pointed to the Lakers game as D-Lo's signature performance, I was equally dazzled by his overtime show against the Raptors.
Russell scored six of Brooklyn's eight overtime points; all of them in the form of pull-up mid-range jumpers. It was a truly retro performance, as it featured scoring from the most neglected area of the court. It was also, perhaps, a preview of what is to come for D'Angelo Russell.
To be clear, he still needs to clean up his shot selection. Although the mid-range is his bread and butter, Russell only ranks 20th out of 59 players who take 2.5 or more mid-range shots per game. Considering his preference for this type of shot, it would be nice to see him rise into the C.J. McCullom, Kemba Walker, or even the Jordan Clarkson ranks of mid-range shooting.
There is no doubt in my mind that Russell could elevate into becoming a long-range assassin. He's leading the team in corner three-point percentage, both from the left and right sides of the court. At this point, it's about him continuing to learn to pick shots correctly.
The more I watch Russell and Dinwiddie play, the more I am in favor of keeping the two together. They are, quite literally, inverse versions of each other. Dinwiddie is a much quicker, more physically gifted athlete. He's a bit of an off-the-bench dynamo, capable of heating up at any time. At his best, Dinwiddie can ram his way through the teeth of the defense, earning himself a strong lay-up or free throws.
He is erratic from deep, and tends to hoist 35-foot bombs that really only should be taken by Stephen Curry, Damian Lillard, Kemba Walker, Kevin Durant, and (maybe) Kristaps Porzingis (come back soon, buddy).
D'Angelo, on the other hand, is a much more cerebral player. As a passer, he's an absolute killer in the pick-and-roll, capable of making advanced wraparounds in traffic to the rolling big man.
I mean, my goodness, these one-handed, no-look dimes are Chris Paul-esque. You can't teach this type of vision.
Even with a somewhat spotty shot selection (which is to be expected at 22 years old), he's still an increasingly deadly shooter from deep. His dagger three against Kyle Kuzma, the player he was traded for in June of 2017, was swine-flu sick (too soon for that reference? You tell me).
D'Angelo Russell's trey to put the @BrooklynNets ahead for good! ??#WeGoHard pic.twitter.com/L9Q71Uclnh

— NBA (@NBA) December 19, 2018
There isn't one other player on this Nets roster that could take (and make) a shot this ballsy. D-Lo's dagger was, perhaps, the best f— you shot of the NBA season. That stuff matters folks, especially with Brooklyn seemingly headed towards playoff land.
Other Notes
Rondae Hollis-Jefferson's performance wasn't an exception to the rule these past two weeks. In fact, it was merely a sign of the times to come. The effort, across the board, has been very balanced for Brooklyn.
Jared Dudley finally came out of his three-month-long hibernation, nearly single-handedly defeating the Lakers.
While the phrases "explosive" or "speed demon" should never be used to describe Dudley, he could instead be described as a "brainy veteran." For all of his athletic deficiencies, Dudley slow-roasted his defenders (Kyle Kuzma and Josh Hart) like some delicious short-ribs.
(Also, his pull-up dagger against LBJ was both hilarious and awe-inspiring. It had been out of my seat, screaming in disbelief.)
Rodions Kurucs has also been a refreshing source of energy for Brooklyn, all to the delight Zach Cronin.
In limited minutes, he's been a strong on-ball defender. His 7-foot-2 wingspan in combination with his impressive lateral movement is a big reason why he's been so adept at staying in front of his man.
He also has a great motor, making him a continuous threat to sneak around defenses and swipe offensive rebounds.
Kurucs' maximum effort on the court has been, undoubtedly, a catalyst to Brooklyn's success. He's already an immediate impact over DeMarree Carroll, who continues to struggle.
(Side note, but given the Junkyard Dog's unforeseen rise, I think that Carroll has overtaken Dudley in my personal "guy I would rather see working at a Baskin Robbins than playing actual minutes for the Brooklyn Nets" rankings … It's a working title.)
The Nets will face, perhaps, their biggest test of the past two weeks when they play the Indiana Pacers on Friday. The Pacers, with their second-ranked defense, will do anything they can to stop Brooklyn in their tracks. Indiana is incredibly stingy when it comes to buckets in the paint, at only 42.6 points per game. Only the Milwaukee Bucks and the Memphis Grizzlies are better in this category.
It will be interesting to see how Brooklyn's offense, which is predicated through the drive-and-kick, will respond. Here's to making it eight-straight.