Rodions Kurucs' chance of seeing the floor for the Brooklyn Nets varies with each passing game, and it's time for that to change.
Rodions Kurucs is many things: tall, gangly, raw, unpolished, energetic. The first two traits are gifts from the basketball gods. Kurucs' skinny 6-foot-9 frame appears to have arms longer than what they are (there's no official data on his wingspan, sadly). The following two traits are products of his youth. The final trait is the reason Kenny Atkinson needs to make Kurucs a significant piece of the Brooklyn Nets rotation.
Brooklyn is still reeling following the loss of Caris LeVert. They've improved to 10-18 overall after beating the Toronto Raptors and New York Knicks, but the level of play has dropped off. And expectedly so.
LeVert was having a career year. He was on pace to be a finalist for the Most Improved Player award. In his absence, the Nets have looked toward D'Angelo Russell to guide the offense. Russell has picked up the scoring (19.4 points) and playmaking (6.6 assists) but leaves some to be desired in regards to efficiency (41.4 percent overall, 32.0 percent from three). He needs help.
Spencer Dinwiddie has come to rescue and is averaging 18.3 points in the 14 games since LeVert's gone down. Allen Crabbe, Joe Harris and Jarrett Allen are thriving in their respective roles. But the Nets still have plenty of problems.
The offense has lost its efficacy. Brooklyn is 24th in efficiency over their last 14 games per NBA.com. The ball is no longer zipping around the court and touching multiple players' hands before winding up in the shooting pocket of someone who's squared up for an uncontested three. There are, of course, moments of brilliance.
But impotence and effort are the overarching problems. A similar stagnation has permeated the defense. The Nets are surrendering 109.0 points per 100 possessions without LeVert. Oddly enough, that's the 16th-best mark in the league, and yet there are still plenty of lapses. Rodions Kurucs can help on both ends, even though he's not one of the roster's most talented players.
Kurucs' numbers are modest because of his short leash. He's averaging 6.5 points and 3.1 rebounds in 12.5 minutes. On a per-36 minute basis, the points balloon to 18.9 and the rebounds to 8.9. Additionally, he's shooting 62.2 percent on twos and a staggering 69.0 percent inside the restricted area. Even so, Atkinson is very selective with when he puts Kurucs on the floor.
The 20-year-old not only sees limited time, but it's not a given he'll play every night. Thus far, he's appeared in 11 games, racking up a sizeable amount of DNP-CDs. That's changed recently. Kurucs has played quality minutes in the wins over Toronto and New York, as well as the losses to the Cleveland Cavaliers and Washington Wizards.
In total, Kurucs has eight contests wherein he's seen double-digit minutes. The Nets are 4-4 in those games. Context is necessary; Kurucs isn't solely responsible for those wins. But it's impossible to deny his impact.
"He just plays hard," said Kenny Atkinson after Brooklyn's loss to the Cavaliers on Dec. 3, per Nets' reporter Tom Dowd. "He's got extreme energy and I thought he turned the game for us and got us back in and his energy was contagious. Listen, that's what he's done most of the time he gets in there, so it's good news for the Nets. Disappointing loss, but to have a young player contribute like that at this level, this early, is good news."
The basketball equivalent to a Joule is non-existent. Quantifying a player's energy with one statistic is impossible. However, there are giveaways. With Kurucs alongside the other Nets, the unit appears livelier than usual. It starts with his off-ball movement.
Unlike a fellow European rookie, Rodions Kurucs is limited offensively. He's a poor shooter who lacks shot creation skills. That, however, doesn't limit his impact. He times his cuts perfectly, filling the gap between defenders with precision and avoiding clogging things up for the ball handler. As a result, he gets a decent amount of easy looks. What's most encouraging is how Kurucs — a mediocre offensive player at best — does all this running around without being detrimental.
According to NBA.com, the Nets boast an offensive rating of 107.4 when Kurucs is on the bench. It rises ever so slightly to 107.9 once he takes the court. A factor in that is Kurucs' acceptance of his role. He's an energy guy. His job is to play hard and take what the defense gives him. He also has tremendous room for growth, and this minimalistic style of play is an excellent foundation. Kurucs is so efficient with his movements that he's averaging .373 points per touch, the second-highest total on the team per NBA.com.
Kurucs has breathed some life into the Nets' offense over the last couple of games, and he's done it while being more than respectable defensively.
At 6-foot-9 with agility and athleticism, Kurucs is a solid physical specimen for today's NBA. He can guard three positions depending on the opponent's lineup. The only thing Atkinson has to worry about is foul trouble. Kurucs is sometimes consumed by his energy, causing him to be too aggressive and pick up fouls that older, more experienced players would avoid. That trait is prevalent in most young players. It's a learning curve. But Kurucs balances it out with a willingness to defend, and he's done a decent job thus far.
Before we go further, I must issue a disclaimer: the sample size is small, and it's okay to take everything with a grain of salt.
The Brooklyn Nets aren't a team that's one player away from being a defensive demigod. It's going to take time for them to even think about reaching elite status. Regardless, Kurucs' energy manifests itself the same way it does on offense. His aggression emits like an unlocked Wi-Fi network and is picked up by his teammates, who, in turn, pressure the ball handlers and play with a higher intensity. With Kurucs, the Nets limit opponents to 97.6 points per 100 possessions, a 13.9 point improvement compared to when he sits per NBA.com.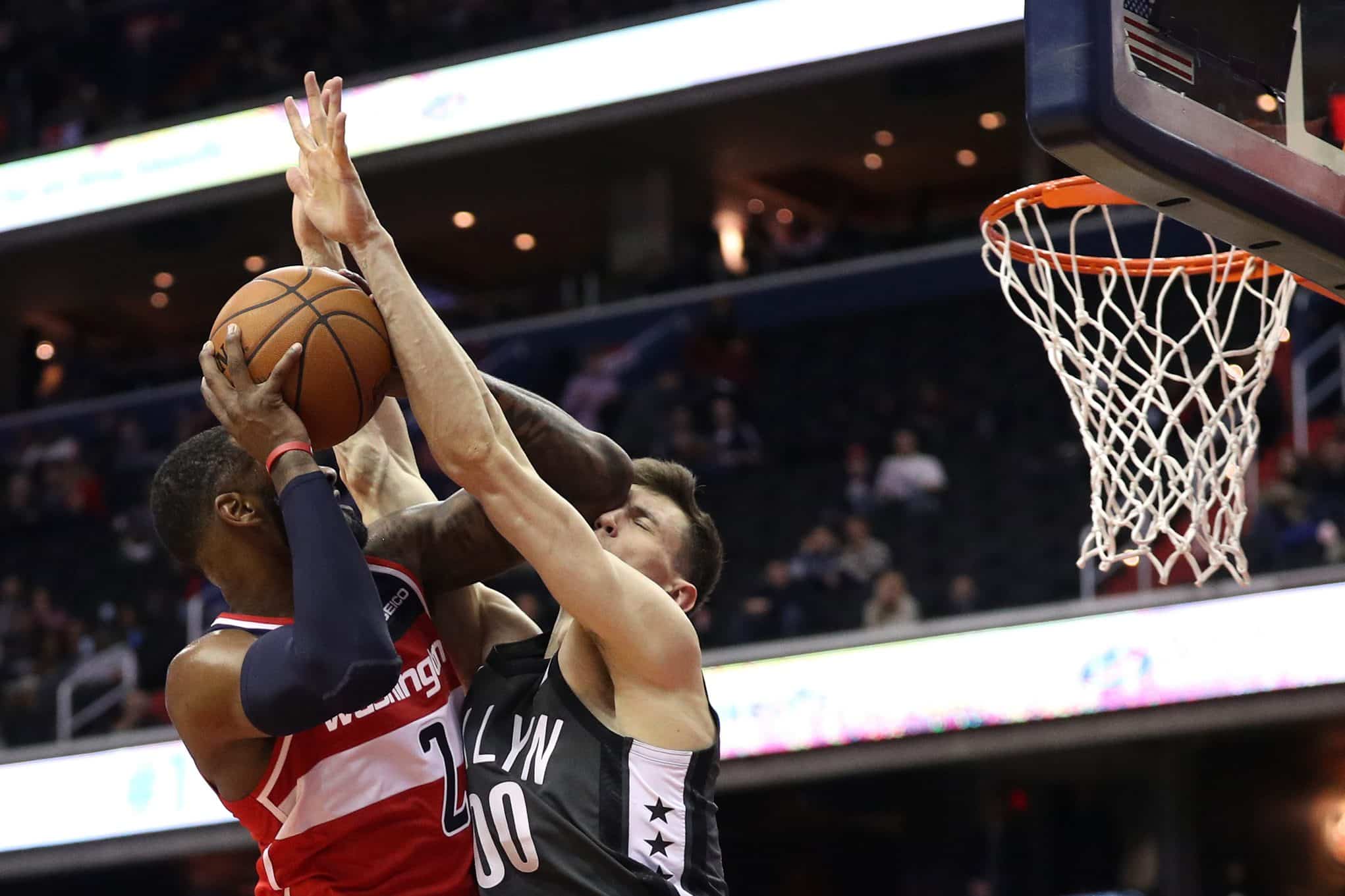 Individually, Kurucs has numbers of similar gaudiness. In his 11 games, he's held his matchups to 44.0 percent shooting, per the NBA's tracking data. It's a one-point differential from their average. On threes, the conversion rate falls to 29.4. The clip rises once someone gets inside of six feet, but even then it sits at 38.5 percent, down from 60.2 percent.
Those marks are the result of Kurucs' lack of playing time and also his matchups. Delon Wright (three), Cory Joseph (three), Jordan Clarkson (four) and Kevin Knox (seven) are the only players who have attempted more than two shots when guarded by Kurucs. Those guys aren't world class scorers. But coaches notice even the smallest victories.
Kurucs isn't close to scratching the surface of his potential. Kenny Atkinson is as vital to Kurucs' growth as he is. The third-year coach has never been the best with rotations, but Kurucs has shown that he only needs 12-15 minutes to inject some life into the Brooklyn Nets. He doesn't need plays drawn up for him, and his defense is better than some of the other wings — still, the season's young. There will be plenty of chances for Kurucs to prove he has a permanent spot in the rotation.