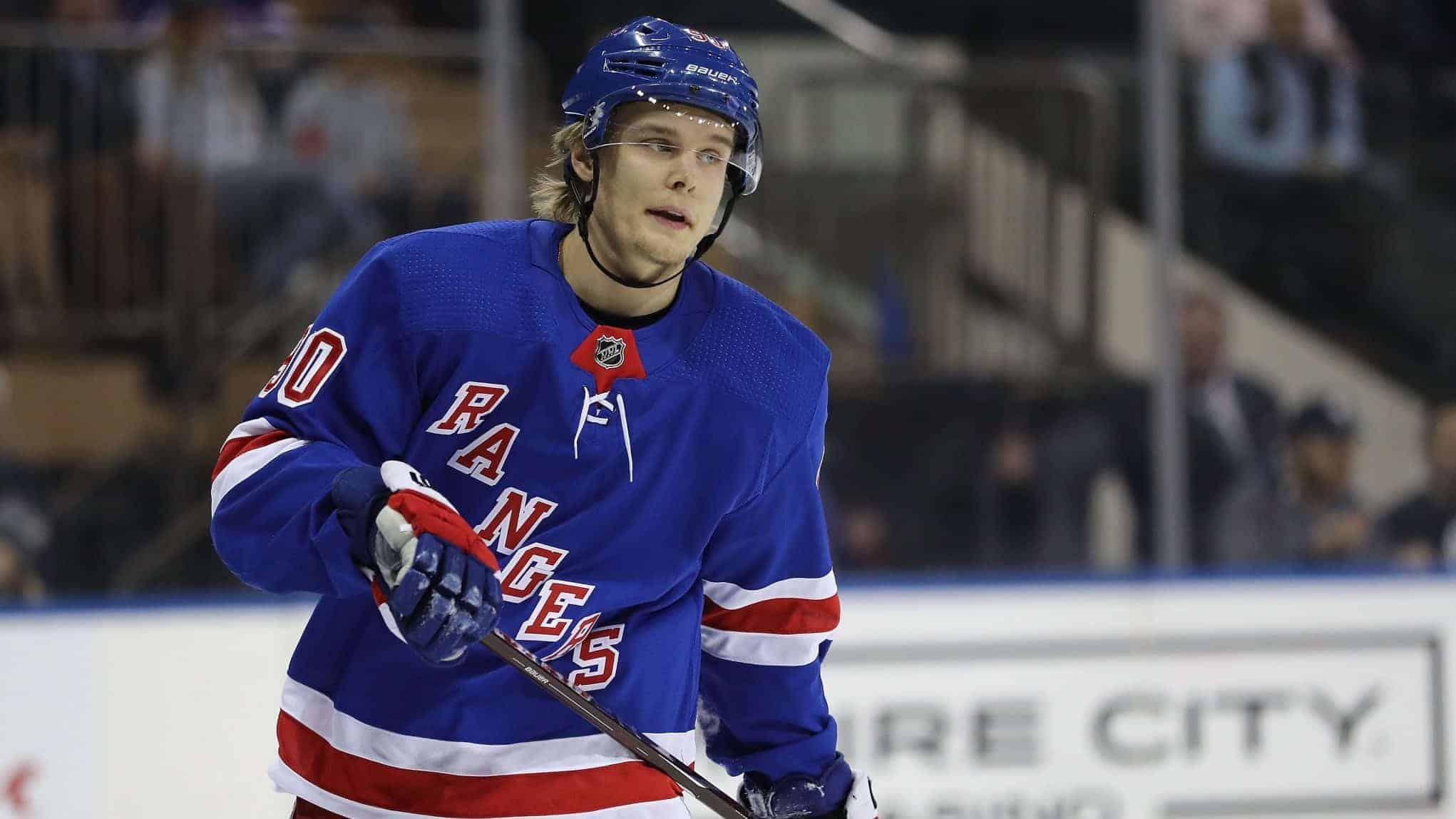 The New York Rangers don't yet know enough about Vladislav Namestnikov to know if he's a part of their long-term future. That's a problem.
Vladislav Namestnikov was part of the blockbuster deal the New York Rangers made at the NHL Trade Deadline with the Tampa Bay Lightning, one that included longtime captain Ryan McDonagh and promising young center J.T. Miller.
Namestnikov is only 25—the same age as Miller—which is young enough to be a part of the Rangers' future. But he's also a restricted free agent at the end of the season, which doesn't give the Blueshirts much time to finish their evaluation.
What do we know about Namestnikov?
We know that the potential and skill is there. He has the ability to make plays that we haven't seen made in a Rangers uniform in quite some time. Just look at the play below.
Namestnikov has an open net and comes close to scoring pic.twitter.com/KJo7VfauKl

— Shayna (@hayyyshayyy) March 27, 2018
Sure, he wasn't able to finish here but plays like this show what sort of ability he has. It's hard to not get excited about that potentially being on the roster for years to come.
Part of the problem surrounding Namestnikov's game with the Rangers has been that he is not playing with the likes of Steven Stamkos and Nikita Kucherov as he did with Tampa Bay.
Playing with those two premier players is a huge reason why he had already scored 20 goals on the season prior to joining the Blueshirts.
He carried that confidence over in his first game as a Ranger, scoring a goal and giving fans hope that he was going to be something special. Lately, though, he hasn't been scoring. He has been invisible at times and has gotten lost on the bench.
With the recalls of Lias Andersson and Filip Chytil, the Rangers are getting a look at the future. But they seem to be forgetting that Namestnikov is in the same boat as Andersson and Chytil.
Namestnikov is averaging just over 16 minutes (16:05) of ice time with the Rangers, down from the 17:30 he averaged in Tampa Bay.
Part of the problem here is that Namestnikov is seeing time on the fourth line with Pavel Buchnevich and Cody McLeod. While Buchnevich has significant skill and upside, McLeod doesn't.
Namestnikov's track record shows that he produces when paired alongside elite talent. We saw that before the trade, as he had 44 points (20 goals, 24 assists) in 67 games with the Lightning. But he's mustered just three points (one goal, two assists) in 14 games with the Rangers.
Another plus to Namestnikov's game is that he can play the wing and center—and be defensively sound at either position. Head coach Alain Vigneault put Namestnikov on the wing for one game, but then Andersson and Chytil were recalled and that plan was scrapped.
No one is complaining about this because the team needs to see what Chytil and Andersson can do. But in making a decision on Namestnikov, the Rangers need to figure out where he fits on the ice.
They cannot afford to make the same mistake they made with Miller—or that they seem to be continuing to make with Buchnevich.
How can the Rangers decide to give Namestnikov an extension for more than two years based on the games he's played for them? This is the dilemma that is facing general manager Jeff Gorton.
Gorton needs to realize that this was too small of a sample size to really gauge anything from Namestnikov. He and the team simply need a larger sample size to judge.
Rather than sign him to a long-term extension, Gorton needs to lock him up for another year. Call it a "prove it" deal. Show us you're the player we think you're capable of becoming, and we'll lock you up with a lucrative multi-year deal.
By giving him another full year, Namestnikov will be able to fully adapt to living and playing in New York. It's hard for players to adjust midseason to a new home and play well. Just look at the production from Martin St. Louis when he was traded to the Rangers (from Tampa Bay) in 2013-14.
The Rangers wanted a rebuild. Part of that is making tough decisions and asking tough questions. This is one of those tough questions. Where does Namestnikov fit and should he be a part of the longterm plan?
Not having the answers puts the Rangers in an odd situation.
Follow Dominick on TWITTER