New York Giants' defensive tackle Damon Harrison was dominant up front in 2017, but his success flew under the radar.
T
he
New York Giants
endured chaos everywhere they turned in 2017. Ranging from suspending multiple members of their secondary, to the team's bizarre media encounters and injuries to even going
3-13,
it was a fire that couldn't be put out for Big Blue. And in the midst of it all, the dominant play of defensive tackle
Damon Harrison
went unnoticed.
This season, the Giants' defense was underwhelming, to say the least. Finishing 31st in yards allowed (5,971) and 28th in points surrendered (24.3), they didn't live up to the hype that surrounded them going into the year. At the same time, select individuals showed up every week and produced—Harrison in particular.
Finishing the year with 76 combined tackles-which was second in the NFL behind Khalil Mack for defensive linemen—Harrison ate up the inside run and dominated up front. While not known for his ability to get to the quarterback, he did post 1.5 sacks.
Harrison even recorded his first career interception versus the Kansas City Chiefs in Week 11. He did a little bit of everything.
In a year that was dominated by an exhausting amount of distractions (the injuries to Odell Beckham Jr., Brandon Marshall, Sterling Shepard and Dwayne Harris, players not showing up for practice and getting suspended, Eli Manning being benched for a game, and head coach Ben McAdoo and general manager Jerry Reese getting fired midseason), Harrison's success flew under the radar.
Yes, he recorded ten fewer combined tackles and one less sack than he did in 2016, but based on the drama and defensive execution, or lack thereof from the Giants as a whole, the tackle's 2017 campaign was impressive and Pro-Bowl worthy—although voters thought otherwise.
Outside of Harrison and rookie Dalvin Tomlinson—who recorded 50 combined tackles and one sack in his rookie season—the Giants' defensive line was hot and cold. Jay Bromley struggled to clog up the run and their defense was unable to get a swarming pass rush from its edge rushers.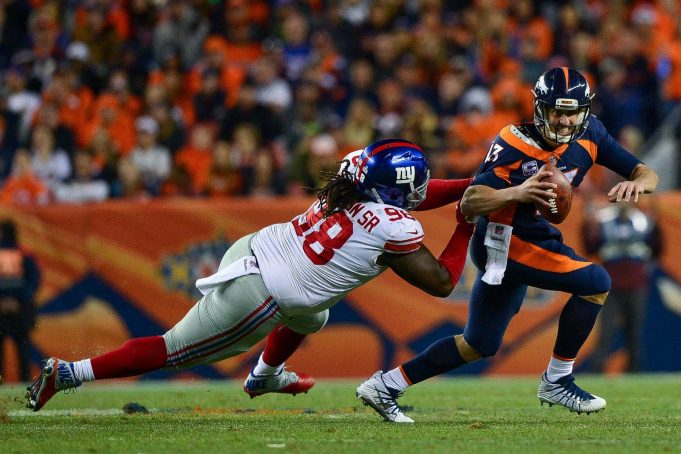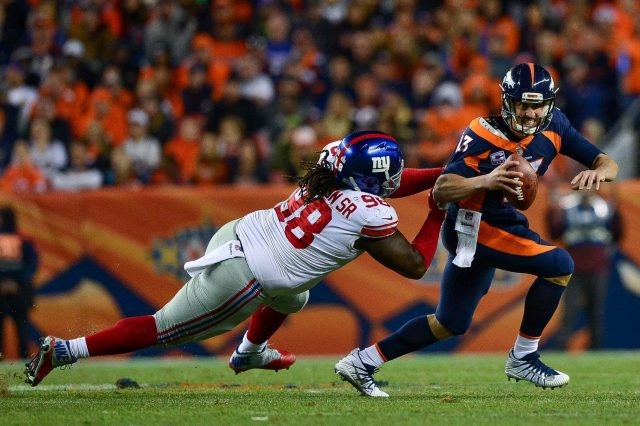 With Olivier Vernon missing time due to an ankle injury and Jason Pierre-Paul getting out-maneuvered at times on the outside, the Giants were unable to pose a potent pass rush—finishing 30th in sacks (27.0). With contracts combining for $147 million, the Giants need more from Vernon and Pierre-Paul, in terms of posing a legitimate pass rushing threat.
On the other hand, Harrison continues to play into his contract and is one of the better signings management has made. Now two years into his five-year, $46 million deal, Harrison's ability to contain the run has made it a contract worth spending on the Giants' behalf. He's one of, if not the best interior lineman against the run and one of the better players to line up at tackle in the NFL; he's the glue that keeps the Giants' together up front.
Harrison didn't miss a single game in 2017 and has never missed a game over the duration of his five-year career. His durability, run-stopping prowess, and sole presence is irreplaceable, as is his leadership.
After their humiliating Week 9 51-17 loss to the Los Angeles Rams at home in the rain, claims were made about players quitting in the middle of games and/or on McAdoo (before he was fired). Then, Harrison came out and stood up for his head coach, per ESNY's own Geoff Magliocchetti.
"Whoever was anonymous, whoever said it is a coward. Flat out," Harrison said. "If you're not man enough to put your name behind something that you feel because that hasn't been echoed to anybody in this locker room. I mean, we could have talked it out if you feel that way. It could have went differently, but point blank, whoever said that is a coward."
It was certainly a frustrating year for everyone involved in the North Jersey turmoil, but Harrison was one of a handful of players who endured a successful season and reiterated the notion of being a leader in the Giants' locker room.