The New York Giants' defense not only has to top the San Francisco 49ers this week, but a new, perhaps more dangerous, opponent has emerged.
In the wake of a report by ESPN's Josina Anderson, who claimed that two anonymous Giants told her that head coach Ben McAdoo had lost control of the team, Giants defenders took the unknown parties to task. The unknown critics have not identified themselves, but the prominent group defenders didn't mince words when asked about the report.
"Whoever was anonymous, whoever said it is a coward. Flat out," defensive tackle Damon Harrison said. "If you're not man enough to put your name behind something that you feel because that hasn't been echoed to anybody in this locker room. I mean, we could have talked it out if you feel that way. It could have went differently, but point blank, whoever said that is a coward."
"I'm curious as to who it is," Collins said. "As a team, we all know we're behind Coach McAdoo and still giving our full effort for him. For a guy to say that, let him come forward and be a man."
Collins would confirm that the leaked comments came from the defense, and he hopes the guilty parties will come forward.
"We know it was (from defensive players)," Collins confirmed. "We didn't talk about it (at team meetings). It is what it is. If the person will come forward, they'll come forward. If not, it's just going to stay behind closed doors."
Defensive coordinator Steve Spagnuolo didn't want to address the comments directly, but he was clearly agitated at the nature of the sentiments.
"I don't know anonymous. I don't know," Spagnuolo said. "We don't know if it was made up. We don't know if it was actually said. Would that be true? So, I'm not going to comment on it. Move on."
After a resurgent year last season, becoming the driving force behind an 11-5 record and the team's first playoff berth since 2012, the Giants' defense has been a huge part of the brutality that has been the 2017 season. They have allowed just over 391 yards per game, currently 30th in the NFL, and just under 26 points per contest, 29th in the league. They have also forced only seven turnovers this season, whereas last year they picked up 17 interceptions alone (they only have three this year). The defensive struggles were at a peak last Sunday afternoon, when they suffered a 51-17 defeat at the hands of the Los Angeles Rams, the worst loss at MetLife Stadium since it opened in 2010.
The brutal 1-7 start has begun major speculation that McAdoo, as well as his coaching staff and General Manager Jerry Reese, may be on borrowed time in New York, with many fans already floating replacements. However, the defenders remained loyal to their coach, and rebuked those who would think otherwise, namely the secret detractors.
"I don't understand why anybody would think that. To address (the) point (that) Coach McAdoo has lost the locker room, that's false," Harrison said. "If you got a problem, go talk to Coach McAdoo. It's cowardly for you to go sit there and tell a reporter who's only doing her job something that has to deal with the guys in this locker room.
"Being around a long time, I feel like if you lost the locker room, there'd be a lot more being done around here," added cornerback Dominique Rodgers-Cromartie, who has been a public McAdoo supporter since rumors of a feud emerged after his one week suspension several weeks ago. "I still see guys going out, practicing hard, paying attnention, taking notes in meetings. So if you lose the locker room, you're not going to be doing that." Rodgers-Cromartie added he played what was close to lost locker room during the 2011-12 seasons, when he played for the infamous "Dream Team" Philadelphia Eagles.
McAdoo himself did not take the podium today, but did answer submitted questions in a team statement. The head coach was most disappointed that the anonymous critics did not take advantage of his open door policy, which Harrison alluded to in his statements.
"Any player that has anything to say is welcome to come in the front door and talk. I had a couple conversations over the last couple of weeks and I welcome those conversations," McAdoo said. "It's hard to help a player when they don't put their name on a quote. So, if they need some help, come see me. I'm the guy that can help them."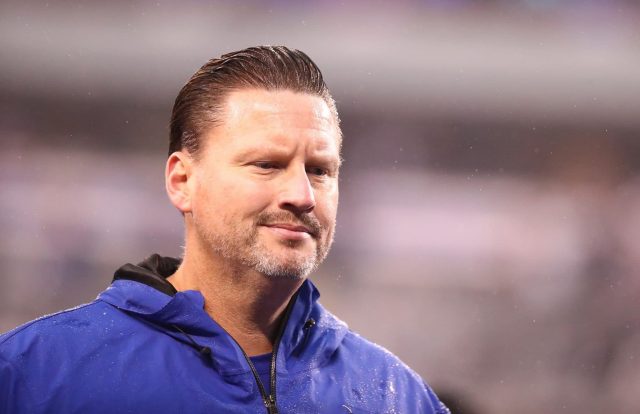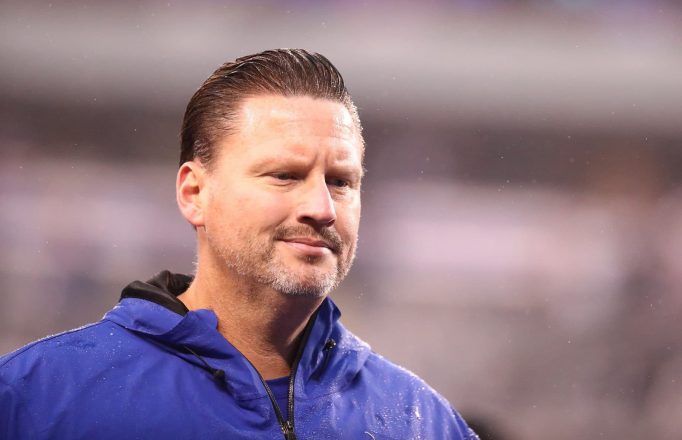 The second-year coach is not taking the comments personally.
"I don't take things personal in this business. Everything I'm focused on is trying to put these guys in a position to be successful and put them in a position to win a game this week," he said. "I believe we have talented men of integrity in the locker room. I've said it once, I've said it a thousand times, I have confidence in the locker room, I believe in those guys. If a player needs help, my door's open."
In the midst of the chaos, the Giants did welcome back cornerback Janoris Jenkins, whose indefinite suspension was cut down to a single game earlier this week. Jenkins was suspended for not returning from his bye week sabbatical on time, but declined to reveal what exactly kept him.
"It was something that me and coach already talked about. We talked about it already. That's behind me I'm here today," Jenkins said. "I'm not worrying about what's gone on in previous days. I'm just here to work." The cornerback nicknamed Jackrabbit also declined to say whether he had any regrets, reiterating that his incident was in the past and he only desired to move on.
Geoff Magliocchetti is on Twitter @GeoffMags5490