Finishing the 2017 season 3-13 was not what the New York Giants envisioned, but they do have five reasons to be optimistic going into the New Year.
The New York Giants ended a disastrous and disappointing season on a high note Sunday afternoon by defeating the rival Washington Redskins at home, 18-10. While coming back from a 3-13 season and finding solutions to the turmoil and chaotic series of events that occurred certainly won't be an easy task for general manager Dave Gettleman and the Giants, they have five reasons to be optimistic going into the New Year.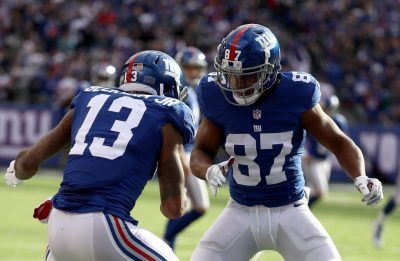 Young and Talented Receiving Core
Injuries plagued Eli Manning and the Giants in 2017, at wide receiver in particular. Whether it be the season-ending injuries to Odell Beckham Jr., Brandon Marshall, and Dwayne Harris, or the reoccurring injuries that hit Sterling Shepard, the Giants were decimated at receiver. Going forward, when healthy, there's reason for optimism at the position.
With Beckham coming back healthy and ready to play next season, the Giants will be getting their go-to wideout back. Whether it be his good hands, raw quickness or ability to shed tackles, Beckham is undeniably one of the most talented receivers in the NFL and his return will be much anticipated for Big Blue.
Shepard wasn't able to fill the void created by Beckham's absence, but he was productive. In 11 games played, Shepard totaled 59 receptions for 731 yards and two touchdowns. With Beckham returning, Shepard will garner less attention and, as a result, pose a bigger threat as a complementary receiver. Roger Lewis Jr. also totaled 36 receptions for 416 yards and two touchdowns in 2017. In addition to their youth and talent at receiver, the Giants also have some outside options and depth at tight end.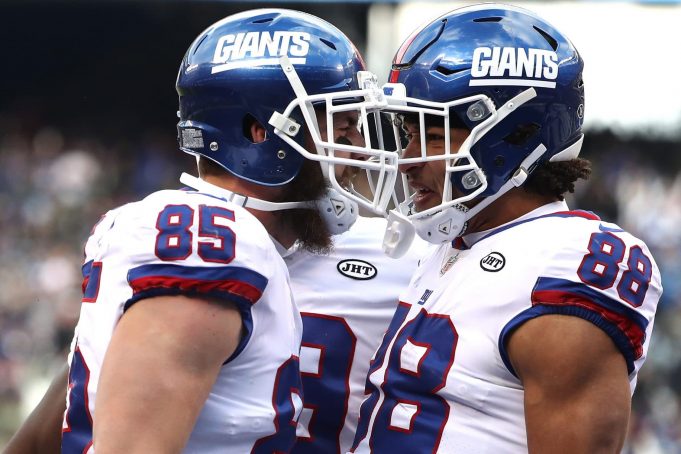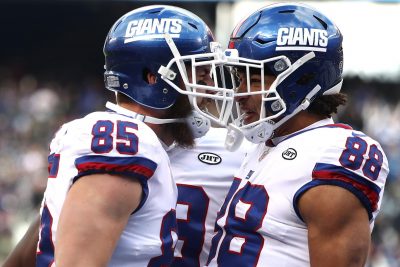 Versatile Tight End Duo
The bright spot in the Giants' 3-13 season was the play of rookie tight end Evan Engram. After injuries decimated the Giants' at receiver, their offense became heavily reliant and looked towards Engram — who gravitates towards lining up as more of a slot receiver than a blocking tight end.
Finishing the year first in team receptions (64) and touchdowns (6) and second in receiving yards (722), Engram was the Giants' number one source of offense in the air. He was also an underrated blocker. While the Ole Miss product has never been classified as someone who can push the pile, Engram held his own when blocking on passing downs. His fellow tight end, Rhett Ellison, was also productive.
After inking a four-year, $18 million deal in the offseason, Ellison was as advertised for the Giants. Blocking on running downs at ease and helping shore up the team's right side, he was a welcome addition to their blocking efforts. While not known for his ability to serve as an outside option, Ellison posted a career-high in receiving yards (235) and touchdowns (2). With the duo of Engram and Ellison in place going forward, the Giants should continue to receive production and well-rounded play from their tight ends.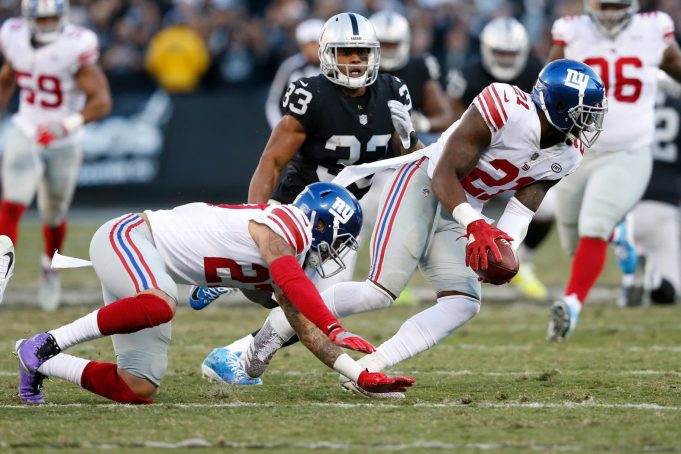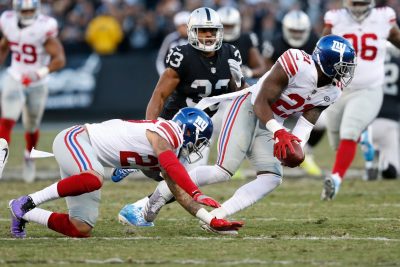 Stellar Secondary
In 2016, the Giants' defense surrendered the third-fewest yards on the ground and the 2nd fewest points in the NFL. This season was an entirely different story, as they finished 31st in yards surrendered and 29th in points given up. At the same time, a stellar and healthy secondary will return for the Giants in 2018.
Headlined by safety Landon Collins and, barring a release, Janoris Jenkins, and Dominique Rodgers-Cromartie, the Giants possess a lethal secondary. Collins, a returning Pro Bowl safety, is arguably the Giants' best player on the defensive side of the ball. Ranging from his ability to take down ball carriers at ease, lockdown his cover and step in front of passes to coming down to rush the quarterback, the Alabama product is one of the more feared defensive backs the league has to offer.
Jenkins and Rodgers-Cromartie, when healthy, are two of the best cornerbacks in the NFL. They're both capable of locking down teams' go-to outside options and stepping in front of passes. Finishing 2017 with three interceptions for the third consecutive season, in just nine games nonetheless, Jenkins continued to force turnovers and be a playmaker in the Giants' secondary. Ross Cockrell — who will be a free agent this offseason — also hauled in three interceptions. With Collins, Jenkins, Rodgers-Cromartie, safety Darian Thompson and potentially Cockrell in place, the Giants' secondary will look to assist their defense, as a whole, in their efforts towards returning to dominance next season — which isn't out of the realm of possibility.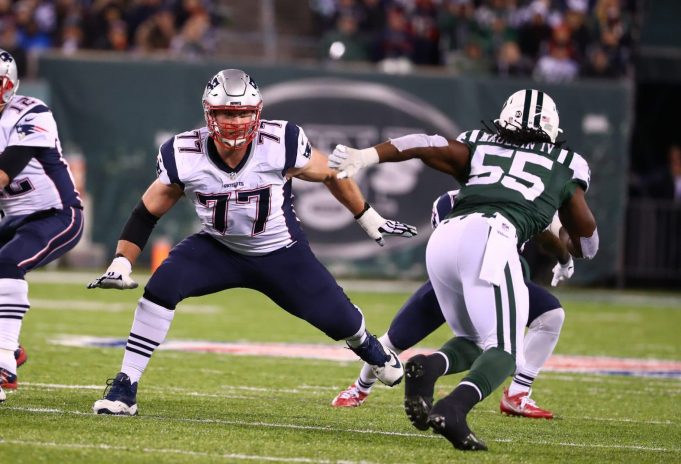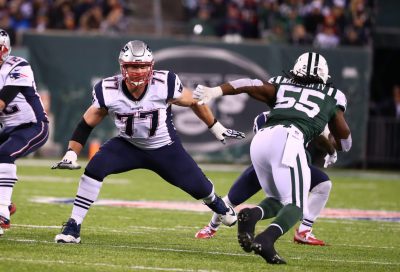 Cap Space to Shore up the Offensive Line
It's no secret that the Giants' biggest weakness is their offensive line. Failing to hold their own and consistently provide Manning with enough time to operate in the team's passing attack, their O-Line was a glaring weakness. And Gettleman has addressed that their offensive line is an area that needs fixing in the offseason.
After releasing right tackle Bobby Hart Saturday morning and now at odds with left tackle Eric Flowers — who both reportedly refused to practice on Friday, according to Ralph Vacchiano of SNY — with right guard Justin Pugh hitting free agency, the Giants have work to do up front, but also the cap space in order to do so.
With approximately $29 million to spend in free agency, the Giants will be able to commit a great amount of coin to a new offensive line. Some lineman the Giants will have the chance to pursue include Patriots' left tackle Nate Solder, Seahawks' guard Luke Joeckel, Redskins' guard Shawn Lauvao and two of their own guards (Pugh and D.J. Fluker).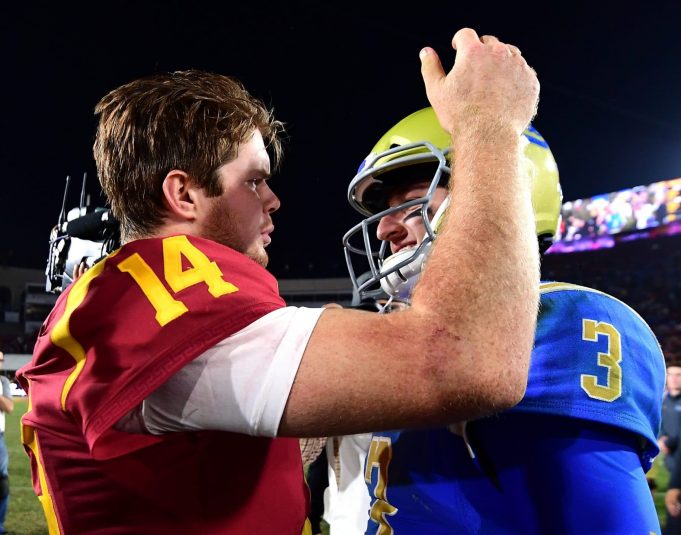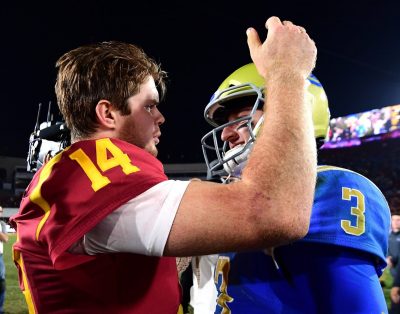 The Number Two Overall Pick
After going 3-13, the Giants will choose second in the 2018 NFL Draft and luckily for them, they will have a number of different directions they can go based on the very deep class that presents itself. The most discussed option for the Giants has been going with a quarterback to either replace or, down the road, succeed Manning. Potential 2018 quarterback draftees include UCLA's Josh Rosen, USC's Sam Darnold, Oklahoma's Baker Mayfield, Oklahoma State's Mason Rudolph and Wyoming's Josh Allen; Gettleman and friends could select their next franchise quarterback or Manning's successor from that group of college standouts.
The other option for Big Blue is to simply roll with Manning, go all-in on 2018 and bolster their offensive line. If they go that route, then Texas' Conor Williams, Notre Dame's Mike McGlinchey, and Oklahoma's Orlando Brown would present viable options. Drafting one of those three linemen and adding two starters in free agency would put a more than serviceable offensive line in place for whatever head coach Gettleman and the Giants bring in to run the show.
No matter what direction the Giants go in the draft, they'll have a number of players to choose from up front and under center with the second overall pick; whoever they take with their first-round pick will be a significant piece to the puzzle in 2018 and beyond.