At the quarter pole of the NHL season, grades concerning players of the New York Rangers are diverse. That is, except, the KZB line.
Yes, 19 games (prior to the Columbus game) is just short of being a quarter of the season, but to call that small sample size eventful for the New York Rangers would be an understatement. From a disastrous 3-7-2 start that was followed by a six-game winning streak that ended with an ugly 6-3 loss at Chicago on Wednesday, harkening back to the season-opening struggles, it's tough to figure where this club is going.
So it can't hurt to take a slightly early look at how this rollercoaster group performed during that wild stretch.
GETTING IT DONE
Mika Zibanejad – The Rangers desperately needed him to develop into at least a reasonable facsimile of a No. 1 center following the offseason departures of Derek Stepan and Oscar Lindberg, and he's delivered so far. With nine goals and 10 assists for a team-leading 19 points through Wednesday – five and 10 coming on the Blueshirts' lethal power play – Zibanejad appears to have taken the next step toward what the Rangers thought he could become when they acquired him before last season. His minus-7 rating is ugly, but he's hardly the only one on this roster with such a number and his faceoff win mark of nearly 52 percent can't be overlooked.
Pavel Buchnevich – Might he be the sniper the Rangers crave? The second-year Russian is showing signs that a leap could be coming, with eight goals and eight assists in 19 games and goals in three straight contests before the Chicago game. The hands and speed and quickness are tantalizing, providing the promise of more to come.
Rick Nash – The veteran could be playing himself into a trade – or a contract extension – with a strong start, notching seven goals and four assists through Wednesday. Five of the goals came in a five-game span through Wednesday. Nash has been typically rock-solid and productive, if not spectacular – a perfect representation of his time on Broadway that could be coming to an end soon.
Kevin Shattenkirk – Three weeks ago, this signing looked to have disaster written all over it. Much like the Rangers' season, expectations for Shattenkirk have changed drastically in a short period of time. Apparently past the failed experiment of pairing him with Ryan McDonagh and the attempt to use them as first-pair matchup defensemen, Shattenkirk is driving the dangerous power play that the Blueshirts have seemingly sought, well, forever. Held scoreless in the Blackhawks debacle, Shattenkirk's previous seven games went like this: Three goals, seven assists, six power-play points. THAT'S what the Rangers are paying for.
Michael Grabner – Apparently, the 27 goals last season weren't a fluke. The speed merchant has eight through Wednesday and has been the same force all over the ice, with a team-best plus-6 rating. Add him to the list – in fact, pretty high on it – of Rangers who need to be signed to extensions in the offseason. He's one of this team's best free-agent additions in recent memory, and the Blueshirts should have learned the lesson of allowing Grabner's predecessor Carl Hagelin to get away a few seasons ago.
Henrik Lundqvist – The King had been looking regal again after a slow start before getting pulled during a sub-par performance Wednesday (team season theme alert). Still, Lundqvist looks like he'll be a rock in goal as always going forward. Phew…
Brady Skjei – Settling into a pairing with Shattenkirk has been the key for this tantalizing young player, whose offensive game has started flesh out thanks to the partnership with the offensively minded Shatty, with both players looking to push the puck up the ice consistently. Skjei's size, skating, physicality and puck skills remain a sight to behold as he continues to progress.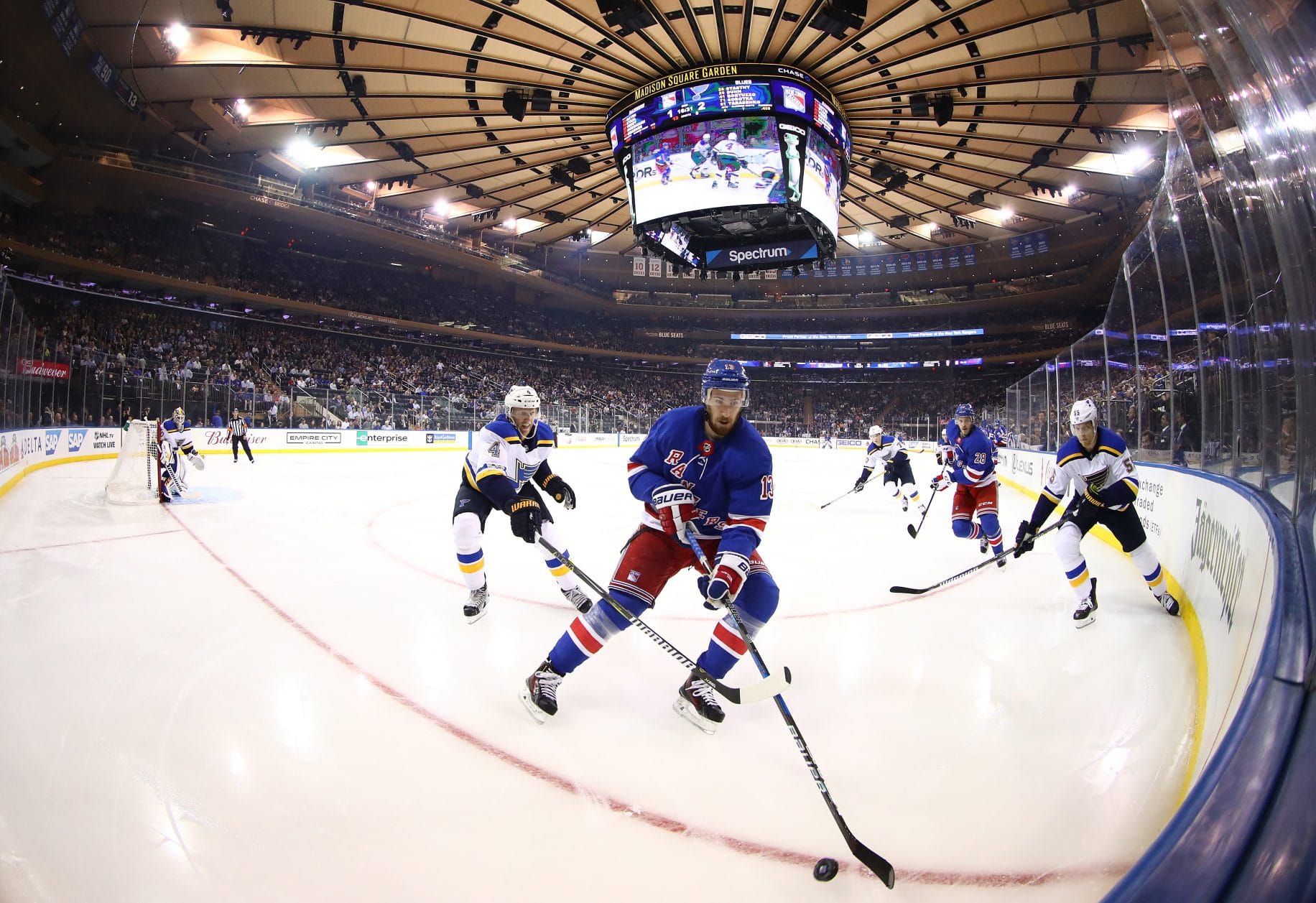 GETTING IT DONE, BUT …
Kevin Hayes – The big guy is probably right the cusp of moving into the above group, given that he's taken on more defensive responsibility as a matchup center this season. Still, more offense is needed, as he had gone nine games without a goal before scoring against the Blackhawks. Given his team's precarious lack of depth in the middle, Hayes needs to produce at both ends of the ice. Game is quietly but steadily developing, though. The career-best faceoff win percentage of 48.3 through Wednesday is encouraging.
J.T. Miller – The assist total (12) is nice, the goal total (3) lacking. Miller went three straight games without a point through Wednesday's contest, in which he was a minus-3, and had one goal in his last 12 after that game. The long stretches of ineffectiveness may always plague him. A faceoff win percentage of nearly 60, however, is eye-opening and a reminder of how much he brings when he gets rolling.
Chris Kreider – It's been a typical season for Kreider, who's so similar to Miller when it comes to inconsistency. Kreids has five goals after an eight-game goal drought to open the season. He'll probably end up with 20-something overall – and perhaps acceptance that despite all his gifts, he's only going to be good and not great. He had a minus-7 rating through Wednesday. Dynamic and productive linemates Zibanejad and Buchnevich should perfectly complement and elevate his game, but Rangers fans know better than to expect that.
Mats Zuccarello – He's been better after a rough start with one goal, six assists and a plus-5 rating in his last nine games, but man was the start rough. Zucc was an almost unbelievable minus-11 over the first 10, with a goal and seven assists – four of which came in one game. The Rangers need his edge and spark, not to mention his usual 50-60 points.
Ryan McDonagh – The captain struggled early like everyone else, though some of that had to do with the failed Shattenkirk pairing experiment. Mac has been back in the past nine games, recording nine assists and posting a plus-7 rating to bring his season mark to plus-4. Still, no goals on the season?
Nick Holden – He makes this category for pairing well with McDonagh, a situation that helped settle down the chaotic blue line. Holden has generally been steady in the role; though still prone to mental lapses and mistakes, he's a plus-4 over his past eight contests. The Rangers always seem to expect too much out of this left-hander that's being asked to play the right side since acquiring him from Colorado at the 2016 draft for a fourth-round pick. It's doubtful Holden ever expected to be a part of the team's top defensive pair, but it's been the best possible situation so far.
Jesper Fast – The invaluable glue guy has been mostly solid since missing the first five games following offseason hip surgery, with seven points and a plus-2 rating.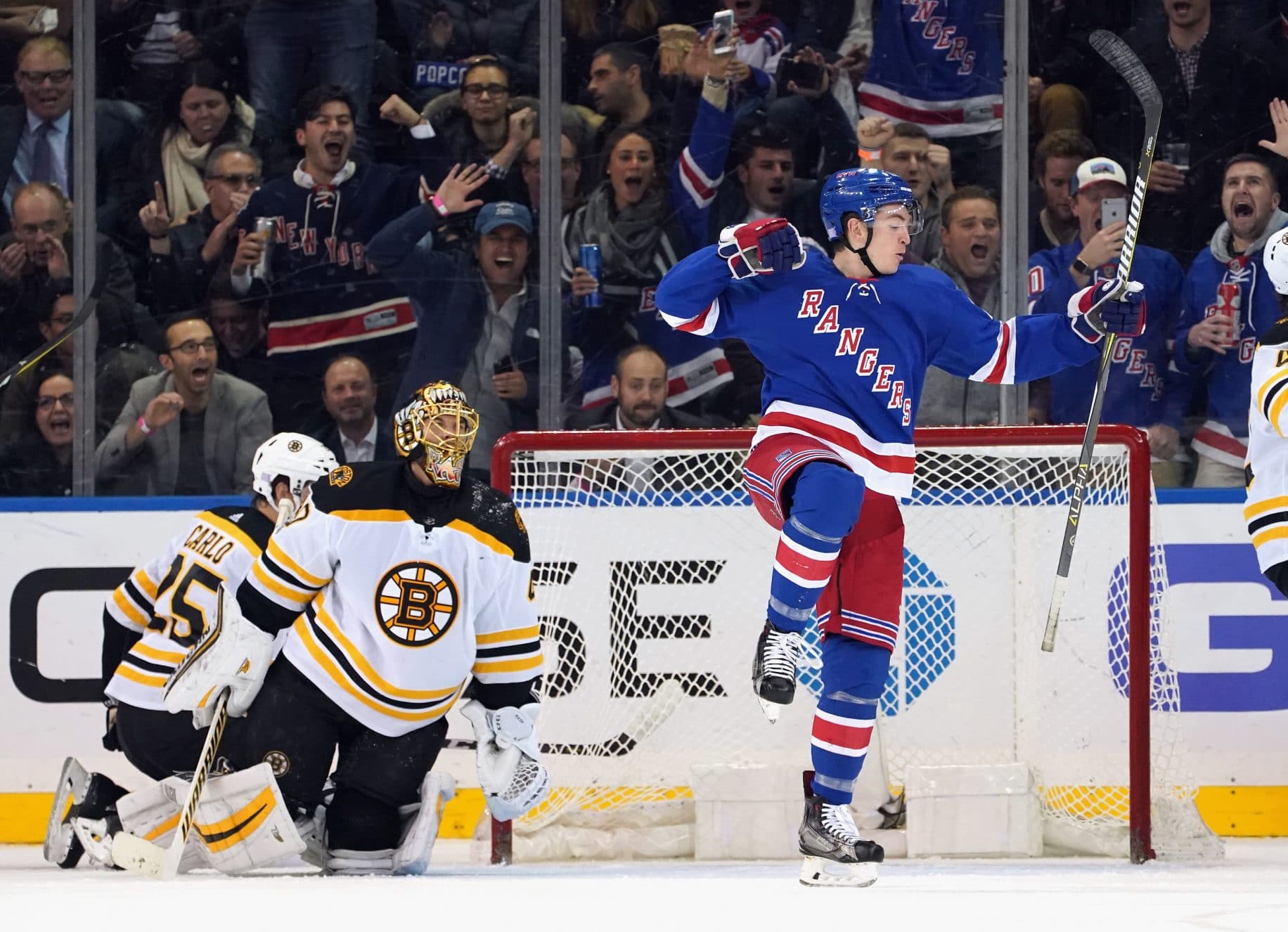 MORE IS NEEDED
Jimmy Vesey – He's seen as a big part of the future, which is why the Rangers keep sending him out there amid his growing sophomore slump. Vesey looked ready to get back on track with a two-goal effort against Boston on Nov. 8, but was a minus-3 against Chicago and minus-5 for the season after that game. He's handled being benched for long stretches well, saying he understands the tough love from coach Alain Vigneault will make him better, but more "affection" could follow if Vesey doesn't start to find it soon.
David Desharnais – Everything about his performance screams "journeyman." He has two goals and six assists in his first season on Broadway and hasn't made any real impact. Time may be running out for him to rediscover the form the made him look so promising in Montreal. Hard to believe he recorded 48 points and a plus-22 rating just four seasons ago.
Marc Staal – He's been fine playing on the third pair. The trouble is that the team's second-highest paid defenseman, at $5.7 million per, shouldn't be playing there. Staal got the big bucks to be a physical, shutdown presence on the left side, but those days seem to be in the past. The Rangers may just be going season by season with Staal now, hoping he plays well enough for them to avoid what would be a horrendous buyout of the final three years of his contract.
Brendan Smith – This is a mess that needs to get sorted out. Smith was finally back in the lineup Friday night against Columbus after being a healthy scratch in six straight, the result of an ugly start to the season after signing a four-year, $17.4 million deal in the offseason. The Rangers would love to have his physical play and edge as part of the formula, but Smith needs to steady his game first and secure a nightly spot on the roster.
INCOMPLETE