Would the New York Rangers trade Henrik Lundqvist if doing so brought the team closer to winning a Stanley Cup?
The King of the New York Rangers has been on his throne since the 2005-06 season. He is a fan favorite and the face of the New York Rangers. Can the Rangers organization possibly move Henrik Lundqvist to set up a Stanley Cup Championship?
Henrik Lundqvist, the King of New York, has been wearing his number 30 sweater for 13 seasons. The Rangers' seventh-round pick in the 2000 NHL Draft (205th overall) has done almost everything imaginable. He's a three-time All-Star, a Vezina Trophy winner (2012) and has won 30 or more games every season he's played with the exception of the lockout-shortened season in 2012-2013. He has taken the Rangers to two Eastern Conference Finals and to one Stanley Cup Final. With all of these accomplishments, can there ever be a time when the Rangers and Henrik would go there separate ways?
Back in 2013, he signed a seven-year, $59.5 million deal to stay with the Rangers. His annual salary is $8.5 million. At the time, this was a great deal for everyone involved. Fast forward to today—year four of his seven-year deal—and it no longer looks so great.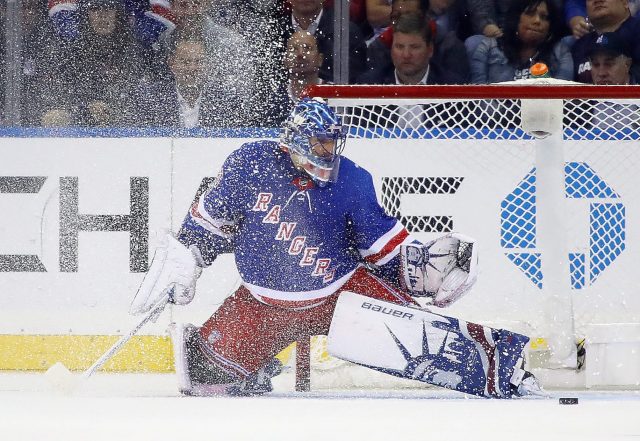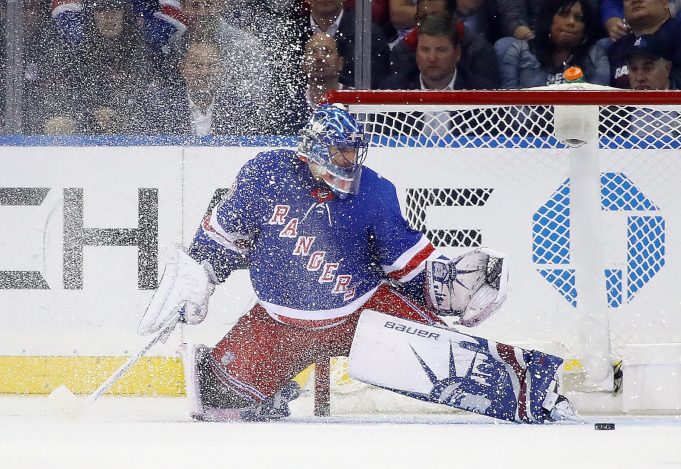 The Rangers have been handcuffed by some lucrative contracts. Besides Lundqvist, Rick Nash, who is in the final season of an eight-year, $62.4 million deal he signed with Columbus in 2011, is another. He carries a $7.8 million cap hit in 2017-18.
Expensive deals like theirs have made it difficult for the Rangers to add other players in their hunt for Lord Stanley's Cup. Is there a way the Rangers could rid themselves of Hank and his contract so that the team can open up new opportunities to improve the roster? Would the Rangers consider overthrowing the King?
As the years on his deal wind down, it becomes harder to move Lundqvist. With over $25 million remaining on his contract, many teams would not want to invest that kind of money in a 35-year-old goalie. Hank also has a no-movement clause in his contract which would make a divorce even harder to work out.
It's hard to imagine Lundqvist playing anywhere but at Madison Square Garden. The Rangers needs to be smart in this process and think things through. What can they accomplish with Lundqvist in goal? Is it more or less than what they can achieve if they did decide to move him? This isn't just a trade we are talking about, he is Ranger royalty. The King of the Rangers wearing another team's jersey—or playing against them—is just a bizarre thought.
But it's worth thinking about. At some point, the Rangers must start planning for life after Lundqvist. There is never a good time to discuss change, but with Hank entering the backend of this massive deal, not getting any younger and the team struggling to make worthwhile additions, the topic needs to be addressed sooner rather than later.
Divorce is never easy. Most of the time it's messy. But deep down, both sides have to be thinking about it, especially from the Rangers' point of view.
J.T. Miller, Kevin Hayes, Jimmy Vesey, Boo Nieves and Brady Skjei will all become restricted free agents after the season. Rick Nash, Michael Grabner, David Desharnais, Paul Carey, Nick Holden and Ondrej Pavelec are all unrestricted free agents. That's a lot of players to re-sign, something made more difficult with Hank's contract taking up a lot of the team's salary cap.
Before taking the conversation any further, the pros and cons need to be considered.
Pros
Moving Hank now, while he is still at the top of his game, would bring back more value in a trade.
Having more payroll flexibility would allow the Rangers to be players for the top free agents and consider adding salary in trades.
A serious effort to shore up the goalie position for the next decade through future drafts. Heavy scouting of the position would start immediately (if it hasn't already).
Cons
The PR hit. Fans would really dislike moving Lundqvist for any reason.
Who would take over in net? The team doesn't have an NHL-ready No.1 goalie in the minors right now.
The team might push back. Players could become unhappy by moving a veteran leader while they're playing relatively solid hockey.
Perhaps, if the Rangers are considering moving on from Lundqvist, they'd target a younger netminder in a deal. Yes, they had one two years ago in Cam Talbot, but a lack of cap room forced them to trade him away.
The Rangers do have a Russian prospect, Igor Shestyorkin, who was selected in the fourth round of the 2014 NHL draft, Shestyorkin posted exceptional numbers during the 2016-17 KHL regular season and playoffs for SKA St. Petersburg.Shestyorkin went 27-4-6 with a .937 save percentage, a 1.64 GAA, and eight shutouts. He was named the best goaltender of the KHL conference finals, helping SKA complete a four-game sweep of Lokomotiv Yaroslavl. (per Sean Hartnett)
There are no sure things. Henrik has been leading the team into battle for over a decade. Win or lose, there is a level of comfort when you see him on the ice and take his place in the crease.
At the end of the day, the organization must do what is in the best interest of the team— for now, and for the future. But this can't be a knee-jerk thing. You just don't trade one of the greatest goalies in NHL history and think nothing of it.
At some point, whether it be a trade or his retirement, Lundqvist won't be a Ranger. The team must be ready to move on when that day arrives. They owe it to the organization and the fans to ensure a smooth transition.
But it won't be smooth. Like I said, divorce is messy, no matter how it's handled.