New York and Cleveland are rapidly becoming rivals of one another in the sports world, whether it be in basketball or baseball.
For decades, New York's most hated upon arch-rival has been the city of Boston. Ranging from Yankees/Red Sox, Knicks/Celtics, Rangers/Bruins, Jets/Patriots to even Giants/Patriots—who have met in the Super Bowl twice—New York and Boston sports are well-documented in the record books.
But the city of Cleveland is quickly becoming nearly as big a threat and rival to New York, in both basketball and baseball.
Knicks vs. Cavaliers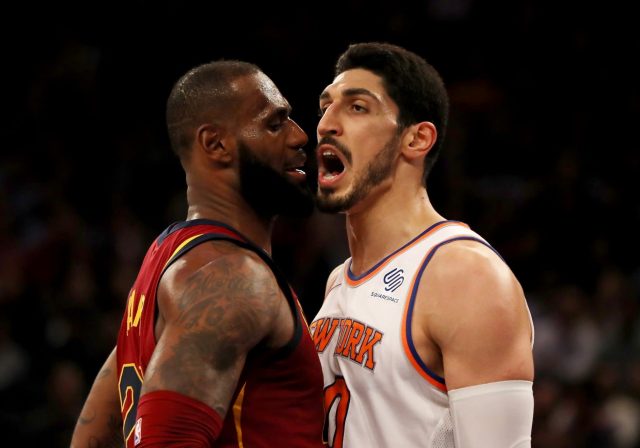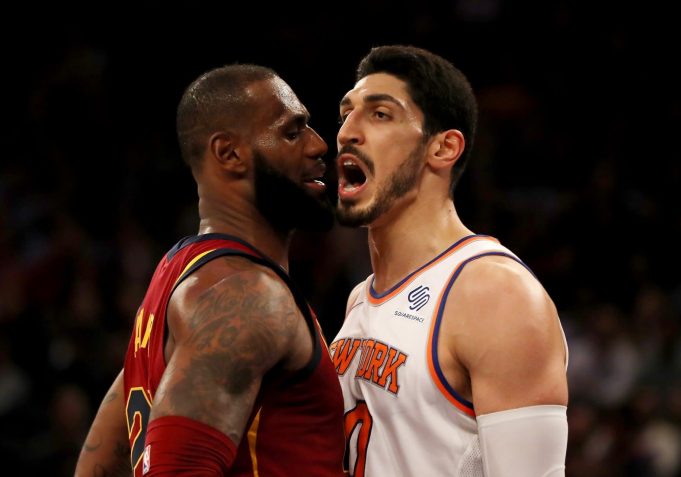 The New York Knicks and LeBron James have always been linked to one another. Whether it be a free agency rumor, competition, or drama, the two sides have their history. Monday night, though, was different and offered an intriguing taste of what's to come.
Monday night, the Knicks and Cleveland Cavaliers squared off in their second matchup of the regular season. In their first meeting, back on Oct. 29, the Knicks beat the Cavs, 114-95, in what was a statement win. And after enduring a bit of a hot streak, winning seven of nine, the Knicks had momentum going into their Monday night matchup with the struggling Cavs.
The Cavs entered the game just 6-7, compared to the Knicks' 7-5. The young, up and coming Knicks, centered around the play of budding star Kristaps Porzingis, as well as that of rookie Frank Ntilikina, Enes Kanter, Doug McDermott and Tim Hardaway Jr., have been a productive and exciting squad to watch. They've been hitting the three, playing gritty defense and are embracing head coach Jeff Hornacek's energetic, uptempo offense.
Early on, the Knicks and Cavs were keeping it close before an altercation broke out. After James executed an alley-oop, he stared over Ntilikina which resulted in the rookie elbowing James and Kanter getting in the forward's face, forcing a stoppage of play. This incident comes on the heels of James making a bizarre comment after the Cavs' Saturday night matchup with the Dallas Mavericks. Saying that the Knicks would be better off with Mavs' point guard Dennis Smith Jr., rather than Ntilikina, James opted to speak his mind after watching the NC State product — Smith — drop 21 points. Those comments, though, were very odd on James' behalf considering that the Knicks weren't even playing Cleveland that night and never spoke a lick about him before that moment.
Kanter responded to James, via Twitter, saying he and the Knicks were more than content with Ntilikina.
In his postgame presser, Kanter then put James on blast saying that he and the Knicks want nothing to do with his behavior and attitude, per ESPN's Dave McMenamin.
"I don't care who you are. What do you call yourself, 'King,' 'Queen,' 'Princess,' whatever you are. We're going to fight. Nobody out there is going to punk us. We went out there and played our game. We're going to go out there and get better every day" Kanter preached.
It's moments like this altercation, as well as the last few days, that can bring a team together. The Knicks have Ntilikina's back through good times and bad. Had they not blown a 23-point, second-half lead and lost 104-101, this run-in with James could've been more significant. However, it's still an event that triggered emotions, produced beefs and ultimately sparked a rivalry.
The Knicks have a young squad in place, while the Cavs possess a relatively proven and veteran team; the two teams are utter opposites of one another. But that doesn't mean they can't be a budding rivalry.
The Knicks embarrassed the Cavs on their home floor just a few weeks ago, and the series of events that have taken place before, during and after Monday night's game gives a taste of what's to come between these two teams. With two more matchups in store this season, it'll be interesting to see how they matchup versus one another. With a blowout, an epic comeback and a drama-infested altercation that hasn't yet ended, the Knicks and Cavs are on the verge of an intense and gritty rivalry.
Yankees vs. Indians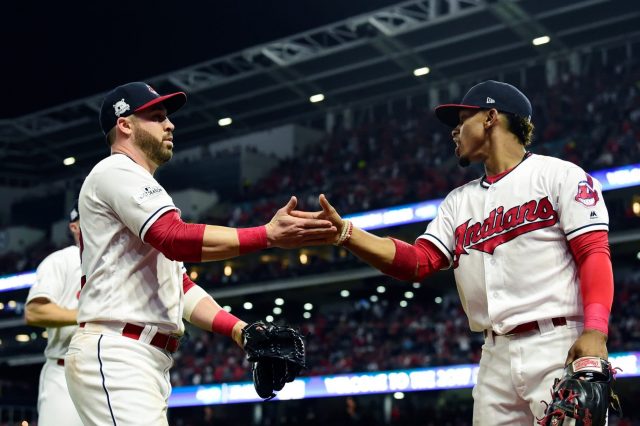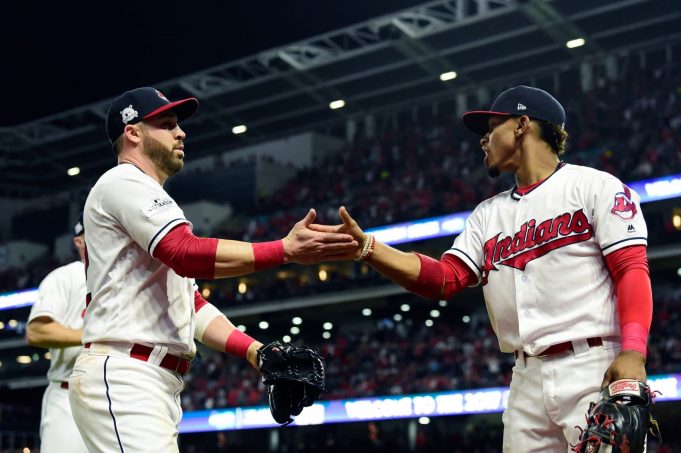 The 2017 MLB Postseason was, for sure, a race for the ages and the New York Yankees were right in the middle of it.
After defeating the Minnesota Twins in the AL Wild Card game, 8-4, the Yankees advanced to the ALDS where they would face off with the top-seeded Cleveland Indians. After they lost the season series 5-2, including a three-game sweep at home, many thought the Yankees weren't in a very good position to pull off the upset versus the Tribe. And, at first, the series was going as predicted until the unexpected happened.
After winning Games 1 and 2, thanks to a heroic effort from Trevor Bauer in the series opener and a five-run comeback the ensuing night — partially due to Yankees manager Joe Girardi's reluctance towards challenging a more than questionable hit by pitch, which led to a Francisco Lindor grand slam the next at-bat — the Indians took a commanding 2-0 lead in the ALDS. With their backs against the wall and the fanbase's rage towards its skipper, the Yankees appeared doomed and bound to get bounced out in four games, if not a sweep.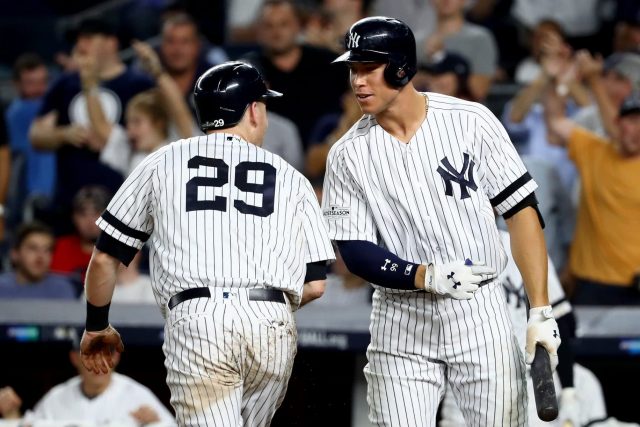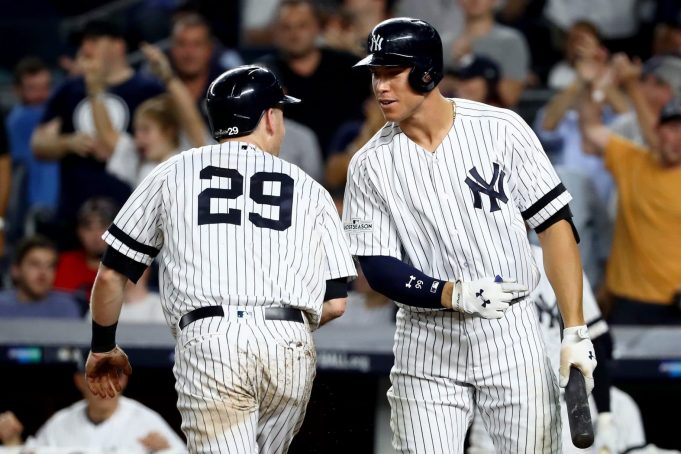 In Game 3, the Yankees sent Masahiro Tanaka to the mound to save their season, and he delivered. Thanks to his dominant seven innings on the hill and a 7th inning home run from Greg Bird, the Yankees stole Game 3, 1-0, to force a Game 4 — where they continued their stride.
With Bauer taking the hill for a second time in the series, on short rest nonetheless, manager Terry Francona felt that his crafty righty could end the series in New York. However, the Yankees' bats got to Bauer early, knocking in four runs and getting him out of the game in the second inning. Whether it be Aaron Judge, Todd Frazier, Brett Gardner, Gary Sanchez or whomever, the Yankees' lineup woke up, winning 7-3, forcing a win or go home Game 5 back in Cleveland.
In Game 5, the Yankees sent their veteran and old-reliable, C.C. Sabathia, to the hill. While the southpaw lasted only 4.1 innings, the Yankees found a way to get it done, despite AL Cy Young righty Corey Kluber pitching for Cleveland. Thanks to two home runs from Didi Gregorius, as well as a ninth inning, two-out RBI single from Gardner, the Yankees pulled through for five runs and Aroldis Chapman put the finishing touches on the Yankees' comeback in the ninth.
Going into this series, many didn't see a scenario where the Yankees came out on top. Cleveland's rotation, lineup, and bullpen were portrayed as too much to overcome for New York. But down 2-0, the Yankees didn't let those notions impact their game. Ranging from their bats waking up, the stellar outings they received from Tanaka and Luis Severino in the Bronx, to hitting Kluber early and often, the Yankees comeback included a little bit of everything.
Going forward could the Yankees and Indians encounter, yet another, postseason clash? Even if Cleveland loses Carlos Santana and Jay Bruce to free agency, they will most certainly be in the playoff mix in 2018. They are a complete team and have a lot to play for after their second consecutive postseason collapse — they blew a 3-1 lead to the Chicago Cubs in the 2016 World Series. And with their up and coming, already high-octane bats, stellar bullpen, and stout top of the rotation, the Yankees are sure to be in that mix as well.
The Indians and Yankees are bound to endure success, yet again, next season and going forward the two could make for a great postseason matchup. With this comeback or choke — depending on rooting and playing interest –, the two ballclubs will certainly be a must-watch, considering how much the Indians have to play for, especially when postseason aspirations were as high as the Fall Classic.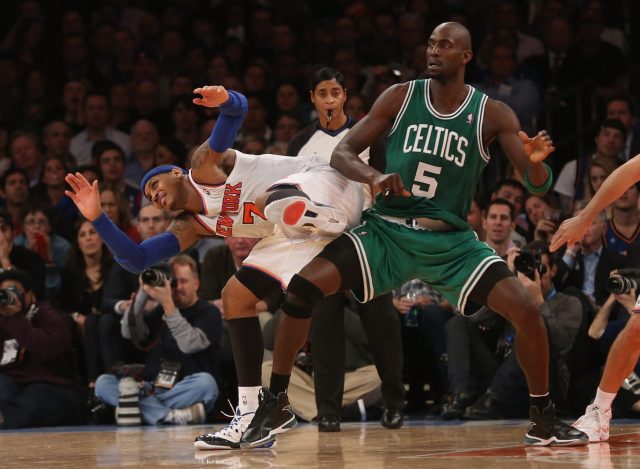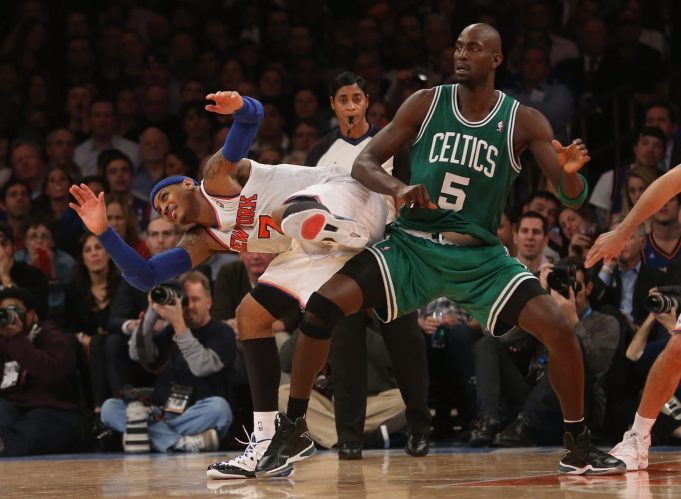 It May Never Beat Boston, But Cleveland Offers Intrigue 
Knicks/Cavs and Yankees/Indians are already intense, competitive rivalries and have a boatload of potential in the years to come, in terms of their beef and history intensifying.
Will either one of these rivalries match or reach the intensity that Yankees/Red Sox or Knicks/Celtics have in the past? Maybe not. In the beginning of the century, the Yankees and Red Sox endured historic ALCS matchups, which featured all-out brawls, a series-clinching walkoff home run by Aaron Boone and a 3-0 collapse. They even went to seven games with one another in both the 2003 and 2004 ALCS.
The Knicks and Celtics have always been a gritty, pound the rock matchup, in both recent history and past decades. Whether it be their postseason clashes back in the day, or the recent matchups in the Carmelo Anthony/Kevin Garnett days, the Knicks/Celtics rivalry is well-documented. Most recently, 2013 that is, Anthony and Garnett essentially fought each other the entire fourth quarter of a regular season affair and even met each other in the playoffs twice; the Celtics swept them in 2011, and the Knicks returned the favor in 2013 winning in six games.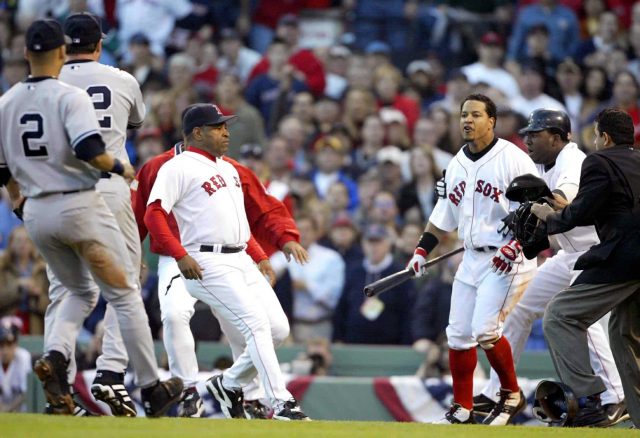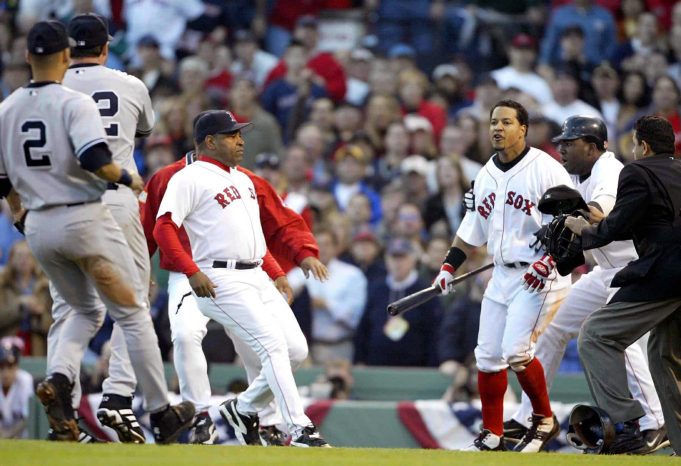 However, both budding matchups—Knicks/Cavs, Yankees/Indians—have a buzz to them as well.
The Knicks and James have their off-court beef, have partaken in an altercation and seen late-game heroics—isn't that what a bitter rivalry is supposed to entail? The Yankees and Indians just took place in a 2-0 series collapse—doesn't that lead to hatred and a rivalry in the years to come?
New York and Boston will always be the most referenced cities when it comes to rivalries in sports. Whether it be basketball, baseball, football or hockey, the history and beef is there. But Cleveland is rapidly making its case as a close second.
It may not be as sexy as New York/Boston, but New York/Cleveland is becoming a rather intriguing clash of the cities.