With an exciting 2019-20 season on the horizon, the Brooklyn Nets could come up successful at the NBA Awards. Here is a look at MVP and Most Improved Player.

As time goes on and our family trees tack on new layers of lineage, mementos for our all-time greats ultimately decompress into bullet-pointed lists of individual accolades on Wikipedia pages.
I couldn't recall even one single-game performance by someone like Bill Russell, yet reciting his catalog of MVPs, NBA championships and All-Star selections is easy pickings within the implicit parts of my brain.
While certain performances, such as Michael Jordan's 63 points versus the Celtics, may evoke one's flashbulb memory, for the most part, it's simpler to define a player's greatness through championships, All-Star and All-NBA selections, and of course, award trophies.
Picking up where we left off, the Brooklyn Nets' ability to make history next season may come down to these two awards.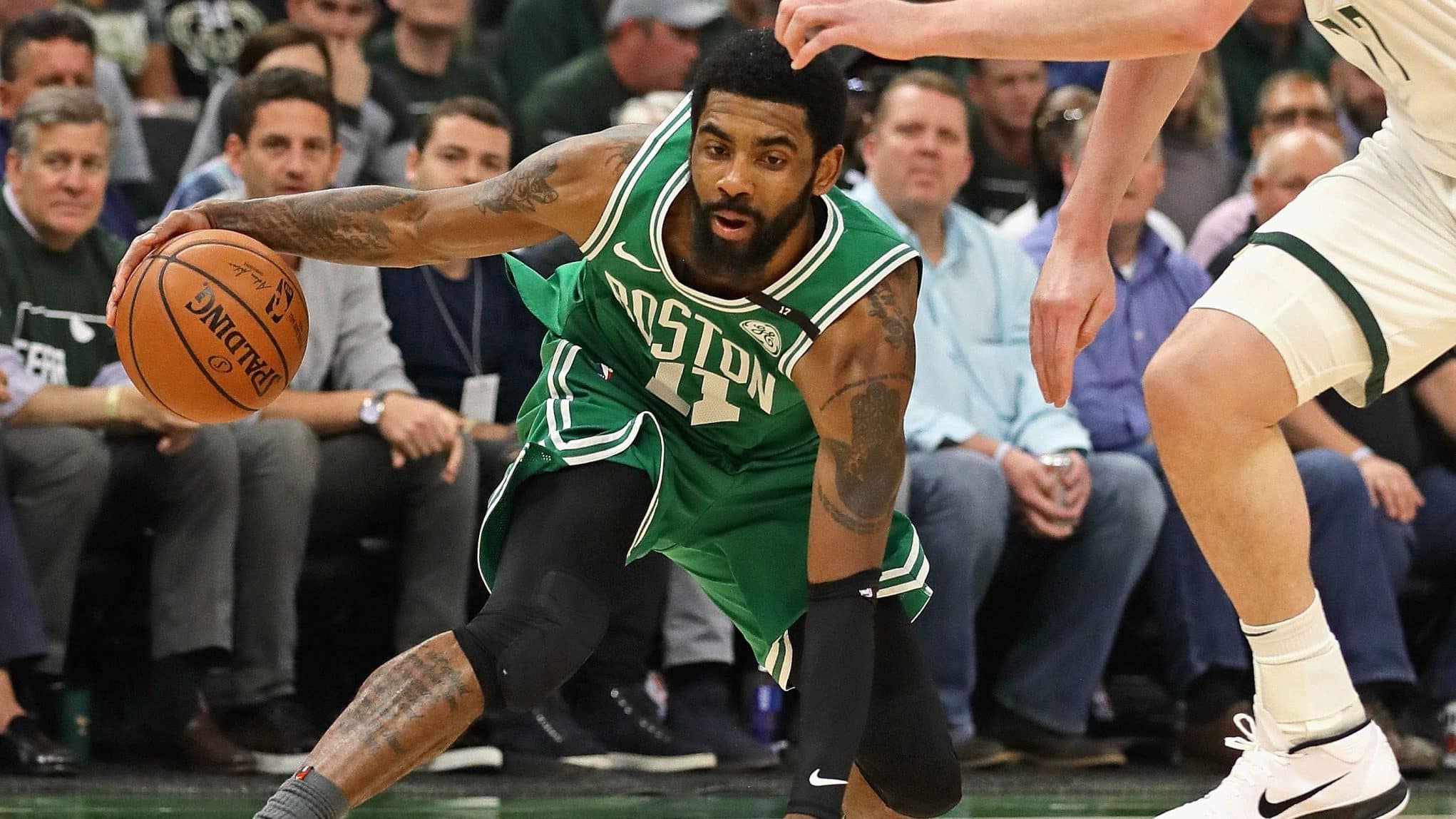 Most Valuable Player
The "Kyrie Irving is the next James Harden-like MVP" storyline has outlasted most House of Representatives terms. Since joining the Boston Celtics back in July of 2018, fans have been itching for "the leap" from Uncle Drew. Yet as each season unfolds, other candidates have risen from the wings while Irving has remained dauntingly consistent.
That may sound like a jab at Kyrie. It isn't. In fact, last season, Kyrie pieced together his best season to date: 23.8 points, a career-high 6.9 assists, a career-high 5 rebounds, 1.5 steals, 48.7% from the field and 40.1% from three. Even at his worst, he's still a top-12 player whose talents are worth selling the farm for 10-out-10 times. (Apologies to Collin Sexton.)
In a macro sense, Kyrie and the Bearded one share defined similarities. To them, scoring the basketball is an almost thoughtless exercise, similar to you or me loading up the dishwasher after a hearty dinner.
The two superstars feature a stupefying package of handles, stuffed to the brim with crossovers and hesitation dribbles that could flatten even the most audacious of defenses.
However, this comparison should end there. Stylisticalically, the two are nothing alike.
Harden is a fearless bowling ball of a scorer with a true one-of-one sense of timing. At 220 pounds, he's in the heavyweight class of elite guards, and he uses this bone-shattering frame to brutalize opponents en route to overloading the scoreboard.
Kyrie Irving is a full 5, maybe 6 weight classes below Houston's hero. Irving's voodoo on the NBA hardwood elicits memories of a young Manny Pacquiao; he dances around the floor like a jitterbug in tap shoes before flexing power and body plasticity while going in for the kill.
Irving is, in every sense of the word, the pinnacle of offensive efficiency. The man has no weaknesses. Just take a look at last season's shooting stats:
| Shot Type | FGM | FGA | FG% |
| --- | --- | --- | --- |
| Restricted Area | 204 | 198 | 62.2 |
| Non-RA Painted Area | 86 | 198 | 43.4 |
| Mid-Range | 140 | 282 | 49.6 |
| Left Corner 3 | 13 | 31 | 41.9 |
| Right Corner 3 | 10 | 26 | 38.5 |
| Above the Break 3 | 151 | 375 | 40.3 |
Kyrie is an above-average scorer no matter his placement on the floor. Yet, somehow, he's only eclipsed 25 points per game once. The last time Harden averaged less than 25, the Overly Attached Girlfriend meme was still running rampant across the internets. James Harden represents the modern-day ethos of a do-it-all scorer. Kyrie, while he shares many characteristics with the bearded wonder, just hasn't reached that precipice. Why?
The answer is fairly simple: shot profile.
As a three-point shooter, Kyrie Irving is among the league's best in terms of percentage. He's eclipsed the 40% mark for three-straight seasons with the ability to knock down threes off the dribble (37%) and in catch-and-shoot situations (44.2%).
During that same three-year time span, Harden has not once surpassed 40% from deep. In fact, he hasn't even come close — his best clocking in at 36.8% last season. Yet, Harden's total three-point makes (905) nearly doubles that of Mr. Irving (517).
To put on his best Bearded MVP impression, Irving must dip further into Harden's quadrant on their scoring Venn diagram and jack up additional threes. Harden's 2018-2019 load of 13.2 threes per game is unrealistic and possibly reckless for a more fragile player like Kyrie. At the same time, Irving's 6.4 threes per game just isn't going to cut it. I would expect those attempts to jump to 8-9 attempts per game under Kenny Atkinson's watchful eye.
One-to-two additional made threes would elevate Irving into a completely different tax bracket among the league's elite scorers: 27 points per game commands a whole new level of national media attention compared to a reliable 23.
This only represents half of the reading material on Uncle Drew's study guide as he prepares for a league-leading offensive season. Luckily for Kyrie, still just 27, the answers to the big final exam may be already written on the chalkboard; Harden has paved the way for easy scoring abundance thanks to 5,604 points-worth of free throws during his career.
Now look, I am not asking Irving to become an Oscar-worthy flop artist. What I am hoping for is that he welcomes contact more willingly.
Here's the issue though: Irving's style does not fit hand-in-hand with drawing fouls. Yes, Irving's ability to bob and weave his way through the defense before contorting his way around plotting bigs is certainly awe-inspiring. But at the same time, his distinctive evasiveness causes him to completely avoid contact altogether.
This stylistic decision may stem from iffy health. With multiple surgeries on his left knee, thrusting his body haphazardly into bulkier defenders doesn't appear conducive to extending his career. Expecting Harden-like free throw numbers is downright irresponsible, but capping his growth in this category may be equally misguided. It's never smart to count out NBA superstars, especially those that are finally playing in front of their hometown crowd.
In a hilarious turn of events, after employing a guard who took a historically low number of free throws in 2018-2019, the Brooklyn Nets found a way to only slightly improve in this category. Irving's 3.7 free throw average from last season doesn't fit the profile of a top-5 point guard. Stephen Curry averaged 5.9 foul shots in 2017-2018, and last season, Kemba Walker averaged 5.5 freebies while Damian Lillard averaged 6.4.
Already as pure as they come as a shot-maker, an increase in volume across the board is the next step for Irving. Similar to other solo-act MVP candidates like Stephen Curry or Giannis Antetokounmpo, as Brooklyn's one true star, he'll be gifted ample usage next season. If he's willing to assert a new level of dominance over the offense, more wins in Brooklyn and a KIA MVP trophy in Uncle Drew's closet are on the horizon.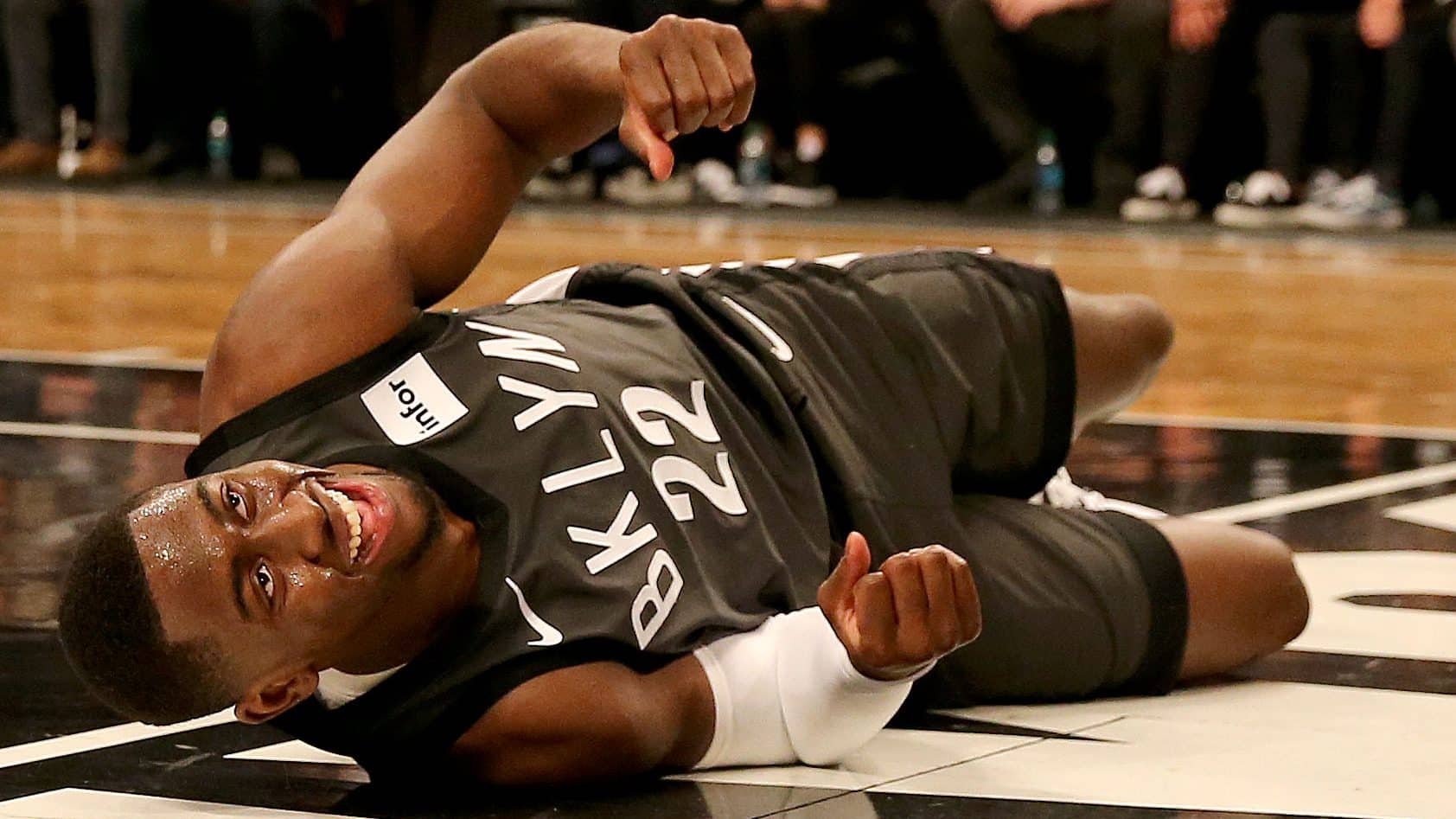 Most Improved Player
Last season, point guard D'Angelo Russell had himself one hell of a season and nearly won Most Improved Player. After a slow start during the first two months of the season, D'Angelo went on an absolute tear from Jan. 1st and beyond: 23.8 points, 7.7 assists, 44.5% from the field and 37.7% from three (on 8.8 attempts per contest). When discussing his miraculous 2018-2019 season with the New York Daily News' Stefan Bondy, Russell had this to say:
"I set so many goals going into this season — I wanted to be an All-Star, I wanted to make the playoffs, I wanted to stay healthy and play 80-plus games… I just wanted to be healthy. I know if I'm healthy that will take care of a lot of things. So my prayers, all that stuff was answered."
Well, in 2019-2020, history may repeat itself in Biggie's old borough. With a full season of health, Caris LeVert will assuredly be in the race for 2020's Most Improved Player. At the beginning of 2018-2019, LeVert emerged from Atkinson's legions as Brooklyn's best player. He averaged 18.3 points on 47.5% from the field during his first 14 games. Then, tragedy struck in the form of gruesome dislocated foot, and LeVert wouldn't step on the floor until Feb. 8. By that point, Brooklyn was headlong into the playoff race, so finding minutes and shots in the flow of the offense for a still-acclimating LeVert was no easy task for coach Kenny A.
Ultimately, like an irrefutable phoenix, LeVert rose from the ashes again, showcasing the vibrant scoring package that made him such an intriguing early-season option. This, of course, occurred during the most important point of the season — the playoff series against the Philadelphia 76ers — in which LeVert was one of four players to average 21 points on 61% true shooting during the 2019 postseason alongside Stephen Curry, Kawhi Leonard, and Kevin Durant. That's, erm, some pretty nice company. While that sample may seem small, broadening that list to 2015 (and beyond) produces an equally starry cast: Curry (twice), Durant (twice), Kawhi (twice), LeBron James (twice), Giannis Antetokounmpo, Paul George, Anthony Davis, James Harden, Khris Middleton, Mike Conley, CJ McCollum, Chris Paul, and of course, Caris LeVert.
Opinions on LeVert's future certainly vary. To some, he's the no-brainer second option next to Kyrie next season. To others (cough cough, NBA 2K20), he's merely a 14-point type of guy who can barely knock down a free throw, much less a jumper.
I, personally, have high expectations for #22. Already one of the shiftiest players inside the paint, if LeVert can build consistent mechanics as a shooter, we could be looking at a 20-point type of season from the $52.5 million man. There are other ways in which LeVert can improve as a player, including creating for others and bettering off-ball awareness as a defender. But at his worst, he projects as a hydraulic source of efficient offense with a horsepower that rivals a brand new McLaren.
Projecting the field for the Most Improved Player award is almost always a fool's errand. The last four Most Improved Players seemingly came out of nowhere: CJ McCollum averaged 20.8 points during his winning season, 6.8 points the season before; Giannis Antetokounmpo averaged 22.9 points as a winner, 16.9 the year before; Victor Oladipo's winning season included a 23.1-point average, 15.9 the year before; Pascal Siakam averaged 16.9 points last season, 7.3 the year before.
Stadium's Chinmay Vaidya developed a system to project future Most Improved Players using age, seasons of experience, scoring (or should I say, lack thereof), and team wins. According to Vaidya's model, four players project auspiciously next season: Jayson Tatum, Kyle Kuzma, Jamal Murray, and Donovan Mitchell. If I'm allowed to give my honest opinion, none of these picks are particularly sexy; Kuzma, Mitchell, and Tatum are among the most thoroughly covered young players.
There is room for another, more obscure talent. Of any NBA award, Most Improved Player is primarily built upon emotion — its winners elicit feelings of astonishment and unadulterated elation. The enthusiasm for being first to uncover a hidden gem is ingrained in our species. Most Improved Player, which is built upon awarding players with non-existent pedigree, is one of the many examples of how disgustingly hipster us hoops fans can be.
With that said, if you're looking for a selection that exudes fedora hat-flaunting, drip coffee-drinking, stinky tennis shoe-wearing, curled-mustache-having trendiness, look no further than Columbus, Ohio's own Caris LeVert.