With an exciting 2019-20 season on the horizon, multiple Brooklyn Nets' players and personnel could come up successful at the NBA Awards.

With training camp starting next week, the grossly long wait for the Brooklyn Nets' 2019-20 season is finally over. After arguably having a top-three (maybe even top-two?) offseason, in which Brooklyn added the superstar talents of Kevin Durant and Kyrie Irving, the Nets enter the season with expectations that may transcend the "Who Wants a Piece of Them?" squad.
Given that Brooklyn's superstar forward, Durant, is unlikely to see the floor until March at the earliest, the Nets won't boast their supercharged unit at full force for quite some time. Because of this, predictions for the Nets are slightly hampered; most betting sites project Brooklyn to win between 43-to-49 games and finish as a mid-tier seed in the East.
If Brooklyn fails to connect with the East's top spot, there are other ways to assert dominance over the 2019-20 regular season. Brooklyn has a good chance at taking home multiple NBA awards this season.
For part one of this column, I'm focusing specifically on the Coach of the Year, Sixth Man of the Year, and Executive of the Year awards as they pertain to your Brooklyn Nets.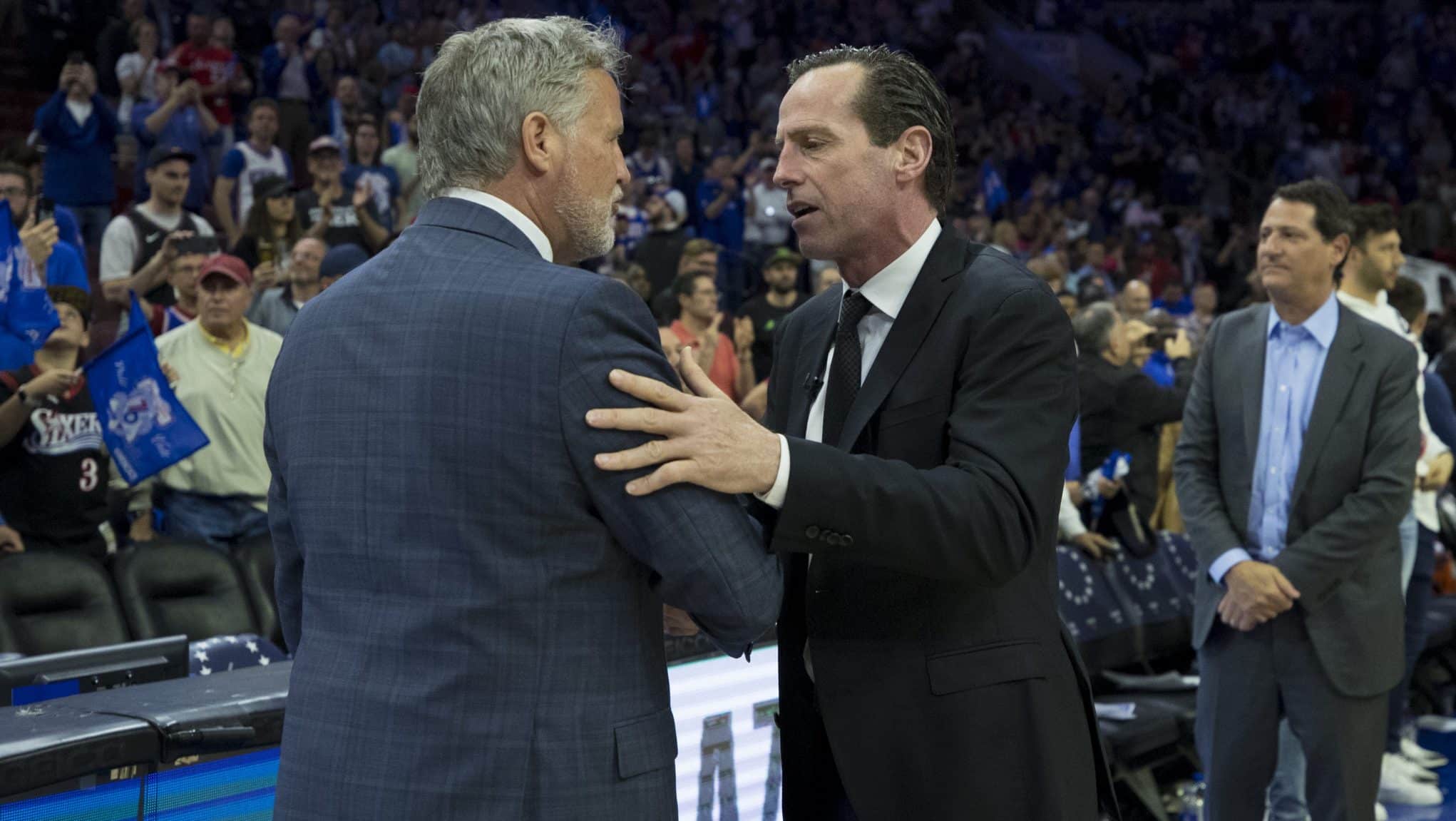 Coach of the Year
After finishing fifth in the 2019 Coach of the Year voting, Kenny Atkinson cemented his place as one of the league's premier suited leaders. With a more talented squad that fits his systems and strategies, there's a good chance Atkinson ups the ante again this upcoming season.
Brooklyn has long been known for being at the forefront of the analytics movement. Offensively, Atkinson steers his guys toward attempting three-pointers and layups — the two most statistically sound shots available in today's game. However, unlike other analytically driven mustached coaches, Atkinson's ultimate end game lies with taking the best shot available — even if this means a mid-range pull-up with time remaining on the shot clock. Just ask former Net D'Angelo Russell.
Under Atkinson's tutelage, Brooklyn has consistently been a top-five team in threes attempted. The Nets finished fourth during 2016-17 with 31.6 threes per game, second during 2017-18 with 35.7 3PA, and fifth last season with 36.2 three-pointers per contest.
It's worth mentioning that although Brooklyn has certainly produced threes at an impressive volume, the Nets have yet to crack the top-10 in three-point percentage. (The highest Brooklyn has finished was 14th last season.)
That all could change this year. Most of Brooklyn's new imports are prolific three-point shooters. Kevin Durant is a career 38.1% marksman; Kyrie Irving canned 40.1% of his deep looks during 2018-19; Taurean Prince connected at a career-high 39% clip last season; Garrett Temple is just one season removed from shooting 39.1% from behind the arc as a Sactown King.
Surrounding the shooting Gawd, Joe Harris, with extra three-point readiness should elevate the Nets as a next-level formidable outside force. I covered this previously in my recent media day article, but I expect this Brooklyn team to enjoy better spacing than previous Net iterations. Atkinson will have the liberty of replacing those Jarrett Allen/Rondae Hollis-Jefferson/DeMarre Carroll (29.1% from the right corner; 34.2% overall) sideline looks with profitable attempts from any of the players named in the paragraph above.
If all goes right, Brooklyn will continue to hoist threes at a league-leading rate, with the caveat of actually connecting on those looks at 37% or better.
Outside of efficient three-point shooting, other things would need to go right to get the Kenny Atkinson Coach of the Year ball rolling.
Brooklyn would likely need to finish third or higher in the Eastern Conference. The last coach to win Coach of the Year without securing a top-three seed was Scott Brooks — and this happened all the way back in 2010.
Because of this, Brooklyn's defense cannot dip below 20th in efficiency, which may be problematic depending upon the continuing growth of Taurean Prince and Caris LeVert, the night-to-night interest from Kyrie Irving, and the versatility (or lack thereof) at the center position. Not a single bottom-10 defensive team advanced to the 2019 postseason.
Furthermore, some of Atkinson's lauded rivals would need to disappoint. The West is stacked with Coach of the Year candidates: Utah's Quin Snyder, Doc Rivers of the Clippers, and Denver's Mike Malone. Ideally, it's a process of elimination as Atkinson's rivals batter each other night after night. If the West fails to yield a clear favorite, there's a chance this gives Atkinson the edge in the eyes of voters.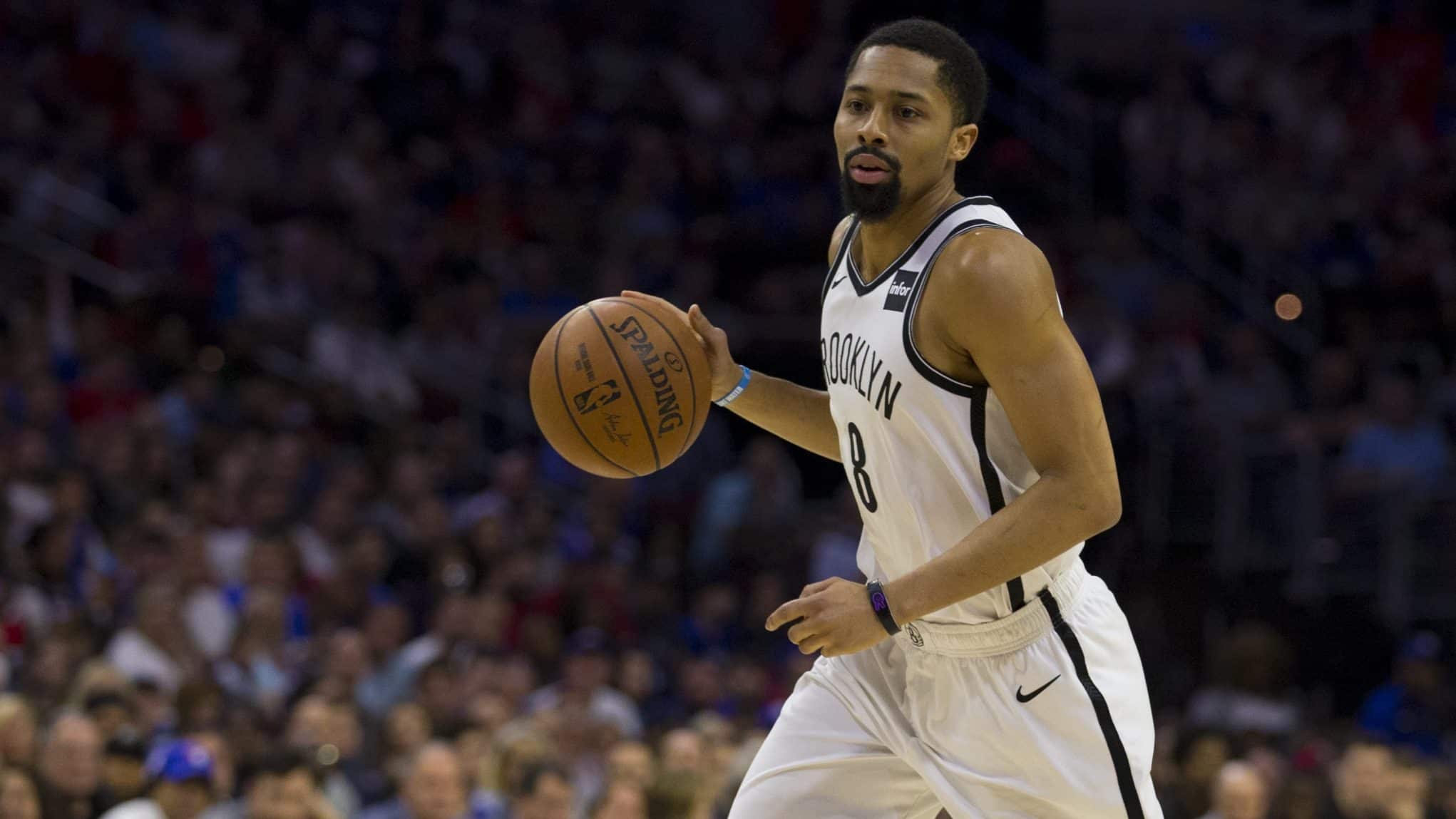 Sixth Man of the Year
Of any player/personnel in the running for an NBA Award, Spencer Dinwiddie may have the best shot of actually coming out on top.
Last season, Dinwiddie finished fourth in Sixth Man of the Year voting behind Lou Williams, Domantas Sabonis and Montrezl Harrell.
Dinwiddie's 2019 candidacy was ultimately cut short by his untimely January injury, a torn ligament in his right thumb, and he missed a month of play during a crucial point in the season. Assuming that Din enjoys a clean bill of health during 2019-20, the kid's chances look pretty promising.
The LA Clippers upgraded their talent significantly after signing the likes of Paul George and Kawhi Leonard. With this superstar supernova aboard, it's at least conceivable to assume that both Lou Will and Montrezl Harrell will see cuts in their minutes, usage, shot attempts, and by circumstance, numbers next season.
Domantas Sabonis, meanwhile, was elevated to a starting role in Indiana to form an unconventional but talented frontcourt with Myles Turner.
With his rivals dropping like flies, Spencer Dinwiddie could be in line for more opportunities than ever. Kevin Durant is out for most of next season, so Dinwiddie's production will be essential for Brooklyn's playoff hopes. There's a good chance he's third  — maybe even second depending upon Caris LeVert' growth — in Brooklyn's pecking order of scorers.
Last year, Dinwiddie posted a career-high 16.8 points off the bench on 44.6% shooting. Spence proved to be one of the league's premier downhill players, shooting 52.1% on 14.1 drives per game (a top-10 mark in its own right). Because of his endless pursuit in pressuring the rim, Dinwiddie drew a healthy 5.2 free throws per game.
What's truly frightening is that Dinwiddie's offensive game still has plenty of room for growth. Only once has Dinwiddie broken the 34% mark from deep during his five-year career and he shot a not-so-great 33.5% last season. Judging by the Instagram account of his trainer, Olin Simplis, it appears Dinwiddie is working hard to improve this part of his game. (Yes, I know, don't overreact to summer workout videos… sue me.)
Dinwiddie is just two seasons removed from finishing second in the NBA in assist-to-turnover ratio (4.09). If Spence can approach his '17-18 average of 6.6 assists per game, he has the potential to drop fringe All-Star caliber numbers. A stat-line of 19/6/3 certainly isn't out of the question.
Brooklyn's bench, once the Nets' biggest strength, is suddenly depleted following the 25-game suspension of Wilson Chandler and the ongoing allegations against Rodions Kurucs. Outside of Garrett Temple, who is primarily a spot-up threat, and DeAndre Jordan, who has never been much of a scorer, Dinwiddie is the only viable source of reserve offense.
It's all in the cards for a Dinwiddie season for the ages; he's got ample room for improvement, an elevated role, and diminished competition as the league's best Sixth Man. Let's see if he can capitalize.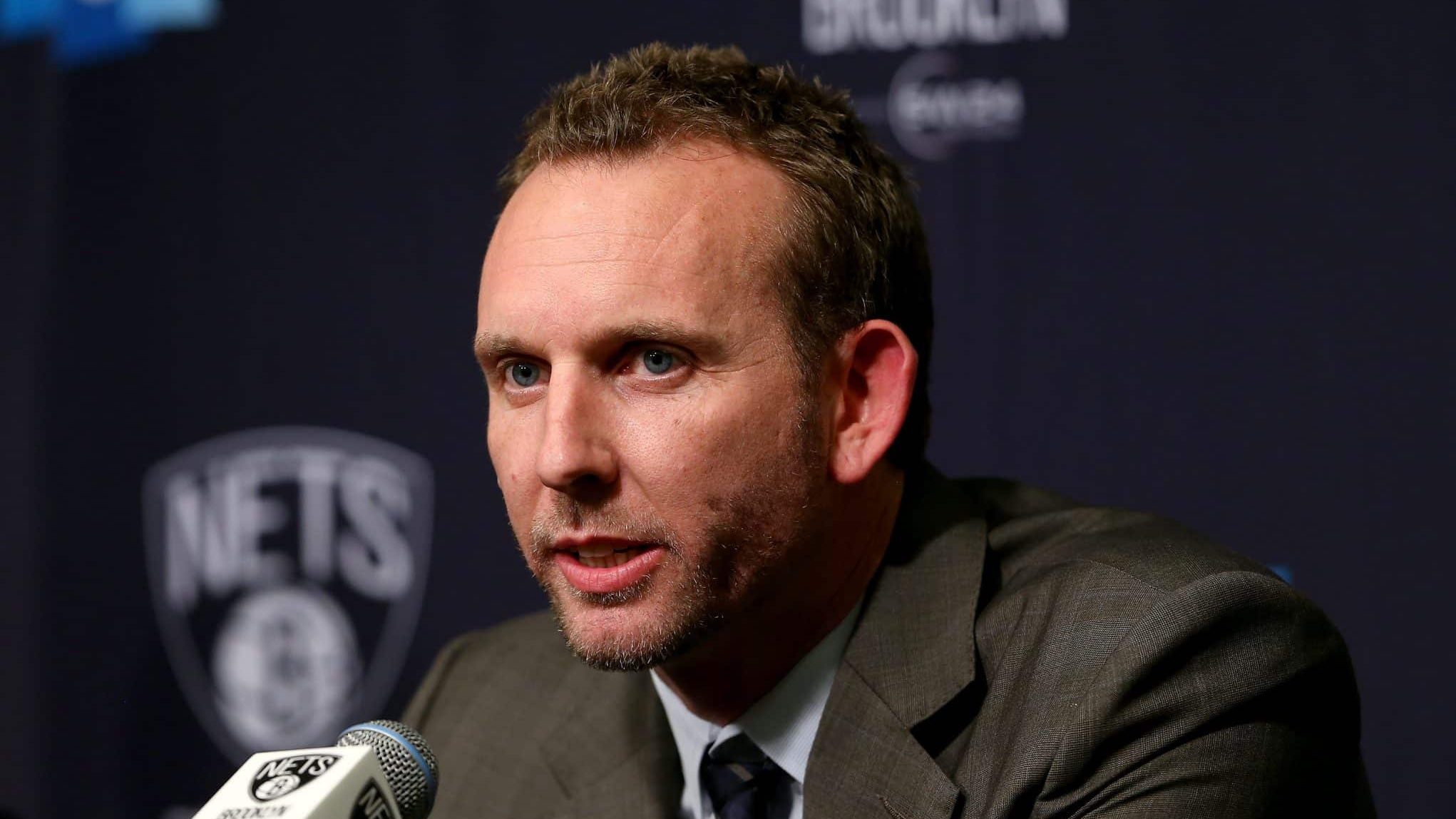 Executive of the Year
While Sean Marks is certainly deserving of such an esteemed honor, we may be a year too early in anointing him as the league's premier executive. Kevin Durant's injury affects Marks' chances in contending for the award, and until the Nets are fully healthy and gelling on the floor, it will be tough for the Kiwi exec to earn the respect he warrants.
2020-2021 is likely the target year for the Sean Marks takeover. But still, there is a chance that Brooklyn surprises some folks this season.
Similar to Coach of the Year, award-winning executives generally lead supremely successful ballclubs. The last executive to win the award as commander of a below-top-three team was John Hammond in 2009-2010. It's certainly been a minute.
Brooklyn would need to win 50-to-55 games next season, perhaps finishing ahead of the 2-seed shoo-in Philadelphia 76ers. Is it possible? Sure, especially considering the Nets face a fairly lax schedule. But still, Brooklyn will be operating without $35 million worth of player talent (KD), so they're looking at an uphill battle.
In the ideal scenario, Kyrie Irving puts the team on his back, leading the team at a 47-to-48 win pace. Then, Durant makes his dramatic return in March, and the Nets cruise through their last 18-ish games at a 62-win pace. The Nets would finish with 52-to-53 wins on the season, which may be enough to eek past the Sixers in the East.
Shoooop. That's the sound of us leaving fantasy land and starring reality dead in the face. Thus far, I haven't mentioned the injury concerns, the planned resting, and most importantly, the lack of depth that could burn Marks' Nets.
One thing that's worth monitoring: the Nets have a plethora of promising players on rookie-scale deals (Kurucs, Jarrett Allen, and Nic Claxton) and attractive below-market contracts (Joe Harris, Spencer Dinwiddie, and Caris LeVert). Should a superstar free agent become available (i.e. Karl-Anthony Towns or Bradley Beal), Marks has the goods to swing a transaction. Becoming the league's only honest Big 3 could certainly change the narrative surrounding the 2019-2020 Brooklyn Nets.
Marks' flexibility doesn't end there. After Dec. 15, players signed this summer become trade eligible. Should someone like Al-Farouq Aminu become available after potentially losing his spot amidst the Orlando Magic's glut at power forward, the Nets could easily assemble an enticing package for the veteran defensive savant.
While Sean Marks isn't normally known for trade deadline activity, he's proved time and time again that's it's unwise to trap him in a box as a general manager. After all, no one foresaw him locking up two of the summer's marquee free agents, yet look where we stand now.
Stay tuned for Part II of this column previewing the Nets' chances at Most Improved Player and the NBA MVP.
Unless stated otherwise, stats courtesy of NBA.com and Basketball-Reference.com. Follow Matt on TWITTER.