On Thursday night, the NBA announced the All-Star reserves list. D'Angelo Russell's name was nowhere to be found.

The NBA has been flipped on its head within the last 24 hours.
The New York Knicks traded their franchise player, Kristaps Porzingis, to the Dallas Mavericks for pennies on the dollar. Sorry, did I say pennies? I meant penny. Like a singular Dennis Smith Jr.-shaped penny. (Also, don't give me the whole "oh, well the Knicks got back two first-round picks!" I'm not having it. Dallas already has a transcendent talent who almost made the incredibly difficult Western Conference All-Star roster in his rookie season. Now, they might have two generational guys. I would be shocked if either of the two future Dallas picks even sniff the top-five.)
Anthony Davis remains a trade possibility, and the Los Angeles Lakers have offered the entire farm for his services. Just this Friday morning, Kyrie Irving shot a globe-shaped hole in the hearts of Celtics' fans across America, de-committing from Boston while speaking to reporters.
Hell, even Mike Conely might get traded for Ricky f–king Rubio.
At this moment in time, the league is nonsensical. Teams across the NBA are in a constant state of trust issues.
In the midst of all the absurdity, the NBA couldn't have picked a worse time to drop the 2019 NBA All-Star reserve list. Given the mass hysteria, this announcement unsurprisingly went a bit under the radar.
The Eastern Conference @NBAAllStar Reserve Pool!@RealDealBeal23 @blakegriffin23 @Klow7 @Khris22m @VicOladipo @BenSimmons25 @NikolaVucevic #NBAAllStar pic.twitter.com/ZznY1bRCOr

— 2019 NBA All-Star (@NBAAllStar) February 1, 2019
The Eastern Conference reserves include Bradley Beal, Blake Griffin, Kyle Lowry, Khris Middleton, Victor Oladipo, Ben Simmons, and Nikola Vucevic. On all counts, this is a very solid group of players.
But, one glaring omission was visible.
D'Angelo Russell, leader of the sixth-seeded Brooklyn Nets, was nowhere to be found.
D-Lo's 2019 season has been one of redemption. After being cast away from the Los Angeles Lakers, injuries and a lack of opportunity plagued his first year in Brooklyn. Now in year four, many feared that his time would never come.
That all changed in early December.
D'Angelo Russell has been on a mission for last month and a half. In January, he's averaging over 23 points per game on nifty shooting splits, while also dropping 7.3 assists.
All in all, Russell looks to be one of the better young point guards for the future. However, for every bit that Russell is exciting, he's also confusing and kind of incomparable.
On Friday, Jan. 18, Russell tied his game-high in scoring, dropping 40 points on the Orlando Magic. He was truly miraculous that night, canning eight of his 12 total three-point attempts while leading the charge during a signature comeback victory. However, the most interesting part of his stat-line was his free throw total; Russell didn't get to the line a single time in all 33 minutes played. In fact, he was only four points away from entering the leaderboard of "most points scored without a single free throw attempt."
The very next game, Russell was equally spectacular, this time dropping 31 points on a scrappy Sacramento Kings team. I attended this game. It was one of the most awe-inspiring performances I've ever seen. (And I got to see this little nugget of NBA brilliance live and in-person, so that's a big honor.)
However, similar to his showing against Orlando, Russell didn't attempt a single free throw against the Kings. Not one!
To score 71 points in two games without going to the line once is pretty bizarre. It's an issue that has plagued D-Lo all season long. I've been harping on it since November.
Russell is a miraculous pull-up shooter. He's pretty damn solid in the midrange, and he's one of the ten best passers in the entire league.
But, Russell shies away from contact and rarely puts his head down to drive to the cup. When he does snake his way into the paint, he's a woeful finisher inside, incapable of making shots with his right hand.
In general, foul shots are earned by attacking the restricted area. Rarely do guys earn free throws while shooting jumpers.
Even to the outside eye, Russell's statistics appear to be an anomaly. Throughout the entire 2019 season, he's averaged 19.6 points; concurrent with a minuscule free-throw average of 2.0 per game. His January averages don't look much different: Russell has averaged 23.8 points and only 2.3 free throw attempts.
For a while now, I've feared that Russell's avoidance of contact will affect his long-term future. Getting to the line keeps the defense on its toes. The threat of illegal contact forces the defense to give the offensive player more space while making their move. This could be incredibly beneficial for a sweet-shooter like Russell.
I worry that this weakness will get exposed come playoff time. Playoff defenses ramp up effort on tenfold. The scouting report on Russell is out. Yes, he's a phenomenal jump-shooter who can get hot at a moment's notice. But given that he doesn't have the footspeed or aggression to make foes pay at the rim, what will stop the defense from crowding his airspace the second he crosses midcourt?
Worries aside, Russell is just 22-years-old. He has time to improve. As a therapeutic episode, I thought it would be fun to look at Russell's numbers in a historical scope; through Basketball Reference's Player Season Finder. Perhaps, then, we can come up with a realistic comparison point for Russell's ceiling as a player.
The history of players who averaged 19 points per game while attempting under 2.5 free throws is short. Like, four players all-time short.

Even more interesting, three of these stat-lines are from this season. Russell, Buddy Hield, and Klay Thompson are all scoring 19 points while attempting just over a pair of free throws. Now, given that Thompson and Hield are spot-up shooters who rarely dribble, this obviously isn't a great comparison point.
Opening things up a little bit, let's again use the Player Season Finder, this time looking at players who have averaged over 19 points while averaging under three free-throw attempts per contest.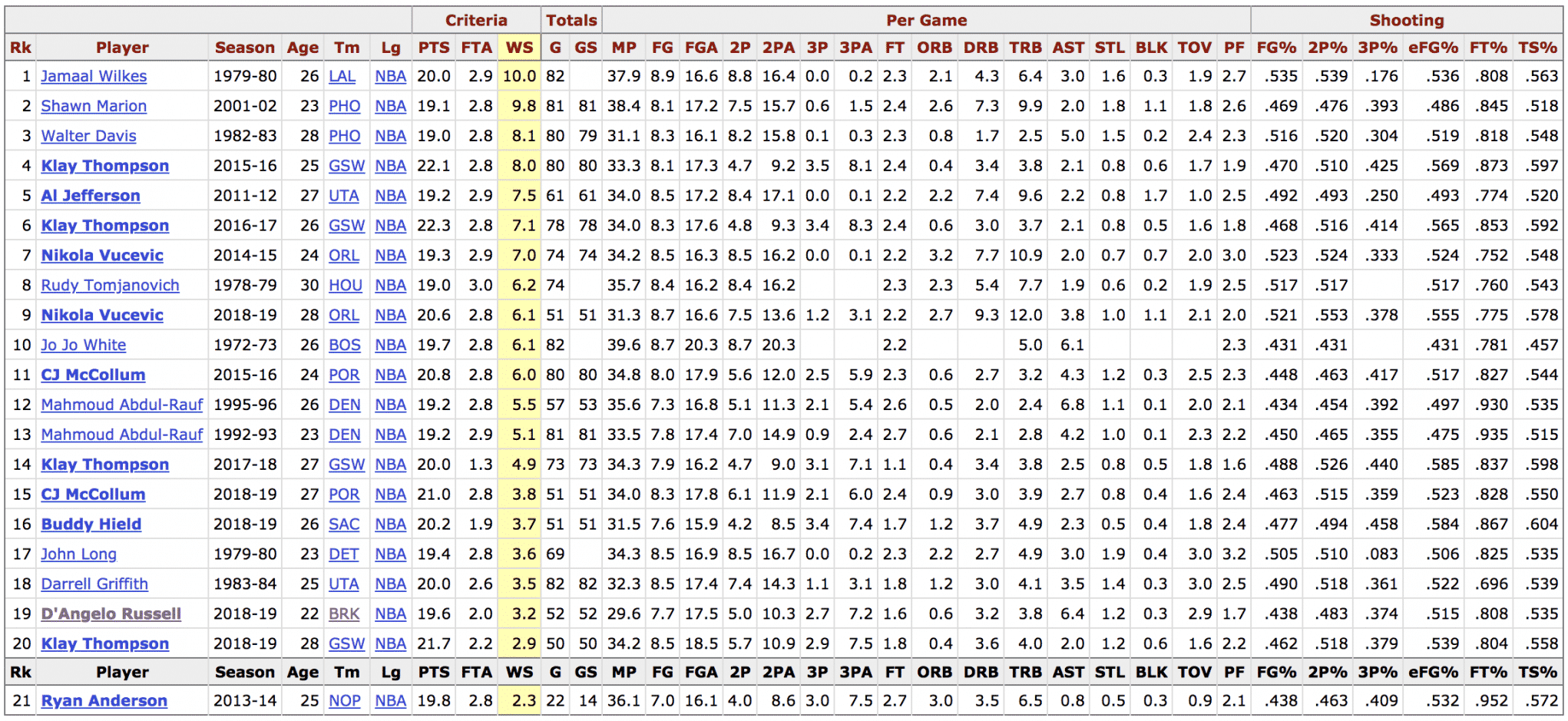 While this list still isn't incredibly long, it does give us a little bit more to work with. It is incredibly sprawling; both in generational comparisons and positional differentiation.
Off the rip, it's pretty tough to compare guys from 1990-and-earlier just because of how much the game has changed. Certain rules, namely hand-checking, have been altered or removed altogether, and it makes the modern game almost seem like a different sport.
As a whole, this list doesn't contain any unequivocal superstars. That's a little concerning. For some reason, it contains two low-post big men, Nikola Vucevic and Al Jefferson. I think, for obvious reasons, we can throw those names out.
The remaining guys are spot-up shooters or high-quality role players: Buddy Hield, Ryan Anderson, and Shawn Marion. You could even argue that Klay Thompson falls within this group; except with the caveat that he's the highest-possible point of being a three-and-D player.
In fact, there are only two players I would feel comfortable comparing Russell to; Mahmoud Abdul-Rauf and CJ McCollum. You could argue that Abdul-Rauf was ahead of his time. You could also argue that David Stern blackballed him from the league due to religious preferences. I wouldn't disagree. There's also a slight chance he was the 1990s version of Zach LaVine.
Regardless, Abdul-Rauf's career was unique. McCollum makes for a more reliable comparison point.
Through his five-year career, CJ has averaged 17.7 points on 45.5 percent shooting from the field and 40.1 percent from three. This season, he's scoring 21 points per game in Portland. However, much like Russell, his free-throw average is hilariously low; he's only taking 2.8 attempts through 51 games.
McCollum has been the second-best player for a perennial Northwest playoff team. However, his fit has never been seamless on the team; for the latter part of the last two seasons, McCollum's name has been thrown into a myriad of trade rumors.
Part of this pertains to his fit with fellow Portland star, Damian Lillard. But regardless, fans of the Trailblazers don't see McCollum as the guy. There's something missing.
This is what I fear for with Russell. I don't want him to end up like McCollum; a perpetual fringe All-Star. Until he expands his game past the perimeter, I worry that will be the case.
To be fair, I would much rather have a guy whose scoring mainly comes from the perimeter than one who can only score inside. Russell's skill set is much more valuable in the modern NBA than say, Jordan Clarkson's.
But still, I see Russell's potential as one of the better NBA point guards for the next decade. I've been on record for saying this, too.
Luckily, there are signs that Russell will improve the weakest part of his game. Tuesday's showing against the Chicago Bulls was a hopeful taste of the future.
Russell dropped an impressive 30 points against a Zion-hungry Bulls team. Something was different about this performance; a majority of D-Lo's buckets came from layups.
This was my favorite D-Lo performance of the year. It was a total change of pace. Russell's consistent pressure at the rim paid dividends, as he took 10 total free-throws that night. This was the highest total of his entire season.
On top of this, it made up for a pretty substandard 2-of-8 shooting night from deep.
Thursday's loss against the Spurs saw more of the same from D'Angelo. Russell was, once again, hungry to score in the restricted area. However, one attempt especially stood out to me at the start of the third quarter.
At the ten minute mark, D'Angelo Russell grabbed the ball, sped by San Antonio's Patty Mills, and threw up a ceiling-touching floater.
He's recently been experimenting with this one-handed, high-arching, flip-shot quite a bit.
Throughout the entire 51 game season, Russell has taken 90 of these shots (NBA.com's shooting stats calls them "Driving Floating Jump Shots"). However, in the fourteen January games, Russell has taken a whopping third of these total flip shots.
He's been miraculously successful at it, too. In January, Russell has canned 20 of his total 30 floating jump shots; good for 66.7 percent.
If this remains consistent, it's the first real weapon in his arsenal of inside finishing moves. Russell is a diligent worker, who refines his craft every day. With each game, he appears to grow more comfortable within the NBA landscape, and it's why we've seen him improve so quickly.
Russell's use of this high-arching shot reminds me of another talented point guard. You may have heard of him. His name is Stephen Curry.
Similarly, Curry introduced a variety of creative at-rim finishing moves at the start of the 2014-2015 season. Most notably was his one-handed floater, usually taken in the middle of the paint; between the free-throw line and the restricted circle.
This high-arching floater, that nearly touched the rafters, became a staple in Curry's offense. It completely opened up his game. Much like D'Angelo Russell, Curry was never much of a speedster. Although this may seem like a century ago, there were questions about Curry's fit within the NBA. (Sounds eerily familiar, no?).
However, by use of this unique shot (Steve Nash used it too, a decade before Steph) and a few other creative moves, Curry became a threat off the dribble. Defenses could no longer put him in clamps, and had to respect Curry's downhill game.
In the span of a few seasons, Curry became one of the better at-rim finishers. Meanwhile, he also earned himself a pair of back-to-back MVP awards.
Now, I'm not saying that D-Lo is going to be a two-time MVP, a three-time (potentially four) NBA champion, a six-time All-Star, and a future Hall of Famer like Curry. What I am saying is that Russell's lethal outside game could be maximized by equally dangerous inside-the-paint scoring.
Perhaps, D-Lo's high-arching floater is just the start to something great. It took Steph years to fully refine his game. D'Angelo Russell's breakout might be in its beginning stages.
Brooklyn could very well have a multi-time All-Star starter on its hands.