The versatility of the Brooklyn Nets' rotations on both ends of the floor may set the Nets apart as the next NBA dynasty.

The fluidity within NBA rotations has hit an all-time high. Maintaining flexibility is among the chief responsibilities for NBA coaches and general managers.
Over the last five years, success meant building a foil for the superstar-wealthy Golden State Warriors. Some contending rosters — such as the Houston Rockets — attempted to match the Dub's three-point potency. Others (i.e. the Milwaukee Bucks) were built to stifle Golden State's NOS energy drink offense with terrifying wingspans and defensive switchability.
For the first time in half a decade, the Warriors are no longer the object of the public eye thanks to the chicanery of Sean Marks. Parity is an exciting and unfamiliar feeling; it also means that we have no idea what the best team in 2019-2020 will look like.
The NBA's top dog may be supersized (think: the Los Angeles Lakers or the Philadelphia 76ers). Or perhaps it will be a mere continuation of the small-ball revolution (what it do, LA Clippers).
It's tough to prepare for the upcoming season without an instruction manual to build from. Fortunately for the fans eagerly awaiting a new era at the Barclays Center, the Brooklyn Nets are constructed to handle a multitude of opponents. In fact, I'd argue that the Nets' biggest strength is lineup flexibility — and not superstar bravado — next season.
As detailed in my recent Caris LeVert piece, I expect Brooklyn's opening night starting lineup to look something like this:
Kyrie Irving
Caris LeVert
Joe Harris 
Taurean Prince 
Jarrett Allen
Although that lineup is a bit undersized, it contains three-plus shooters (Prince, Harris, and Irving), two primary creators (Irving and LeVert), and a lethal lob-threat in Jarrett Allen. Defensively speaking, Caris LeVert can toggle between the 1 and the 2, and Taurean Prince capably defends 3s and 4s; both Joe Harris and Kyrie Irving are supported by failsafe defensive backbones should they feel overmatched by superior offensive players.
You'll notice I left someone out: Jarrett Allen. Allen's growth is perhaps the most important sticking point for the 2020 Nets. Last season, The Fro showed signs of becoming one of the league's leading shot blockers. If he can take another step as a defender — perhaps by adding even more muscle — the Nets can piece together what I call the "Eastcoast Bucks" lineup.
Allow me to explain.
Last season, the Milwaukee Bucks gained notoriety across the league for their unconventional defensive system. Coach Mike Budenholzer made it a priority to limit easy shots at the rim. Interestingly enough, this meant funneling penetration towards former Net center, Brook Lopez. From there, Lopez — who had a career-year as a defender — made cherry-on-the-top defensive plays and sent shots the other direction. Now, keep in mind, Milwaukee wasn't leaving 31-year-old Lopez high and dry; pesky worker bees like Eric Bledsoe and Khris Middleton hawked opposing scorers into ugly shots just outside of the restricted area.
Their strategy was more than functional. Milwaukee's defense held offenses to the lowest at-rim field goal percentage (58%) among all 30 teams. Meanwhile, the Bucks allowed the fourth-most non-restricted painted area shots (i.e. floaters) and the third-most midrange attempts per game — neither of which is considered a particularly efficient shot attempt.
The Nets have the right combination of rangy wings to pull something like this off. Kenny Atkinson, a disciple of Coach Bud, has clearly taken fancy to his mentor's defensive approach. Brooklyn actually ranked ahead of Milwaukee in field-goals allowed from statistically inefficient parts of the floor. The Nets gave up the third-most non-restricted painted area attempts and the second-most midrange attempts. Yahoo! Yet, Brooklyn is missing the key piece: opponents still scored on 61.5% of their at-rim shots — 10th-best in the league (and nowhere close to those stingy Bucks)
The seeds are there for a defensive powerhouse in Biggie's former borough. If Allen can unleash his shot-blocking chops on a more consistent basis, the Nets can credibly model what Milwaukee is building. Brooklyn's "Eastcoast Bucks" lineup could look something like this:
Caris LeVert
Garrett Temple
David Nwaba 
Taurean Prince 
Jarrett Allen
This is basically four of Brooklyn's most switchable defenders plus a center who loves to deny superstar shot attempts. Pretty lethal. On offense, I'm still acting under the assumption that Caris LeVert can run the show. If this he isn't up to the task, swap Spencer Dinwiddie in for Taurean Prince and move every wing player down a position. Here's what that looks like:
Spencer Dinwiddie
Caris LeVert
Garrett Temple
David Nwaba
Jarrett Allen
Golden State (deservedly) basks in a great deal of credit for pioneering today's small-ball fanaticism. But for all of the chatter about the Warriors' "light years ahead" approach, what coach Steve Kerr did was pretty simple.
He played his best five guys.
Brooklyn's version of a "Light Years Ahead" lineup would look something like this.
Kyrie Irving
Spencer Dinwiddie
Caris LeVert
Joe Harris
Taurean Prince
On paper — er, should I say, MY paper — there's nearly 89 points of per-game scoring from this lineup alone. All five players averaged at least 13.5 points per game last season. Even more important: each member of this sterling quintet can capably create their own shot, averaging at least 5.7 drives per game in 2018-2019.
For all that offense there is a trade-off. Brooklyn will be woefully undisciplined on defense with this group on the floor. With two quick substitutions, that problem can be procured.
Kyrie Irving
Spencer Dinwiddie
Caris LeVert
David Nwaba
Wilson Chandler
Joe Harris is a great effort defender but his impact stops there. David Nwaba, on the other hand, might be Brooklyn's best defensive player. While he hasn't spent a ton of time at power forward, the Los Angeles native with vice-grip clamps has the size (219 pounds) and wingspan (7-feet) to stymie opposing 4s.
Moving Wilson Chandler to the five could also ease the Nets' stress. I've long toyed with the idea of Chandler as Brooklyn's small-ball five — essentially replacing Rondae Hollis-Jefferson from last season. Similar to RHJ, Chandler is a bulky forward (225 pounds) with a willingness to grab boards in traffic.
However, unlike Hollis-Jefferson, Chandler can actually hit an outside shot (37.3% from deep last season). Throwing Hollis-Jefferson in at center was Kenny Atkinson's personification of the shrug emoji. In today's league, it's tough to find playing time for non-shooting forwards. Many times, coaches are forced to utilize guys like RHJ as nonconformist fives who play tough defense, roll for shots close to the basket, and not much else.
Using Chandler at center would be much more tactical. Similar to RHJ, Chandler brings boxing ring-toughness and the ability to finish like a big within the pick-and-roll (88th percentile as a roll-man during the 2017-2018 season). What separates Chandler from Hollis-Jefferson is his stroke, making him a bona fide stretch five.
Last season, Chandler only played 3% of his total minutes at center — with a majority of these minutes occurring in Philadelphia. While this isn't a huge sample, it's still larger than Taurean Prince, who has yet to play even 1% of his total minutes in any given season at center. Prince's defensive reputation is a bit more fictional than most Net fans would like to admit. He still suffers from a lack of focus — a detrimental flaw that would only be magnified should he play center.
Chandler is a veteran. He knows the game like the back of his hand and would be up for the challenge. Plus, he's already performed well within a similar role; all four of Philadelphia's most used lineups with Chandler at center yielded positive net rating data.
There is a misconception that small-ball produces to the best possible three-point shooting and lightning-quick pace. While this may be true for some squads, it isn't always a 1:1 relationship.
This is especially true for Brooklyn. The Nets' smallest possible lineup (Irving-Dinwiddie-LeVert-Temple-Nwaba) contains three non-shooters (Dinwiddie, LeVert, and Nwaba) and would likely move at a pretty methodical pace.
Brooklyn's fastest lineup (according to NBA.com's average offensive speed data) is practically identical to the projected starting lineup. The only major change would be swapping Taurean Prince for the non-stop hustler and expert cutter, Rodions Kurucs.
Brooklyn's "All Shooting" lineup is more noteworthy and would look something like this:
Kyrie Irving
Joe Harris
Garrett Temple
Taurean Prince
Wilson Chandler
This is perhaps my favorite theorized lineup so far. Brooklyn would essentially be empowering Kyrie Irving as their own James Harden by surrounding him with as many shooters as possible. All four of Kyrie's teammates within this lineup canned at least 37% of their catch-and-shoot looks last season — the highest being Joe Harris (48.1%) and Taurean Prince (42.8%). Kyrie would have ample room to weave his way through traffic like the expert dribbling couturier he is. Should a defender double Kyrie to stop his penetration, Irving could pass out to four top-notch spot-up options. There's no clogging the middle and no helping one pass away against this group of snipers.
Oh, and by the way, this group wouldn't be so shabby on the other side of the floor.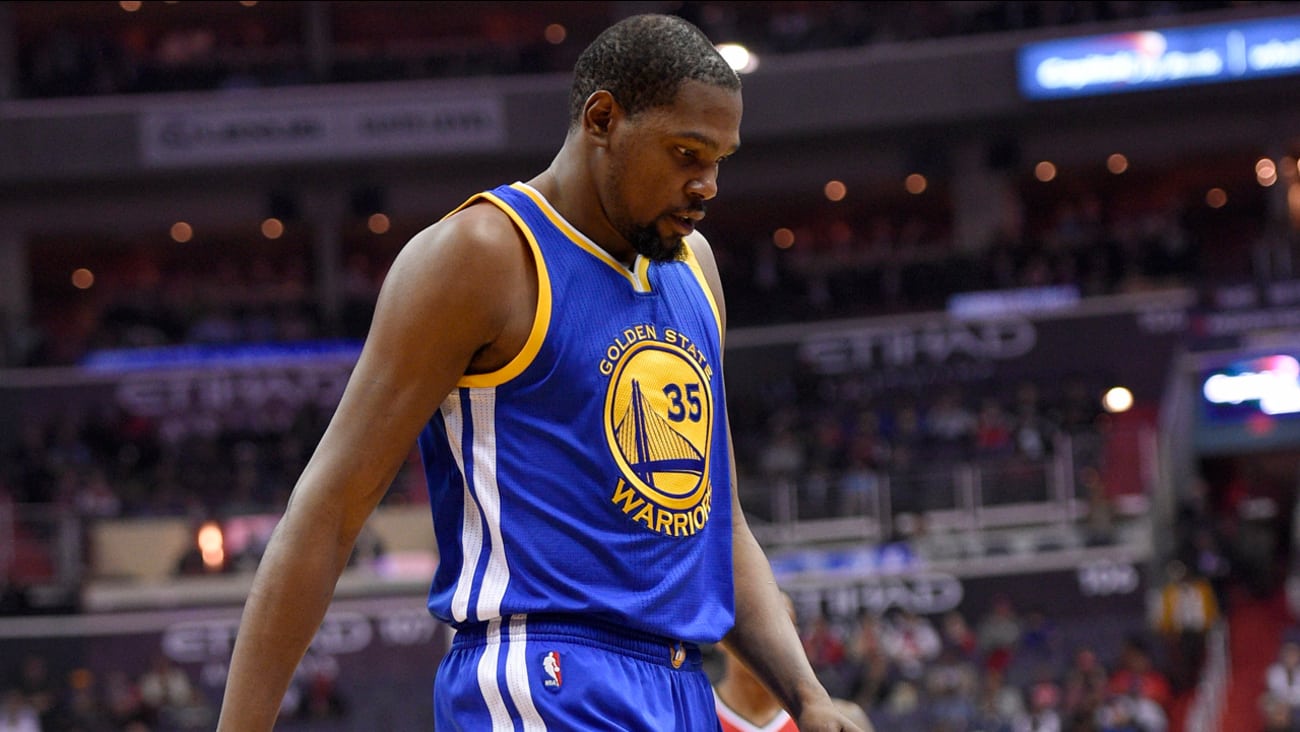 The skeleton key that unlocks it all.
Who's ready for a hot take?
A healthy Kevin Durant takes the ceiling of the Brooklyn Nets up a level. Crazy, right?
On top of being the league's best scorer, Durant is arguably the association's most versatile player. He can handle the ball like a guard, shoot from all areas of the floor, and use his 7-foot size to potentially dominate as a roll-man, making him a 1-through-5-like threat on offense.
On defense, he's two seasons removed from wreaking havoc as Golden State's center in spot Finals minutes. With frightening length (7-foot-5 wingspan) and absurdly quick footwork, I'll conservatively say that Durant is capable of defending positions 2-through-5.
Brooklyn's starting lineup is among the league's best with Durant in Taurean Prince's place:
Kyrie Irving
Caris LeVert
Joe Harris 
Kevin Durant 
Jarrett Allen
Want more shooting? Swap Taurean Prince for Caris LeVert and move Joey Buckets to shooting guard. Now, the Nets have three players who banged threes at 38% or more during 2018-2019; Durant, who had a down year from three but is still a career 38.1% sniper; and Jarrett Allen to balance out the attack. With Kyrie Irving and Kevin Durant, Brooklyn possesses two capable orchestrators; concurrently, the Nets also boast complementary twin towers (Durant and Jarrett Allen) to set screens within the pick-and-roll.
Remember the "Eastcoast Bucks" lineup from before? Brooklyn is missing one Greek Freak-sized piece.
Giannis Antetekounmpo nearly won Defensive Player of the Year last season and for good reason; he was Milwaukee's "free safety" in a top-ranked defense. Should one of his teammates make a critical mistake, Giannis was more than happy to fly in for gravity-defying blocks.
There's only one other 7-footer with freakish athleticism to make plays like this. As of June 30th, 2019, he wears a black-and-white jersey with the number 7 on the back.
The vigor of that "Eastcoast Bucks" lineup changes with the DMV product in the fold.
Caris LeVert
Garrett Temple
David Nwaba 
Kevin Durant
Jarrett Allen
Dear God. That is terrifying. Keep in mind, there's a slim chance that Durant matches his 2017 form as a devastating shot-blocker. It's nearly a given that Durant's Achillies rupture saps some athleticism. Even so, his size alone is still a clear advantage. Even more important: Durant can alleviate some pressure off young Caris LeVert's shoulders and share the responsibility of running the offense. There's no need for another creator, saving Kenny Atkinson from the misery of watching Spencer Dinwiddie incorrectly guess his way around screens.
In celebration of Durant no longer being on the Warriors, let's look at Brooklyn's rotation with that "Light Years Ahead" mentality. (Aka the five best Nets).
Kyrie Irving
Spencer Dinwiddie
Caris LeVert
Joe Harris
Kevin Durant
With a healthy Kevin Durant, Kenny Atkinson can play his five best players in a balanced lineup that actually makes sense. Unlike before, there's no need to swap in David Nwaba or Wilson Chandler. Now, Brooklyn boasts a legit 7-foot center to direct traffic on defense and score in bunches on offense.
Next up: the "All Shooting" lineup.
Kyrie Irving
Joe Harris
Taurean Prince
Wilson Chandler
Kevin Durant
Yeah, consider that sh– improved as well.
We're in the bonus round. Here's a fun rotation I affectionately call the "John Hammond Wet Dream" lineup aka team "Let's Wax the Sixers with Wingspan."
Spencer Dinwiddie (6-foot-8.5 wingspan)
Caris LeVert (6-foot-10)
Rodions Kurucs (7-foot-2; can you hear my jaw-dropping?)
Kevin Durant (7-foot-5)
Jarrett Allen (7-foot-6)
Trust me, if this was 2008, you'd be needing a change of clothes. This group is draped with condor-like wingspans. Is the spacing a little cramped? Sure. But who gives a damn. This would be fun as hell to watch. Good luck scoring against this fearsome five, too.
Expecting a championship from the 2019-2020 Brooklyn Nets is likely a fool's errand, but that doesn't mean this season should be looked at as a throwaway. With many new faces, it's imperative that Brooklyn develops chemistry that would make an ionic bond appear flimsy.
The beauty of next year's team is that Kenny Atkinson will have his most multipurpose toolbox of players to tinker with for all 82 games (plus playoffs). Some 2,200 words later and little ole' me — a good for nothin' blogger — found a way to detail a plethora of possible rotation options.
Now imagine what genius coach Kenny Atkinson is capable of.