The Brooklyn Nets have a plethora of players in the 12-man rotation who could put up big numbers during the 2019-2020 season.

Making sense of the 2019-2020 Brooklyn Nets is no easy task. To some, Brooklyn is a surefire title-contender. Others feel that Brooklyn barely moved the needle this offseason. I've already made my thoughts pretty clear on the new-age Nets; the upside involves hoisting that big gold trophy in June.
But making predictions goes deeper than win totals and playoff finishes. I went ahead and predicted statistical averages for Brooklyn's twelve-man rotation. Keep in mind: I'm acting under the assumption that Kevin Durant does not play during the regular season. By mid-April, we'll know if I'm actually a stats guru or just some big dumb idiot with a WordPress account. Let's get it into it.
Kyrie Irving – 24.5 PTS, 4.8 RB, 7.1 AST, 1.5 STL, 0.3 BLK
2018-2019 statistics: 23.8 PTS, 5 RB, 6.9 AST, 1.5 STL, 0.5 BLK
Let me clear about something. The success of the 2020 Nets starts and ends with how well this guy does his job. To more optimistic Brooklyn media members, Kyrie is a stealth MVP candidate. While it will be tough for Uncle Drew to hop-step over the likes of Giannis Antetekounmpo, Anthony Davis, Kawhi Leonard, and Stephen Curry, I do expect a career-year from the New Jersey native.
Irving will play within a system that is perhaps the most conducive to his style. As my colleague Danny Small pointed out, expect Irving to thrive within an offense that's deep-fried in pick-and-roll sets. The Nets ran the fifth-most pick-and-roll possessions in the NBA; a playset that is typically reserved for more nominal point guards and ballhandling wings. Kenny Atkinson's offense helped point guard D'Angelo Russell break out in a big way — increasing his pull-up shooting numbers while dishing jawdropping passes galore. Imagine how Kenny's system will look with Irving — a superior pure shooter and at-rim finisher — running the show.
Irving's usage rate of 28.6% ranked 24th in the league last season. Expect that number to soar to where his predecessor, Russell, finished (31.1%; 10th in usage). With the ball in his hands more, I'll bet that Irving secures the second-best scoring season of his eight-year career (behind 2016-2017's 25.2 ppg).
Two quick notes before we move on. The first: is Spencer Dinwiddie the best backup point guard Irving has ever played with? The competition is Terry Rozier, Mo Williams, recovering Derrick Rose, Matthew Dellavedova, and *stifles laughter* Deron Williams, so I'm thinking that's a big fat yes. Irving's catch-and-shoot talent (45.5% on 3.3 threes per games) will be on full display for the league to see. Expect a great deal of pindown and flare screen action to create open looks for Kyrie.
One last thought-blurb before we get to his backcourt partner. With a higher usage rate, a career-year as a playmaker is in line for Irving. While he isn't as natural of a passer as D'Angelo Russell, Irving nearly matched his production last season in terms of assists (6.9 vs. 7 assists per game). Irving is more in the vein of a Russell Westbrook as a playmaker in that he creates for others through his gravity. Attracting multiple defenders off the dribble gives Irving more room to make the easy kick-out pass to his shooters or lob-toss to his bigs. Different styles of playmaking; same results.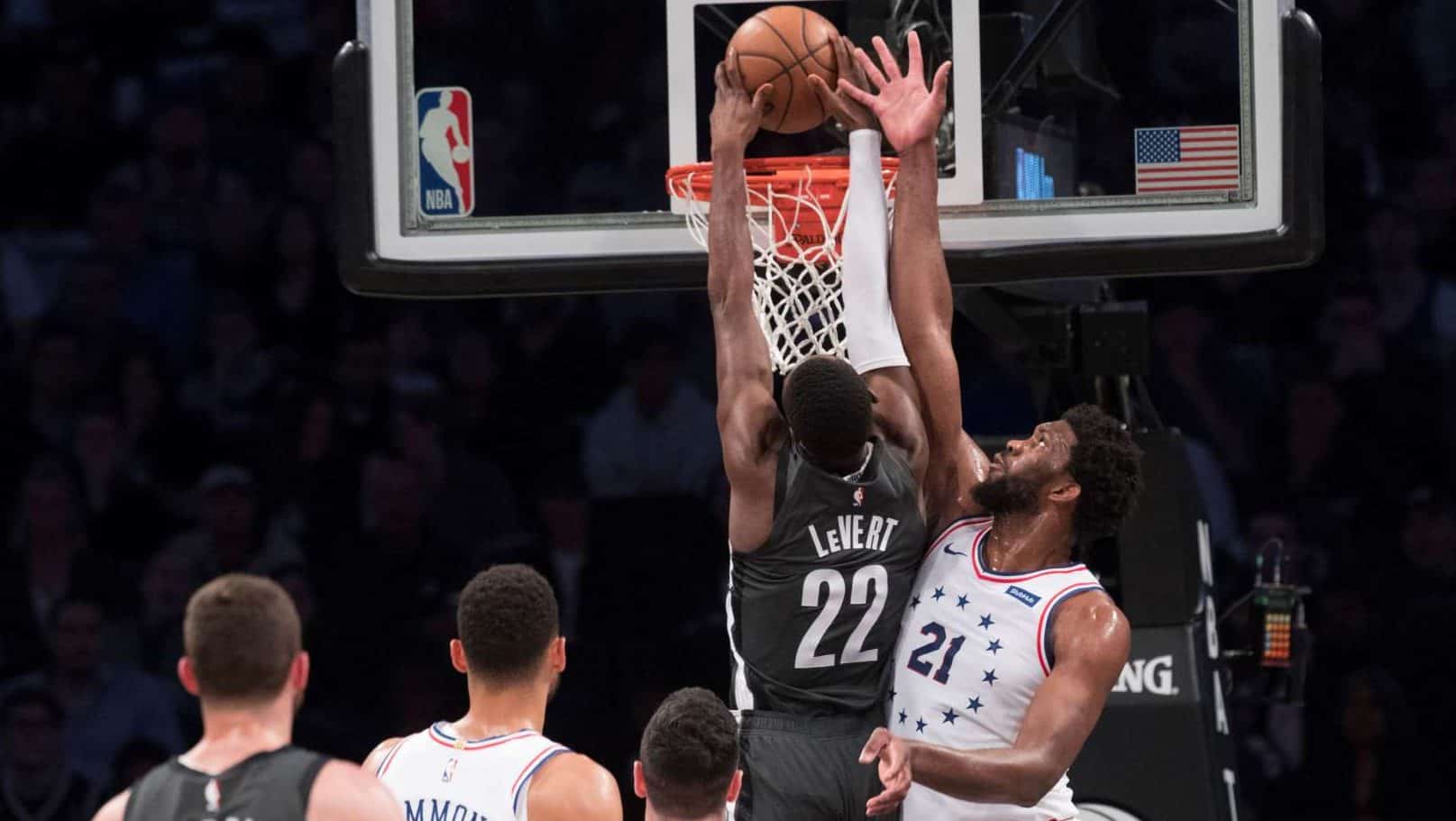 Caris LeVert – 19.4 PTS, 3.7 RB, 4.5 AST, 1.3 STL, 0.3 BLK
2018-2019 statistics: 13.7 PTS, 3.8 RB, 3.9 AST, 1.1 STL, 0.4 BLK
So much of me wanted to toss Caris' scoring average above the 20-point threshold. But given that his three-point shot is still in its developmental stages, it's going to be really tough for him to have monster scoring nights during multiple points of the season. The NBA season is long — like reaaall long — and top-notch scorers require high-voltage nights (see: D'Angelo Russell's 44 points vs. the Sacramento Kings) to break the 20-point per game barometer.
The thing that's worth highlighting is his assist average. 3.9 assists to 4.5 assists is a sizable jump. It's the numerical difference between Emmanuel Mudiay and Spencer Dinwiddie. I already wrote a juicy piece on his playmaking progression (why are you still here? Go check that out and report back here shortly!). If the Nets can empower Caris as a third-string point guard of sorts, LeVert can make the leap as a passer. He's already showed early signs of chemistry with his bigs. If he can build that same bond with some of the surrounding shooters (Joe Harris and Taurean Prince), he may even eclipse my expected assist average.
I expect Brooklyn's backcourt to snag a combined 2.8 steals per game. Only a handful of duos from last season (James Harden and Chris Paul; Mike Conley and Justin Holiday; Victor Oladipo and sudden Jehovah's Witness Darren Collison; plus a few others) could compare in this regard. Irving has averaged a steal and a half for 4 of his 8 total seasons. Caris, well, I'm bullish on as a defender. If he can stay on the floor for a full season, I could really see him locking in as Brooklyn's front line of defense. 2019-2020 will be the year in which we see the full aptitude of LeVert's two-way impact.
Joe Harris – 14 PTS, 4.1 RB, 3 AST, 0.5 STL, 0.1 BLK
2018-2019 statistics: 13.7 PTS, 3.8 RB, 2.4 AST, 0.5 STL, 0.2 BLK
Joe Harris probably won't lead the league in three-point percentage again. And if he does, Joey hitting trey-balls at 47.4% clip seems highly unlikely. His catch-and-shoot numbers from last season are downright ridiculous (48.1% on 4.2 threes per game — nearly fifty percent!!). His tightly contested shooting numbers (44.1% from three) are even more incredulous.
Harris' impact depends upon his teammates. It's a symbiotic relationship; if I'm betting big on the playmaking chops of Irving and LeVert, I'm expecting a great scoring year from the University of Virginia sharpshooter.
However, as I've said in the past, Joe Harris is more than just a shooter. Last season, Harris averaged 7 drives per game (fourth-most of any Net) and scored the ball on 48.1% of such looks; 3.6 points a game came from Lumber Joe putting his head down and bulldozing his way to the rim. Unlike other pure shooters in this league (i.e. Kyle Korver), Harris has another method of scoring the rock.
I've always felt that Harris' playmaking is overlooked. In a way, his assist average hasn't caught up with his natural feel for passing. After his career-year as a scorer, you can bet that defenses will further account for him during the 2019-2020 season. If all goes right, Harris turns this heightened attention to looks for his teammates. There have been plenty of signs in the past that he's up to the task.
Taurean Prince – 13.8 PTS, 3.9 RB, 2.1 AST, 1 STL, 0.4 BLK
2018-2019 statistics: 13.5 PTS, 3.6 RB, 2.1 AST, 1 STL, 0.3 BLK
I'm not expecting a huge leap from Taurean Prince. That's not meant to be taken as a slight. He's leaving one of the league's fastest teams (in terms of pace) to play with… one of the association's five-fastest ballclubs during the second half of last season. For the most part, Atlanta and Brooklyn run a pretty similar system; Prince will largely play the same exact role as last year.
Prince will mostly toggle between the three and the four. Given that Brooklyn is down a Kevin Durant, Prince's minute average — 28.2 minutes per game during 2018-2019 — may actually rise within Kenny Atkinson's conservative rotation. Prince averaged 10.8 shots per game with 44.1/39/81.9 shooting splits. There are more chefs in Brooklyn's kitchen, so I'd even go as far in saying that those statistics will remain unchanged.
Prince averaged 1 steal per game in two of his three total seasons. Let's make it 3-for-4, why don't we?
Jarrett Allen – 11.9 PTS, 9.2 RB, 1.5 AST, 0.4 STL, 1.8 BLK
2018-2019 statistics: 10.9 PTS, 8.4 BK, 1.4 AST, 0.4 STL, 1.5 BLK
My biggest rule as a writer: do not overreact to summer league. While it was inspiring to see Jarrett create havoc in Las Vegas, it's worth remembering that he was a third-year pro dominating against a bunch of G League hopefuls.
Still, there were a couple of small takeaways. The first is that Allen bulked up. Allen revealed to Brian Lewis of the New York Post that he had added 10-to-12 pounds of muscle. That extra weight will certainly make it easier to scoop up an extra rebound each game; perhaps it will even aid him in finishing through contact for and-1s.
Allen's footwork still needs work, though. That's okay; the kid is barely legal to buy a drink. Until he becomes crisper on the block, projected scoring averages should be tempered.
Oh and write this one down: Jarrett Allen will finish top-10 in blocks. 1.8 blocks per game would have placed Jarrett eighth on the leaderboard last season (behind Hassan Whiteside and Joel Embiid).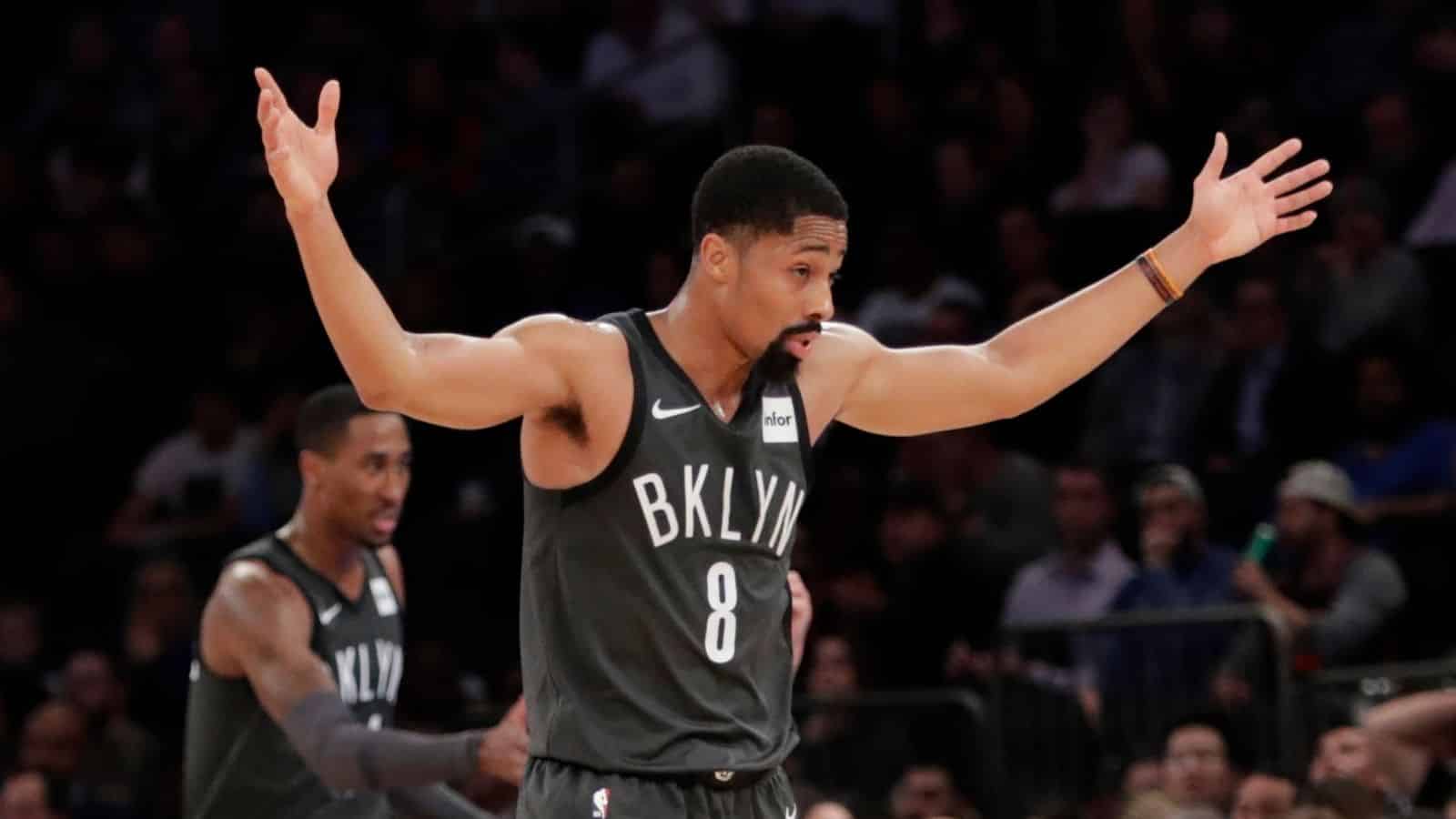 Spencer Dinwiddie: 16.9 PTS, 2.7 RB, 5.6 AST, 0.6 STL, 0.2 BLK
2018-2019 statistics: 16.8 PTS, 2.4 RB, 4.6 AST, 0.6 STL, 0.3 BLK
Similar to Taurean Prince, I expect largely the same season from Spencer Dinwiddie. The biggest jump might be found in his playmaking. Two seasons ago, Dinwiddie made waves across the league with his outrageous assist-to-turnover ratio. In the 17-18 season, Din averaged 6.6 assists per game. With D'Angelo Russell's passing flair out of the picture, I'm betting that Dinwiddie finds a way to return to that audacious mark with new opportunities.
It's worth mentioning that the point guard ahead of Dinwiddie in the rotation (Kyrie Irving) may miss some games. Dinwiddie is more than capable of running an NBA offense; last December, there were legitimate conversations regarding who should be Brooklyn's starting point guard (between Dinwiddie and Russell). If Spencer hadn't agreed to his holiday season extension, it's more than likely he would have secured a starting job on some other NBA team.
Depending on how many games Irving misses, Dinwiddie could easily eclipse the 17-point per game mark. But let's act within a world of positivity and wish good health on Brooklyn's point guard of the future.
Bonus: Dinwiddie claims his best percentage from three this season, eclipsing the 37.5% mark.
Rodions Kurucs – 9.2 PTS, 4.5 RB, 1 AST, 1 STL, 0.7 BLK
2018-2019 statistics: 8.5 PTS, 3.9 RB, 0.8 AST, 0.7 STL, 0.4 BLK
Another guy I'm very bullish on! Rodions is the prototype version of a Swiss Army Knife; he has the innate ability to pick off errant passes near midcourt, he's a nifty cutter, and he gobbles up offensive rebounds like a rail-thin Hungry Hippo. Bottom line, the dude gives a damn and it shows.
Much like his frontcourt partner, Jarrett Allen, Kurucs is filling out that rail-thin frame. Per Brian Lewis, Kurucs has bumped his weight from 210 to 220 pounds. With more experience and a better-suited NBA body, expect progression from the 21-year-old across the board. For those of you keeping track, yes, I expect Kurucs to be the Nets' third-best shot-blocker next season. The sky is the limit for Brooklyn's two-way menace. The Ringer's D.J. Foster may have missed a name when projecting the next Pascal Siakam.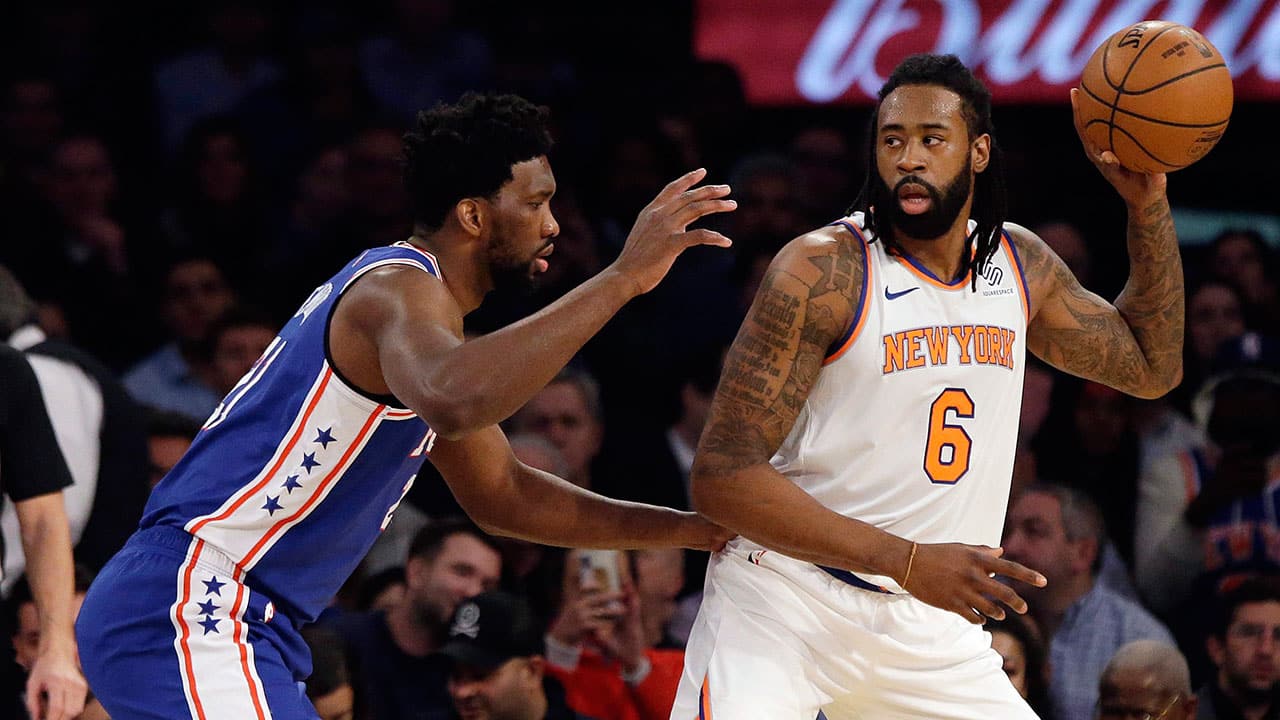 DeAndre Jordan – 9.1 PTS, 10.5 RB, 2.1 AST, 0.6 STL, 1 BLK
2018-2019 statistics: 11 PTS, 13.1 RB, 2.3 AST, 0.6 STL, 1.1 BLK
DeAndre Jordan is certainly on the downswing and that's okay. Looking through his numbers from last season, I was honestly shocked to see DeAndre's level of production — given that he's widely perceived as "washed." He played on two tanking teams, the New York Knicks and the Dallas Mavericks. His 2019-2020 numbers should resemble his New York Knicks stats (10.9 points, 11.4 rebounds, 3.0 assists, 1.1 blocks, and 0.5 steals in 25.9 minutes).
The big man can still grab rebounds at his heart's content by being flat-out enormous (6-foot-11, 265 pounds). That won't change for a while. For the record, I'm acting under the assumption that he comes off the bench for most of the season. Even if he is named as the starter during the early portion of the season, I'd assume that Jarrett Allen will still finish games — which is what really matters.
By the way, I'm dubious that DeAndre enters camp with a three-point shot. But hey, prove me wrong DAJ! That 70.1% free throw percentage is promising!
Garrett Temple – 8.3 PTS, 2.4 RB, 1.4 AST, 1 STL, 0.2 BLK
2018-2019 statistics: 7.8 PTS, 2.9 RB, 1.4 AST, 1 STL, 0.4 BLK
Garrett Temple is one of those guys who is a complete unknown to the casual fan yet is weirdly overrated within the analytics community. Yes, he fits the mold of the three-and-D prototype. And yes, he'll be an upgrade over Allen Crabbe through better defense and sheer ability to stay on the floor. But Temple produced a negative net-rating last season (-1.6) and hasn't accounted for a positive box plus/minus since the 2016-2017 season.
He's a good-not-great career 35.3% three-point shooter who can defend opposing guards on the perimeter. He'll fit nicely into Kenny Atkinson's zone defense and provide the occasional spot-up bucket.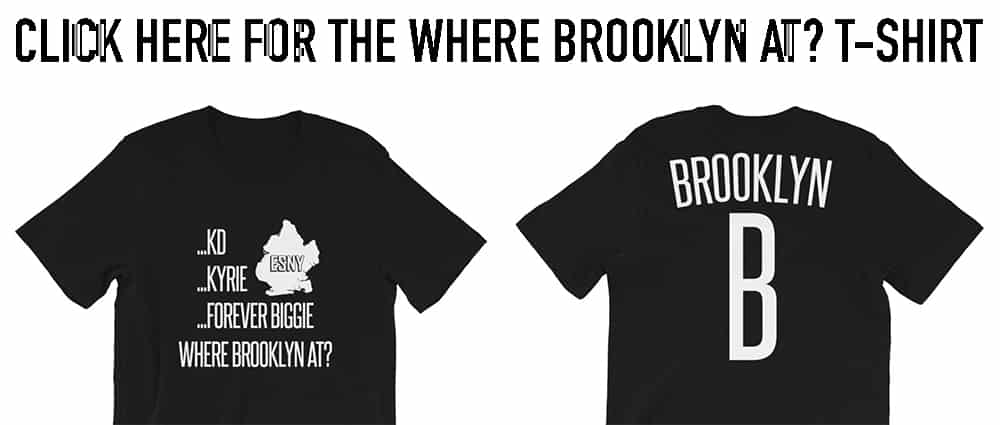 Wilson Chandler – 4.9 PTS, 3.9 RB, 1.6 AST, 0.5 STL, 0.3 BLK
2018-2019 statistics: 6 PTS, 4.2 RB, 1.6 AST, 0.5 STL, 0.4 BLK
There's a defined role for Chandler on the 2020 Nets as a veteran leader (and possible enforcer!).
That doesn't mean the guy will enjoy a pronounced offensive role. Even after acquiring two of the top-12 players in this league, the Nets still maintained their impressive depth. Kudos to Sean Marks. Chandler was a starter for the Philadelphia 76ers in January of last season. Now, he's the 10th man for the playoff-bound Brooklyn Nets. Expect cutbacks in his scoring and rebounding. (He's still a brick of muscle who can grab nearly 4 boards per game, though.)
David Nwaba – 4.4 PTS, 4.3 RB, 1.1 AST, 0.8 STL, 0.3 BLK
2018-2019 statistics: 6.5 PTS, 3.2 RB, 1.1 AST, 0.7 STL, 0.3 BLK
Some of you may be scratching your heads when looking at Nwaba's projected numbers. Nwaba will be entering his fourth season and is just 26 years old; he's in the prime of his career.
To that I say: I agree! But this is the first season that Nwaba participates on a team that is actually half-decent. Previously he played for the 26-win Los Angeles Lakers, the 27-win Chicago Bulls, and the 19-win Cleveland Cavaliers. No longer is the Cal Poly-SLO product a good-stats, bad-team guy. It's time to contribute to a winning formula.
Dzanan Musa – 3.2 PTS, 0.8 RB, 0.4 AST, 0.1 STL, 0 BLK
2018-2019 statistics: 2.1 PTS, 0.6 RB, 0.2 AST, 0.2 STL, 0 BLK
I want Dzanan to make it. I really do. But it's going to be tough for him to do serious damage as the twelfth-man of a playoff team. Musa is in a tough position; he's a part of a great developmental franchise that has no room to groom him. Expect another season toggling between Long Island and Brooklyn's bench for our boy Moose. If Musa does find a way to make his mark on the association, I'll bet it doesn't come in Brooklyn.
The best I can offer is that I think Musa will shoot around 36% from deep. That's a major improvement from last season; Musa canned only 1 of his 10 total threes in 2018-2019.