While the Brooklyn Nets have an exciting summer ahead, their incumbent roster has areas for improvement. Here's one thing apiece. 

In every sense of the word, the Brooklyn Nets overachieved this year. Coming into the 2018-2019 season, Brooklyn was projected to be one of the many bottom feeders in the Eastern Conference. However, following a second-half surge — in which the Nets went 34-22; good for the ninth-best record in the whole damn league — the Nets shockingly advanced to the postseason for the first time in four years.
There they were met by an NBA Finals hopeful in Philadelphia. For a brief second, it appeared as if the Nets were destined to upset the Philly giant. Unfortunately, talent won out — the Sixers pulled off the gentleman's sweep.
This summer will perhaps be the most important three-month period of the franchise's existence. As reported on Tuesday, Brooklyn is firmly in the race for major free agents like Kawhi Leonard and Kevin Durant.
Time will only tell if the top free agents actually consider Brooklyn a possible next home.
There's a chance that Brooklyn strikes out altogether during the summer shopping spree and is forced to bring back its incumbent roster. With this scenario in mind, let's take a look at every active player and isolate one area of improvement going forward.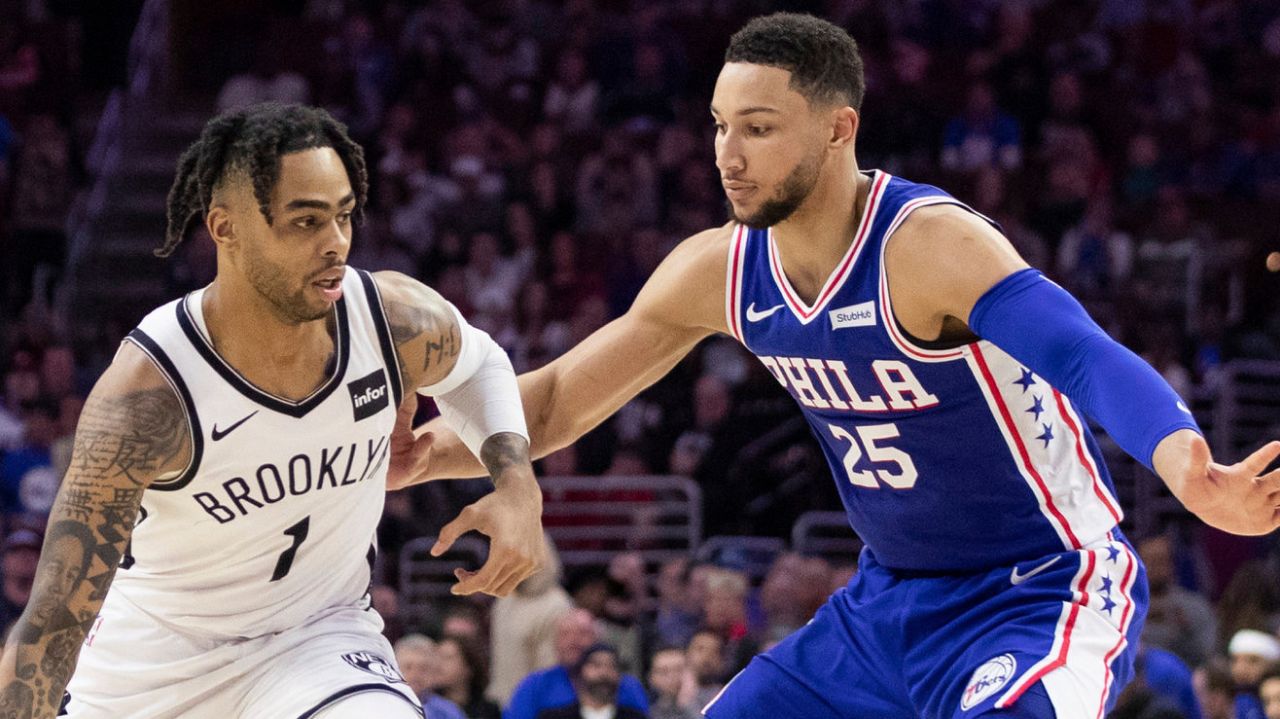 D'Angelo Russell – Use the glass more often
"Attempt more layups" would be an acceptable answer. "Get to the line with more frequency" is another thing that Russell needs to work on. But both of these issues stem from the same central problem: D'Angelo Russell is not comfortable using the window when scoring.
Russell has one of the better high-arching floaters in the league. The shot looks great when it goes in.
But, in terms of efficiency, it's a pretty tough shot to make consistently; there's a reason that the top defenses in the league are so willing to give up floater opportunities.
Russell's ability to draw serious "ooohs" and "ahhhs" from the crowd after floaters has become a bit of a gift and a curse. The sheer fanfare has made him a little too trigger-happy. At many times, Russell will stop dead in his tracks while penetrating an open lane to pull up for a silly floater.
Notice how, in the clip above, Russell bursts past Ben Simmons and Joel Embiid only to surrender his advantage and settle for a fadeaway 8-footer. This happens a lot with Russell — he fails to take the extra two steps to get all the way to the basket. This would have been an easy score had Russell continued his dribble.
In contrast, take a look at the way his teammate Spencer Dinwiddie finesses his way to the cup. Dinwiddie uses a hesitation move to his benefit, bringing the big man (Boban Marjanovic) away from the basket before hop-stepping to the hoop.
Russell has the ability to make these types of plays. He's 6-foot-5, has long strides, and comes equipt with an elite handle and hesitation game. He has all of the tools to freeze big men in their tracks.
But plays like the clip above tell me that Russell isn't fully comfortable with using the backboard. He has the option of continuing his dribble (left or right) and finishing a layup around the slow-footed Boban. Or, he could even bank a shot off the top of the square for an easy runner. Instead, he launches a difficult, leaning floater that clanks off back-rim. The glass can there for a reason – use it!
An enhanced palate of around-the-rim finishes will increase Russell's confidence and willingness to fully penetrate the lane. More layups will result in more trips to the line. It's a chain reaction of sorts.
Every time Russell makes a bucket, the Barclays Center plays a clip of Jay-Z hollering "D'Angelo!" If Russell can focus on using the glass, you'll be hearing Hova's booming voice a whole lot more next season.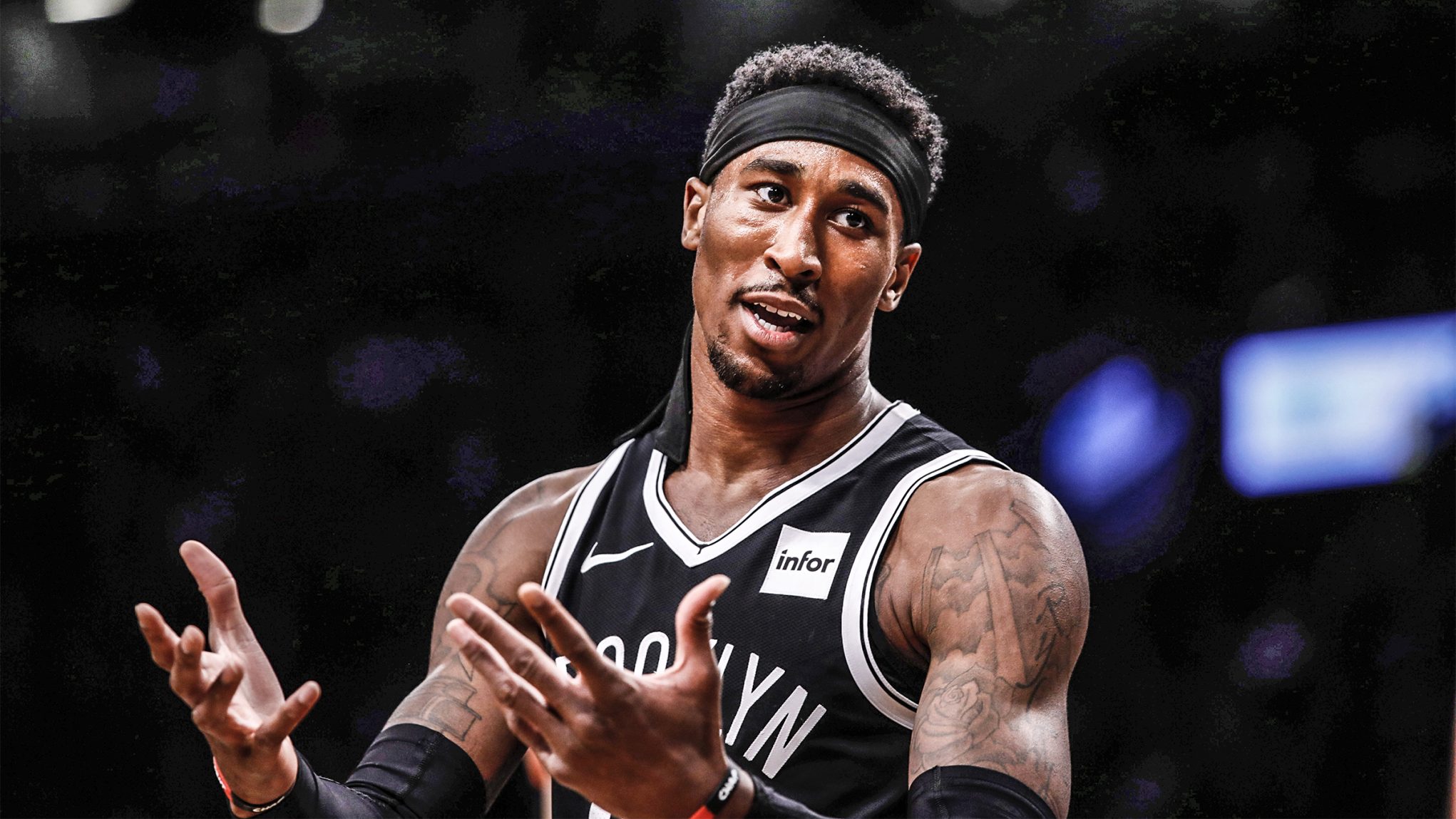 Rondae Hollis Jefferson – Attempt plain ole' boring layups!
There's a good chance Rondae Hollis-Jefferson isn't on the Nets' roster next season. He has a pretty large cap hold and was basically unplayable during the latter half of the year. His issue, forever and always, will be his shooting. In all honesty, I doubt he is ever a plus shooter — he has a low release point and a noticeable hitch in his jumper. That will be pretty tough to adjust.
Perhaps my biggest gripe with RHJ is his around the rim finishing. The dude makes every single layup so freakin' difficult!
It's almost as if Hollis-Jefferson is hopelessly addicted to up-and-unders. The right-handed layup is sitting right there for the taking. No reason for the flashy finish!
DeMarre Carroll has been in the league for 10 seasons. He basically is who he is.
Carroll has now strung together three-plus seasons of at least 60 games played since his tumultuous 2015-2016 season with the Toronto Raptors. His defense has fallen off a cliff a bit and he greatly struggled with his shot during the playoffs. But for the most part, he's still a solid three-point shooter who can get to the line a decent amount (3.6 FTA per game this season).
Based on early offseason behavior, it's unclear whether Carroll and the Nets can work out a deal for the future. Carroll is one of Brooklyn's many unrestricted free agents, and he recently put up an Instagram post that seemed like a possible goodbye. We'll see. Regardless, let's hope "Swag Daddy" continues his clean bill of health.
I get the feeling that Allen Crabbe and his remaining $18 million in salary are weeks away from being shipped out of the Big Apple on the first flight leaving JFK. Do not be surprised if he's dealt on draft night.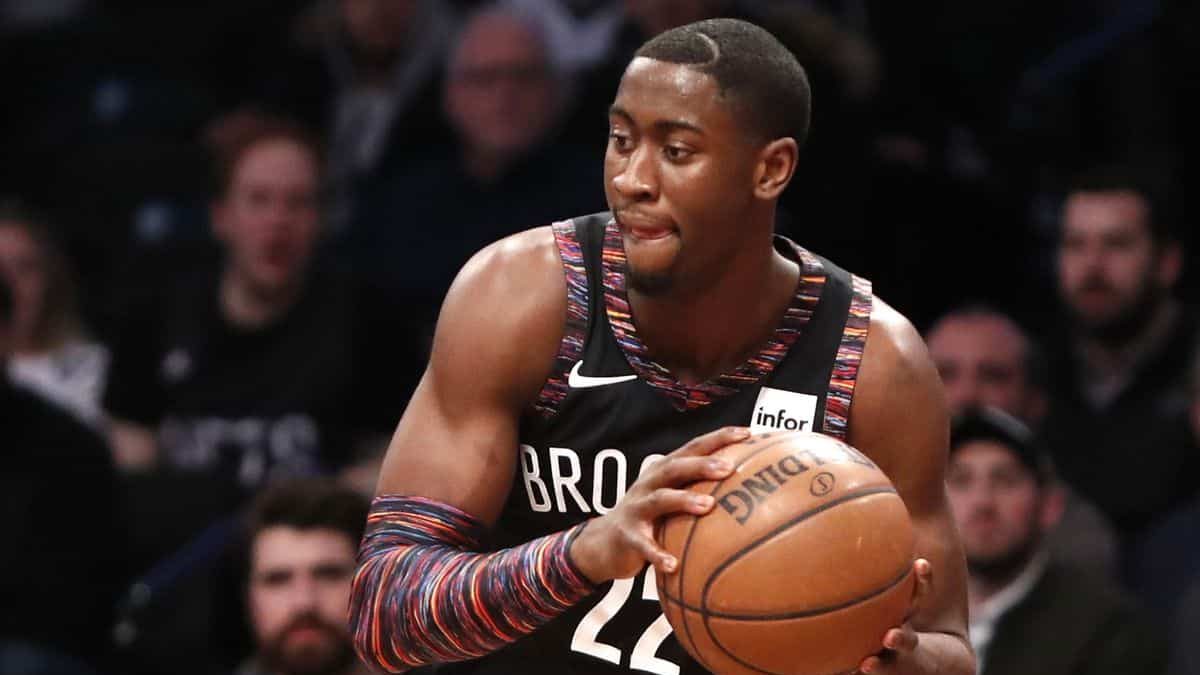 Caris LeVert – Consistent shooting mechanics.
While it may seem like I'm stating the obvious, Caris LeVert only has one big hole in his offensive game. He's one of the better drivers in the league, and he nearly matched his teammate D'Angelo Russell in efficiency via the floater game. But, the guy can't shoot.
LeVert was Brooklyn's leading scorer throughout these playoffs and showcased why he was an early All-Star pick. The most miraculous part of his postseason run was his outside shooting — LeVert stroked the longball at a 46.2 percent clip.
This was likely a bit of an anomaly. LeVert is still working out the kinks in his shot and his misses are pretty ugly. In the clip below, you can see he almost flicks the ball with his wrists and doesn't follow-through.
His three-point makes appear much cleaner. In the clip below, notice how LeVert takes his time setting up the shot — swaying his feet forward throughout his release and holding that follow-through. The result is a picture-perfect swish.
LeVert is one step away from becoming one of the more fearsome offensive talents in the NBA. If he can focus on consistent shooting mechanics, he'll have the full package.
Early reports suggest that Jared Dudley is interested in a Boston reunion. (Dud went to school at Boston College.) If the Celtics are smart, they'll sign this guy immediately. The leadership Dudley brought to Brooklyn was irreplaceable, and for a group as fragmented as the 2019 Celtics, Dudley could be the equalizer to Boston's problems.
If he does end up leaving, he'll always be a fan favorite in Brooklyn.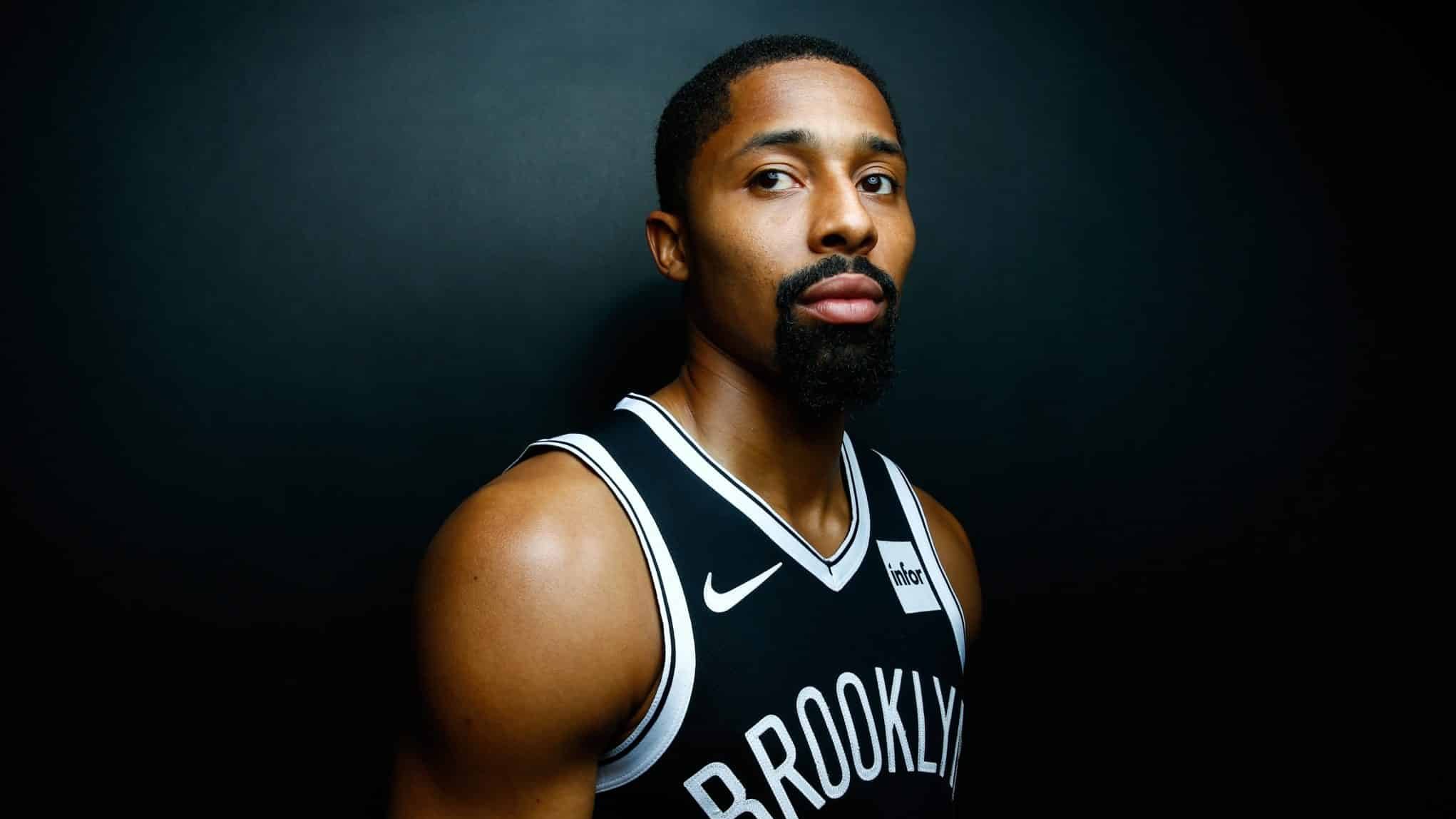 Spencer Dinwiddie – Navigating screens.
It's no secret that Spencer Dinwiddie is a below average defender. In the postseason, he recorded a -1.6 defensive box plus/minus. His struggles aren't related to his on-ball abilities. Dinwiddie has extraordinary length for his position (6-foot-6) along with very quick feet. He basically has every built-in advantage for staying in front of guys and contesting shots.
His biggest issue is tracking off-ball movement. Brooklyn's backup point guard is utterly hopeless when it comes to following shooters around screens.
The clip above — from an early January game versus the New Orleans Pelicans — has given me nightmares for months. It's a prime example of how just bad Dinwiddie is at finding his way around picks. Dinwiddie manages to get stuck on not one, but two screens in the same possession. This allows the Pelicans' Jrue Holiday to break free for an open free-throw-line jumper.
Dinwiddie has been in the league for five seasons, yet his sixth sense for recognizing incoming screens resembles that of a rookie. He just never sees them coming. It's bizarre.
Something has to be done about it. Dinwiddie needs to get better at using his peripheral vision to keep an eye out for picks. Should he sniff one out, Dinwiddie then needs to be decisive about going over it versus under it. It's all about mental preparation.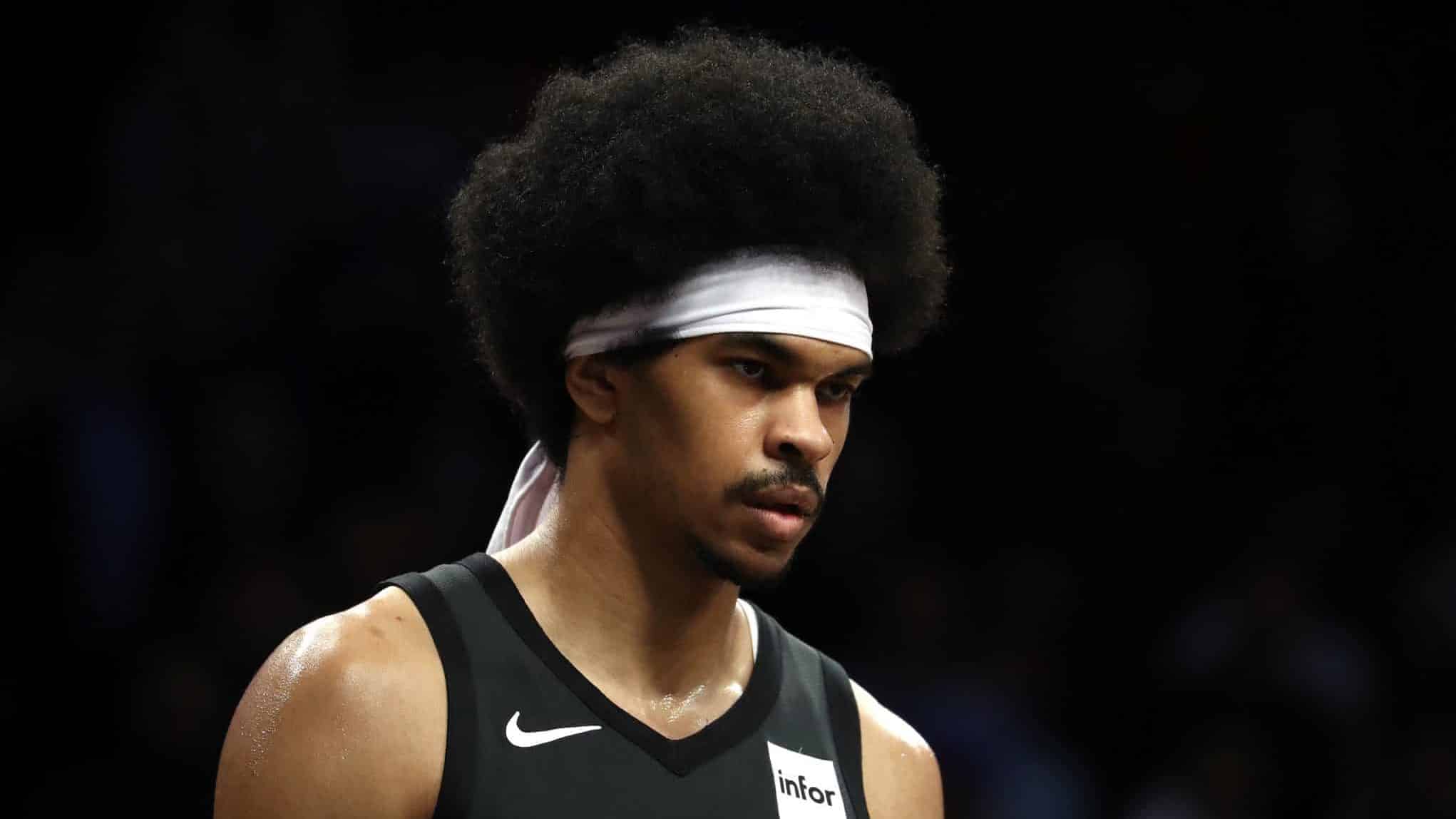 Jarrett Allen – Better footwork down low.
Now look, the obvious advice is bulk up and get stronger. But Jarrett Allen already acknowledged the importance of increasing his lower body strength in a recent interview with Kelly Whiteside of the New York Times.
"I need to get stronger," Allen told Whiteside with a smile. "The whole world knows I need to get stronger."
So, rather than repeating the obvious, let's focus on improving a different aspect of his game.
Jarrett Allen needs to clean up his footwork. Too often does Allen get caught playing Twister when making his move on the low block. Sometimes his feet will get tangled. Other times he will run out of steps. He also has a bad habit of bringing the ball down after an offensive board, running the risk of a smaller guard poking away a steal.
But Allen is at his worst when he's forced to put the ball on the floor and dribble. It gets real ugly, real fast.
Would a stronger lower body help Allen in the post? Absolutely. But Allen also needs to increase his knowledge of the fundamentals. In years past, we've seen certain players (such as Tyson Chandler) train with NBA legends like Hakeem Olajuwon. Allen doesn't have to go to the extent of working with the greatest low-post ballerina of all-time, but perhaps he can learn something from some of his peers.
As a matter of fact, I know of a free agent center who played in Brooklyn not too long ago with some outstanding low-post jukes …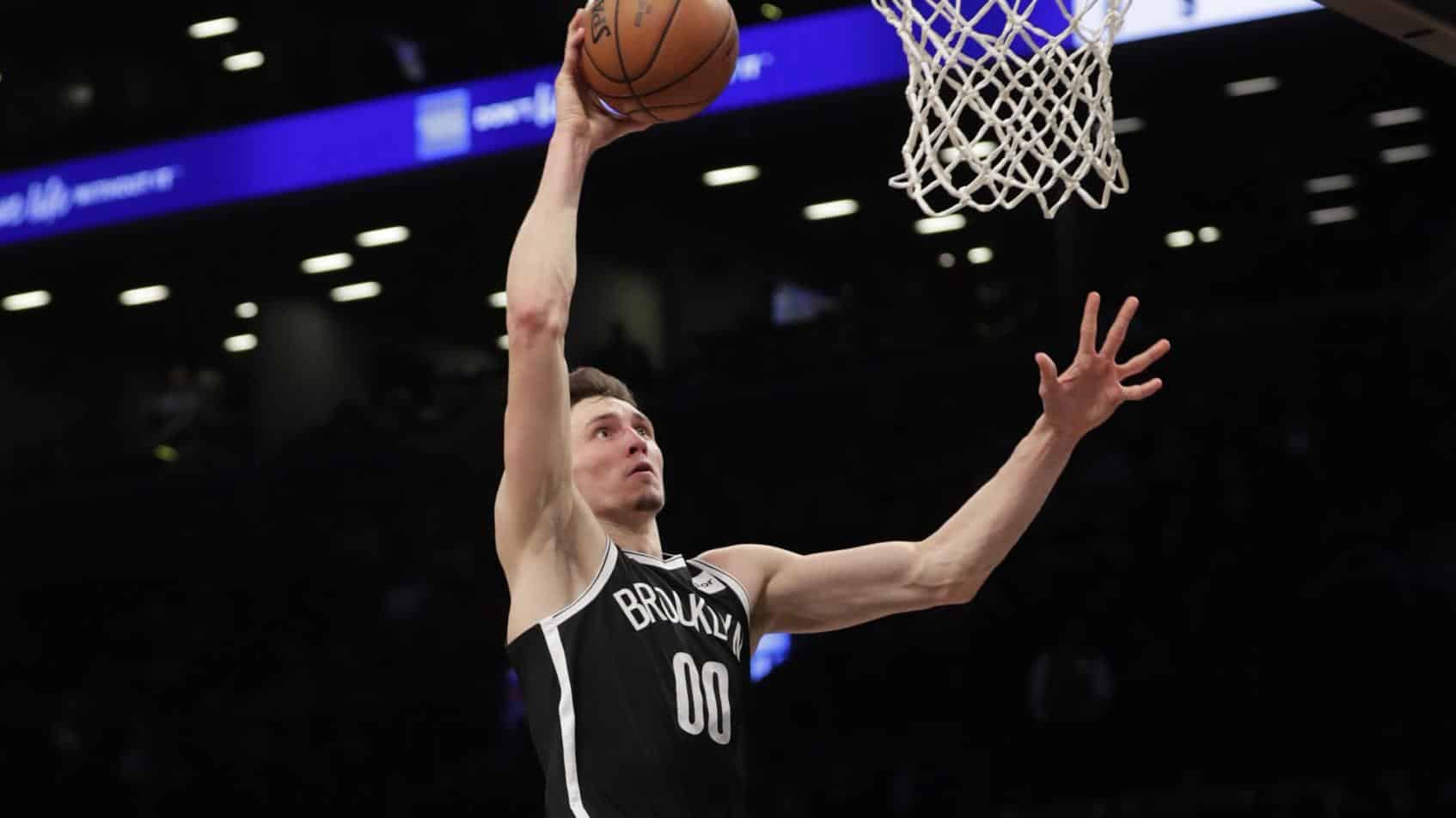 Rodions Kurucs – Play under control in transition.
Rodions Kurucs has it in him to become a lethal transition player. As a defender, he has the uncanny ability to pick off perimeter passes near mid-court. It's pretty unique. Cherry picking these passes gives Kurucs a plethora of fast-break opportunities.
Even better: after grabbing defensive boards, Rodi is wired to push the ball up the court – similar to a point forward.
But, when he gets closer to the basket, things start to get a little wonky. Rodi is prone to serious tunnel vision. Many times, he will aimlessly charge into the body of a defender resulting in a charge and turnover.
When he does to choose to pass, he's typically a second late when finding the open man. Sometimes, he will completely miss his teammate altogether.
What a bullet of a pass! Too bad it ended up in the sixth row of the bleachers.
At 6-foot-9, Kurucs has the speed of a guard and a solid handle for his size. On some plays, he can look like the European Pascal Siakam.
With this in mind, there's no reason for him to post such a low shooting percentage during transition (only 45.5 percent). Even worse is 18.5 turnover percentage; the highest turnover rate on Brooklyn's roster.
In two years, don't be surprised if Kurucs is Brooklyn's best fast-break threat. To get there, he needs to keep his eyes up and hunt for teammates accordingly when pushing the ball full-court.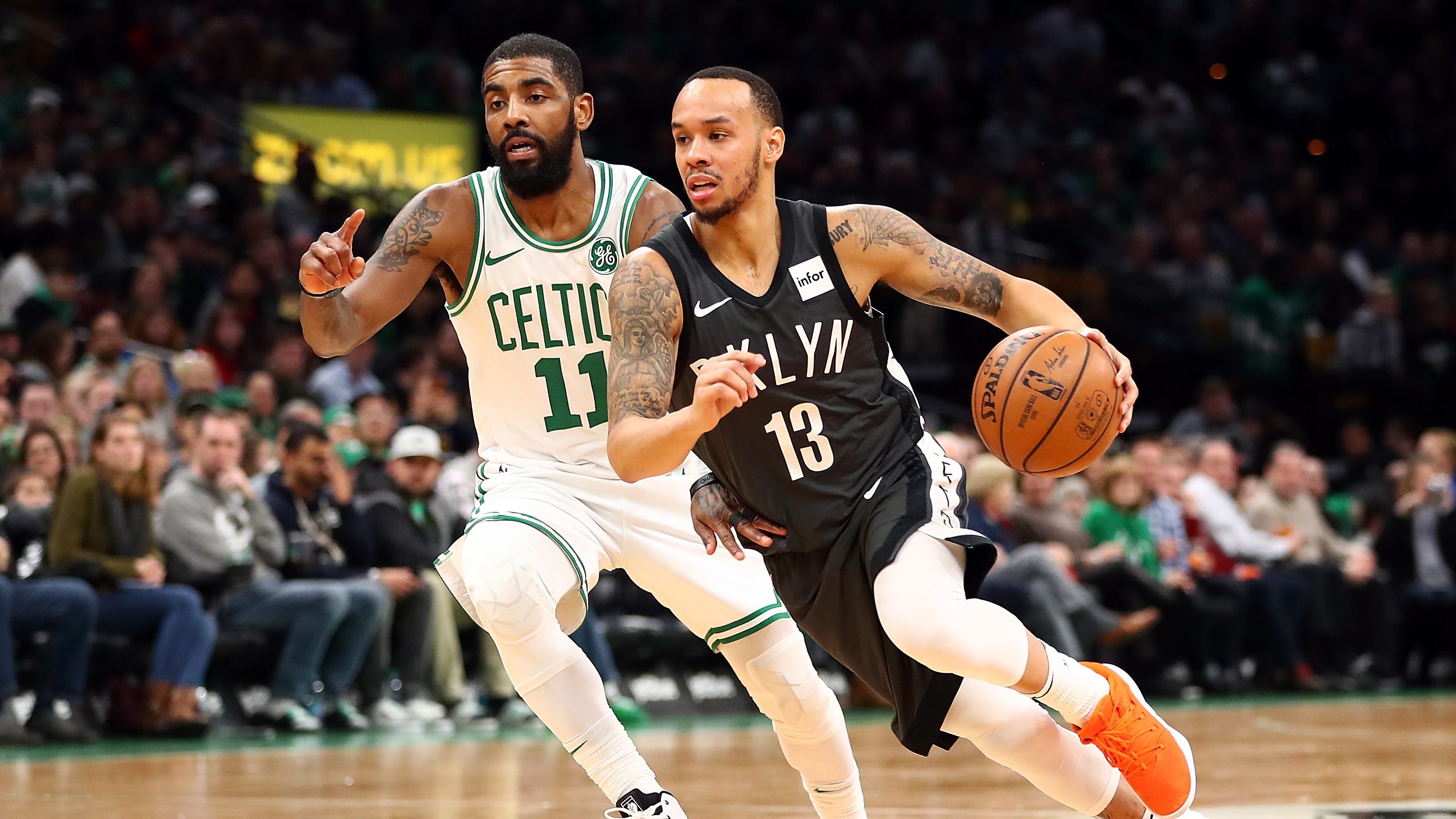 Shabazz Napier – Diversifying his offensive game.
Shabazz Napier is surprisingly 27 years old. I could easily give you the cookie-cutter "he is who is" answer. But I'm not. I still see some upside in Napier's game.
Shabazz Napier is 6-foot-1. Even in the presence of other point guards, coaches, water boys … you name it … Bazz is usually the smallest guy on the court.
In the modern era, undersized players should model the 2017 version of Isaiah Thomas. At barely 5-foot-9, Thomas had himself one of the most unbelievable seasons in recent memory, finishing fifth in MVP voting. Thomas was a lethal threat from every area of the court – stroking threes, fearlessly finishing among the trees, and capitalizing from the midrange.
Comparing Isaiah's 2017 shooting numbers (courtesy of NBA.com) to Napier's best season (2018), you can see some definite similarities.
Thomas shot the three-ball from above the break at a 37.2 percent clip; Napier also made 37.2 percent of his above the break three-pointers. The two performed similarly around the rim – IT scored on 56.2 percent of his restricted area shots; Napier shot 51.8 percent within the circle.
Their biggest discrepancy can be found in the non-restricted painted area (also known as floater range). While IT was sensational from this area of the floor (at 44.8 percent), Napier was abysmal (27.7 percent). Napier's poor shooting wasn't a fluke: this season, he scored on just 31.3 percent of his floater range attempts – by far his lowest percentage from any area of the floor.
Unfortunately for Napier, smaller players are graded on a tougher curve. That's kind of the way it is in the NBA. Thomas was able to thrive by being outstanding from every spot on the floor. Five years into his career, Shabazz Napier still has a major hole in his offensive game. Until he patches up this problem, he will continue to be a third-guard at best.
Ed Davis – Free throws, I guess? (Please come back).
Outside of bringing in major free agents, possibly resigning D'Angelo Russell, and restructuring Caris LeVert's next contract, Brooklyn's biggest summer objective should be to bring Ed Davis back. Davis was instrumental during Brooklyn's run this season. He provided second-chance opportunities to an otherwise listless rebounding team. Davis was Brooklyn's only real low-post defender. My guess is that he'll be pretty cheap this summer.
Ed Davis is one of the best backup centers in the league — there's a reason he's a nine-year veteran. Best of luck to Brooklyn if they want to find better value at that position.
As for improvements? Davis' Achilles Heel has always been free throws. He shot just 61.7 percent from the charity stripe this season. While that isn't horrible, it certainly contributed to Brooklyn's seventh-worst collective free throw percentage.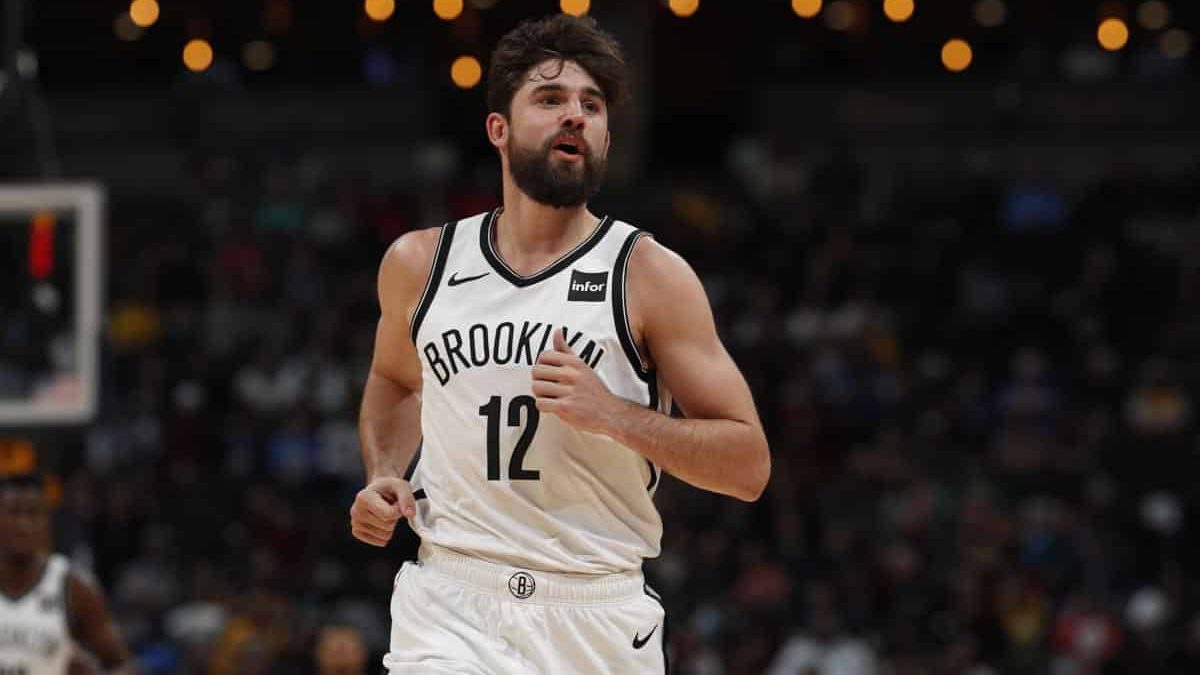 Joe Harris – Take more difficult shots to up his three-point total.
Joe Harris, who was the regular season's league leader in three-point percentage, looked like a very different man during the postseason. Once the Nets' most consistent player, Harris quickly turned into Brooklyn's invisible man.
Harris' numbers during the postseason weren't just bad, they're downright atrocious: 8.8 points on 37.2 percent from the field and 19 percent from three. Ouch.
The Philadelphia 76ers made a point of taking Harris out of the action early and it worked. By gluing a defender to Harris' hip — regardless of whether he was involved in Brooklyn's offense or not — the Nets' sharp-shooter was held helpless. When he did get off a shot, it was heavily contested. Without any sort of rhythm, Harris' three-point shooting fell off a cliff – he missed 76.7 percent of his wide-open threes.
On the other side of the court, Philadelphia's JJ Redick was stroking three-pointers to his heart's content. Ironically, Redick is the player who Harris should emulate the most going forward.
One of my biggest gripes with Harris throughout the regular season was his low number of three-point attempts per game. Even in the midst of a career year, Harris only attempted 5.1 threes per game. That's a pretty minuscule number for a shooter as talented as Harris.
For contrast, Redick took eight three-pointers per game but made them at a less efficient clip (39.7 percent) than Harris (47.4 percent). Looking at the footage, I noticed something: Redick sacrificed some percentage points and focused on hoisting as many three-point shots as possible. It worked. During the postseason, Redick has averaged 13.7 points and has made 39.6 percent of his 7.6 attempted threes.
Take this shot from Game 1 of Philly's series versus Toronto.
Obviously, this is a pretty difficult shot. Redick takes this three-pointer off-balance; his entire body is swaying side-to-side. As unusual as it looks, Redick has worked hard to make this screwy shot a reliable part of his arsenal. He deploys these types of shots off the catch a couple of times each game. Sometimes, it appears as if he's shooting off one leg.
Harris is a much more conventional shooter. He rarely shoots while leaning left or right; he's all about forward motion. When Joe shoots, his feet are perfectly aligned, his shoulders are squared, and his body is balanced like a Yoga Instructor. His number one goal is to be as efficient as possible – it would be out of character for Harris to take an off-balance shot.
Well, Joe, it's time to break character. Being a stickler with efficiency has made Harris too easy to cover during a playoff series. Harris will never be the guy to overwhelm anyone with his speed, making it easy to superglue a defender to his hip. He has to make up ground in other ways. By making unorthodox shots a reliable part of his game, he can become as tough of a cover as Redick. If Harris is willing to sacrifice a few percentage points, I have a feeling that this will be the last time we see him struggle in the playoffs.
Being the three-point king is a cute regular season award. But wouldn't it be nice to strike fear into opponents' hearts during the postseason?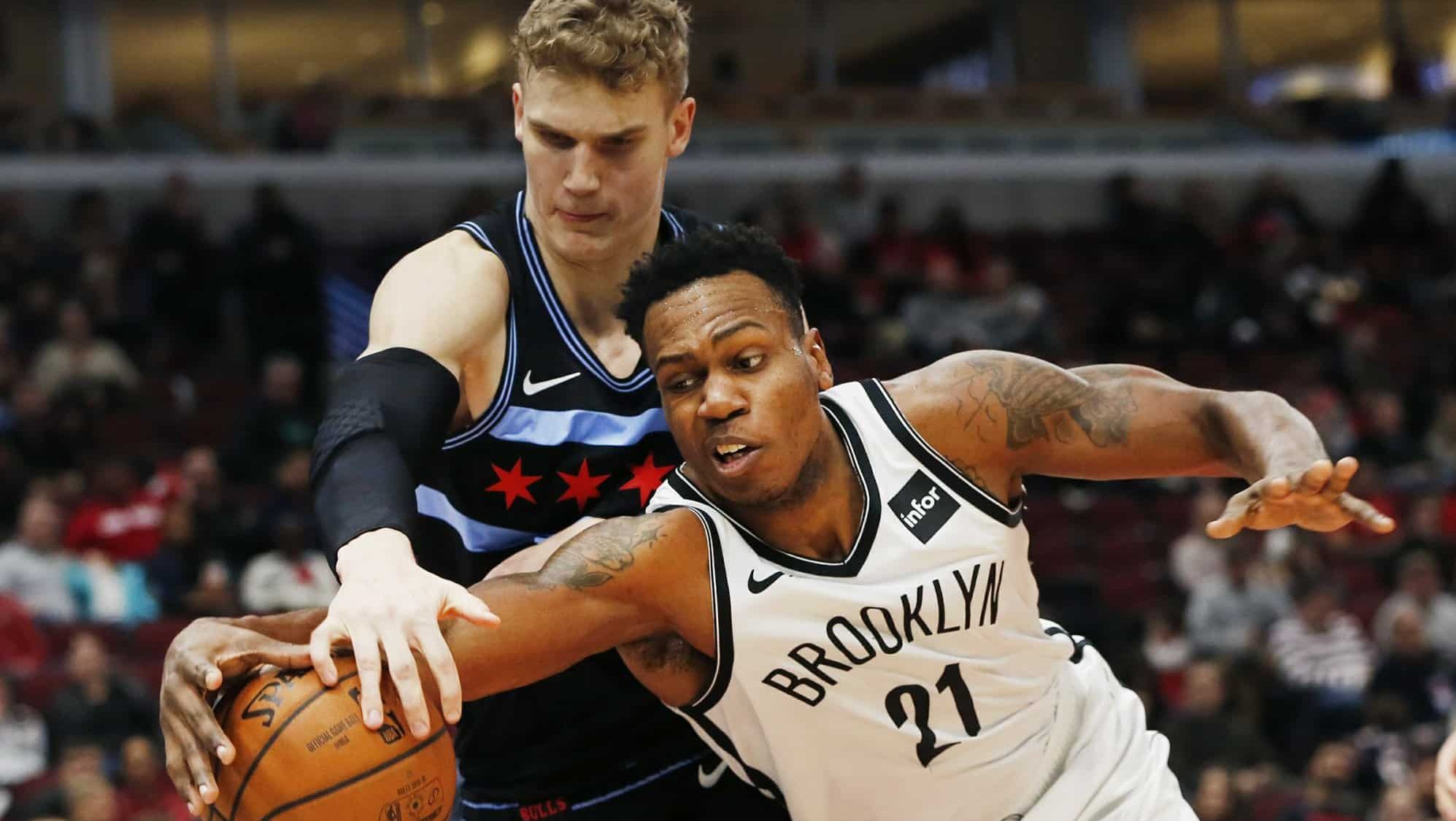 Treveon Graham – Attack the rim more often!
Hi, my name is Matt Brooks. I'm the last standing member of the Treveon Graham fan club. Nice to meet you!
While I realize that I might be the only person on the planet who has stock in Treveon Graham, I do think there are areas where he can improve. He's an excellent defender, his shot comes and goes, and he seems like a good guy to have in the locker room. If Kenny Atkinson is a big fan, I'm a big fan. That's kind of how it works around these parts.
Now, while I realize his contributions may occur in a different city (he's an unrestricted free agent), I would like to see Treveon attack the rim with more frequency.
When I first started watching Graham after his January call-up, I would shield my eyes every time he thundered towards the rim. But, to my surprise, he wasn't that bad in the painted area. The guy has a pretty nifty floater.
Hey, Treveon! Don't be afraid to bust that floater out! I doubt this season will be Treveon's last in the NBA. He has some pro skills; namely his defense. That floating jump shot may not be far behind.