In ESNY's first New York Jets mock draft of the offseason, the trade-down scenario is fully explored for extra assets.

Ah, the mock draft. Coming in several varieties—fantasy football, fantasy baseball, NBA mocks, NFL mocks—hypothetic drafting is big business. Platforms make a living on the mock draft concept year-round.
Why? It's hope. The sales pitch that is hope drives every fan base in the world. Hypothetical scenarios and dreams that rarely come to fruition are packaged up neatly and stuffed down the throats of the entire country.
It's insane, really, yet the people can't get enough.
The first clue is when a "way too early mock draft" hits you the day after the NFL Draft actually finished. Nobody in the world has any slice of idea 364 days prior. No mock drafts should take place before the NFL Combine; it's really just that simple.
Therefore, ESNY's first New York Jets mock draft of the season comes on April 1, 2019, well after the combine and in the first edition, the ideal scenario is put forth.
The trade-down scenario is not an easy exercise, especially in a down-quarterback talent pool. Gone are the likes of Baker Mayfield, Sam Darnold, Josh Allen and Josh Rosen. In are Kyler Murray, Dwayne Haskins and Drew Lock. Nevermind the difference in perception; quarterbacks are what spark the movement.
Few teams are in need of a quarterback; at least in terms of current perception. Rumor has it the Arizona Cardinals will select Heisman Trophy-winning Kyler Murray. Consequently, Rosen will eventually find a new home, closing up yet another quarterback opening.
The Jacksonville Jaguars signed Nick Foles. It's possible the organization still selects the future at the position, but they'll more likely wait at least another year. The Washington Redskins and Denver Broncos seem intent on finding a quarterback this season while the New York Giants, Oakland Raiders and Tampa Bay Buccaneers feel content for the time being.
It's always tricky, but when a former quarterback wants his guy, he oftentimes decides to get his guy.
Jets-Broncos Deal
New York Jets receive:
No. 10 (Round 1) overall selection (1,300 points)
No. 41 (Round 2) overall selection (490 points)
No. 71 (Round 3) overall selection (235 points)
2020 Round 3 selection
Denver Broncos receive:
No. 3 (Round 1) overall selection (2,200 points)
Reports are already swirling that John Elway is "smitten" with Drew Lock. The Missouri gunslinger is currently projected out as the third quarterback taken behind Murray and Haskins. Don't overthink it and commit yourself to the big board in such a rigid fashion.
A year ago, Elway selected Bradley Chubb over both Allen and Rosen (having already missed out on Mayfield and Darnold). The move to roll with journeyman Case Keenum blew up in his face, making it likely he won't mess around this season.
Of course, Elway can wait it out and collect Lock in the 10 hole, but it'd come with tremendous risk. While it may feel safe, the man could find himself rationalizing that nothing is ever too great to relent when snatching up the future at quarterback.
Elway's an aggressive personnel man who, if truly in-love with Lock, could absolutely trade up to gobble up the future at No. 3.
No. 10 (Round 1): Brian Burns, EDGE (Florida State)
Snagging the most talented left tackle in the pool, Jawaan Taylor, with the 10th pick would be a tremendous grab. It's possible the big man goes to Jacksonville at seven. In that case, Alabama's Jonah Williams (even if he does play center) or Washington State's Andre Dillard could fit the bill at 10.
If Rashan Gary or Montez Sweat fall, those two specific edge rushers have to be considered here. If not, Florida State's Brian Burns works at 10. A rumbling of noise has built in Burns's favor over every edge in the pool other than Nick Bosa. Of course, that's just a smaller contingent right now on the Burns train. When looking at the flawed big board, he's still behind Bosa, Allen, Gary and Sweat.
Burns, 6-foot-5 and 249 pounds, isn't the biggest edge. He possesses elite speed and can outrun literally any tackle. His get-off will also translate well immediately. The 3-4 vs. 4-3 question isn't an issue here. In addition to the run-dominant Jordan Jenkins, two pure pass-rushing edges are still on the wish list.
Protecting the organization (Sam Darnold) is far more important than anything else, which is why tackle or center needs to be the move. The 6-foot-5, 312-pound Taylor is the prototypical blindside house.
Burns is listed due to projecting out the Jets actual plan. I don't believe the Jets will go the O-line route in Round 1. Mike Maccagnan has yet to make a legitimate commitment to the offensive line and seems content with the below-average duo of Kelvin Beachum and Brandon Shell.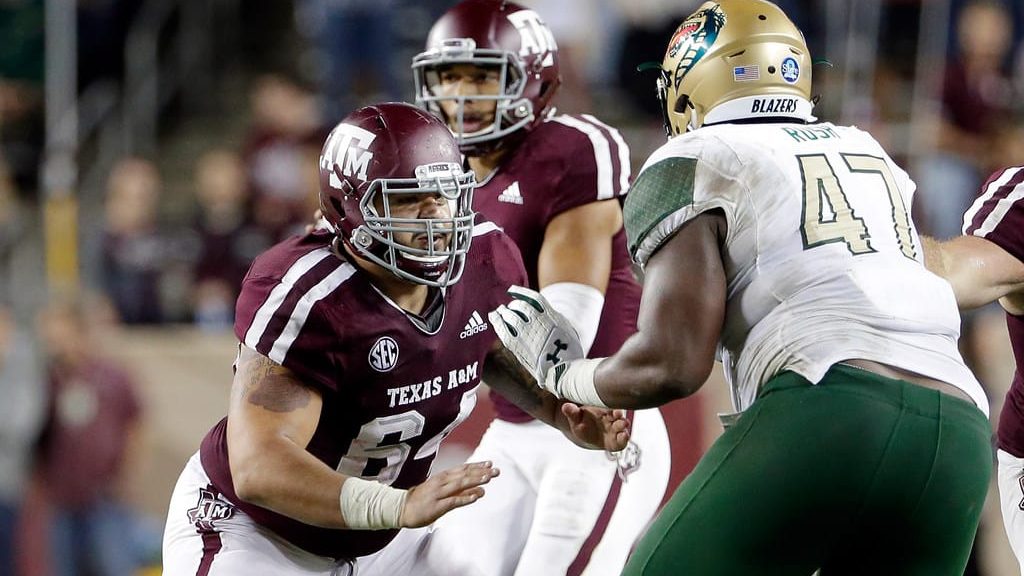 No. 41 (Round 2): Erik McCoy, C (Texas A&M)
Garrett Bradbury is the target. Texas A&M's Erik McCoy is what No. 41 will fetch.
Bradbury's filthy pre-draft workout performances will most likely squeeze him in the first round. Looking to take 41 and either 68 or 71 in the attempt to trade up into the end of Round 1 for Bradbury would be well worth the extra assets.
Unlike Bradbury, McCoy's less athletic in space (which could be a negative in the heavy zone-rushing Adam Gase offense). He's no slouch, either. He's big and comes as a mauler-type.
In any event, McCoy projects as a plus starting NFL center for a decade.
No. 68 (Round 3): Parris Campbell, WR (Ohio State)
With a blazing 4.31 forty-time at the combine, Parris Campbell can instantly contribute on the offensive side of the ball.
There are two specific wide receiving roles that can be shored up moving forward. One is the dominant No. 1 possession receiver that Quincy Enunwa is currently manning down. (Robby Anderson is a straight-line burner whose hips, elusiveness doesn't allow for underneath dominance as of yet.) The other role is that X-factor type to can give Jamison Crowder a run for his money.
Campbell is extremely shifty. He can run the jet-sweep at the top level as well take handoffs when necessary. As the No. 4 wideout, he'd perfectly complement the top-three weapons.
No. 71 (Round 3): Trayvon Mullen, CB (Clemson)
All the offensive line and edge noise hide the Jets cornerback woes. Here, at No. 71, the Jets go with Trayvon Mullen.
The Clemson product is a taller corner. Standing at 6-foot-1, he projects as an outside cover man—something New York desperately needs. Brian Poole, Parry Nickerson and even Darryl Roberts (who can absolutely play inside and out), fit the slot much more smoothly.
He can press, play both man and zone but may take a season to fully fit in at the next level. His first cousin is Baltimore Ravens quarterback Lamar Jackson.
No. 93 (Round 3): Chase Winovich, EDGE (Michigan)
Thanks to the Elway deal, New York grabs two pass rushers before Round 3 finishes.
Chase Winovich is everything Brian Burns isn't. Unlike Burns's freakish athleticism, Winovich doesn't rely on speed. He can't. But what he lacks in speed he makes up for with a maniacal work ethic and motor.
He's the type of defender every front-seven needs. The kid is brash, physical and completely relentless even at the detriment of his own health.
No. 105 (Round 4): David Edwards, OT (Wisconsin)
Wisconsin is never a poor place to look when searching for offensive line talent, especially later in the draft.
Tackle David Edwards could immediately make Beachum and Shell sweat in July and August—something the two starters have yet to experience in New York. Offensive line production heavily expands from rabid competition and currently, depth is sorely needed. It's time to start drafting offensive linemen at every turn.
Edwards is not ready for primetime. He actually started playing football as a quarterback before shifting to tight end and eventually settling in at tackle. He's long and quick but may find himself overpowered. More experience is needed yet he could represent an excellent seventh lineman.
No. 140 (Round 5): Ben Powers, G (Oklahoma)
Yeah, that's right; another offensive lineman. After selecting just two big heavies over the course of his first 28 total picks, this mock has Maccagnan taking three in one draft.
Oklahoma's Ben Powers finished First-Team All-Big 12 in 2018 as one of the unit earning the Joe Moore award as the nation's top offensive line.
His on-field motto is "taking a grown man's dreams and crushing them." That's the type of kid who always gets picked first on the school-yard.
No. 217 (Round 7): P.J. Johnson, 1-TECH (Arizona)
The position of need that slipped through the cracks here is the 1-technique, the nose tackle type needed to play over the center or in the A-gap. Right now, Steve McLendon and Nathan Shepherd are the Jets bodies.
Quinnen Williams is an interesting case. He's not a nose tackle. In fact, he may be smaller than Leonard Williams. He'd fit opposite Leo as the other 3-4 defensive end, but Henry Anderson is already back in the fold. In the 4-3 (which we will see under Gregg Williams; make no mistake about it), Henry can't play in the base. Instead, he and Leo already make up a dynamite interior-rush duo out of the sub-package.
The Jets best bet is to trade down, of course, but in the event of no trade, completely ignore Quinnen at No. 3 and instead, look for a late-round flyer like Arizona's P.J. Johnson.
Draft Picks At A Glance
10 (Round 1): Brian Burns, EDGE (Florida State)
41 (Round 2): Erik McCoy, C (Texas A&M)
68 (Round 3): Parris Campbell, WR (Ohio State)
71 (Round 3): Trayvon Mullen, CB (Clemson)
93 (Round 3): Chase Winovich, EDGE (Michigan)
105 (Round 4): David Edwards, OT (Wisconsin)
140 (Round 5): Ben Powers, G (Oklahoma)
217 (Round 7): P.J. Johnson, 1-TECH (Arizona)
Hammer the positions of need. "Best available player" is a silly notion only used to conform the fanbase. Relentlessly pursue edge and offensive line while sprinkling in a corner and a wideout (perhaps even a tight end or 1-technique). There's enough talent in every round to hammer those dire positions of need throughout the draft.
Obviously, a trade down is crucial. Without that deal, McCoy and Mullen don't exist. Finding that elusive trade partner is much easier said than done, but it's by far the greatest route to travel at the given moment.