Year after year, NFL Draft results prove "best available player" is fiction. It's why the New York Jets can't commit to the rigid big board.

The idea that Derwin James was a top-three selection one year ago today was a laughable, nonsensical notion. Hundreds of mocks had the now-Los Angeles Chargers stud safety chosen somewhere in the 7-to-10 range, but top three was out of the question.
Any thought put forth that suggested the New York Giants (No. 2) or Cleveland Browns (No. 4) select him that early was blasphemous. After all, the mock draft is law. It is the all-knowing bible that forced no team to ever consider deviation.
James eventually dropped to 17. He then finished as a First-Team All-Pro that capped off a phenomenal rookie campaign.
Draft results never match projected mocks. Results by way of productivity never match the actual slot selection. This information isn't anything groundbreaking yet a teachable lesson must be remembered around this time every year.
Never should a team fully commit to the rigid big board.
Thanks to the craziness of NFL Draft season, the entire world seemingly locks themselves into certain preconceived notions. This season brings the same silly laws.
… how dare anybody think Rashan Gary could be chosen over Josh Allen.
… there's no chance Drew Lock should go ahead of Dwayne Haskins.
… Jawaan Taylor could never be selected at third overall.
… no way Derwin James deserves to be selected over Denzel Ward (a 2018 goodie).
These ideas become concrete yet year after year, smash to pieces before our very eyes. Yet the world reverts back to similar preconceived notions the very next draft season.
For the New York Jets, it's Nick Bosa, Josh Allen or Quinnen Williams. That's it.
The mere mention of thinking left tackle at No. 3 throws the fanbase in a jolted state of hysteria. No way can Jawaan Taylor even be thought about when he's projected in the latter part of the top 10.
Going in, there are two specific big boards in every draft room. There's the generic board that attempts to decipher what the entirety of the league is thinking. This is used in a strategical form. Knowing the order of things is a must when on the horn with other organizations.
Then there's the team big board that details priority based on two specific factors:
Best available player.
Best available player based on need.
"Best available player" is one hell of a loaded notion. As Derwin James proved a year ago (to go along with countless examples throughout the draft's illustrious history), there's really no such thing. The renaming of "best available player" to "best available player in the eyes of the organization" must come in swift form. More than an actual NFL reality, it's a marketing ploy used to help conform the fanbase.
Through 28 total Mike Maccagnan selections, "best available player" has been the calling card.
Think Leonard Williams. New York was stocked at the 3-4 defensive end position at the time of Leo's slippage. Muhammad Wilkerson and Sheldon Richardson were both in tow. Damon Harrison was even still in town. Despite not having a legitimate starting position for the USC product, Maccagnan tabbed him the No. 6 pick in the 2015 NFL Draft.
Has the Big Cat worked out? I don't know; you make the call. Personally, I expect more than 17 sacks and one Pro Bowl from of a "best talent in the pool" sort of player that simply couldn't be turned away when the position was already set in-house. Either way, it forced Richardson to hilariously attempt to play out of position along the edge for the majority of the season while making it impossible for Todd Bowles to run a legitimate defense with quick enough edges.
"Best available player" has turned into just two offensive line selections over four seasons (zero over the last two). Both picks came in the fifth round (Jarvis Harrison in 2015 and Brandon Shell in 2016). The state of New York's current O-line fits in with the worst in the league.
Of course, snagging either Nick Bosa and Josh Allen fit the bill. As dire as the offensive line looks, the defensive edge is just as rough. The problem comes when strategy stops there and nothing else can be entertained unless a trade commences.
Per Mike Maccagnan reports, the Jets have thrown the No. 3 pick on the market. It's the absolute right move concerning the current 53-man depth chart. Without a second-round pick and needing edge rushers and line help desperately, trading down and collecting assets the no-doubt-about-it greatest possible move.
This is the area the generic big board needs to be rigidly abided by.
Based on projected selections is how these deals work. Mix in the projected draft with Jimmy Johnson's revised value draft chart and a clear formula is presented. If a trade doesn't go down, however, there's nothing outlandish in selecting Taylor with the No. 3 pick.
The Florida product is slated as this year's top offensive lineman, ahead of Alabama's Jonah Williams. The problem fans see is that he's projected somewhere in the 6-to-10 range. It'd be considered blasphemy to think of Taylor at No. 3.
The Jets can't think this way; not if they really like the kid.
To me, Quinnen Williams is a no-no. He plays Leo's position, the 3-technique. He's not bigger than Leo, meaning he and Leo together in the 4-3 base makes no sense. Leo's sidekick in that scenario should be a 1-technique/nose tackle type. Quinnen works in the 3-4 opposite Leo, but where does that leave Henry Anderson? Moreover, as currently constituted, the subpackage look is already set with Leo and Henry along the interior.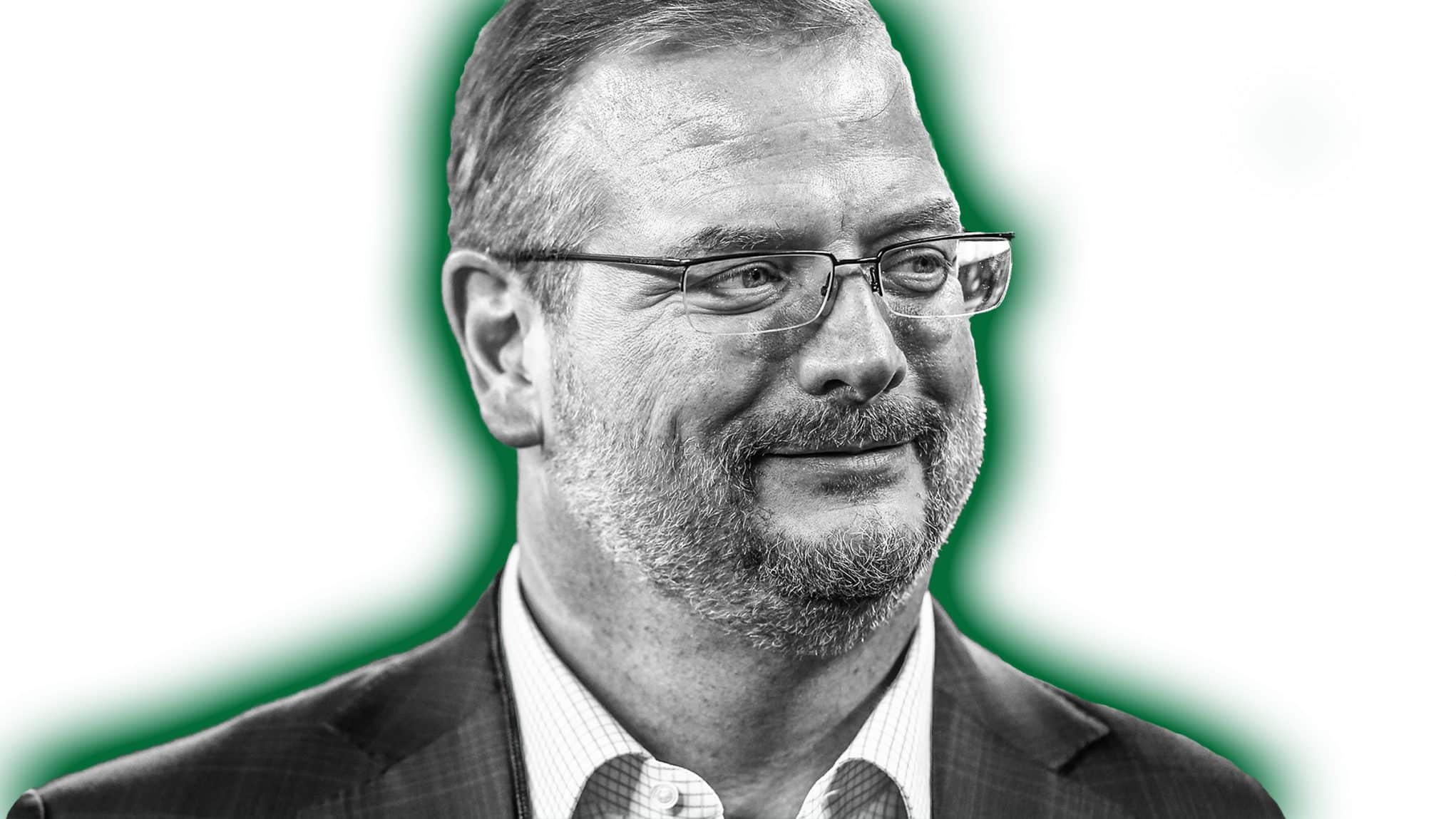 Quinnen makes no sense with dire needs still on the table. But alas, the dreaded "best available player" may strike again (just as it did in 2015).
Then there's Sam Darnold, the kid whose arm literally represents an entire future. Is Mike Maccagnan truly comfortable entering another season with a well below-average offensive line in front of the future of the organization?
Running on four years now, the O-line excuses have piled up. Like a terrible dream, each offseason presented a new narrative for why the line would suddenly improve.
In 2016, Ryan Clady's presence in replacing the deteriorating D'Brickashaw Ferguson would be enough. A year later, Kelvin Beachum replacing Clady and Wesley Johnson would infuse talent into a stale group. In 2018, Spencer Long would eliminate the scapegoat, Johnson, while Brian Winters would get back to his nasty ways after battling injuries all of 2017.
The patchwork never works. Until premium talent is drafted up front, Darnold will be left in a dangerous position. Even if a center is drafted in the third round, the line would still represent a scary proposition heading into the summer.
It's why Jawaan Taylor or even Jonah Williams can't be eliminated from the conversation at No. 3. There's nothing more important right now than ensuring the organization's health (Sam Darnold) and this includes edge.
Admittedly, I have no idea whether a Taylor gamble at No. 3 is the right choice. Both Bosa and Allen possess the goods at a position the Jets haven't felt comfortable since John Abraham roamed Giants Stadium. But that's why trading down is so critical; the two most important units of a football team (save for quarterback), offensive line and four-man conventional pass rush, are currently as bare as a Janet Jackson body part at the Super Bowl.
If a trade doesn't happen, though, Mike Maccagnan cannot force himself into the silly "best available player" notion. It has to be edge or O-line. It has to remain flexible. And the lesson that the rigid big board going into every NFL Draft never turns out to hold truth must be written over 10 times on the war room white board.