The New York Jets 53-man depth chart is still in need of specific positions. It's critical to break it down in a way that fits each required role.

Four tight ends are four tight ends. Right?
Wrong.
The No. 1 tight end is the man, the starter who can act as a vertical threat while also serving as an offensive line extension. The backup is most likely the next best receiving guy of the group. At least one of the four must bring a maniacal blocking attribute to the table—especially for an Adam Gase team that doesn't carry a fullback.
The intricacies of the 53-man NFL depth chart travel far beyond standard positions. Tight ends are just the tip of the iceberg.
Concerning the New York Jets, this depth chart specificity holds true.
As currently constructed—a backward outside-in build (rather than from the trenches out)—certain Jets positions are locked up solid. Quarterback is obviously good to go. A more talented backup could still remain on the wish list, but Trevor Siemian is now in the house. (Besides, if Sam Darnold goes down, forget about it.) Running back is also steady as is the linebacker role along the second level (thanks to a couple of brand-name signings in Le'Veon Bell and C.J. Mosley).
An example of a specific lower-level role filled is at the third safety. Jamal Adams plays so much near the line, on the edge, and in the box that in certain sub-packages, a talented deep-half safety to play alongside Marcus Maye is a must. This suits Doug Middleton perfectly.
We'll stop there for now prior to digging in further. The following is what's still needed.
11. No. 2 Playmaking X-Factor Weapon
N/A
This is Jamison Crowder's territory. Standing at 5-foot-9 and clocking in at 177 pounds, the Jets new slot man is now the offense's most explosive X-factor.
Every prominent offense needs an X-factor type who can do everything. A year ago, Trenton Cannon attempted to fill the role while running jet sweeps (once Jeremy Bates caught up with the rest of the league in December), but just isn't quite ready for primetime.
Cannon will serve as the No. 2 X-factor behind Crowder this season (barring an outstanding draftee), but a second guy needs to remain on the wish list.
Robby Anderson is not this prototype. Though as fast as anybody once he gets moving, his hips and elusiveness don't fit the X-factor weapon role.
Out of the slot, running jet sweep concepts or even taking a hand-off at times—another body who can handle these areas is necessary.
10. Blocking Tight End
N/A
Eric Tomlinson is the de facto blocking tight end (fullback when needed) as currently constructed. There's nothing wrong with Tomlinson as a blocker yet there's also nothing wrong with finding a more suitable man for the role.
Gase doesn't carry a fullback. Finding that blocking tight end (even if it's a complementary player to Tomlinson) is still a requirement.
9. Short-Yardage Running Back
N/A
Le'Veon Bell is the New York Jets short-yardage back. There's no question about it. He's the workhorse signed who'll play as much as humanly possible.
Elijah McGuire will fill the third-down back role with his plus shiftiness, vision and receiving skills. The previously mentioned Cannon is the third back on the chart.
A bigger, powerful back to complete the foursome who can help out with the short-yardage dirtiness remains a need.
8. No. 2 Vertical-Threat Tight End
N/A
Jordan Leggett and Neal Sterling may just represent Chris Herndon's backups once the 2018 season commences. That impending probable reality doesn't mean the No. 2 vertical threat tight end role is set.
Leggett hasn't shown much since his fifth-round tabbing in 2017 and Sterling, while he turned a few heads last year, is still a true wild card.
If Herndon goes down, New York's tight end spot looks brutal on paper.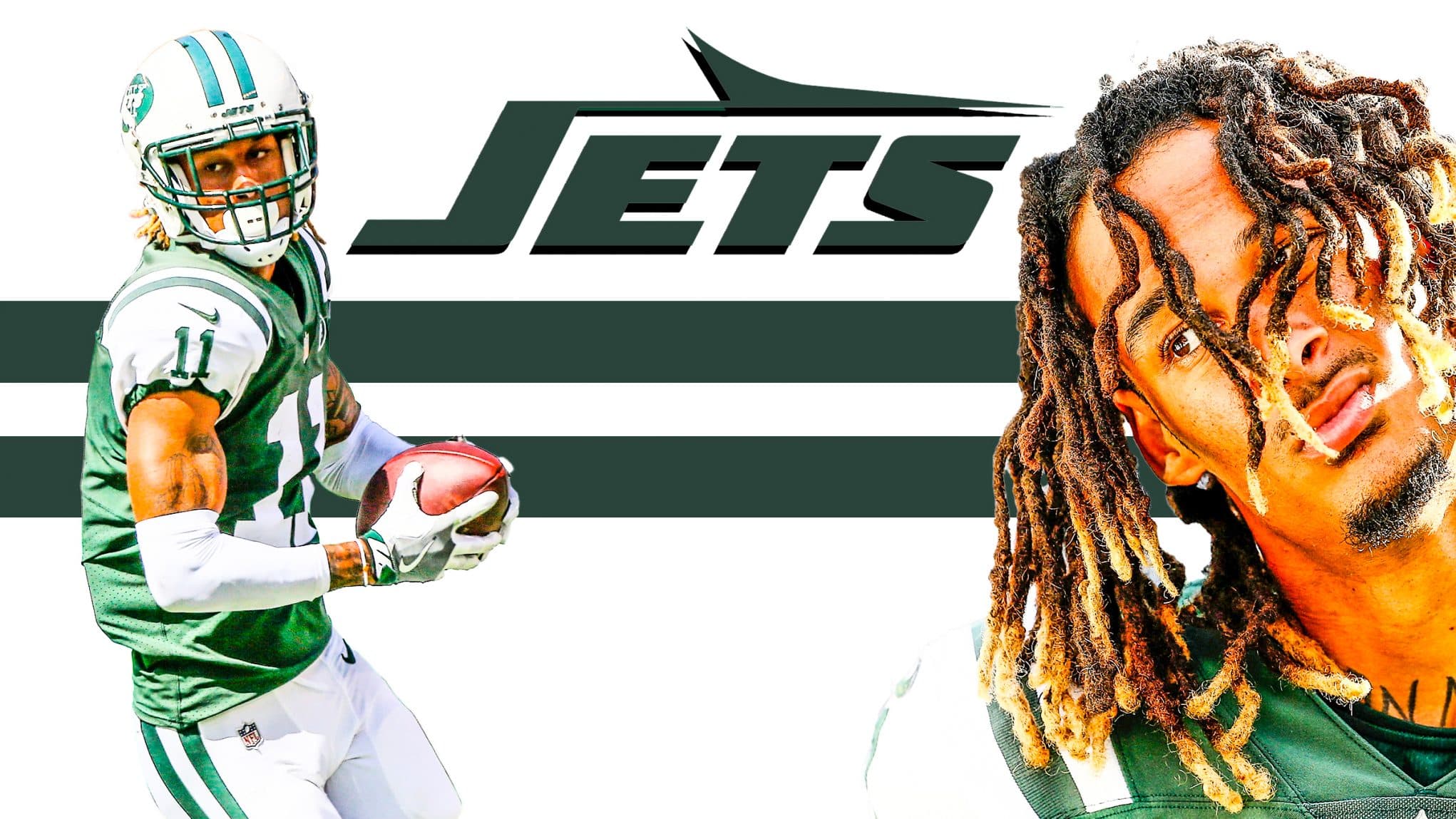 7. No. 1 Possession-Type Wide Receiver
N/A
Why no Robby Anderson, Jamison Crowder and Deontay Burnett? Anderson is a straight-line burner. His route-running is spotty which leads to average results underneath. Crowder, as previously discussed, is the slot X-factor.
Standing at 6-foot-2, Quincy Enunwa is Darnold's only legitimate possession receiving threat.
In the perfect scenario, the Jets will employ a legitimate No. 1, bigger possession receiver with Anderson, Enunwa and Crowder as complements. It's not a killer as of now; this current group is definitely good enough to get an offense by. Eventually, it needs to be solved.
6. Run-Stuffing 1-Technique (NT)
N/A
Quinnen Williams is not the answer here, folks. The Alabama stud fits the 3-technique prototype, the exact position both Leonard Williams and Henry Anderson man down.
Honestly, we don't yet know if Nathan Shepherd can even hold down a 1-technique on a consistent basis. Steve McLendon is 33 years old.
The position differs a bit depending on the base. Within a 4-3, Leo/Henry play the same position, the 3-technique (over the guard's outside shoulder). The 1-technique looks to stuff himself on the opposite-side A-gap. In the 3-4, both Leo and Henry are the 3-4 defensive ends (still interior players) while the nose tackle battles the center head-on (in the true 3-4 Okie).
Nobody on the roster other than McLendon can handle that 3-4 nose tackle spot.
5. Pass-Rushing Edge 2
N/A
Jordan Jenkins is not a pass-rushing wizard. His strengths come against the run and he's by far a better 3-4 outside backer than he is a 4-3 defensive end.
This one's pretty self-explanatory; whether Gregg Williams runs the 3-4 or 4-3 (and yes, he will run both in 2019), two pass-rushing edges are necessary. Moreover, Williams will run the 4-2-5 or 2-4-5 (four-man line) nickel that features two prominent pass rushers. (Some will cite the 3-3-5 but even in that case, the four-man front in sub packages rule the NFL roost.)
Don't get hung up on the 3-4 outside linebacker-4-3 defensive end difference. A pass rusher is a pass rusher.
4. Cover Cornerback 1
N/A
Brian Poole (Slot)
Oh, Trumaine Johnson, how will you bounce back?
In the event of a Johnson Pro Bowl season, a No. 1 corner is still required for the future.
3. Pass-Protecting Left Tackle
N/A
Brandon Shell (RT)
Perhaps the most overlooked spot on on the depth chart this offseason is left tackle. Kelvin Beachum will be 30 years old by the time camp opens and quite honestly, he's a below average NFL left tackle.
A tackle duo of Beachum and Brandon Shell will never get it done within the structure of a dominant offensive. It's really that simple.
Simpler is the fact this Jets offensive line will never turn real until talent is drafted in the premium slots of the NFL draft. Patchwork methods such as Kelechi Osemele only garner success when the young nucleus is initially present.
2. Pass-Rushing Edge 1
N/A
Yup, here we go again; this one needs no explanation. (See No. 5: Pass-Rushing Edge 2.) Jordan Jenkins serves as an excellent third edge who excels within the base and in big-time rushing situations, but two true pass-rushing edges still appear on the New York Jets milk carton.
1. Mauling Center
While edge and left tackle are far more pressing needs over the course of a several-year span (pertaining especially to Sam Darnold), center is the big-boy of the moment based on the depth chart's current construction.
Matt Paradis was passed on. Jonotthan Harrison has been re-signed. The New York Jets greatest bet is to trade down, collect assets and start drafting offensive linemen and pass-rushing edges until it's fixed.
Nothing works the way it's planned until the trenches are officially ready to roll.