New York Rangers defenseman Kevin Shattenkirk held a fundraiser at Mustang Harry's in NYC on Wednesday night to kick off his Shatty Jam II event.

Kevin Shattenkirk may play a tough game on the ice for the New York Rangers, but off the ice, he is just as focused when raising money to fight pediatric cancer.
On Wednesday night at Mustang Harry's in NYC, Shatty held a meet-and-greet fundraiser to kick off his Kancer Jam II event which will be held next month. This is a joint effort with Jam Kancer in the Kan which was created in 2014.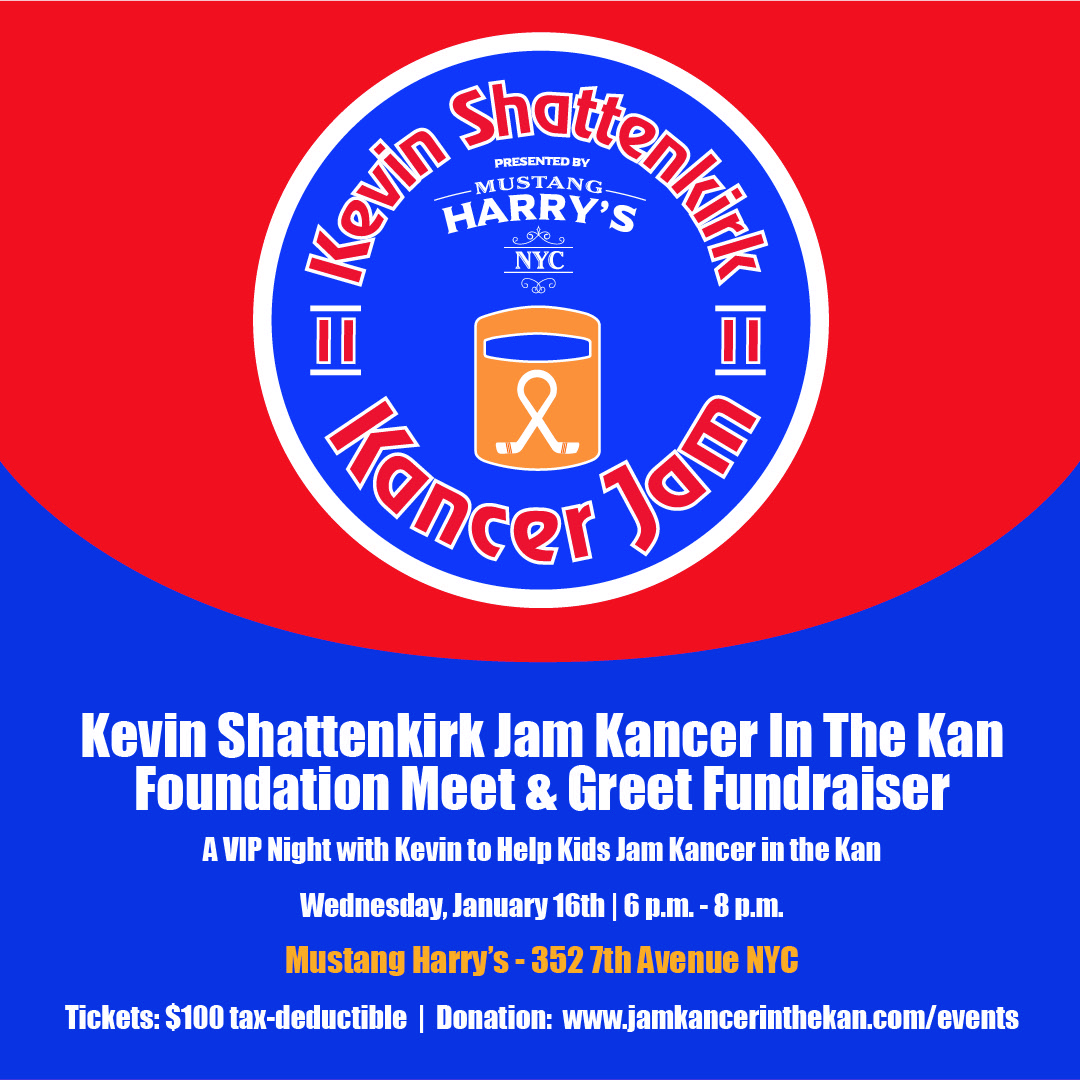 I had an opportunity to talk with the 29-year-old defenseman, who is in his second year with the Blueshirts, about Kicking Kancer in the Kan and how he decided to work with this charity.
"I wanted to do something to give back to the community, something I felt passionate about," Shattenkirk said. "I noticed [New York Islanders captain] Anders Lee had done this event the year before, very cool kind of different event."
The event is a frisbee game called Kan Jam. Teams are formed and along with two Kans (cans are spelled with a K as is a K in cancer) and a frisbee, the Kancer Jam games begin. Shattenkirk believes that this game is more fan friendly because it's not like playing golf. Anyone can play frisbee.
Well, that may not be true if you watch any of the Kancer Jam videos from last year that show the ultra-struggles of Chris Kreider and Pavel Buchnevich.
Despite his teammates' struggles, Shattenkirk found it free and easy.
"It's very laid back and I think that's what naturally drew me to it."
The Shatty Jam event will be held on Feb. 9 in Ardsley, NY. In order to qualify for the event, a team needs to raise $3000. Teams consist of two people and when they come to the event, Kevin has most of his Ranger teammates there to play in the games.
"We love competing against each other and beating each other at anything," Shattenkirk said.
Shattenkirk already has two girls that have already raised the $3,000 and they will be attending the event. Fans can donate to the event by going to his team's page at crowdrise.com/shattyjam.
The meet and greet on Wednesday went extremely well. Fans paid $100 each to meet Shattenkirk, snap a photo, and received a signed Kancer Jam autographed puck. The event was capped at 100 people, all who had a great time as an open bar and food was provided along with a silent auction. All proceeds went to the event fundraiser.
For a little extra bonus to those who attended, Kevin had some friends stop by. Brett Howden, Boo Nieves, Anthony DeAngelo, and Neal Pionk all sat with the fans, signed autographs, took pictures, and were very willing to talk hockey.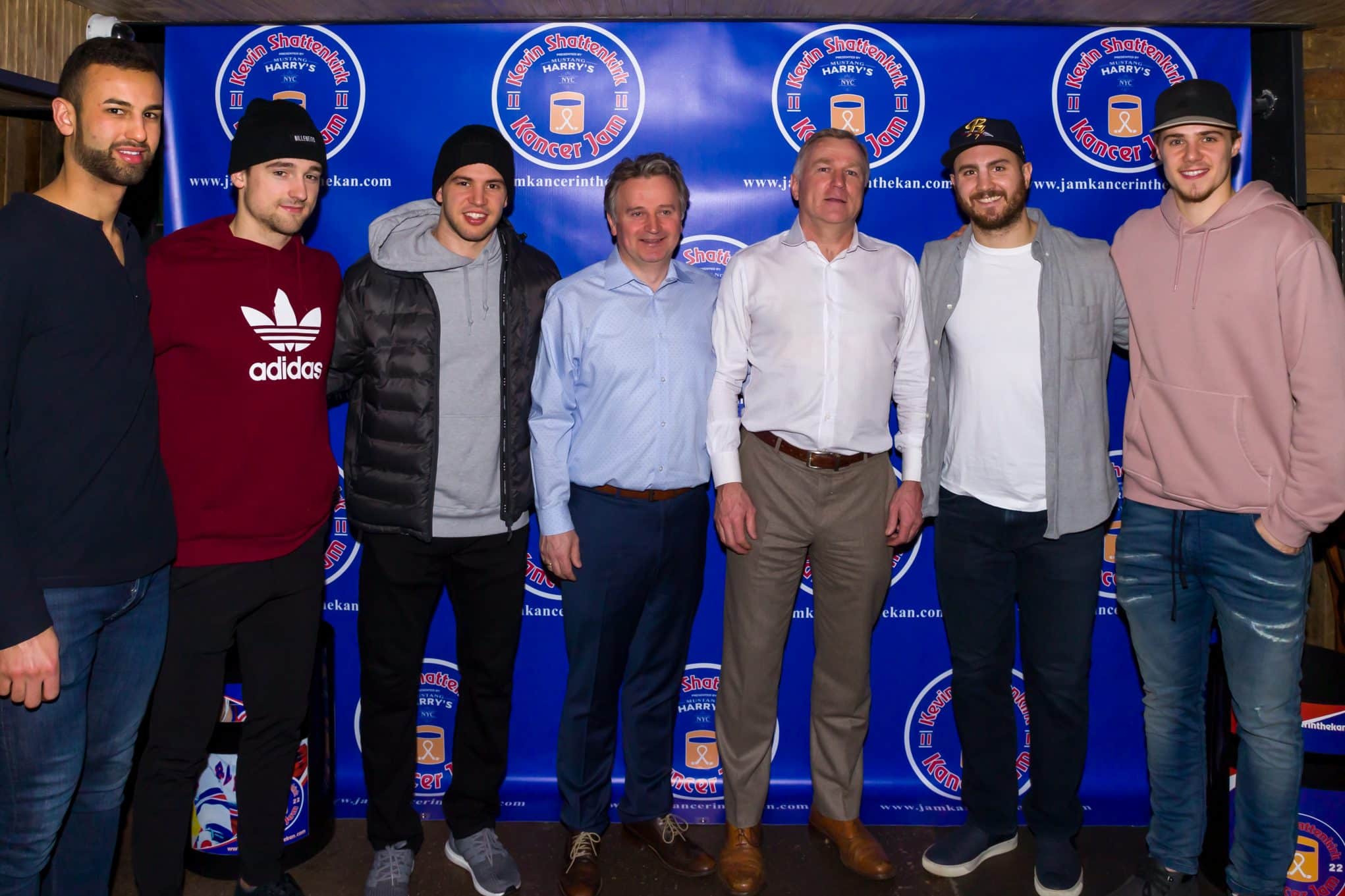 Of course, Shattenkirk discussed his New York Rangers
Kevin seemed quite happy to discuss rookie Ryan Lindgren, the newest call-up whom he was paired with on Tuesday night.
"I wish I could remember when my first game was like other than I was nervous as hell," he went on to say. "He played really well. Played a solid game."
Kevin was happy to have Lindgren up with the team fully aware that his play at Hartford had entitled him to a shot with the team now.
David Quinn has carried eight defensemen all season. It's an unusual situation as most teams tend to go with seven, but Kevin explained the players know what is expected of them.
"It's different, definitely different. It's a little more pressure knowing there are two guys he is willing to plug in at any moment." Shattenkirk, a nine-year veteran, understands competition is the nature of the game. "That's the nature of the business. It's healthy to have that kind of competition."
The most poignant moment of the conversation came when the topic of rebuilding vs. winning was raised. Throughout social media and the newspapers, many have inquired or have different opinions of what's more important. Shattenkirk answered this one with the same enthusiasm as he did about any of the Kancer Jam topics discussed earlier.
"We want to make the playoffs. We want to win. That's our goal every year. To set up for anything less is going to creep and eat away at you, it plants the type of person and type of team that you have." He concluded. "So we are fighting to make the playoffs, fighting to let people know that we want them to have confidence in where this is going. It's about winning."
At the end of the fun night, the owners of Mustang Harry's brought Kevin to the front of the photo area and proudly presented Kevin with a $25,000 check to his Shatty Jam event. All of the money raised will be split to the Garden of Dreams Foundation and the Children's Hospital At Montefiore.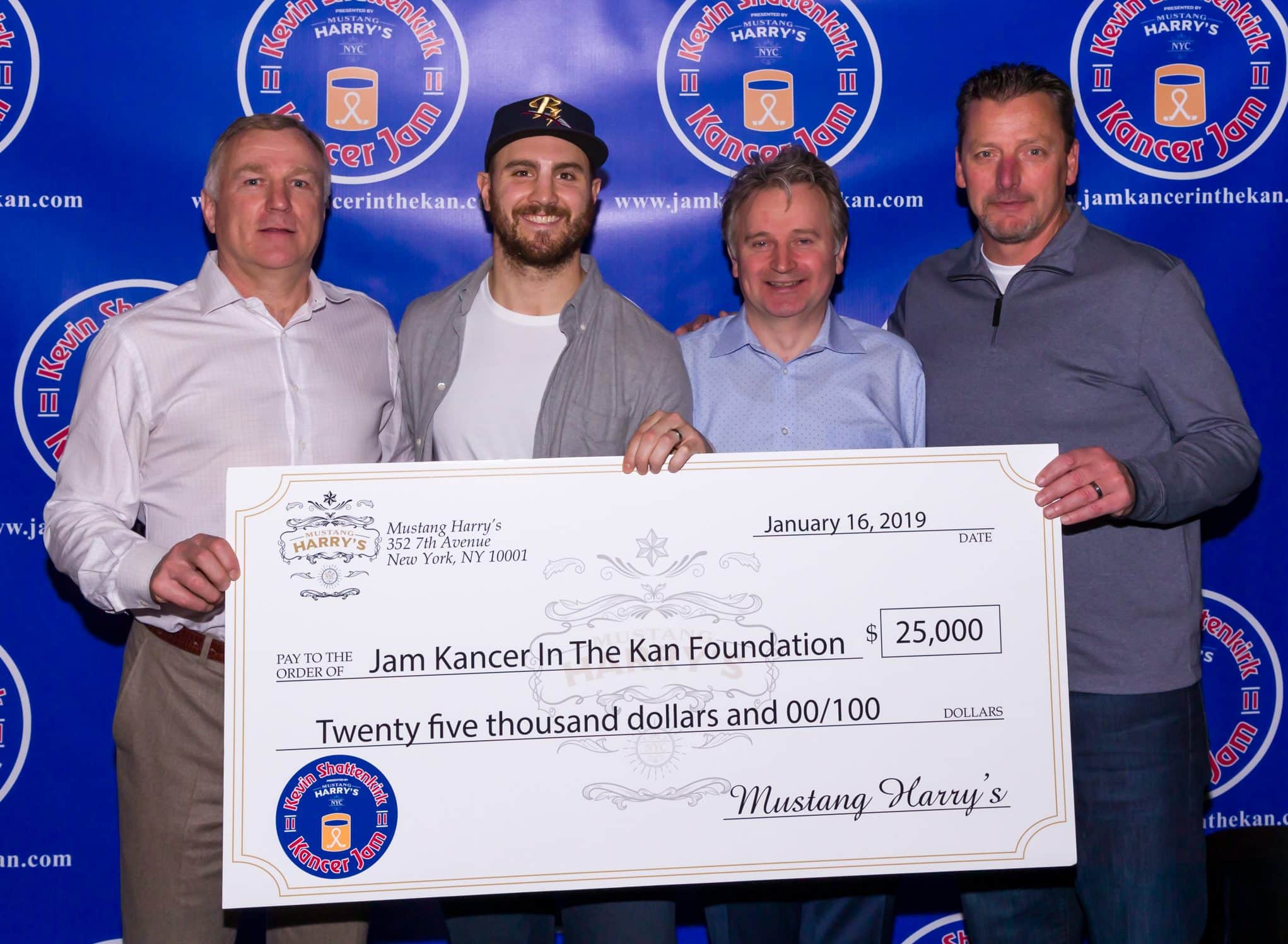 The night proved as a great job by Kevin Shattenkirk while attempting to help the children of this terrible disease. His commitment to them is the same as the commitment to the New York Rangers.
The children and the fans are in great shape with the commitment of people like Shatty leading the way.
Follow Frank on TWITTER