The New York Jets 2019 blueprint to prominence includes the hiring of head coach Mike McCarthy and the drafting of stalwart Jonah Williams.

It's happened. It's actually come to fruition. It's here—despite the understandable disbelief of New York Jets fandom.
The little brothers of East Rutherford, New Jersey have locked down a franchise quarterback. Sam Darnold's youthful nastiness is officially in the house—despite Mike Maccagnan's best salary-cap-bloating efforts via Kirk Cousins.
So here it is, the 2019 NFL offseason staring the Jets in the face. What this organization does over the next four-to-five months will determine a huge chunk of the course of Darnold franchise history.
The proper blueprint back to prominence is apparent, to some, and it deals with writing the wrongs of recent history.
1. Change the Hierarchy (Failed)
Step one in taking the healthy adjustment towards league prominence has already come and gone. Both the general manager and head coach report to ownership. It's been this way for quite some time under Woody Johnson (and now Christopher Johnson).
It's not changing.
The team has already stated it's not changing.
While mixed feelings come with Mike Maccagnan's return (drafting just two offensive linemen in 28 total NFL Draft picks is an unforgivable sin), he and the next head coach will remain on even footing.
Look around the league. Research which organizations tend to perform better over the long haul. The structures that employ one true football man overseeing everything is what tends to dominate. The head coach should always report to the general manager but since that's now off the table, let's all, unfortunately, forget about it.
2. Hire Mike McCarthy
Make it official. Hire Mike McCarthy.
Here's the wish list:
Mike McCarthy
Bruce Arians
Matt Rhule
Kliff Kingsbury
No more "hot assistant." From Herm Edwards to Eric Mangini, Rex Ryan to Todd Bowles … do you see the trend? (And, oh yeah, completely ignore the defensive trend, for now.)
New York needs to turn its attention to a proven football head coach. Kliff Kingsbury is the one unsure wild card of the four. Matt Rhule is also a tricky candidate. Bruce Arians still hasn't been thrown into the New York mix.
It needs to be Mike McCarthy. Provide young Darnold with an offensive mind during a football time that dominantly showcases offensive football rule the day.
Sure, the man was blessed with Brett Favre and Aaron Rodgers, but don't forget, he's the man who actually developed the latter legend.
No NFL head coach has ever won Super Bowls with two different teams. This should be the least of the Jets concerns when hiring the next sideline boss.
3. Ignore Le'Veon Bell & Antonio Brown
No, no, no, no … no. The New York Jets aggressively attacking Le'Veon Bell and/or Antonio Brown in free agency would be a terrible mistake.
Brown will be 31-years-old by the time the 2019 NFL season kicks off. No. That's all the information needed to understand it's a terrible move. Any guaranteed money committed to a weapon that old is an awful, desperate action.
Bell is a little tougher to decipher.
Bell, 26, still has a tremendous shelf life ahead of him. Not only is he still young, but he's missed many games throughout his young career. Playing in just 62 games of a possible 96 (six seasons), this kid isn't the average 26-year-old back.
This is also the same reason the Jets should wave the idea away.
The number one rule is this: never pay for running backs. Over the last seven seasons, only four of a possible 14 teams employing the two highest-paid running backs have qualified for the NFL Playoffs.
2017

Le'Veon Bell, $12.1M, Steelers: 13-3, loss in Divisional Round
LeSean McCoy, $10.3M Bills: 9-7, loss in Wild Card Round

2016

Adrian Peterson, $12M, Vikings: 8-8
Jonathan Stewart, $9.5M, Panthers: 6-10

2015

Adrian Peterson, $15.4M, Vikings: 11-5, loss in Wild Card Round
Matt Forte, $9.2M, Bears: 6-10

2014

Adrian Peterson, $14.4M, Vikings: 7-9
LeSean McCoy, $9.7M, Eagles: 10-6

2013

Adrian Peterson, $13.9M, Vikings: 5-10-1
Chris Johnson, $12M, Titans: 7-9

2012

Adrian Peterson, $12.7M, Vikings: 10-6, loss in Wild Card Round
Chris Johnson, $11.3M, Titans: 6-10

2011

Adrian Peterson, $12.9M, Vikings: 3-13
Darren McFadden, $10.8M, Raiders: 8-8
Think about that. Generally speaking, when teams pay for backs, they don't win championships.
The champs:
2017, Philadelphia Eagles: Darren Sproles, 14th, $4M
2016, New England Patriots: Brandon Bolden, 33rd, $1.2M
2015, Denver Broncos: Ronnie Hillman, 44th, $942K
2014, New England Patriots: Shane Vereen, 41st, $1.1M
2013, Seattle Seahawks: Marshawn Lynch, 4th, $8.5M
2012, Baltimore Ravens: Ray Rice, 14th, $5M
2011, New York Giants: Brandon Jacobs, 7th, $6.75M
The runner-ups:
2017, New England Patriots: Mike Gillislie, 15th, $3.9M
2016, Atlanta Falcons: Tevin Coleman, 53rd, $753K
2015, Carolina Panthers: Jonathan Stewart, 5th, $8.3M
2014, Seattle Seahawks: Marshawn Lynch, 5th, $8M
2013, Denver Broncos: Knowshon Moreno, 16th, $3.2M
2012, San Francisco 49ers: Frank Gore, 12th, $6M
2011, New England Patriots: BenJarvus Green-Ellis, 35th, $1.8M
Signing Le'Veon Bell would reek of desperation. Possessing over $100 million in cap space doesn't mean it must be spent on big-time free agents. Within the rigors of the hard-salary cap leagues (NFL, NHL), every dollar counts and not one penny should be overspent—especially on a position that breeds studs in the mid-to-late draft rounds.
NFL free agency should be viewed as the outer crust of an already superbly-baked pie. It's not the filler. Not until the young nucleus has come together should free agency ever be a legitimate answer.
4. Free Agency = Edge
Now, we're talking. Should the Jets have their heart set on a big-time player or two, the edge must be the priority.
In fact, I have no issues in overspending in this area. What wins in today's league is pass rushing and offensive line. Both seriously lift the play of everybody playing behind them.
The edge players that should be heavily pursued:
Demarcus Lawrence
Trey Flowers
Brandon Graham
Ziggy Ansah
Jadeveon Clowney
Shaq Barrett
Za'Darius Smith
Forget one. Two should be signed. This is how badly the Jets need both edges covered.
Jadeveon Clowney doesn't excite me. The man gets destroyed in the rushing attack. Ziggy Ansah is also extremely cold at the moment.
The major question here will revolve around the Jets next defensive coordinator. Will the 3-4 base remain or is the 4-3 coming back to town—the first time since Herman Edwards?
Either way, spend the bulk of the money on two edge rushers.
Two edges worth a boatload while sprinkling fillers to round out the team is far superior to wasting any money on Bell and/or Brown.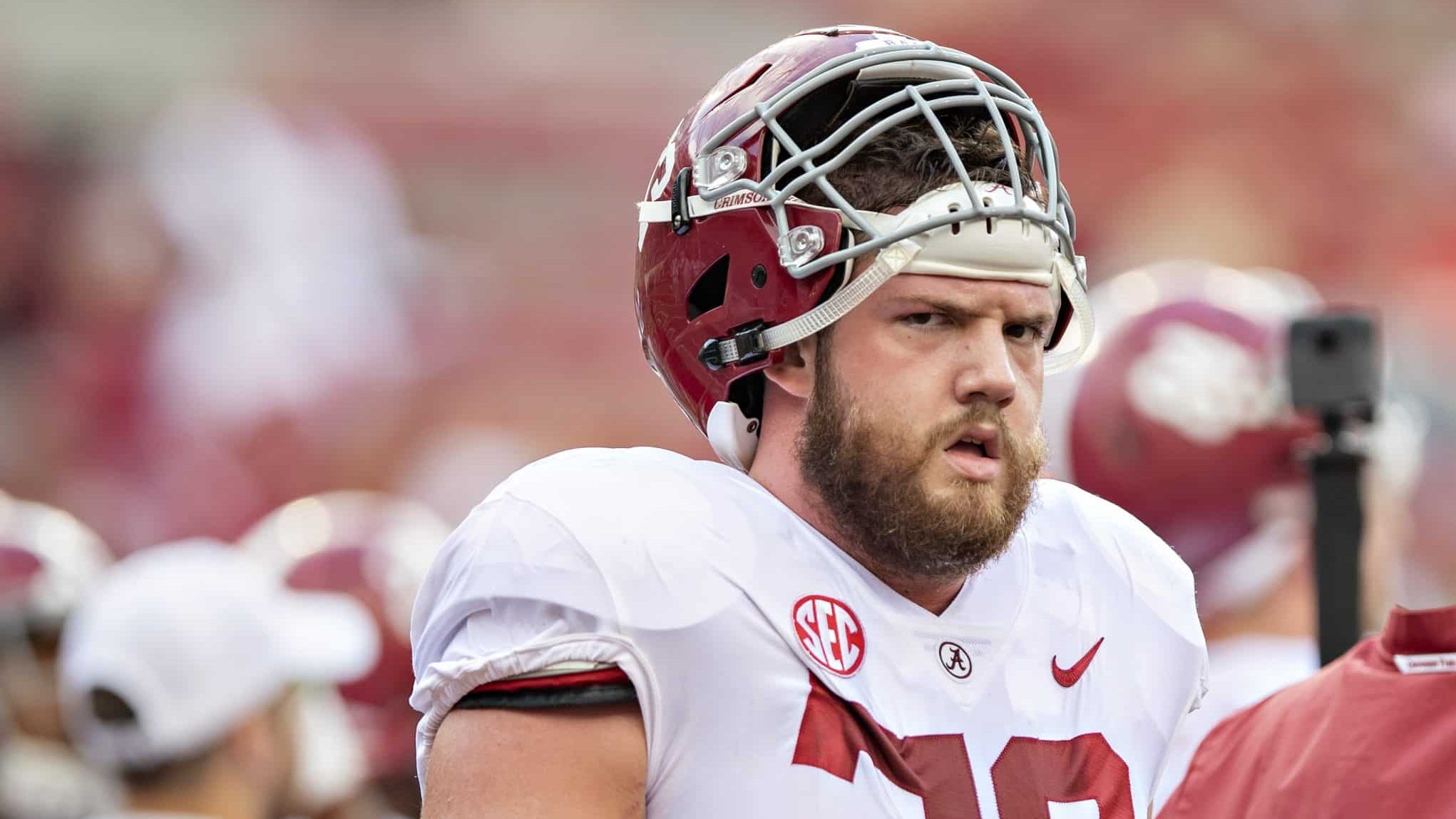 5. Draft Jonah Williams
Kentucky's Josh Allen is tempting, especially considering his smooth ability to seamlessly play the 3-4 outside backer. Unfortunately, the edge rusher here doesn't make as much sense as another spot does.
Firstly, the free agent class is loaded with edge rushers while offensive linemen are extremely tough to come by. Secondly, and most importantly, Sam Darnold is in the house. Shore up this offensive line as soon as possible.
As previously mentioned, Mike Maccagnan has drafted just two offensive linemen in 28 total draft picks. It's an unforgivable general managerial move. That five-man unit, the one that represents nearly half of the offense, can never be built through free agency. Fresh, young bodies who can push the starters in August are required on a yearly basis.
For the last few years, zero competition has been seen in August within the unit.
Admittedly, very annoyingly, I've screamed about this topic for the last few seasons only to have media and fans attempt to cover up the negligence with false hope (i.e. Brian Winters injury, etc.). Nothing works until the offensive line is right.
The most intriguing aspect of this selection is that should young Williams fall a bit, the Jets could trade down and still snag him while collecting extra assets.
Draft Alabama's Jonah Williams and put him where he belongs in front of Sam Darnold for the next decade-plus.
6. Draft More Offensive Linemen
Jonah Williams can't be the only linemen drafted. Actually, Maccagnan should right his previous wrongs and draft at least three big hogs up front.
It's time to focus on a position rather than stubbornly expressing the silly "best available player" notion.
[membership level="0"]
7. Nail Down An Edge Presence
Oh yeah, even after free agency, the edge position must be injected with youth. At least one needs to be selected in the great collegiate draft.
It needs to be a forceful offensive line-edge NFL Draft for the New York Jets.
8. Final Thoughts
The focus is O-line and edge. Rightfully so. But that doesn't mean other spots won't be and/or shouldn't be covered.
A true No. 1 wide receiver is still necessary. But this is small potatoes compared to the O-line and edge. A stud interior defensive lineman is also now needed. A shutdown corner is another top choice on the wish list. A workhorse running back can also be something worth noting.
But, offensively, Quincy Enunwa, Robby Anderson, Elijah McGuire, and Chris Herndon isn't bad. Henry Anderson needs to be re-signed for the interior. Trumaine Johnson is a lost money cause, meaning whoever mans the other side requires a stud-worthy player.
Again, shore up that edge spot (pass rush) and Johnson is suddenly that much better (along with everybody else on the backend).
It starts up front. It's always started up front. It will forever start up front. Since the Jets haven't figured out it starts up front within the hierarchy, they must find a way to get it done (with that motto) on the field.
Snag Mike McCarthy, ignore Le'Veon Bell and Antonio Brown, sign two stud edge rushers, draft Jonah Williams, and the New York Jets next era is off and running.