Running backs, wide receivers, cornerbacks and more—Mike Maccagnan and the New York Jets are doing everything they can at every position aside from the offensive line.
It's as clear as day. Crystal clear. Picture perfect yet so wrong. New York Jets general manager Mike Maccagnan does not believe in investing heavily in his offensive line.
It's also as clear as day, due to the nearly century-filled time period American Football has been in existence, that the offensive line is the most important and underappreciated aspect of a football squad.
It's why this particular Jets offseason can only be labeled as a bitter disappointment up to this stage of the game. The organization's clear lack of insight and urgency to build the five heavies upfront is not only frightening, it's downright disappointing.
What do we know right now? They did add one fresh face in former Washington Redskins center Spencer Long.
Long, 27, is a former third-round selection of the Skins via the 2014 NFL Draft. In four seasons, the man's ass has experienced the cool touch of the trainer's table entirely more than the quarterback wiggling right fingers from behind.
The Jets newest center has played in just 40 contests in 64 total opportunities. He's started 31 of those 40 games at both guard and center. All told, he's a solid signing, a depth signing—a guy who needs to be battling for one of the five starting spots up front.
He'll be heading into OTAs as the clear-cut starting center. That's how light this Jets O-line is.
New York's talent at the position as a whole—up and down eight to 10 spots on the depth chart—is horrid. Kelvin Beachum, James Carpenter, Brian Winters, Brandon Shell and the aforementioned Long have combined to play 24 NFL seasons. They combine for a grand total of zero Pro Bowl nods.
A "free runner" bearing down on Josh McCown was a right of passage for defenses a year ago. When running the ball, either big chunks happened or tough sledding was experienced. Perhaps no coach in the league wants to run the ball as much as Todd Bowles. After all, Rex Ryan is out of the league and this is the year 2018. The times have changed. Rushing the ball can be easily traded with an easy dink-and-dunk program that cannot be stopped if executed properly. It hasn't stopped Bowles from an overall conservative in-game approach.
There were three games a season ago in which the rushing floodgates opened. Against Jacksonville early on, a not-ready-for-primetime Buffalo team on Thursday night, and the AFC Los Angeles club late in the season, rushing was simple. In fact, it felt too easy—almost like the front-seven wasn't ready for action.
Thet Jets combined for a whopping 647 rushing yards those three weeks. The team only rushed for 1,055 yards over the other 13 games.
Think about that. We'll repeat it again and even put in list form so it fully sinks in.
Jets rushing in Weeks 4, 9 and 16:  647 yards
Jets rushing in other 13 games: 1,055 yards
So though the team appears to fall somewhere near the middle of the pack in rushing—19th with a 4.0 yards per carry and 19th with a 106.4 yards per game—the rushing situation is much more depressing. The Jets would finish 31st in the league with an 81.15 yards per game average if the 13 above exampled games they combined for 1,055 yards were calculated as the entire season.
Through the air, the O-line relented 47 sacks in 2017. Only six teams surrendered more.
Yet blessed with the most cap space in the entire league, only Spencer Long was brought in as Wesley Johnson was set free. How could this be? In fact, has the team even been linked to or mentioned with any of the big O-line names out there on the market?
Not a whiff. It's almost too wild to be authentic. Not even be mentioned as a potential suitor for any of the top free agents at OL is unfathomable.
Andrew Norwell is in Jacksonville. Nate Solder is in New York (with the big brothers). Maccagnan did re-sign backups Ben Ijalana and Jonotthan Harrison, but that actually showcases a negative sign. Perhaps now Maccagnan is relying on these guys as the top competition to the starters instead of investing in more heavy talent.
Both Norwell and Solder were pricey. There's no doubt about that. But is the Jets O-line good enough to not target pricey individuals, especially after missing out on Kirk Cousins? Ryan Jensen was still available for most of the month. He's now gone. Patrick Omameh was there for the taking. Bye bye to him. Weston Richburg and Justin Pugh were paid serious dough for their services.
Really? Terrelle Pryor? Really? Thomas Rawls? Wide receivers, running backs, corners—can we get a damn offensive lineman?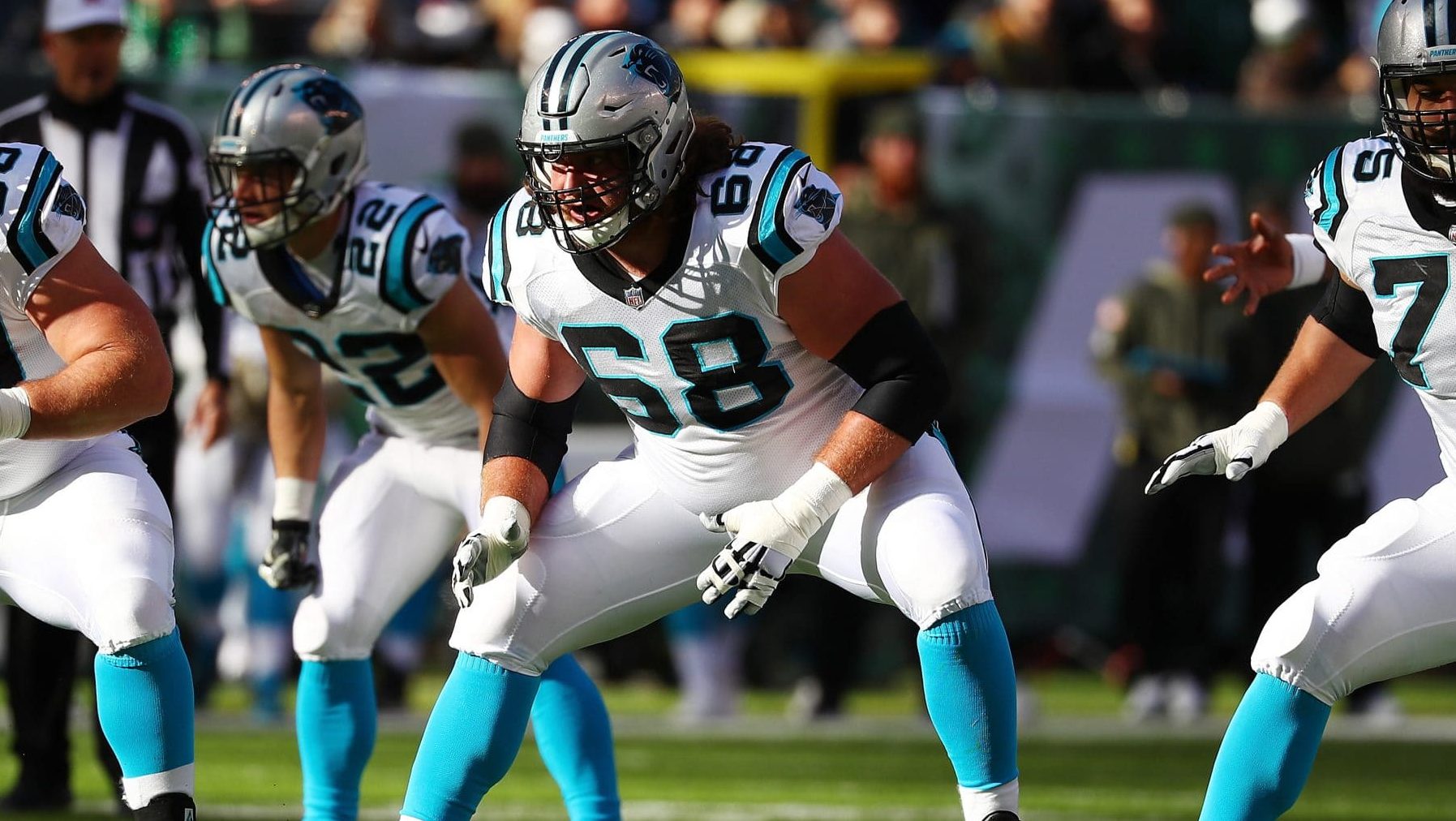 No. Maccagnan would rather keep his line thin as ever with no competition and players stuck in either a starting or reserve role. It's the exact opposite narrative of "competition" that he and Bowles usually preach and the exact contrast to how great offensive linemen are born. These guys live off of competition. Last summer, there was zero competition the five starters (as evidenced by Wesley Johnson skating to the starting center spot). Twenty-eighteen looks like a horrid duplication.
But wait, the NFL Draft is still coming. Big heavy talent can still be added, right?
Sorry. That argument would have worked if the Jets still owned at least one of their two second-round picks.
The very first round Maccagnan can even think O-line is in the third now that the Indianapolis Colts own both seconds. We know a quarterback is going in the three-hole, as should be the case. Despite how important the O-line is, the QB is obviously that one quintessential NFL piece.
The problem is that the strategy is just all wrong.
If Maccagnan was going to trade up and clean out his second-round talent, he needed to sign big offensive linemen during free agency. Now, this team that sported a weak five-man unit a year ago will once again head into the summer with the same unit. What's worse is none of these guys are forced to look over their shoulders by way of serious competition.
Kelvin Beachum is a solid NFL lineman. He's already been dumped by two teams in the Steelers and Jags, two organizations who seem to know what they're doing. Hell, the Jags are coming off a season in which they finished a sparkling first in the NFL in rushing the year immediately after Beachum was sent packing.
James Carpenter has been a solid pro for many years. But if he's your answer to the question that is, "Who's your best lineman?", you're in trouble. Brian Winters is an excellent run blocker, horrid in pass protection. Brandon Shell is average with a cap of solid. Spencer Long is always hurt.
The Jets can believe all they want these guys will come through and that new run-game coordinator Rick Dennison will produce magic in 2018, but talent on the line matters.
Come to think of it, what has Maccagnan done at the spot during his tenure?
He came in with Nick Mangold and D'Brickashaw Ferguson closing out their careers (just one more example of O-line talent seriously changing an organization's fortunes). He moved up to draft Brandon Shell in the fifth round. He signed Kelvin Beachum last offseason. He recently signed Spencer Long. Folks, that's the sum total of Maccagnan's O-line work in New York. In fact, Shell represents the only OL pick in three drafts.
From the Dallas Cowboys last dynasty to their newest O-line that's made the average Dak Prescott look marvelous to the Jags new powerful line coupled with Leonard Fournette making Blake Bortles pass a decent arm to the Philadelphia Eagles offensive line getting it done without a superstar quarterback in Super Bowl 52, in every situation we turn and look to, talent along the offensive line matters; it is necessary.
The New York Jets will never produce a legit championship roster until Mike Maccagnan wakes up and understands shortcuts can't be taken upfront—franchise quarterback or not.
The New York Jets currently still showcase $27.317 million in cap space with the same lousy offensive line. Two New York teams entered the offseason with horrid offensive lines. Old-school personnel man Dave Gettleman addressed the Giants O-line. Mike Maccagnan, with a philosophy that's still attempting to be dissected, once again left nearly half of his offense (5 of 11) naked.
Listen, we love Kelvin Beachum. He's a great dude and at ESNY, we love the guy. There's just no mistaking the fact he's better served as a right tackle in this league—a right tackle along a fantastic O-line rather than a left tackle on a poor to average version. No NFL offense will flourish with a player like Beachum as the left anchor alongside four average dudes. The greatness cap in a situation like that could only be described as "good," … maybe.
Aggressiveness was needed this past month. The opportunity was there. The lack of execution can now only be described as stubborn or completely misplaced in terms of football logic (with the personnel boss believing top-flight talent isn't necessary at the position).