This summer could represent a crucial offseason for the Brooklyn Nets. What should the fans expect after the re-signing of Spencer Dinwiddie?
The Brooklyn Nets roster has been a revolving door for the past five years. The overhaul began when former General Manager, Billy King, made the fateful decision to mortgage the future of the franchise for an aging Paul Pierce, Kevin Garnett, and Jason Terry.
One failed title-run later, the team was left with a decaying roster and not much else. Kevin Garnett was dealt to the Minnesota Timberwolves in February of 2015, thus signifying the end of the short and not-so-sweet Brooklyn dynasty.
One year later, Brooklyn hired current General Manager, Sean Marks, to rebuild this fragmented team. With no first-round picks for the foreseeable future and no blue-chip prospects, the Nets were looked at as the worst situation in the league. A successful rebuild seemed nearly impossible.
What followed was years of trial and error. Sean Marks and his team worked together as a group of deal-hungry raiders, foraging Billy King's apocalyptic wasteland. Through salary dumps and second chances, Marks and Co. acquired talent in any way possible.
They grabbed Spencer Dinwiddie and Joe Harris off the waiver wire. They forced the Lakers' hand on D'Angelo Russell when Los Angeles decided to hit the eject button on Timofey Mozgov and his sickening $64 million contract. Thaddeus Young was sent packing in a draft-day trade for the Pacers 20th overall selection. The Nets then used this late first-round pick to select their future star, Caris LeVert.
Not all of the moves made by Marks and his team were successful. In the salary dump for Mozgov and Russell, they included their own 27th overall pick. Using this, the Lakers went on to select Kyle Kuzma, a player who already looks like one of the biggest drafts steals of the past five years.
Brooklyn traded for Allen Crabbe with the hope that he would blossom on a barren roster. This, of course, did not work out, as Crabbe is currently shooting 34.3% from the field. His immovable 4-year, $74 million contract will loom over the team until the conclusion of the 2019-2020 season.
For the most part, Marks has done a commendable job building the team up from a true ground-zero. It appears that Brooklyn is starting to hone in on a stable cast.
In July, the Nets handed out a two-year deal to Joe Harris. Just this week, they gave Spencer Dinwiddie a three-year extension. The team's current roster construction is at its brightest since making the move to Brooklyn at the start of the 2012-2013 season.
Even after making longstanding commitments to Harris and Dinwiddie, the Nets have more options than ever while working toward a successful future. As reported by ESPN's Bobby Marks, the team will enter the offseason with around $46 million of cap room.
This, of course, does not include the potential contracts of Rondae Hollis-Jefferson and D'Angelo Russell, both of whom are restricted free agents this summer.
The 2019 free agent class features an eye-popping amount of talent. There are multiple unrestricted free agent superstars, including Kyrie Irving, Kevin Durant, Klay Thompson, Jimmy Butler, and Kawhi Leonard.
One level below is a cast of All-Star players and on-the-bubble stars. This includes Kemba Walker, Tobias Harris, Khris Middleton, and DeMarcus Cousins.
With a plethora of free agent talent on the horizon, the Nets will face a difficult decision this summer while managing their available cap space. As mentioned before, they have a pair of upcoming extensions that they must weigh.
D'Angelo Russell will be hunting for his first long-term deal, anywhere in the ballpark of $12-18 million per year. Rondae Hollis-Jefferson will be a more modest get but will still cost the team around $5-10 million a year to retain.
Choosing to bring back both will eat up a third of the Nets' available cap room, which could be detrimental given the amount of talent in this free agent class.
With Jarrett Allen and Caris LeVert still on their rookie deals, the Nets may never have this much cap space again. Sean Marks will face his first true test as a team leader, as he is tasked with the balancing act of bringing in star-level talent while maintaining the most exciting young roster in franchise history.
With so much at stake, how should Sean Marks approach this summer?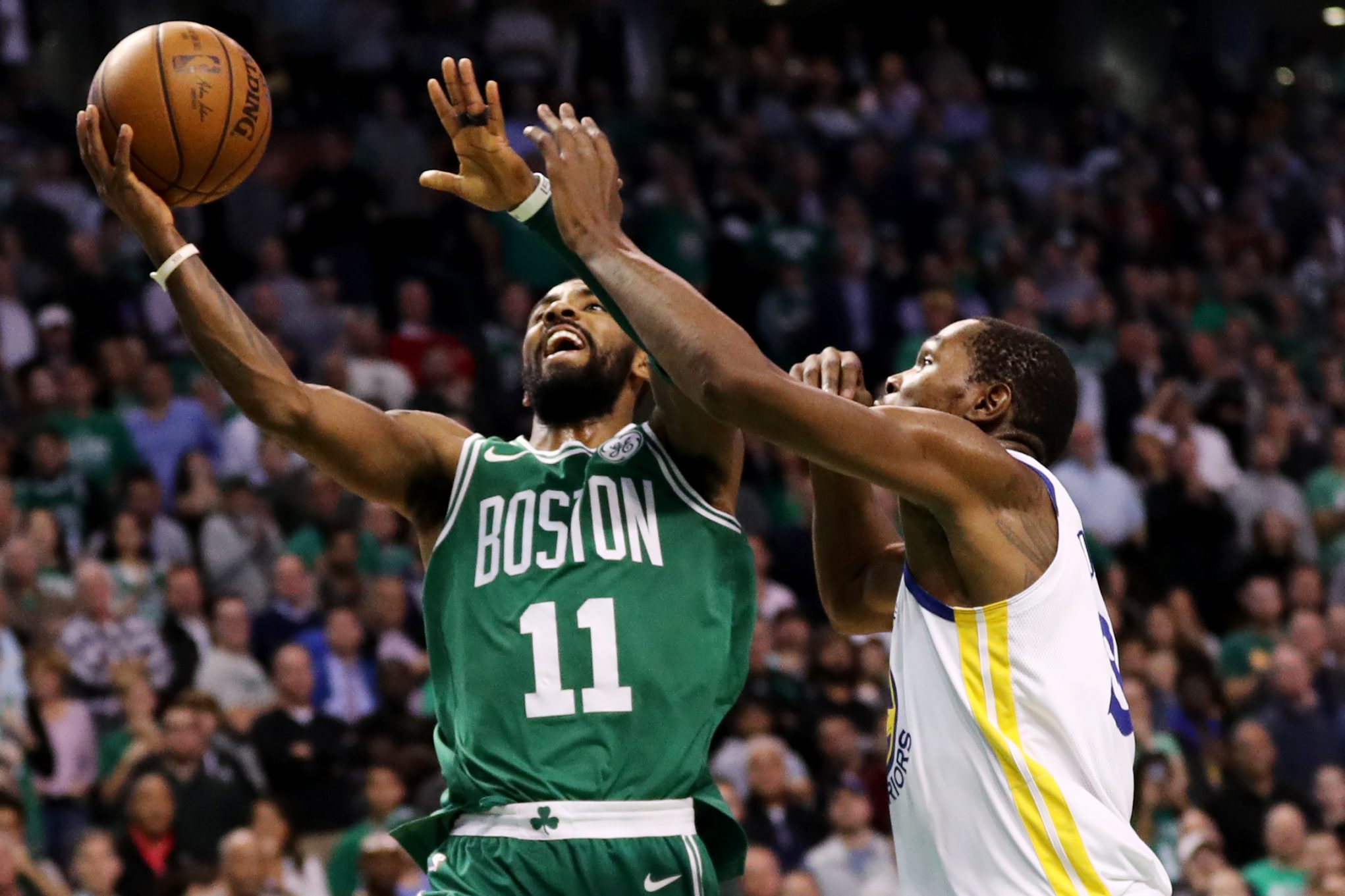 No holds barred
Disclaimer:
I, admittedly, spend a lot of time on r/GoNets. (If you don't know, this is the Nets subreddit).
The general opinion on the subreddit is that Brooklyn should pursue a guy like Tobias Harris in the offseason. This makes sense. Harris is a solid defender and an incredibly versatile player on offense who can get shots off from any part of the floor. (He absolutely torched the Nets during their mid-November meet-up).
Harris is having a career-year for the Los Angeles Clippers, scoring 20.9 points per game on a sexy 50.4/39.9/87.3 shooting split. With the Clippers chasing some of the summer's biggest free agents (Kawhi Leonard and Kevin Durant), it appears that Tobias Harris may become available.
However, as enticing as Harris may be, why should the team stop there? Why not swing for the fences?
Now, obviously, this isn't to say that Brooklyn hasn't already begun making calls to Kawhi Leonard, Kevin Durant, and Kyrie Irving. All 30 teams in the league are chasing these guys hard; they're bona fide superstars. The question of settling is postulated more toward the fans.
The Nets are located in one of the three best media markets, next to Los Angeles and (now) the Bay Area. Given that so many of the league's stars have their own business ventures, the level of media access makes Brooklyn an incredibly enticing situation.
According to Sportrac.com, of the eight teams who have the most cap space this summer, four of them are them are located in major media markets: the Knicks, the Lakers, the Clippers, and the Nets.
On the outside looking in, there's no way that a young franchise like the Nets could compete with the Lakers, Clippers, or Knicks when it comes to signing star free agents.
Still just six years removed from the New Jersey migration, the franchise is still without an identity and has very little success to show. Perhaps this is the reason that fans and media alike are counting Brooklyn out in the superstar sweepstakes.
Brooklyn can separate themselves from the pack in a couple of ways.
First, the team has one of the most well-rounded rosters in the league. Although it's early, Jarrett Allen appears to be their shot-blocking center of the future, capable of anchoring the paint for years to come. The Nets have a plethora of off-ball shooting, thanks to Joe Harris, Shabazz Napier, and (potentially) Dzanan Musa.
Spencer Dinwiddie is an explosive off-the-bench scorer, with the faint upside of becoming an All-Star point-guard (given his at-rim dominance). If he returns this summer, Rondae Hollis-Jefferson represents the modern day multi-positional defender, capable of switching 1-through-5.
Most importantly, Caris LeVert looks to be the ideal supporting star. With Demar DeRozan-like shiftiness, LeVert can be a lethal secondary scorer next to a big-name free agent. What separates LeVert from many other up-and-coming stars is that he hustles, diving for loose balls whenever possible.
Should the team pursue one of the free-agent guards who can't really defend (can I get a "Kyrie Irving?!"), LeVert would act as the perfect backcourt partner. He is more than happy to cover up defensive lapses and has already been doing so for Dinwiddie and Russell.
While the Clippers, Lakers, and Knicks all represent attractive options, they each present their own set of negatives. In case of the Clippers, they are quite literally the less popular and less storied little brother of the Lakers. Until they move stadiums (the Lakers and Clippers share the Staples Center), they won't be able to shake this legacy.
The Knicks are still held by an incompetent owner, whose hiring decisions have been rumored to have cost the team a chance at LeBron James in free agency.
Speaking of LeBron James, he represents the ultimate double-edged sword for the Los Angeles Lakers. On one hand, he's the best player in the league, capable of almost instantaneously turning any roster into title-contender. On the other hand, he's a domineering personality who requires other stars to sacrifice a lot in order to play with him.
With such a strong cast of supporting players, a location in a major market, a smart front office, and little-to-no baggage, why shouldn't this team be in the running for a top free agent?
The Nets are in a need of a star; a guy who can put butts in seats and help this god-awful attendance average. Should a guy like Durant, Irving, or even Butler come to town, they would be looked at as franchise-altering saviors, which is an enticing honor for players of this pedigree.
In all likelihood, the Nets will probably miss out on the top guys. Kyrie Irving will likely head back to one of the league's premier teams, the Boston Celtics. Durant seems destined to join the Knicks or the LA Clippers. Kawhi will either return to Toronto or (potentially) join Durant in Clipperland. Klay Thompson has been committal to the Warriors since the beginning of the season. Jimmy Butler is the most volatile of the bunch given his, um, colorful history. Even so, experts predict he will re-sign with his current team, the Philadelphia 76ers.
Jimmy Butler and the Sixers fully expect to reach a deal on a long-term contract this summer, league sources tell ESPN. Sixers made deal with plans to add Butler to a Big Three with Joel Embiid and Ben Simmons.

— Adrian Wojnarowski (@wojespn) November 10, 2018
Still, fans should hold out hope. Brooklyn's early-season successes did not go unrecognized by the league's premier talents. It was just one month ago when Kevin Durant showered Caris LeVert in praise (per Michael Scotto of the Atheltic):
"A lot of stuff has to fall in line in order for you to play well on the court. But I think Caris just waited his time and worked hard until that opportunity presented itself to him. Now that it's time, he's taking full advantage."
Given their ongoing five-game winning streak, there is still a chance that Brooklyn's odd-ball team stumbles into the playoffs. A playoff birth would be the bat-signal to the NBA world that Brooklyn is ready to compete.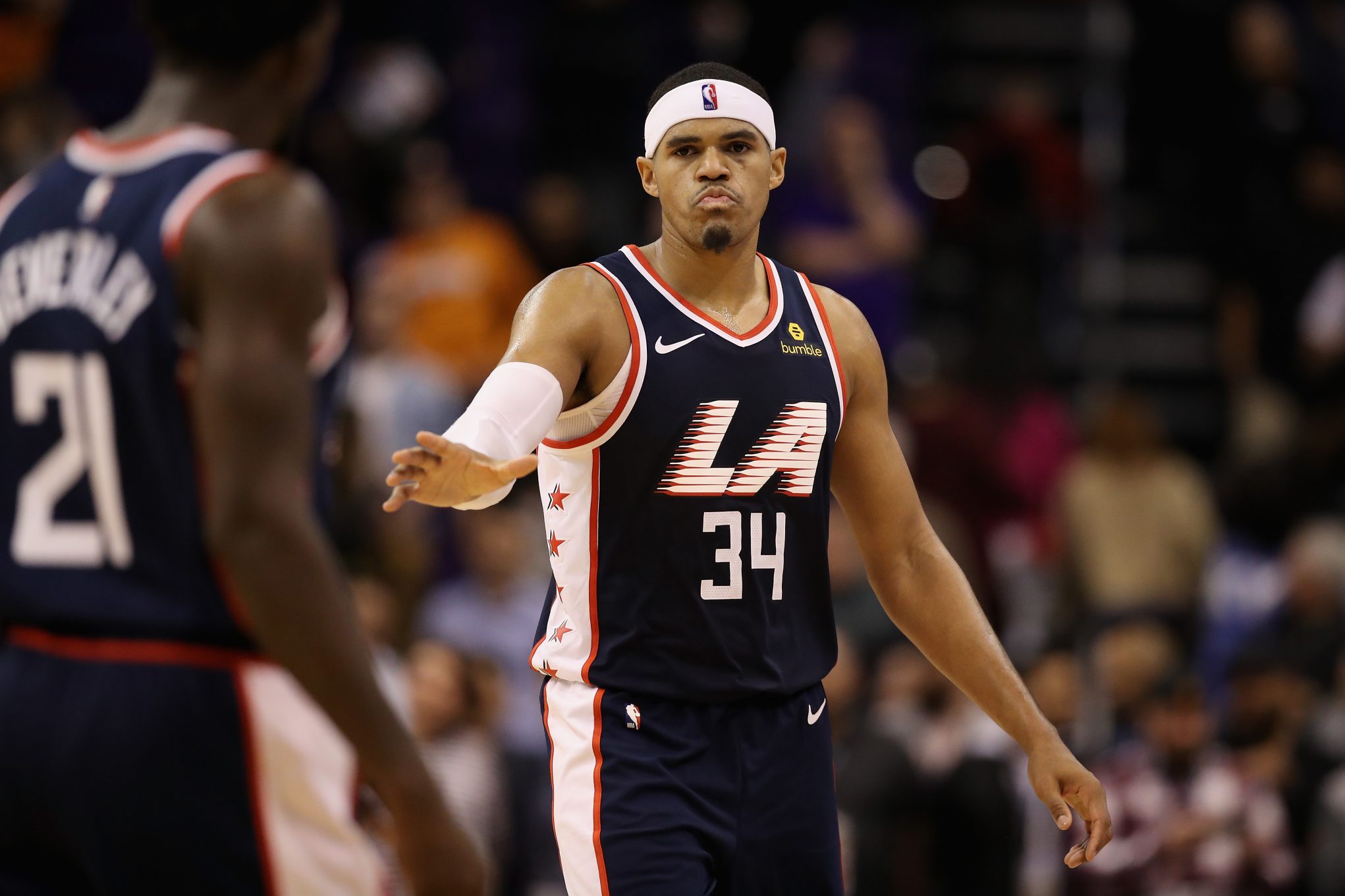 Say the Nets miss out on the big names
The Knicks, Lakers, and Clippers are going to battle it out for the top free agents. Due to their lack of legacy, it will be tough for Brooklyn to stand out. While it may seem like a curse that the headline teams will jostle for the same 4-to-5 players, this can also be seen as a blessing.
Certain players may be forgotten amidst the spending craze and slip through the cracks. Should they strike early, the Nets may be able to capture themselves a free agent steal.
This is where Tobias Harris comes into play. Guess what, r/GoNets? Nearly 1,800 words later, I admit it. I agree with you! Tobias Harris is probably the best, most realistic free-agent target.
As mentioned before, he's a multi-dimensional scorer in the prime-Carmelo Anthony mold. The Nets biggest holes as a team, in terms of roster construction, are at the small-ball power-forward role and on the wing.
Currently, the team's stretch-four is Jared Dudley. (Although Rodions Kurucs has been putting on a show for the past couple of games.) Dudley is, realistically, more of a stretch-mark four at this point in his career (™ David Jacoby).
Harris is a proven three-point shooter, posting a 36.8% clip from deep since the 2014-2015 season. His ability to create off-the-dribble and attack mismatches makes him the perfect number-one offensive option in the modern era. This season, for players who have attempted a high volume of pull-up shots (four or more per game), Harris is leading the league in field-goal percentage at 53.4%.
This would make for an interesting wrinkle in the Nets' already potent offense, increasing their off-the-dribble vitality. Harris' pull-up game would also pair well with the slashing talent of Caris LeVert and Spencer Dinwiddie.
On defense, Harris has the size to match up with opposing fours, and he has the foot speed to keep up with wings. Right now the only player capable of providing this type of pressure is Rondae Hollis-Jefferson, and he's frankly overworked on defense.
Not to mention, Harris is swallowing up rebounds this season at 8.1 per contest. This would be a welcomed sight for the Brooklyn Nets, ranked 24th out of 30 teams in defensive rebounds per game.
As reported by Chris Barnewall of CBS Sports, Harris can earn a four-year $145 million max contract. This, on average, would be about $36 million per year. While he has played admirably this season, and will likely earn his first All-Star selection in February, I sincerely doubt the asking price for Harris will be this high.
Based on Basketball-Reference's NBA Player Contracts list, it isn't unfair to assume that Harris could earn somewhere in the realm of $26 million per year over four years. This would place him alongside Bradley Beal or CJ McCollum in terms of annual earnings, which is a pretty fair assessment.
Kemba Walker is the last guy to keep on eye on. His current team, the Charlotte Hornets, have the ability to offer him a five-year, $188 million max contract. If he signed in Brooklyn, Walker could earn $139 million over four years. Now obviously, at 28 years old, it would be tough to give up that extra $49 million.
According to NetsDaily, Kemba Walker (a Bronx native) had this to say about the Nets:
"I love Brooklyn. I love the city of Brooklyn. There are definitely die-hard fans. That's one thing about people from Brooklyn, they're very loyal, they're die-hard, they believe in their team. I love Brooklyn. I love going there. I love playing there. It always gives me a chance to come back home, too, so that's why I love it as well. I like the organization, too. It's cool."
Perhaps the Nets can use their hometown advantage to sway Walker away from Charlotte. Furthermore, defeating the Knicks in a race for Kemba Walker would be the ultimate victory amidst their crosstown rivalry.
The Brooklyn Nets have been one of the worst crunch-time teams in recent memory. Adding Kemba Walker, an evolved version of the 2016-2017 Isaiah Thomas and current league leader in crunchtime scoring, would certainly conciliate this problem.
It would, unfortunately, lead to the end of the D'Angelo Russell reign in Brooklyn. Which brings us to…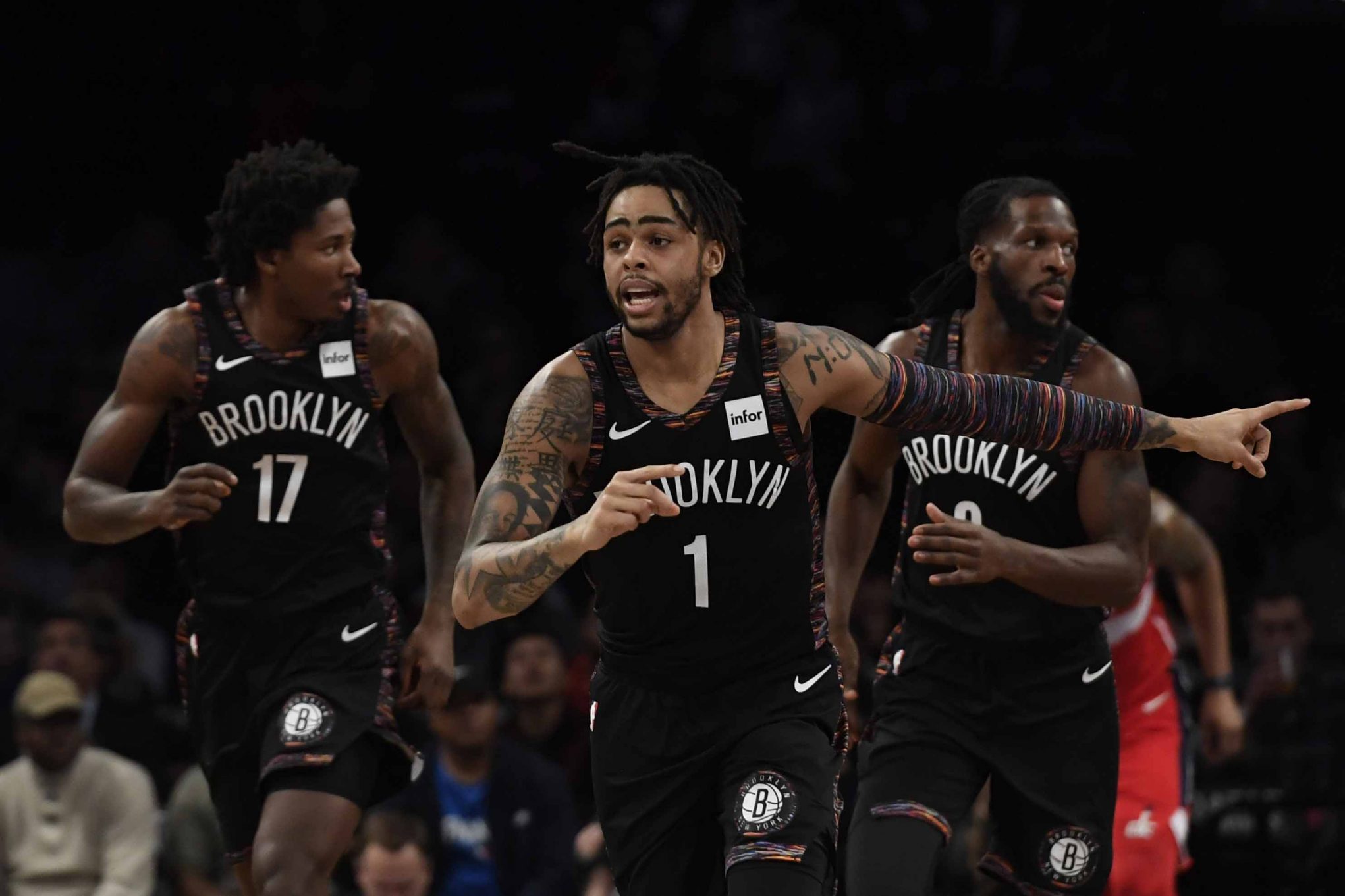 What should the team do about D'Angelo Russell's restricted free agency?
The answer is pretty simple, actually. Given that the team has the ability to match any contract put forth to Russell, the Nets should do as follows: wait. it. out.
On July 1st of last summer, LeBron James, Paul George, and Chris Paul announced their free agency decisions the second moratorium began. Given the aggressive nature of the teams with cap space and the downright humorous amount of tampering within the league, expect major free agents to sign in a similarly lightning-quick fashion this summer.
[membership level="0"]
I bring all of this up because, in all likelihood, the Nets will know right away if they should re-sign D'Angelo Russell. Simply put, they'll either be in the mix for the top guys or be left out to dry. If they miss out, they can then investigate their options with the fourth-year pro.
D'Angelo Russell has made strides this year as a shooter, showcasing the potential to be a deadly long-range threat. The issue is that when his jumper isn't falling, he's a complete zero on the court.
Poor shooting nights could be mediated by the ability to finish inside. However, this is where Russell is, regrettably, at his worst.
Taking a look at the video above, you'll notice two things about D'Angelo Russell.
He has no right-hand. Every single shot is attempted with Russell's dominant left-hand. This is especially noticeable in the last clip against the Raptors. Russell is given a wide-open lane on the right side of the court. Now, normally this would be an easy right-handed layup. Taking this shot with the right-hand allows the offensive player to angle his body away from his defender. Russell instead goes up with his left hand. Even though the shot goes in, this is a problem. His inability to use his right hand and shield the defender away from the ball is why so many of his shots get swatted away.
Russell has the around-the-rim accuracy of a 50 Cent first pitch. D-Lo short-arms a majority of these shots. Part of the problem is that he has no idea how strong he should be tossing up his push shots. The bigger issue is that he frequently gets caught in between two-handed and one-handed shots. His inability to make real-time decisions is why he seems so indecisive inside. (The second clip against the Utah Jazz is a great example of this). Until he adds some finesse to his floater game, he will continue to be a liability on offense.
Given that Russell already has a sloth-like burst, it's puzzling that he hasn't worked on his right hand. It's even more troubling that, four years into his career, he is unaware of when to take a push-shot or when to attempt a pull-up jumper. Until he learns to do either of these things, Russell will be an easy cover, especially for playoff defenses.
That's not to say that the Nets should hold off on re-signing him. Russell's potential is undeniable. He's only 22 years old and is already a strong facilitator (at 6 assists per game), an excellent shooter (when he's on), and one of top 12 ball handlers in the league.
Of the free agent point-guards available outside of Irving and Walker, there isn't a ton to work with for Brooklyn. Terry Rozier is a solid option, given his two-way potential. If the reports made by Adam Himmelsbach of The Boston Globe are indeed correct, Rozier's $20 million salary expectations would far outweigh what Brooklyn is comfortable coughing up.
Derrick Rose is also worth a look in light of his comeback season. But he's also 30 years old and wouldn't fit the timeline of this team. (Although, there is a small part me that hopes Brooklyn pursues him. I love 2018 Derrick Rose.)
Perhaps the Nets can convince Russell to take a team discount of around $12-15 million per year, similar to what they did with Joe Harris and Dinwiddie.
The 2020 free agent class is weak outside of (possibly) Anthony Davis. Multiple guys were signed in the asinine 2016 offseason, and they will almost certainly accept their player options (i.e. Gordon Hayward, Otto Porter, DeMar DeRozan, and Mike Conley).
The unrestricted free agents are grossly unappealing: A 35-year-old LaMarcus Aldridge, a 34-year-old Kyle Lowry, a 32-year-old Danilo Gallinari, and a 30-year-old Draymond Green. None of these players represent smart targets for Brooklyn's future-forward franchise.
The 2020 free agent class also includes restricted free agents from the disgustingly weak 2016 NBA Draft. Ironically, the best RFA in 2020 might be Brooklyn's very own Caris LeVert.
The Brooklyn Nets should look to spend their money now. If this means settling in on a backcourt of D'Angelo Russell and Spencer Dinwiddie, so be it. Dinwiddie and D-Lo are the yin and yang of each other on offense, and it makes for a fun dynamic. They score in opposite ways, and in general, dominate in opposing quarters. (Russell does most of his damage in the first half. Dinwiddie tends to command the third quarter.)
The future of the Nets is in the hands of Sean Marks. I can't think of a more qualified man to continue to lead this rebuilding crusade.