The Brooklyn Nets opened the NBA's offseason floodgates with their acquisition of D'Angelo Russell, and the 21-year-old could finally blossom into a star.
For the most part, it was a quiet Tuesday. The NBA Draft is what begins the madness that is the offseason. Transactions go down on that night as teams hope to find their franchise-changing guy, but the first blockbuster deal had no rumors uttered about it. Out of nowhere, Adrian Wojnarowski dropped his first bomb. He announced that the Los Angeles Lakers were sending D'Angelo Russell and Timofey Mozgov to the Brooklyn Nets for Brook Lopez and the 27th overall pick in Thursday's draft. It was one of those deals where everyone benefited.
The Lakers are doing everything in their power to acquire Paul George and LeBron James by the start of the 2018-19 season. Dumping Mozgov's egregious contract is a start. In all likelihood, adding Russell was the only way the Nets would take Mozgov's salary on their books. It worked out perfectly. With him gone, the Lakers are free to draft Lonzo Ball, who appears to be their point guard of the future.
Brook Lopez was an incredible player during his tenure, and he deserves a separate piece, so I'm not going to say too much about him here. I just want Laker fans to know that they're getting a talented center who's going to help them tremendously. I also want Nets fans to know that Russell is no slouch himself.
Just two years ago, a star was born at Ohio State. A then-18-year-old Russell was torching the Big Ten from all over the court. He spent just one season with the Buckeyes, but no one doubted his future in the league. Even before he got to college, the Montverde Academy standout had immense hype surrounding him, and he did everything he could to live up to it. In 35 games, Russell averaged 19.3 points, 5.7 rebounds, 5.0 assists and 1.6 steals for Ohio State, who snuck into the NCAA Tournament as a 10-seed with a 24-11 record. They upset VCU in the first round thanks to Russell's 28-point explosion.
After his only campaign, he sat in the top 10 in every meaningful category and the accolades began to pour in. Russell walked away with four achievements: Consensus first-team All-American, All-Big Ten first team, the Jerry West award and the Big Ten Freshman of the Year. Not bad.
Even through his two years in the NBA, Russell's combated his lack of athleticism with exceptional polish on the offensive end. In college, he'd knife through defenses on a regular basis, and his knockdown ability from three made him extra lethal. Overall, Russell shot 44.9 percent from the field at Ohio State, and that included 41.1 percent from three. To reach "star" status in the NBA, you must have one of three things: incredible size, freakish athleticism or refined skills. Anyone who's having success in the league has at least one of these — I'll go even further: any of the all-time greats have at least one of these. Russell isn't a jaw-dropping athlete. He's got excellent size to play either guard spot, but it's not head-turning. Because those aren't in his favor, he's going to have to ride his natural scoring ability. Yes, D'Angelo Russell is a natural scorer. He may not do it efficiently, but that can change.
He averaged 15.6 points in just 28.6 minutes this past season. Albeit, it came with a 40.5 percent clip from the field, but the Lakers didn't exactly have the best-run offense. Their spacing was terrible. This, however, isn't an excuse because Brooklyn shot a worse percentage from three — 33.8 to the Lakers' 34.6. It's not much, but, as we know, the Nets were far from reluctant to shoot. They finished fourth in the NBA in threes attempted to Los Angeles' 19th. The former college sniper has struggled with the pushed back three and shot 35.2 percent in his second year, which isn't terrible but nowhere near the accuracy he shot in college.
I like Russell more as a slasher. The pace-and-space revolution has devalued the necessity of an in-between game, and that's something that Russell has. His soft touch from mid-range and around the foul line is tough to guard, and he's able to get those looks almost at will. The confounding part of Russell's game is his mediocrity inside the restricted area, where he buried just 50.7 percent of his attempts this year. For context, his clip in the paint but outside of the restricted area was 47.2. This goes back to poor spacing. Since the Lakers are hesitant to shoot from outside, the defense doesn't feel they need to worry about the perimeter. Once Russell (or anyone) gets into the lane they can collapse and make the shots tougher. The reason his no man's land clip is higher than most is that he's getting those looks off right before the help defender gets to him.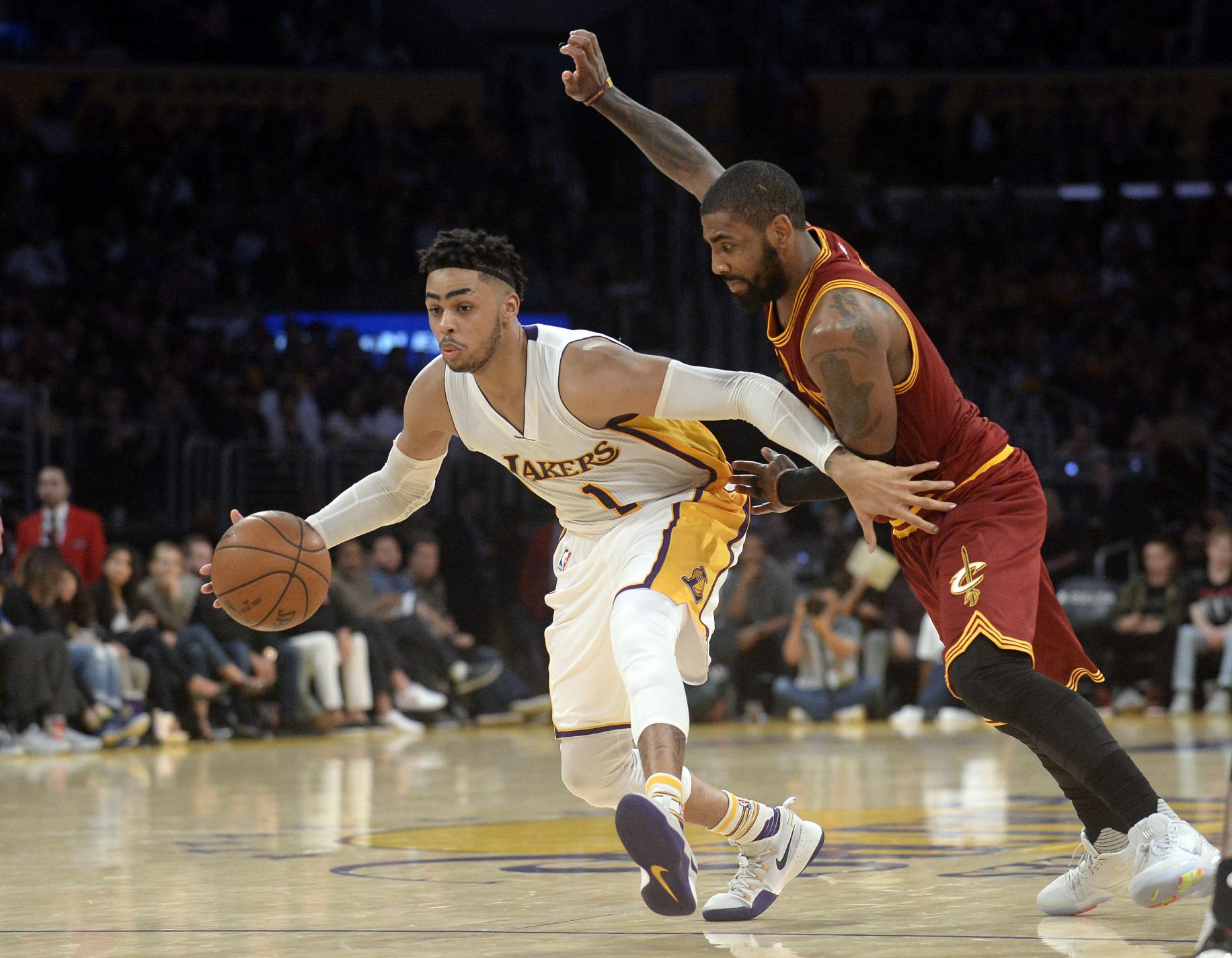 I wouldn't be shocked to see those numbers stay the same in Brooklyn. The Nets and Lakers averaged 29.7 and 29.3 shots inside the restricted area, respectively. Their conversion rates were 59.1 and 60.5 percent. It also wouldn't shock me if Brooklyn slid Russell over to "shooting guard" to have the ball in his hands less. It's not that he can't create, but he's not a point guard. Russell has never been a great passer or decision-maker and boasts a career 1.5 assist-to-turnover ratio. The Lakers needed someone to run the point, so they thrust him in there, and it left Russell limited. He now needed to balance creating for others instead of just scoring. This was also the case when he was at Ohio State, except his assist-to-turnover ratio was marginally better at 1.7. Sharing a backcourt with a real floor general, Shannon Scott (5.9 assists a night), meant that Russell wasn't constantly thinking about setting up others. He could focus on getting himself going and let Scott do all the facilitating.
The NBA's tracking stats are tremendous when merging statistics with a story. Metrics can often be twisted to follow a narrative, but it's hard to refute data that says Russell is terrible in the pick-and-roll and better when playing off-the-ball. That's noteworthy in a league where the best guards abuse defenders on high screens. Conveniently, I have numbers on this.
At 0.76 points per possession, D'Angelo Russell was in the 41st percentile when scoring as the pick-and-roll ball handler. He ran that 39.6 percent of the time. Oddly enough, he was better in the following sets: isolation, spot-up, off screens and cuts. That screams "let me not play point guard!" With Jeremy Lin, Isaiah Whitehead and Spencer Dinwiddie, Russell wouldn't be forced to facilitate.
When Russell has the ball and puts his head down, he generates 0.95 points per possession, which goes back to him being skilled over incredibly athletic. He's crafty. He knows how to get to his spot. That number puts him in the 74th percentile, and he went iso 7.8 percent of the time with the Lakers. If the Nets need a bucket, they have someone who they can dump the ball too.
The other play types are all off-ball-centric, but Russell couldn't run them as much because Los Angeles didn't have a point guard after relieving Jordan Clarkson of those duties. On spot-up's and off screen's, Russell's at 0.98 PPP on 11.5 and 5.2 percent frequency. Brooklyn doesn't run many off screen's, but they love spot-up jumpers — so much so that they led the league with a rate of 23.7 percent. However, they failed to convert on those looks, and Russell would be incredibly refreshing for Kenny Atkinson. He'd give their offense a new dynamic. Additionally, the Nets could open the playbook since Russell knows how to get open when working away from the ball. On cuts, he landed in the 75th percentile, which is eyebrow-raising to a coaching staff whose roster was all the way down in the 21st percentile.
The Lakers tried to — well, I don't know what they attempted to do. It was a bad spot for Russell to land and, even though Luke Walton would've been able to figure something out, his long-term future with the team was up in the air.
Now, the Nets have a young guy with a boatload of potential. The "maturity problems" that people bring up don't bother me because he's a kid. People around the NFL think Odell Beckham Jr. has the same problem, and he's older than Russell. He'll grow out of it, and quicker than expected if he's surrounded by guys like Trevor Booker, Rondae Hollis-Jefferson and Jeremy Lin. D'Angelo Russell has all the tools to be an All-Star. That's the ultimate goal, and, if that were to happen, Brooklyn would have their centerpiece. If it doesn't, it's not the end of the world.