NASCAR legend Jeff Gordon recently expressed interest in seeing racing in the tri-state area even hinting at a brief comeback if it happened.

You might not see the #24 car roll down 42nd Street, but, if Jeff Gordon gets his way, NASCAR could revving its engines in the New York City area.
Speaking at the Financial Planning Association of Long Island's 19th Annual Symposium & Exhibition in Woodbury, the four-time NASCAR Cup Series champion expressed interest in seeing the stock car racing circuit make its way to the metropolitan area.
According to Newsday (subscription-based), Gordon advocated for a track to come in the area, particularly a short track NASCAR fans have yearned for more of.
"Going down to Teterboro (Airport) from time to time, going by the Meadowlands all the time and seeing all the things they're building that are all sports-related, I just wish we could have figured out a way to get a race track there, especially a short track," Gordon said. "You look at the schedule and we desperately want another short track."
In auto racing, short tracks are defined as any track under a mile long. Notable examples on the modern-day Monster Energy NASCAR Cup Series circuit include Bristol Motor Speedway in Bristol, TN and Martinsville Speedway in Martinsville, VA.
A race on the Meadowlands complex, Gordon remarked, could even bring him back in the driver's seat.
"Man, I would give anything," Gordon remarked. "That might even bring me back to driving if we had a track at the Meadowlands."
Gordon retired from full-time racing in 2015, though he briefly returned the following season for eight races, subbing in for injured former teammate Dale Earnhardt Jr. Set to be inducted into the NASCAR Hall of Fame in Charlotte in 2019, Gordon spent his entire full-time career in Rick Hendrick's #24 Chevrolet, beginning in 1993. He signed a lifetime contract with Hendrick Motorsports in 2000 and currently serves as an analyst for Fox's NASCAR coverage.
During his tenure, he tallied 93 wins, third most in Cup Series history. In addition to his Fox duties, Gordon is listed as a co-owner with Hendrick of Jimmie Johnson's #48 Chevrolet, and he also owns equity in his former #24 ride, currently driven by rookie William Byron.
Despite struggling television ratings in recent years, NASCAR maintains a nationwide fanbase, though it remains a niche sport in the northeast. Currently, the closest track to New York City is Pocono Raceway in Long Pond, PA, just under two hours away. New York State track Watkins Glen International, located in Watkins Glen, NY, is located over four hours away from Manhattan, which hosted the annual NASCAR awards banquet at the Waldorf Astoria from 1981 through 2008 before moving to Las Vegas.
In another northeast connection, defending Cup Series champion Martin Truex Jr. hails from Mayetta, NJ.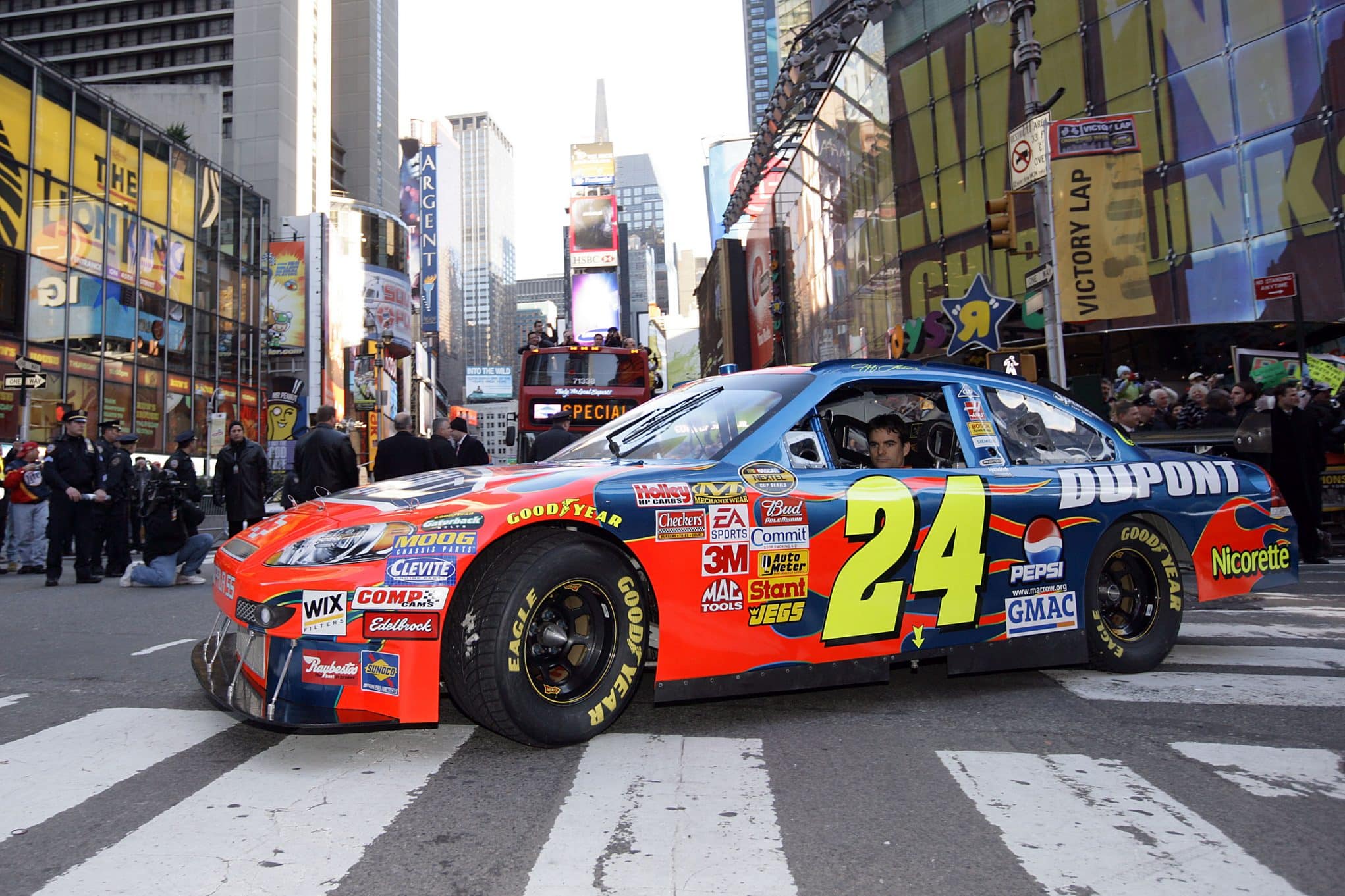 Should the powers that be try to follow through on Gordon's request, it would not be the first attempt at bringing NASCAR to the area. Gordon's idea of NASCAR at the Meadowlands, for example, is not unprecedented. In 2010, then-New Jersey Governor Chris Christie explored the possibility of transforming Meadowlands Racetrack, historically used for horse racing, into a NASCAR venue.
Several years prior in 2004, International Speedway Corporation, which owns 12 tracks used on the NASCAR circuit, announced plans to build an 80,000 seat short track on Staten Island, but the project fell through and was abandoned by 2006.
Five races remain in the 2018 Monster Energy NASCAR Cup Series season, with the series descending upon Kansas Speedway for the Hollywood Casino 400 on Sunday afternoon (2:30 p.m. ET, NBC).
Follow Geoff Magliocchetti on TWITTER