Week 1 of the 2018 season will end when the New York Jets travel to play the Detroit Lions on Monday Night Football. Here are the top storylines.
The New York Jets are a near touchdown underdog when they play the Detroit Lions on Monday Night Football. This 2018 season has a completely different feel for the Jets than 2017. It's a funny thing called hope, which is a leading storyline in this contest-to-be.
Despite playing the NFC North for the first time in four years, there's a ton of familiarity in this matchup. But that's not the only storyline in this game.
Here are the top ones to keep an eye out for:
5. Blount force trauma
We mentioned that "familiarity" and it starts in the backfield with a former New England Patriots star Legarrette Blount. At 31 years of age, he isn't quite the boogie man that he used to be, but still scary nonetheless. Something that isn't scary is the Lions running game as over the last decade plus, the only 1,000-yard rusher the franchise has employed was an over-the-hill Reggie Bush in 2013.
But Blount has been the Jets' kryptonite over the years and could prove to be a nuisance in the backfield. This defense is going to be tested by an overall high powered Detroit offense. Overall, it should provide a good test.
4. Can the leaky offensive line hold up?
I don't think the Jets have the worst offensive line in the league, but it certainly isn't the best. This current crop hasn't worked together this offseason. Kelvin Beachum was in a walking boot and Brian Winters has been rehabbing.
The Jets did upgrade at center going from Wesley Johnson to Spencer Long, but Long has an extensive injury history. The left tackle and center position has been musical chairs since D'Brickashaw Ferguson and Nick Mangold left the team and retired. Sadly, offensive linemen don't grow on trees so the team will have to live and die by what they have, but will be a critical area of need in the 2019 offseason.
3. Matt Patricia makes his debut vs Jets as Detroit Lions head coach
Matt Patricia has been haunting Jets fans nightmares for years, perhaps not as much as Tom Brady has, but you get the point. Now Matt has his own team to shape and mold in the Detroit Lions.
With some new toys on defense, we'll see if he still has the Jets number on speed dial. Perhaps the greatest weapon at his disposal is something the Patriots haven't had since Chandler Jones was roaming on defense.
This man is, of course, Ezekiel Ansah. I was hoping he'd escape in free agency, but alas, the franchise tag was thrown down.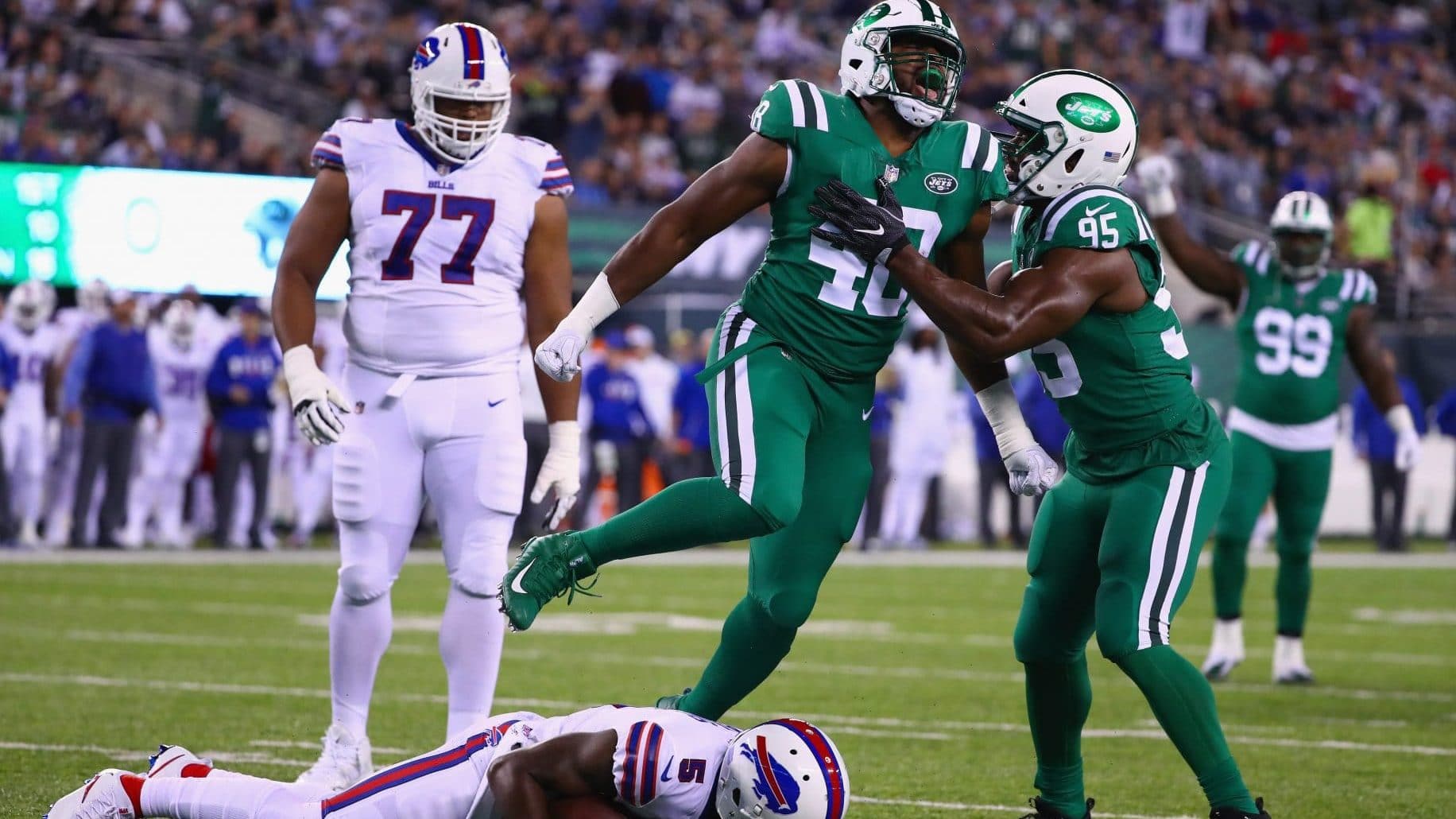 2. No Khalil Mack, no pass rush?
So the Jets were unable to land the prized gem on the trade market in Khalil Mack from the Oakland Raiders, but there are still other options out there that we've openly discussed. One thing is currently clear: no one on the edge is someone that an opponent fears. That's a problem.
The Jets strength is their secondary, but even the best secondary can't cover forever. If the Jets pass rush is so sub-standard that they can't create pressure, Matthew Stafford is going to pick this defense apart and this will be a blowout of epic proportions. But head coach Todd Bowles won't let that happen, so anticipate a lot of blitzes to overcompensate for lack of talent, perhaps that'll be enough.
1. Sam Darnold makes his rookie debut
The No. 1 storyline is simple and exciting. Sam Darnold has lit up the preseason and headlines like no other rookie before him. Can he live up to the hype? Actually, before we answer that question, hey Jets fans make sure you don't overhype it.
While all the hype has been fun and exciting, let's remember this exact thought when Darnold inevetably throws his first interception in the regular season, He's human, after all.
A 21-year-old is being asked to be the 'savior' of the Jets franchise and it's a ton of pressure. I'm not saying expect 30 interceptions this season (or 30 touchdowns, for that matter).
Just enjoy the ride, for better or for worse.