The New York Jets are dealing with some more injury issues as they progress through training camp. Here's their blindside backup plan with Kelvin Beachum suddenly on the shelf. 
The fun fact that has been thrown around this offseason may have been used too soon. That's, of course, that New York Jets starting left tackle Kelvin Beachum was on track to become the first player since D'Brickashaw Ferguson to start back-to-back seasons on the blindside.
I think fans are starting to appreciate something they took for granted while Ferguson was playing: his durability and consistency. He played in 160 games, starting all 160. That lasted for an entire decade.
I wish every first-round pick had that kind of success.
Since Ferguson's retirement after the 2015 season, the Jets have been on a bit of a carousel as it pertains to the left tackle position. After the Ferguson news, they traded for Ryan Clady who showcased solid seasons in Denver, but never really worked out. Then they went to Beachum in 2017. He wasn't a pro bowler, but he was certainly serviceable.
Now it appears the Jets will have to head back on "Love Connection" with Andy Cohen to find a new match with the latest news on Beachum. Following the Jets Green and White Scrimmage at Rutgers University, it was revealed that Beachum is week-to-week with a sore foot after being seen in a walking boot at the scrimmage.
Not exactly promising news less than a week out from the first preseason game. Also not promising news for a young quarterback in Sam Darnold who, in theory, would be behind said offensive line.
For those keeping score at home, the Jets have five offensive tackles on the team (four if you put Beachum on the shelf), which means the Jets would be relying on eight-year pro-Ben Ijalana as the primary blindside protector if they played a game tomorrow.
Over the last two years with the Jets, Ijalana has played in 27 games, which is a career-high by far. Despite his recent increase in playing time, the Jets are going to have to look at ulterior options to feel better about the offensive line depth.
Luke Joeckel
The former No. 2 overall pick was drafted by the Jacksonville Jaguars to be a franchise left tackle. He struggled in that department and has moved to guard and was doing some work with the Seattle Seahawks last season prior to his season-ending injury. The talent is obviously still there, so the Jets could kick the tires on the 26-year old.
Will Beatty
The Jets could decide to go the veteran route with a former New York Giants tackle in Will Beatty.
Over the last two years, he has battled some injury demons which has forced him to miss 25 games. Before we hear moaning and complaining, all of the free agent options obviously have issues or they wouldn't be free agents. The Jets are going to have to pick their poison if they choose this route.
Richie Incognito
Now I know he plays guard, but hear me out. What if the Jets brought him in as a guard and forced one of their current ones to flex out to tackle?
Richie Incognito has proven that he has pro-bowl ability when his head is screwed on straight—which is a huge concern as nobody ever wants to jeopardize the locker room. In terms of their guard, Brian Winters battled injuries last year and James Carpenter had an off year. It should be something, at the very least, the Jets consider but extremely doubtful either one could play left tackle. The most optimistic situation would have one playing right tackle while Brandon Shell moves to the left side.
Trade
The other market to consider for the Jets is the trade market and one name that sticks out is former Pro Bowler Jason Peters.
Now the Philadelphia Eagles may want to hold onto him, but they don't need too. I mean they won the Super Bowl without him, so he could be expendable, especially when you look at his ginormous contract (two years remaining with over $20 million owed).
He could be the perfect stop gap for the green and white until they can figure out their long-term plan.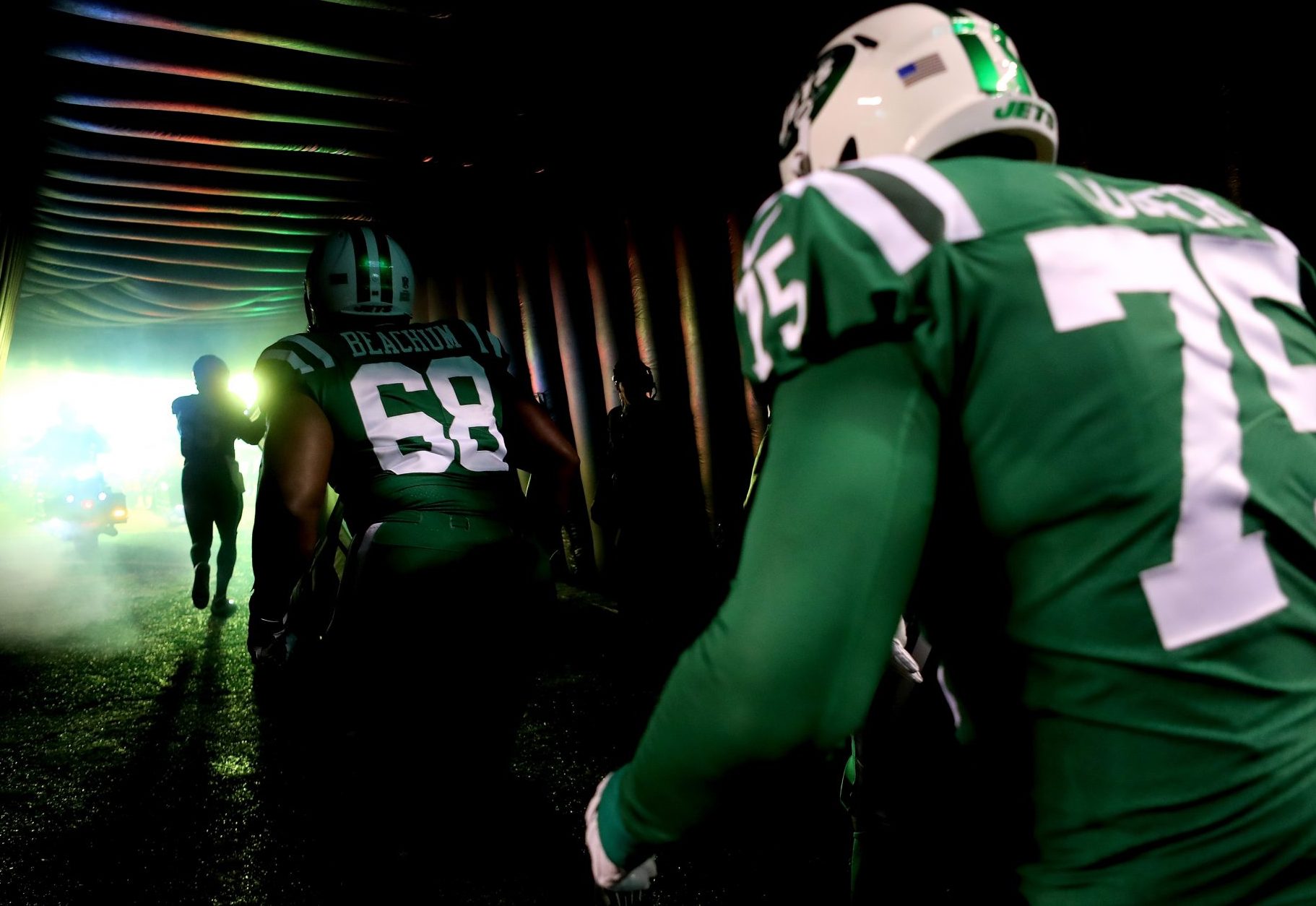 Late Cap Casualty Market
Another resort could be the "late cap casualty market." If some fans are unaware, the new CBA rules have gotten rid of the 90 to 75 to 53 roster cuts by a certain date. Instead, it's up to the discretion of the team when they cut down because the only rule that exists now is that all teams must have 53 players by the last Saturday prior to the season starting.
This means if the Jets are scouring the waiver wire like a desperate last place fantasy football team, they may have a chance to steal someone.
Looking ahead until 2019 doesn't inspire much confidence. What initially looked like a rich free agency class has since evaporated with Taylor Lewan, Duane Brown and Jake Matthews signing long-term deals with their respective teams this offseason.
This, unfortunately, means the names remaining in the 2019 free agency class are projects more so than proven commodities with names like Cedric Ogbuehi, Donovan Smith and even busts in Greg Robinson at the top of the heap.