As it relates to the New York Jets strategy this offseason, figuring out what'll happen around them is key. Here's what to expect in free agency and the top of the NFL Draft.
Each NFL offseason comes with its own unique set of challenges. Veteran cap casualties, free agency, scouting via the combine, the draft, undrafted free agents, August cuts and adds—it's all part of the madness each of the 32 general managers experience on a yearly basis.
When over $100 million in cap space is available, well, then … forget about it. It's what Mike Maccagnan is currently experiencing, a "forget about it" feeling hyping the entire fan base with dreams of a dominant 2018 depth chart.
The big order of things is free agency then the NFL Draft and with the NFL Combine in Indianapolis starting up this week, things just now really get pushed into ultimate gear.
Just where will the big free agency fish go? No mock draft can honestly be executed with any real insight until that question is answered.
Today, we put the pieces together beginning with the first domino representing everything for so many suitors at this very moment.
QB Kirk Cousins to the Denver Broncos
The New York Jets lose to the Kirk Cousins sweepstakes. Although they'll be upset now, it'll come as a great blessing in disguise later.
The man just isn't fit to account over 20 percent of a team's salary cap. He isn't on that level.
Cousins to Denver makes all the sense in the world. First of all, the team is ready. With Von Miller and an excellent secondary, the defense is still near championship-ready. Secondly, that John Elway factor always comes to play.
It's like all of these guys (quarterbacks) attend secret meetings and go on fun adventures in their little fraternity only available to the few special individuals who can call themselves legit NFL quarterbacks.
Remember the Quarterback Club? Boomer Esiason, Steve Young, Dan Marino, Jim Kelly—these guys were all a part of their own group in the early 1990s, going as far as to even a see a video game done in the same name and logo.
Former Washington Redskins teammate D.J. Swearinger also believes Cousins is off to Denver, via Andrew Siciliano of the Red Zone Channel.
Redskins DB DJ Swearinger tells me @nflnetwork he thinks Kirk Cousins will end up in Denver.

— Andrew Siciliano (@AndrewSiciliano) February 19, 2018
It just makes sense. As long as Elway and the Broncos don't suddenly experience cold feet, expect the big fish in the Rocky Mountains.
QB AJ McCarron to the Arizona Cardinals
On the Jets perfect roster segment we ran earlier in the week, AJ McCarron was my No. 1 choice as the backup QB. Admittedly, McCarron won't come cheap and will want a starting spot. If he's too expensive, let him walk and bring back the guy we all know would welcome a mentor role.
We'll roll with AJ McCarron heading off to the desert as the Cardinals bonafide franchise guy. Don't rule out the Cleveland Browns and the Cincinnati Bengals, as they love him so much they may overpay for his services. Convincing him to stay with Andy Dalton in tow will be the tough part.
It's perfect. Josh McCown won't cost much and his troubled injury history will matter less in a pure backup role.
RB Le'Veon Bell to the Pittsburgh Steelers
The Pittsburgh Steelers won't let Le'Veon Bell get away.
Other Key NFL FA Signings:
If Mikey Mac was smart, he'd lock in on Dontari Poe. Still 27-years of age, the kid is a monster in the middle and may come at a nice discount considering his lone year in Atlanta didn't match his previous experience in Kansas City.
Jets Notable Cuts:
Jets Likely Key FA Signings:
Jets Possible FA Signings:
Due to missing out on Cousins, a collection of nice signings can be piled up in order to come close to the 89 percent rule. (In the NFL, there is no cap floor, rather, each NFL team is required to spend at least 89 percent of the total salary cap over a four-year span. If a team fails to do so, penalties include dishing money to your own players, per the NFLPA.)
Maccagnan will have to spend somewhere and names such as Greg Robinson, Adrian Clayborn, Kyle Fuller, and Brock Coyle are a combination of pure speculation and value/need.
Just look at the damage the Jets could do without committing so much to Cousins. How solid a foundation could the defense or offensive line mold if the likes of Dontari Poe, Demarcus Lawrence, or dare I say Nate Solder or Andrew Norwell decide to give the Jets a look?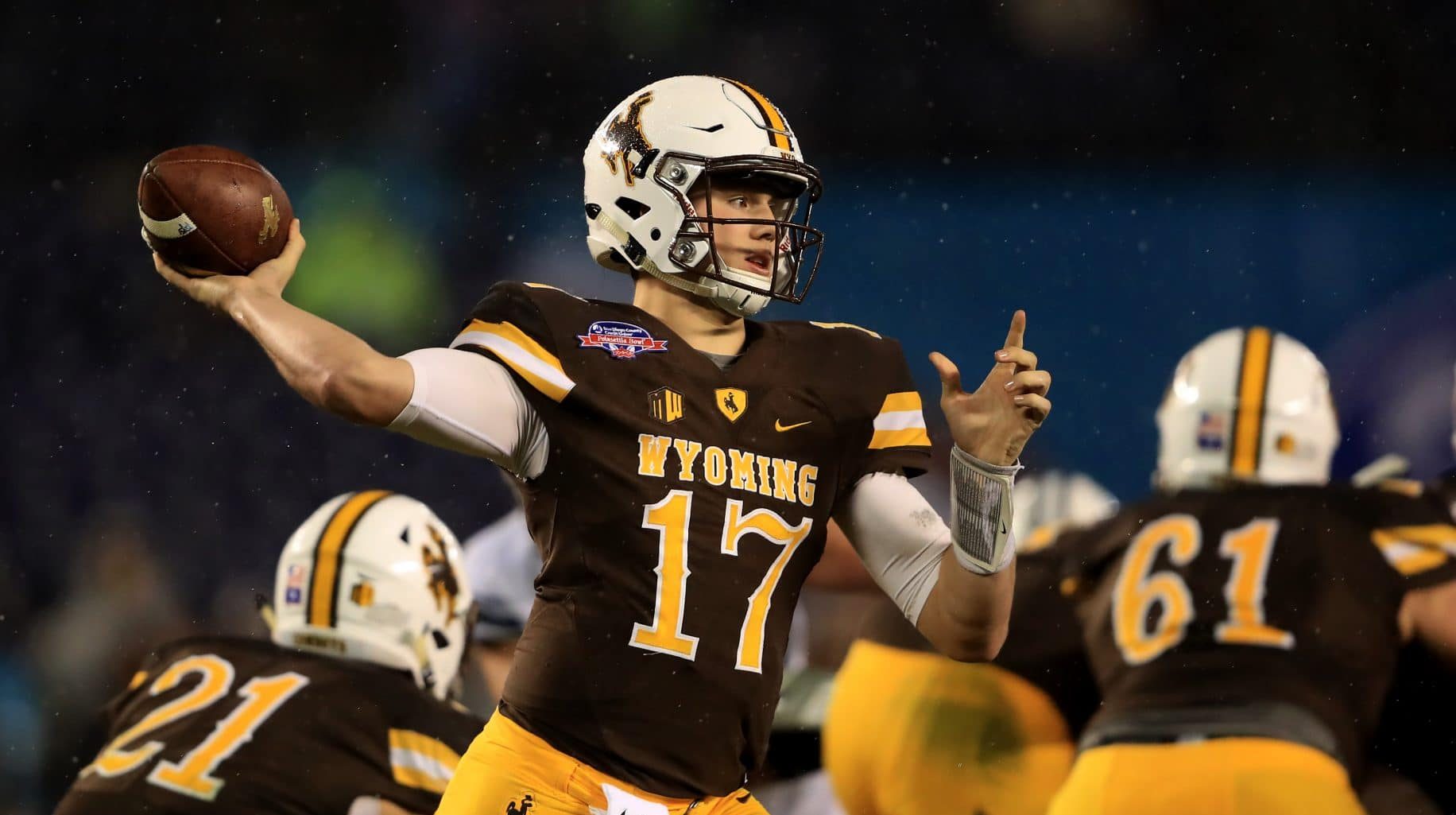 Top 6 of the NFL Draft:
In an ironic twist of fate, the Jets wind up with the man on the end of "Suck For Sam" campaign even after surprising folks with five wins.
While Dave Gettleman is an old-school mind who understands his offensive line needs major work, snagging former Carolina Panthers guard Andrew Norwell along with a tackle will allow him to freely take Saquon Barkley. Make no mistake, though … he'll be keying in on the tackle position in round two.
With Cousins in Denver, Elway won't need a QB. Teams will attempt to trade into the No. 4 and 5 spots for that second QB off the board, but in the end, no dice. It's not easy to move into the top five or any draft.
Cousins to Denver and McCarron to the desert puts the Jets in line for the No. 2 arm off the board. They pay him just $5 million a year for four or five seasons and build a strong foundation around him via free agency and the draft.
Of course, this is all dependent on where Kirk Cousins goes. And, of course, it's all dependent on the top six trade situation. At the very least, without Cousins, the New York Jets are looking at a guarantee of the top four arms and a plethora of value via free agency, plugging many holes.