Tennis icon and New York native John McEnroe is involved with the New York Open at Nassau Coliseum a little more than 35 years after an exhibition match with Guillermo Vilas.
Ever since I was a kid, I've practically lived at Nassau Veterans Memorial Coliseum.
While 95 percent of the time that I was there it was for a New York Islanders hockey game or an Arrows soccer game, there were other events that I went to including basketball games, lacrosse games, concerts, family shows, and expos in the exhibition hall.
I even went to a tennis match at the Coliseum.
The date was Nov. 19, 1982, when Douglaston native and seven time grand slam winner John McEnroe played Guillermo Vilas in an exhibition match called the "Lite Tennis Challenge." It's one of just a few tickets stubs that I'm missing from all those events I went to at the Coliseum, so I don't remember where my seat was, but I do remember sneaking down to courtside seats with my friend so that would could see McEnroe up close and personal in a fun environment.
You have to understand that back then it wasn't always easy to get tickets to see him at the U.S. Open, so this was a treat.
For the record, McEnroe defeated Vilas 7-5, 6-3, 6-4, making fans in attendance very happy since Johnny Mac was a local hero. To that point, it's appropriate that McEnroe is an ambassador for the New York Open which is being played this week in the same building he beat Vilas in 35 years ago.
And on Sunday night, McEnroe was back at NYCB Live, Home of the Nassau Veterans Memorial Coliseum for a premiere night event for the New York Open with James Blake, Genie Bouchard and reigning U.S. Open Women's Champion Sloane Stephens. Since the Coliseum reopened in April, it's been great to be able to go events there again because the building means so much to me.
Every time I step in the Coliseum now, whatever event I'm at brings back so many great memories and Sunday night was no exception. Watching McEnroe come out onto the black court was certainly something special. He hasn't lost his enthusiasm for the game and he makes that known as a television analyst, but when you see him on court in an exhibition setting, it's quite entertaining.
John McEnroe back at the Nassau Coliseum? "You cannot be serious!"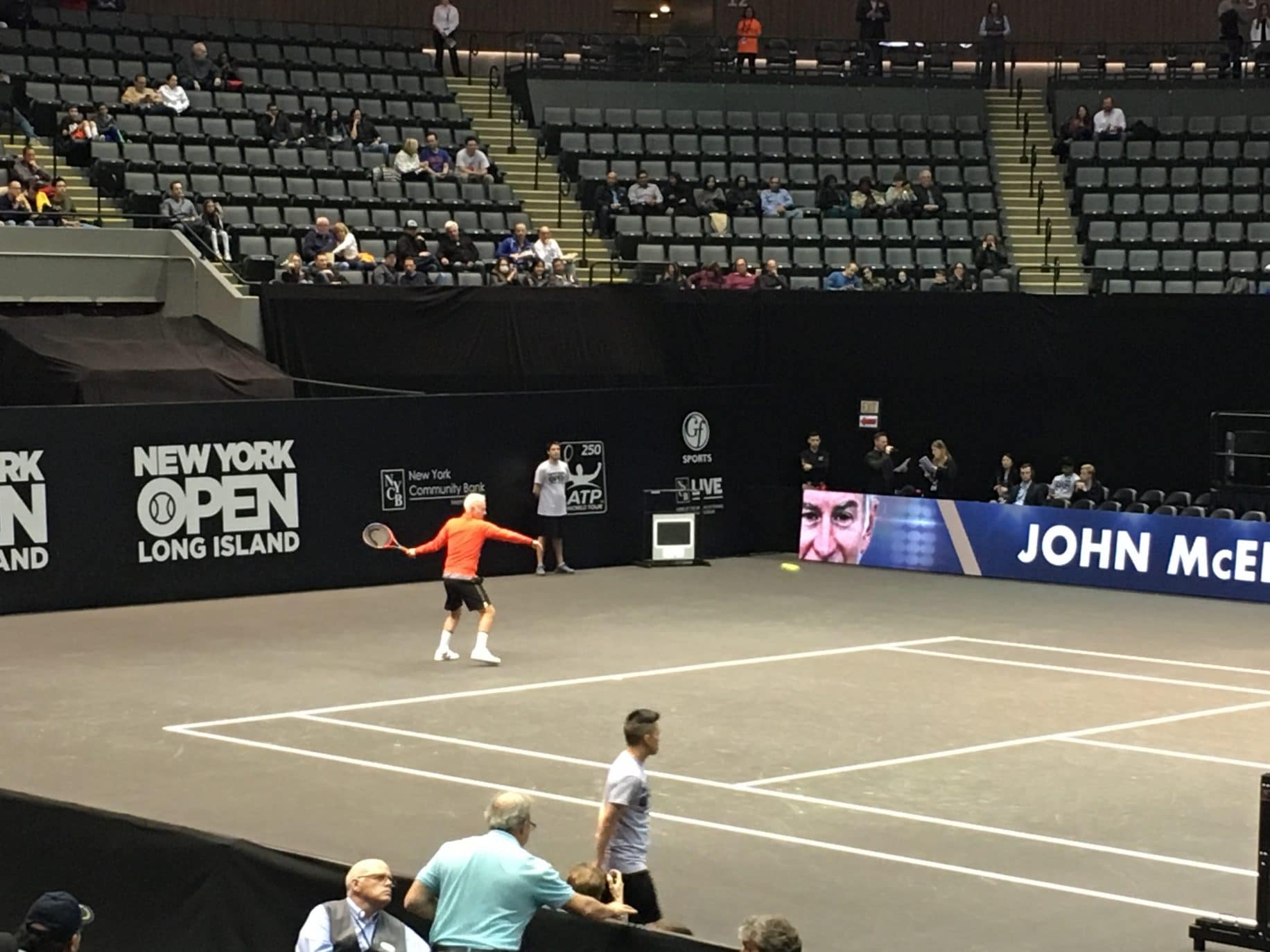 But there he was facing Blake in the first match and then teaming with Sloane Stephens against Blake and Genie Bouchard in the mixed doubles finale. There's no chalk on the Coliseum black courts so McEnroe couldn't provide a Wimbledon type explosion, but that didn't stop him with having a little fun with some of the "close calls" during his match with Blake.
Seeing Billy Joel re-open the Coliseum brought back memories of the barn from the old days and so was going to see the Harlem Globetrotters, the circus, Disney on Ice, and a hockey game. The Islanders temporary return to the Coliseum next year will bring back even more memories of cherished moments of yesterday, but there was also something special about seeing tennis back at the barn.
I didn't see World Team Tennis at the Coliseum, but as a 15-year-old, I saw one of my favorite athletes play an exhibition match more than three decades ago. The kid in me now as a 50-year-old had to see John McEnroe there again all these years later.