For the New York Islanders, 2017 was a season full of more ups and downs than usual. With a new year upon us, let's take a look back at the biggest news, rumors, and stories of the year.
The New York Islanders have concluded one of the most consequential years in team history.
It was overall a major period of change: Doug Weight took over as head coach, Belmont Park was named the club's new home, and Joshua Ho-Sang and Mathew Barzal took the league by storm.
It was also a period of disappointment: New York failed to make the postseason, Garth Snow couldn't get John Tavares to sign an extension, and Travis Hamonic was traded to Calgary.
But above all, it was a period of hope.
Let's look back at what went down in a wild 2017, both on and off the ice.
Islanders show plan for future by waiving Hálak / Matt Di Giacomo

Jan. 4, 2017
"The Islanders seemingly have an answer going forward, and it all indicates at what the franchise has planned for the future. Jaroslav Hálak, the 32-year-old Slovakian goaltender, was put on waivers as a consequence of the infamous three-goalie system."
Islanders must shift the focus / Matt Di Giacomo

Jan. 14, 2017
"There's little sand left in the hourglass that spells the demise of general manager Garth Snow and company," wrote Di Giacomo, who was incensed at the state of the last-place Islanders. Still, "they could make a Cinderella run despite steep odds against them."
It's an identity crisis / Justin Weiss

Jan. 17, 2017
"Nobody knows their identity. They're not particularly fast, or strong, or skilled, or chippy. There's just nothing that's going to set them apart from the competition."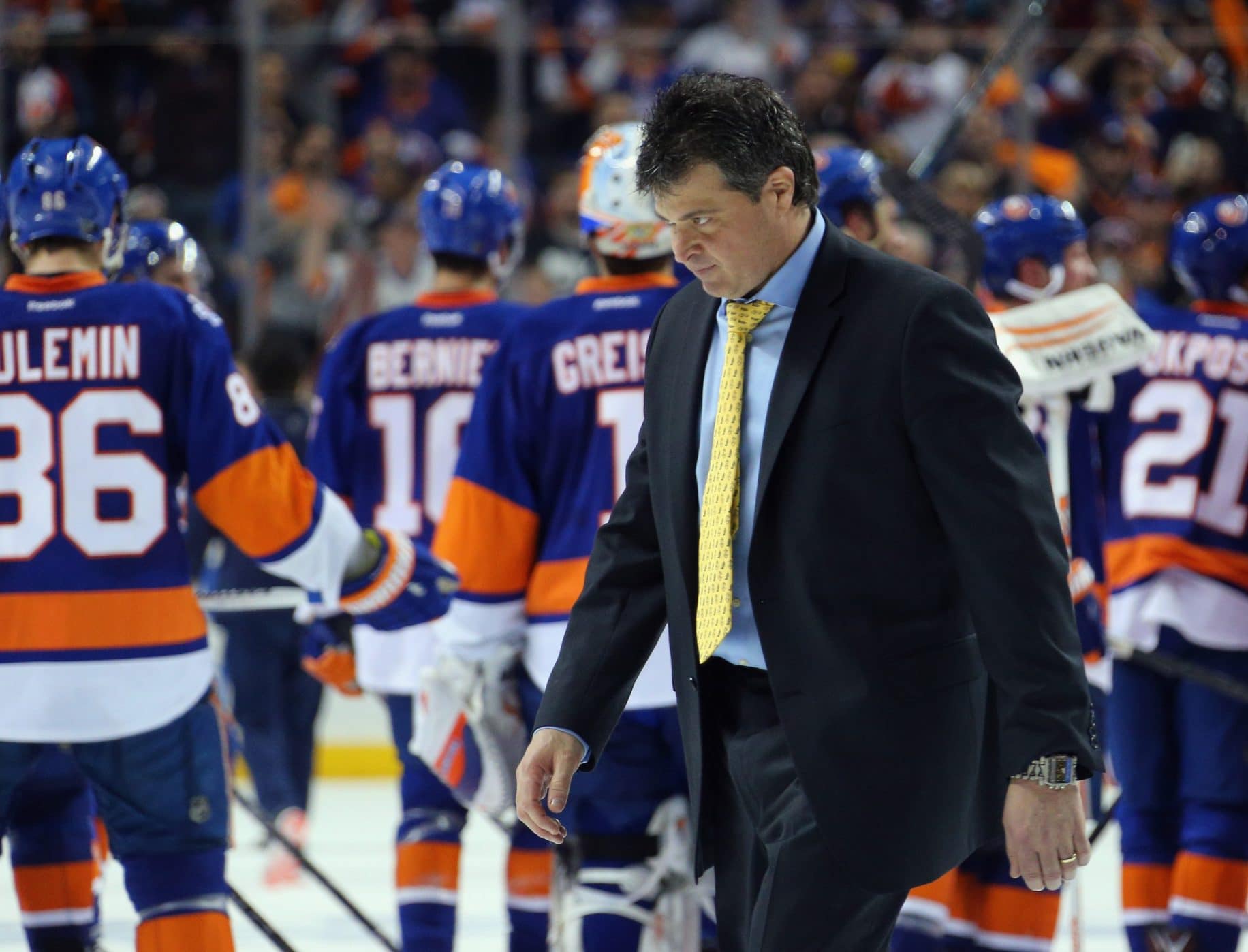 Islanders show Jack Capuano the door / Justin Weiss

Jan. 17, 2017
"Hit the road, Jack." After seven seasons with the big league club, Jack Capuano was fired in January, with the Islanders "changing direction. Capuano departs "as the second-winningest coach in team history."
Isles rout Stars in Weight's debut / Matt Di Giacomo

Jan. 19, 2017
"Doug Weight began his coaching career with a resounding win Thursday night at the Barclays Center. The Islanders played another complete game Thursday night with a very sound overall effort and the best 60-minute effort of the season."
Greiss comes to terms on 3-year pact / Matt Di Giacomo

Jan. 30, 2017
"In the latest edition of the 'backup turned starter,' Thomas Greiss has quickly put to bed doubts regarding his ability. At the age of 31, Greiss will hopefully continue this kind of play until the conclusion of his contract."
Jekyll and Hyde / Justin Weiss

Feb. 3, 2017
"In hockey, you're never as good as you look, and you're never as bad as you look, either. The Isles' demoralizing start — as well as their recent resurgence — is a product of the league's Jekyll and Hyde nature."
Bailey continues his hot streak / Bryan Saur

Feb. 25, 2017
We've touched on this issue ad nauseum: Josh Bailey enjoyed one of the single best years in team history, much to the horror some in the fanbase who refuse to appreciate his success. "Bailey has always been under [extra] scrutiny," wrote Saur.
Isles remain quiet at the deadline / Tim Palladino

March 3, 2017
"Snow's history was not on his side when gunning for impact players and many fans are not surprised to hear that the team struck out in efforts to coax Joe Sakic to relinquish his star center [Matt Duchene]."
The JF Bérubé experiment is over / Justin Weiss

March 14, 2017
Jean François-Bérubé was one of the worst goalies in the league, yet the Islanders treated "putting Bérubé on waivers like they'd be leaving a brown bag full of cash on a bench at the Port Authority," as Lighthouse Hockey's Dan Saraceni put it. They finally did, and his league-worst 3.13 goals-against average might have had something to do with it.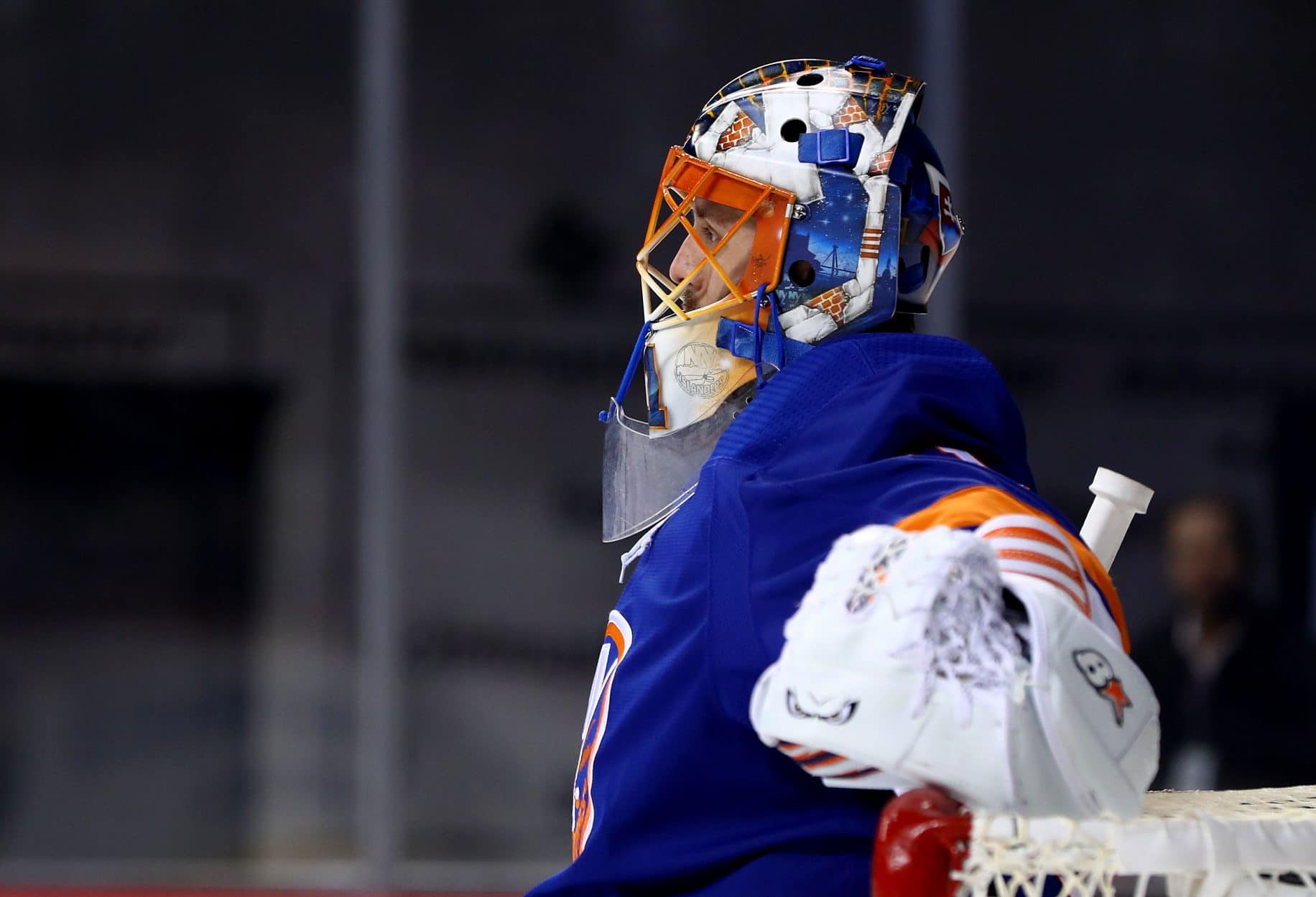 Isles recall Hálak / Matt Di Giacomo

March 23, 2017
Bérubé's struggles were just the tip of the iceberg for New York, who recalled Hálak from Bridgeport, where he was one of the AHL's top netminders. With less than ten games remaining in the season, Di Giacomo thought that the timing was rather auspicious, writing that "the Islanders should have capitalized" on his availability.
The Islanders are still alive / Justin Weiss

April 6, 2017
"With their backs to the wall, the Isles have scratched and clawed their way back into contention. Despite John Tavares' hamstring injury, New York is two wins and two Maple Leafs losses away from making the postseason." This was a stunning turnaround — everybody had counted them out just two weeks earlier.
It's the end of the line / Justin Weiss

April 9, 2017
"It was a valiant effort, no doubt, and we appreciate that. When everybody counted this team out, they came back — repeatedly — and nearly shocked the hockey world by going dancing in the postseason. But at the end of the day, this team fell short of their preliminary goal, and that stinks. Like really, really stinks."
Doug Weight is the new boss / Matt Di Giacomo

April 12, 2017
"In a move that brings little surprise to many, Doug Weight was officially named head coach of the New York Islanders. The Islanders removed the interim title after Weight led the last place team on an impressive run." It really was impressive: "Weight amassed a 24-12-4 record, compared to Jack Capuano's 17-17-8 record in the first stretch of the season. The Islanders nearly made the playoffs."
Isles submit arena bid at Belmont / Matt Di Giacomo

April 23, 2017
While Nassau Coliseum is "almost entirely out of the question," the Islanders plan on pursuing at least one site on Long Island, Di Giacomo reported. New York will submit a bid at Belmont Park, and it should have a solid chance of getting approved because of its big-name backers.
Weight rounds out coaching staff / Matt Di Giacomo

June 6, 2017
"Now nearly two months into the Islanders' offseason, Weight is surrounding himself with people he trusts. The list of new hires includes former NHL players Luke Richardson, Scott Gomez and the rumored hiring of Kelly Buchberger. Weight has hired a supporting cast of NHL veterans, including his former captain in Buchberger and former alternate captain in Richardson."
Isles swap assets at expansion draft / Justin Weiss

June 19, 2017
"The Islanders will be sending their 2017 first-round pick, 2019 second-round pick, Mikhail Grabovski and Jake Bischoff to Vegas in exchange for the selection of a designated player — reported to be Jean François-Bérubé — in the upcoming expansion draft."
Isles trade Strome for Eberle / Justin Weiss

June 22, 2017
"Ryan Strome's tenure with the New York Islanders was defined by lofty expectations. Once the fifth overall pick in the 2011 draft, he was routinely praised for his superlative offensive talent. Strome was traded on Thursday afternoon to the Edmonton Oilers. The Islanders got Jordan Eberle in return. The cause was none other than those lofty expectations, which the 23-year-old never seemed able to conquer."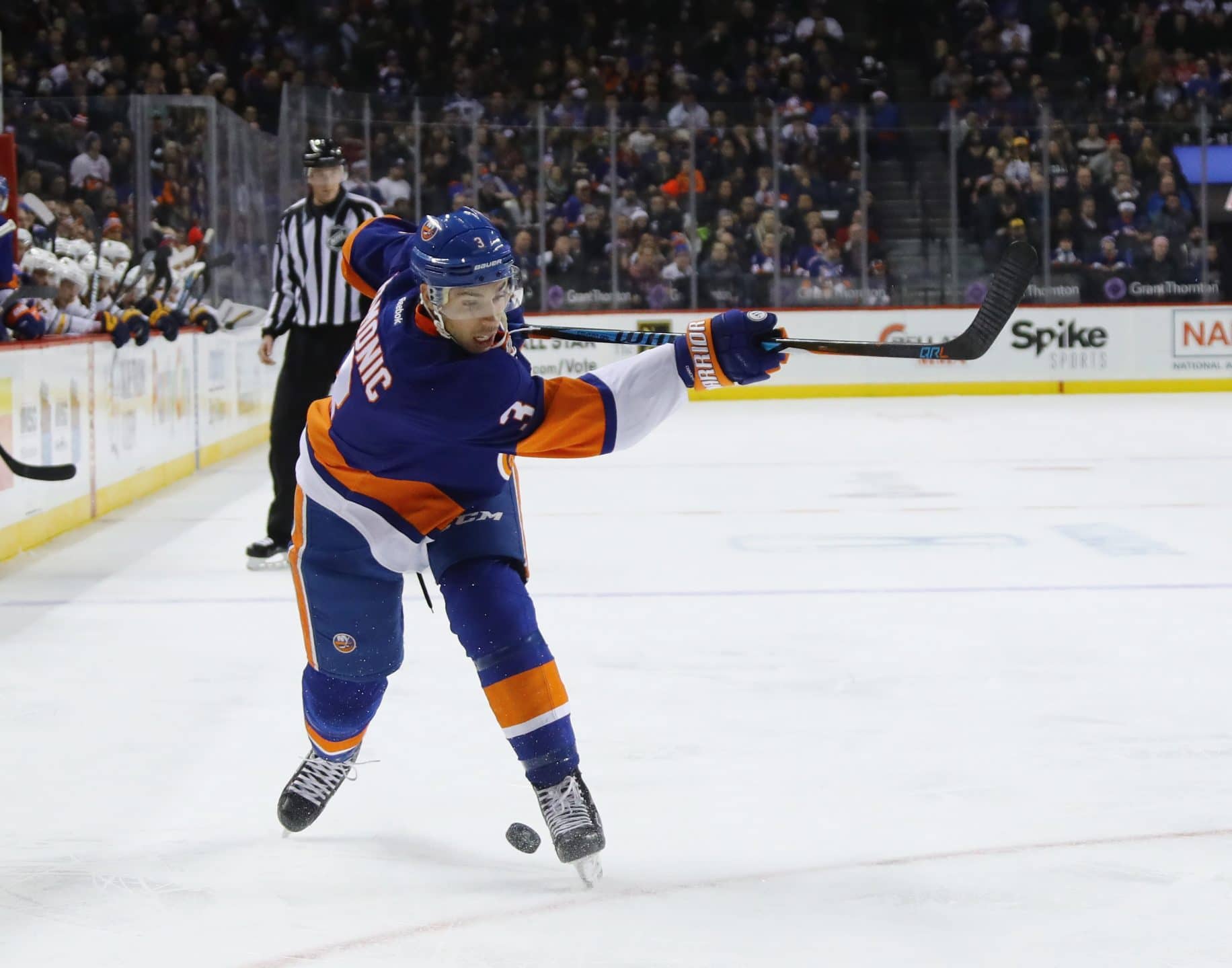 Hamonic departs Long Island / Justin Weiss

June 27, 2017
"The Islanders traded Travis Hamonic to the Calgary Flames this weekend, closing the book on one of the biggest success stories in franchise history. On Saturday, the Isles sent Hamonic and a conditional fourth-round pick to Calgary for a 2018 first rounder, 2018 second rounder and 2019 or 2020 second rounder."
Pelech comes to terms / Justin Weiss

July 24, 2017
"On Monday, the Islanders announced the signing of Adam Pelech to a four-year, $6.4 million deal. The contract carries an average annual value of $1.6 million, Newsday's Arthur Staple reports. It will expire after the 2020-21 season when Thomas Greiss becomes an unrestricted free agent and Linus Söderstrom and Mathew Barzal become RFA's."
This aggression will not stand / Rick Weiner

Oct. 12, 2017
"Robert Bortuzzo received a double-minor for his cowardly attack on Brock Nelson, yet a half-hearted shove from Nikolai Kulemin was all the retribution they [the Islanders} were willing to dish out. It's not so much that the Islanders need a fighter. But they need someone whose mere presence will make other teams think twice about taking cheap shots against them. A player who is willing to hit a bully in the nose and stand toe-to-toe with him afterward."
Hálak, Greiss proving unstable in net / John Fiorino

Oct. 25, 2017
For the first time since they got there, Hálak and Greiss "have a chance to play with no interruptions. That would normally be good news, but not for the Islanders, who have the highest save percentage in the league. Something is going to have to change — ASAP."
Mathew Barzal continues to shine / Mark Kelly

Nov. 9, 2017
"Mathew Barzal is enjoying his first full season in the NHL with wonderful results so far. He flew under the radar but is a major part of the New York Islanders' rebuilding effort." The 20-year-old currently leads all rookies in points and is the frontrunner for the Calder Trophy, awarded annually to the league's top new player.
Hey, Josh Bailey / Mark Kelly

Nov. 22, 2017
"Since the start of last season, only 10 players—Connor McDavid, Nicklas Backstrom, Erik Karlsson, Victor Hedman, Patrick Kane, Blake Wheeler, Johnny Gaudreau, Ryan Getzlaf, Mark Scheifele and Phil Kessel—have more assists that Bailey's 62. Entering play Tuesday, his 19 assists ranked fifth in the NHL. He became the first Islander to register 11 assists in October since Robert Reichel in 1997."
The Isles are coming home / Justin Weiss

Dec. 19, 2017
"The Islanders will build an 18,000-seat, year-round stadium [at Belmont Park] that will host 150 events annually. The club also plans on constructing a hotel with 200 to 250 rooms, a 10,000-foot "innovation center" and a 435,000-square foot retail complex."