While the New York Islanders get ready to play 10 of their next 14 games on the road, young superstar Matthew Barzal continues to impress.
Mathew Barzal is enjoying his first full season in the NHL with wonderful results so far. He flew under the radar but is a major part of the New York Islanders' rebuilding effort.
Young players like Barzal, Anthony Beauvillier and Ryan Pulock are giving the Islanders additional depth and are becoming major parts of their rotation.
Along with those three talented exciting young players, fans also know that Joshua Ho-Sang sits in Bridgeport, waiting for his next chance while averaging a point a game.
So far this season Barzal has stood head and shoulders above the rest of the youngsters the Isles were counting on to take a major step forward.
Through 15 games, Barzal is fourth on the team with three goals and 14 points. His 11 assists lead all NHL rookies and his 14 points are tied for second with Brock Boeser. Clayton Keller leads all rookies with 17 points.
Barzal has also shined on the power play. After starting the season 0-for-19 and 2-for-33, the Islanders power play has come alive in the last five games. Over that span, the Isles have gone 9-for-19 with a man advantage. Barzal's four power-play points are currently tied for second on most on the team with John Tavares, Anders Lee and Nick Leddy.
Against the Avalanche on Sunday, Barzal dished out five assists, setting a franchise rookie record in the Islanders 6-4 victory. That's an impressive feat when you consider some of the Hall of Famers and offensive juggernauts who began their careers with the Isles. Guys like Mike Bossy, Brian Trottier, Pat LaFontaine, Denis Potvin and Clark Gillies, Barzal did something none of them did.
In New York Islanders history, he became just the sixth player with five assists in a game, joining Bossy, Potvin, Stefan Persson, Brent Sutter and LaFontaine.
High praise indeed.
In Tuesday's overtime loss to Edmonton, he assisted on Jordan Eberle's goal, extending his points streak to six games and nine of his last 10.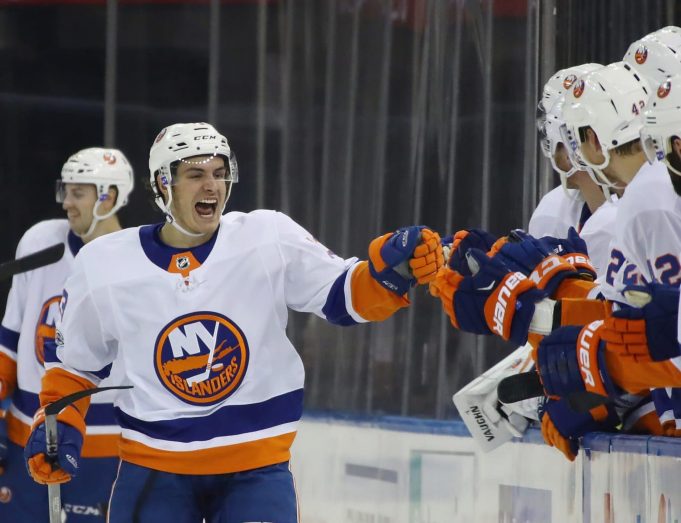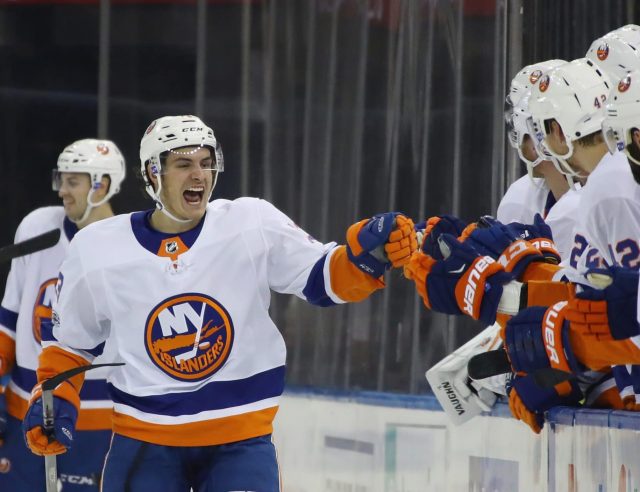 One of the Isles' problems in past seasons was knowing where their scoring was going to consistently come from. So far this season that has not been a problem, as they currently rank third in the NHL in goals per game (3.60).
Entering this season the New York Islanders knew they had a player with big-time potential, but even Barzal has surprised himself this season.
"I'm just taking it day by day," Barzal told NHL.com's Brian Compton after his record-setting performance. "I think sometimes you can get ahead of yourself after you have a good game here and there. But I'm just trying to take it day by day. I've got to prove myself every day. I'm just trying to help this team win. That's all I really care about."
Right now, that's exactly what he's doing—helping the team win.