The New York Giants' stunning 23-10 victory over the Denver Broncos is the most impressive win in the Ben McAdoo era.
W
inless, deprived of its four best wide receivers and three defensive starters — a hopeless set of circumstances for the New York Giants. But despite the entire world being down on them, given the turmoil and drama that's been present over the past few weeks, the Giants overcame all the adversity, stunning the Denver Broncos and the NFL, winning 23-10 on Sunday Night Football — in what is the most impressive victory of the Ben McAdoo era.
Going into Sunday night, the Giants were dealing with an immense amount of conflict, with both team discipline and injuries.
Last Sunday, cornerback, Dominique Rodgers-Cromartie and McAdoo were said to have gotten into several confrontations, according to ESPN's Josina Anderson. That reportedly leaked into their Wednesday afternoon practice and led to Cromartie leaving the Giants' facility mid-practice; McAdoo and the Giants ultimately suspended the veteran corner for his actions leading to his absence on Sunday night.
Injuries killed the Giants even more. In addition to being without Cromartie (suspension), the Giants were deprived of defensive end Olivier Vernon (ankle) and linebacker Jonathan Casillas (neck) in Denver, decimating their defense as a whole. Then, you look at the other side of the ball.
With Odell Beckham Jr., Brandon Marshall and Dwayne Harris all lost for the season and Sterling Shepard out as well, the Giants receiving corps were depleted heading into Mile High. To add to the pile, center Weston Richburg and halfback Paul Perkins were inactive as well.
Based on this team's ability to pull through, despite the overwhelming amount of injuries present, it's an overly impressive feat and coaching deserves credit.
McAdoo is coaching for his life at this point in time. All year long, the Giants' offense has been lackluster and their defense has come and gone. Plus, McAdoo appeared to have been losing his players. And it would've been very easy and predictable for the Giants to get steamrolled with all the issues they have at hand; no one would've been surprised had they been blown out of the building. But on Sunday night, they did the utter opposite.
Playing without Rodgers-Cromartie, Vernon and Casillas (3 starters), the Giants appeared destined to get torched all night, based on their mediocre play in their first five games — the Giants are in the bottom fourth in yards surrendered. Instead, they held the Broncos to a total of 46 yards on the ground. In the process, they recorded four sacks, including three from Jason Pierre-Paul — who had just 1.5 sacks going into Sunday night. The secondary also forced two interceptions, including a pick-six from cornerback, Janoris Jenkins.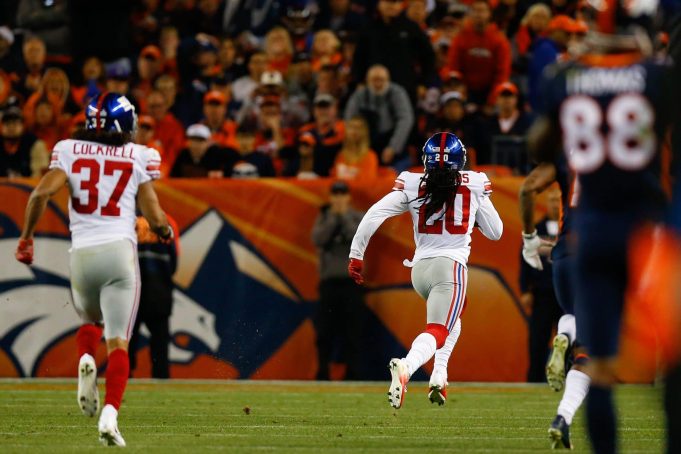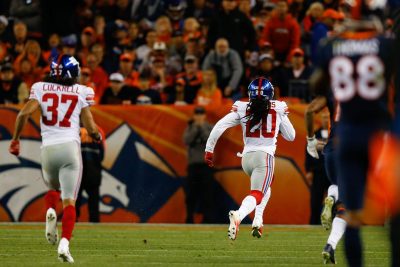 Offensively, Eli Manning and the Giants put up just 16 points, but they excelled in two key facets of their offense: Their running game and taking care of the ball. They also saw a major change, pertaining to who mans the play calling.
With McAdoo finally granting offensive coordinator, Mike Sullivan, the play-calling duties, the Giants saw success in ways they haven't in weeks prior.
The story of the night for the Giants' offense was their run game, in particular, Orleans Darkwa.
After a solid showing versus the Chargers last week (69 yards, one touchdown), Darkwa surpassed his career high in rushing yards for a single game on Sunday night. Ending the night with 117 yards on 21 attempts, including a season-best 47-yard rush, Darkwa ran for the most yards in a Giants' regular season game since Rashad Jennings back in 2015, a Week 17 affair with the Philadelphia Eagles (170 yards, one touchdown).
For the Giants to have success on the ground versus a Broncos' defense that's surrendered the fewest rushing yards in the NFL is remarkable, being that this unit came into the week 30th in yards rushed. A big reasoning for Darkwa and the Giants' ability to run at ease was the play of their offensive line.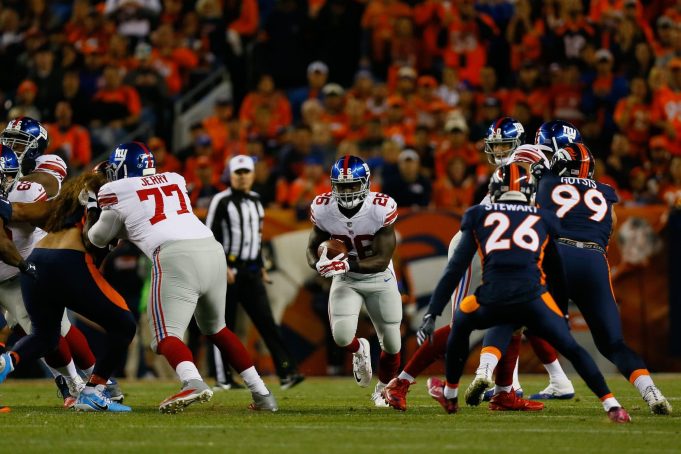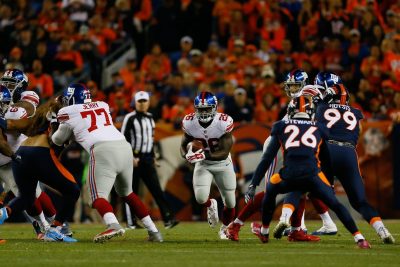 All year long, the Giants' O-Line has been an unreliable bunch; they've struggled to hold their ground and give Manning enough time to operate under center. Sunday night they did the complete opposite.
Thanks to an O-Line tweak, which featured Justin Pugh being moved to right tackle, the Giants' line held Denver's pass rush and defense in check. Limiting Von Miller to just one sack, Pugh contained the Pro-Bowl lineman and may have earned himself the tackle gig going forward. Pugh's play, as well as that of D.J. Fluker, Ereck Flowers and company helped the Giants operate with a little more confidence, as they were not being rushed at will.
While Manning and the Giants were just 11-19 on passing attempts for 128 yards, they were smart and didn't try to force any passes; they were decisive and Manning was aware of what his new, young receiving core was capable of doing. The only Giants' wideout/target that reeled in multiple receptions was tight end Evan Engram.
The rookie tight end, who lines up in the slot quite often, finished the night with five catches for a total of 82 yards and a touchdown.
It was a big game for Engram, who showcased his ability to be a reliable option on the outside for Manning — which Manning is going to need of him and others going forward with his two and potentially three top receivers down for the year.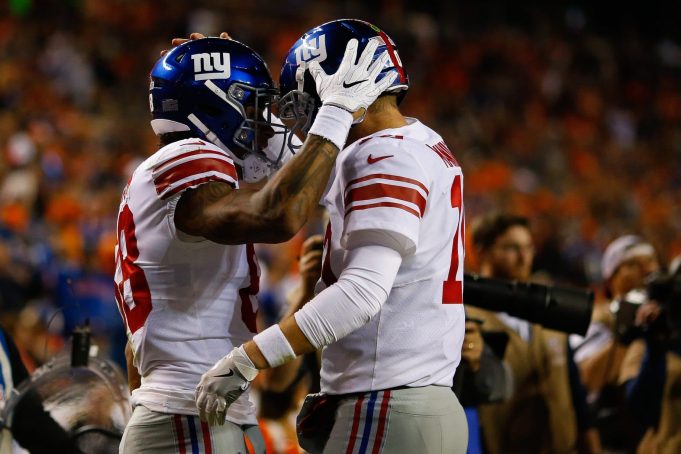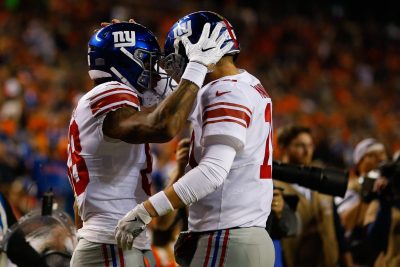 No one in their right minds thought the Giants had a chance to win going into Sunday night; they were too many men down, and even when they were healthy, went 0-5. They also dealt with the internal suspension of Cromartie and the drama surrounding the team's offensive play calling. But despite all of those distractions and injuries, the Giants found a way to get it done and in convincing fashion.
For a defense that's struggled throughout the majority of the season to limit Trevor Siemian and the Broncos' offense to just ten points and hold their ground on key fourth-down conversions, without some of their glue guys, is remarkable.
In McAdoo's 23 games as head coach (in both the regular season and postseason), they've pulled off some impressive victories. They beat the Dallas Cowboys twice, knocked the Washington Redskins out of playoff contention in FedEx Field and held the Detroit Lions to six points. But Sunday night was, by far, the biggest win in the McAdoo era.
Playing without Beckham, Marshall, Shepard, Harris, Perkins, Richburg, Vernon, Rodgers-Cromartie, Casillas, as well as defensive end, Romeo Okwara (sprained MCL) was supposed to spell 0-6. Instead, it forced the Giants to buckle down on defense and put forth their best all-around game of their year. It also forced them to change their offensive approach, as they finally ran the ball successfully.
Winning on the road versus one of the best teams in the NFL — who own one of the best home-field advantages in sports, that being playing in Mile High Stadium in Denver –, without an incredible amount of significant players, is a speechless accomplishment.
McAdoo let go of his stubborn ways, handing over the playcalling to Sullivan and got his players to buckle down and not allow distractions or players not suited up to hold back the gameplan. Sunday night was the most impressive victory in the McAdoo era.