Eli Manning's ability to coexist with the New York Giants young and unproven receivers will determine whether or not he's still an elite quarterback.
E
li Manning and the
New York Giants
are playing through a lost season. Currently, 0-5 and down four starting wide receivers, their offense and team, as a whole, are in utter disarray. However, the remaining 11 games of the year do have some meaning, for Manning in particular.
The Giants happen to be down four starting receivers (Odell Beckham Jr., Brandon Marshall, Sterling Shepard, Dwayne Harris), but that doesn't mean Manning cannot still play at a high level.
Or does it?
Nothing's impossible, but the Giants' chances of making a playoff push are likely nonexistent at this point in time. Now it's about looking for positives and assessing certain aspects of their football team.
Throughout the duration of his career, Manning, for the most part, has been categorized as a top-tier quarterback, and for obvious reasons.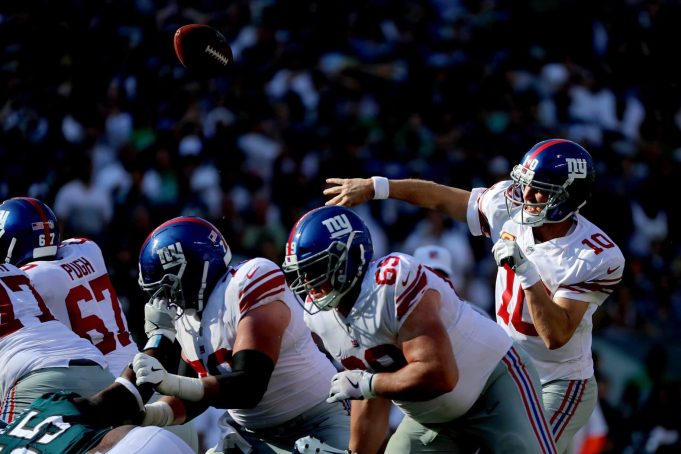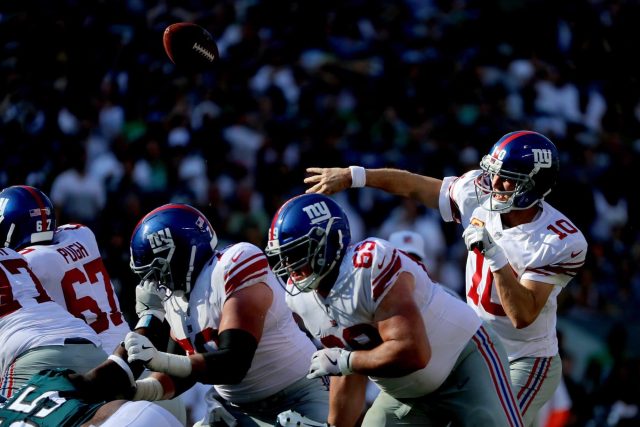 Leading the Giants on two Super Bowl runs and serving as the face of the franchise in the process, Manning is a proven commodity; he's composed, can be the engine of a team's offense, is never fazed by any situation and has never missed a start — you can't take those accomplishments away from him.
However, Manning hasn't led the Giants on a Super Bowl run since 2011 and is a different quarterback than he was five years ago. For one thing, Manning's 36-years-old, and while still a well-rounded passer, has slowed down a tad bit over the years; he cannot always fire in and/or force passes. He has also seen little success without his go-to man in year's past (Beckham). This time around, Manning will be without his go-to man and secondary receiving options (Marshall, Shepard) for an extended amount of time, which will make it hard for him to have an overwhelming amount of success. But it will simultaneously show if Manning is truly capable of being a facilitator at this stage of his career.
A big indicator as to whether or not a quarterback is elite is how they execute with and develop receivers; Tom Brady and Drew Brees are perfect examples. Year in and out, both quarterbacks have seen a number of injuries and/or departures take place with their go-to receivers/targets, but it has never fazed or, at all, affected their play in a negative way.
Brady has lost Randy Moss and Wes Welker via trade and free agency, and most recently, Julian Edelman to an ACL tear. Has he looked any different? He's won two Super Bowls in the last three years. Brees has lost Marques Colston, Jimmy Graham and Brandin Cooks. Has he looked any different? He's thrown for 4,800 yards plus each of the last six seasons.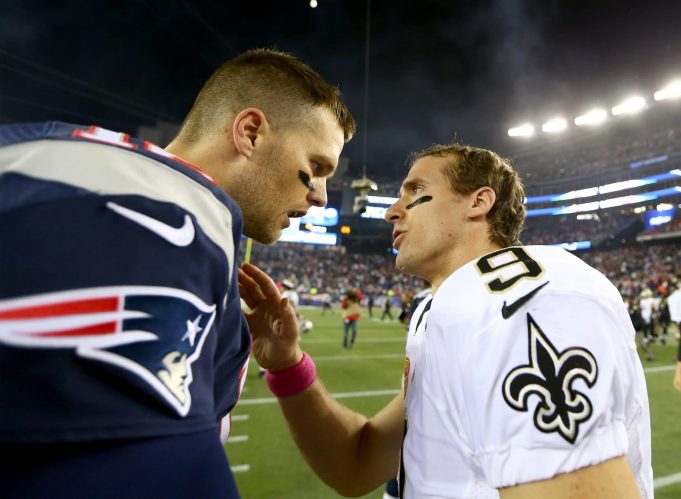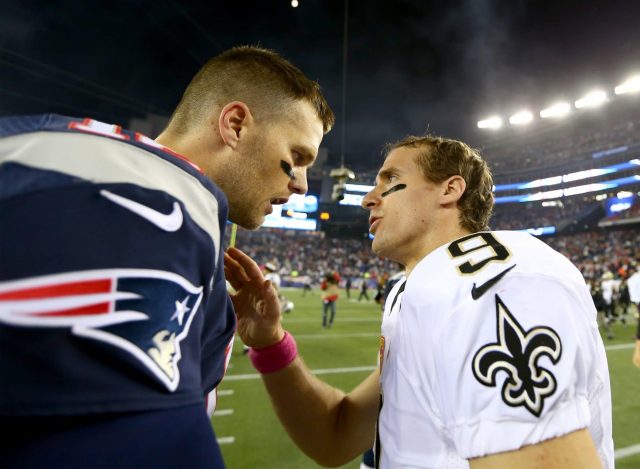 Brady (40) and Brees (38) remain elite, top five quarterbacks in a league where their position is arguably the most talented in the NFL; their relatively old age only makes their production that much more remarkable.
Manning (36) is, in reality, on the back nine of his career, but so are Brady and Brees. Both veterans have still played at a high level and made others around them better. Ever since their first playoff appearance with him in 2005, Manning has been blessed with quality receivers: Plaxico Burress, Amani Toomer, Steve Smith, Hakeem Nicks, Victor Cruz, Beckham, to spitball.
Going into Denver on Sunday night, Manning won't have a have a  top-tier receiver, nor an established wideout present. Instead, he will have Roger Lewis Jr., Tavarres King and Travis Rudolph. While all three have seen success in some way over the last two seasons — whether that be in the preseason, regular season or playoffs — they're simply not franchise receivers or proven commodities, though, they could pan out to be some in the long run.
In addition to those three, Manning will also have rookie tight end Evan Engram. It's no secret that the rookie tight end lines up as more of a slot receiver than a blocker and being that he's played more downs in the Giants' offense than either one of their current receivers, Engram will, for sure, be heavily relied on and looked to by Manning. It's also not set in stone that Shepard won't return at some point this year. If he does, the second-year Oklahoma standout will only add to a youthful receiving core in 2017.
Engram, Lewis, King and Rudolph make for a youthful bunch, who could blossom into respectable NFL wideouts/threats. But they cannot do so without a quarterback in place that possesses the ability to develop receivers; for the Giants, that player is supposed to be Manning.
In the early years of the new decade, Manning was looked upon as one of the premier quarterbacks in the league, given his ability to play at a high level, no matter what he was working with; it was as if Manning could make any receiver or tight end a star.
Fast forward to 2017 and Manning is faced with a near-impossible challenge of leading the Giants to the postseason at 0-5. He has to do so with an unreliable offensive line in front of him. And in reality, no one in their right minds thinks he can do that because it's way too much to ask down of someone who's four receivers down. But Manning should be able to develop the young bunch he has in front of him. That means getting them to run their routes accordingly and getting them the ball in the right spots. He may not be a top five or even top 10 quarterback at this stage of his career, but Manning has been credited, in the past, for his ability to make others around him better.
The situation at hand for Manning and the Giants is the perfect way to assess whether he can truly do what some of the league's best continue to do — develop talent. Brady and Brees, on the backend of their careers, have done so year in and out and Manning is looked upon as one of the best quarterbacks of his era.
Is Manning still an elite quarterback capable of making others around him better? The Giants' remaining 11 games will answer that nagging question.