Nothing went right for Brandon Marshall in his first year with the New York Giants. But it wasn't a bad match.
B
ack in the offseason, the New York Giants pulled off what was portrayed as one of the bigger signings of the NFL free agency period. Inking veteran, Pro-Bowl wide receiver,
Brandon Marshall
, on a two-year, $11 million deal, the Giants were of the mindset that they added a lethal weapon to their offense. But unfortunately for Ben McAdoo and the Giants, the Marshall era with Big Blue may have been short-lived.
In the Giants' Week 5 affair with the Los Angeles Chargers, Marshall suffered a season-ending ankle injury. With no guaranteed money in the second year of his deal, the Giants may very well opt to part ways with Marshall at year's end based on his age and limited 2017 production.
While it didn't work out in New York, the Giants cannot be blamed for wanting to bring in the veteran wideout.
In the 11 years prior to his arrival in East Rutherford, Marshall was one of the premier receivers in the NFL. Posting eight 1,000 yard plus seasons and double-digit touchdowns four times, Marshall has been a force to be reckoned with on the outside. The case could even be made that he had the best year of his career just two years ago.
In his first year with the New York Jets, Marshall was quarterback Ryan Fitzpatrick's go-to guy and he was splendid in the role. Finishing the year with 1,502 yards and a career-high 14 touchdowns, Marshall saw a tremendous amount of success with Gang Green.
The ensuing year, he finished with nearly half that yard total and just three touchdowns, however, Marshall was operating alongside inconsistent quarterback play with both Fitzpatrick and Bryce Petty. Who could blame the Giants for thinking that pairing Marshall with Eli Manning could bring him back to his Pro Bowl-caliber ways?
Marshall, 6-foot-4, draws comparisons to former Giants Super Bowl-winning receiver Plaxico Burress. Burress, 6-foot-5, was a massive target and primary option for offensive coordinator, Kevin Gilbride, Manning and the Giants' offense.
Finishing his four-year Giants tenure with back-to-back seasons of double-digit touchdowns and two seasons with at least 1,000 yards, Burress was a beast on the outside for the Giants.
Marshall has always been a big target of his own and being that he was going to be playing behind the most talented and one of the best receivers the NFL has to offer in Odell Beckham Jr., Marshall seemed like a natural fit with the Giants. With Beckham attracting the majority of opposing secondaries' attention, Marshall wouldn't have to be relied on for being Manning's main source of offense.
With second-year man Sterling Shepard also in the mix, the Giants looked to have a formidable receiving trio.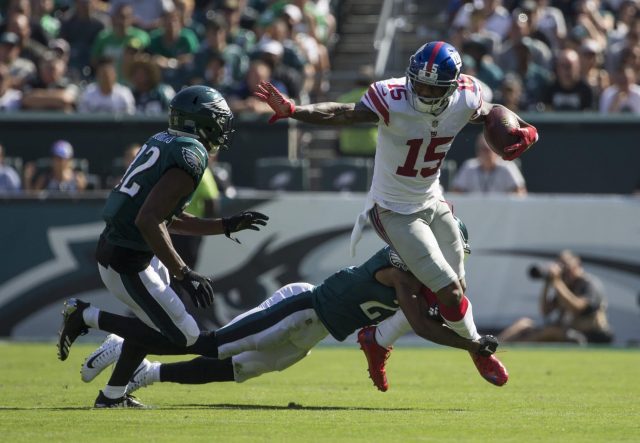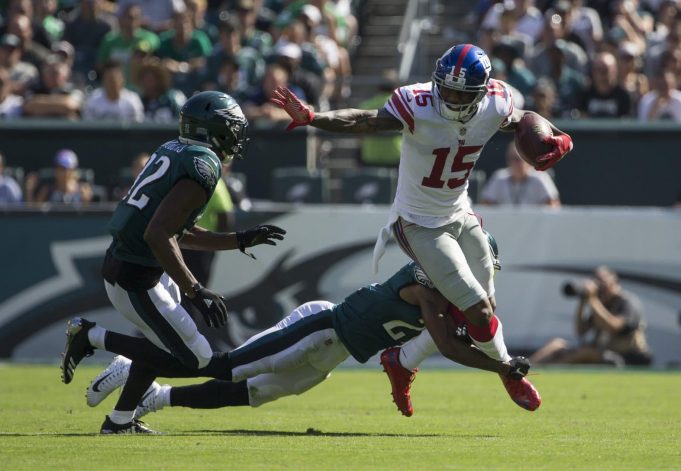 For whatever reason, however, Marshall was a flop with the Giants. In five games, he totaled just 18 receptions for 154 receiving yards and no touchdowns. In Week 1 against Dallas—without Beckham—he caught just one pass. Without OBJ, Marshall should've taken control and been Manning's primary receiver.
Marshall also dropped some key passes in crucial moments. One came in the Giants' Week 2 contest with the Detroit Lions. The Giants were rallying late when Manning threw a pass right to Marshall down the sideline, which he dropped. Two weeks later, he dropped a second-half catch in Tampa Bay, which should've resulted in a first down. Instead, he couldn't reel it in, killing the Giants' second-half momentum.
In hindsight, signing Marshall didn't pan out the way the Giants envisioned. He didn't rekindle his past heroics and wasn't a threat on the outside; going winless with him on the field was certainly not the plan. However, in reality, the Giants can't be blamed for wanting to snatch his services.
It's no secret that the Giants' offensive line has been and continues to be its Achilles' heel; they have been unable to hold their ground and continue to make it difficult for Manning to trust them. And based on their inability to block for the Giants' offense, their run game has seen little to no success. Currently, the third worst in the NFL in yards on the ground, the Giants' O-Line has been unable to help facilitate any sort of run game. That unreliable blocking has held this football team back the last few years and based on that fact, the case could be made that the Giants should've spent their money on some serious help up front, instead of Marshall.
After franchise-tagging Jason Pierre-Paul, the Giants were left with roughly $14 million to spend; about $5.5 million of that total went towards Marshall. Allocating the majority of that money towards an established offensive lineman such as Andrew Whitworth would've certainly put a band-aid on some of the Giants' issues up front. But using their cap space on one position would've only done so much. And at the end of the day, prioritizing Marshall wasn't as boneheaded of a move as many may now view it to be.
There's no such thing as a perfect and flawless NFL roster. It's clear as the day that the Giants' weakness is their O-Line. But sometimes it's intriguing and makes sense to have a facet of your football team that's impossible to stop, especially when fully resolving your biggest weakness can be a daunting task. A receiving trio of Beckham, Marshall and Shepard looked like a grouping that could wreak havoc, with Manning running the show under center. That offensive firepower coupled with an elite defense could've made for a legitimate Super Bowl threat. Unfortunately for the Giants, their offense wasn't able to take the next step in its development and propel them to greater heights.
Signing Marshall was a great idea—it just didn't work out for the Giants.