Katie Stettner who grew up on Long Island in Oakdale, NY took part in running the 2017 Boston Marathon and ESNY's John Santamaria found out a few things about the local runner. 
T
he Boston Marathon is an annual event held the third Monday of April as part of the Patriot's Day celebration in Boston, Massachusetts. It is a 26-mile course throughout the city of Boston and the event is managed by the
Boston Athletic Association
. The
121

st 

running of the Boston Marathon
took place on Apr. 17, 2017. Geoffrey Kirui of Kenya won the event in two hours and nine minutes and Edna Kiplagat, a Kenyan police officer, won the women's race in 2:21:52. This year, the event also featured a local runner who is from the New York area who now lives in Boston.
Katie Stettner who grew up in Oakdale, NY, played various sports growing up, most notably soccer and lacrosse and also enjoying snowboarding in the winter but never a big active runner. This year for the first time she took part in running the Boston Marathon. She is a 2009 graduate of St. John the Baptist Diocesan High School in West Islip, NY and later went on to Northeastern University in Boston, Massachusetts earning a degree Pre-Med/Health Sciences and attended Pace University in the Physician Assistant program.
Today she is working as a cardiac surgery Physician Assistant at Massachusetts General Hospital in Boston. This is the third oldest general hospital in the United States and the oldest and largest hospital in New England.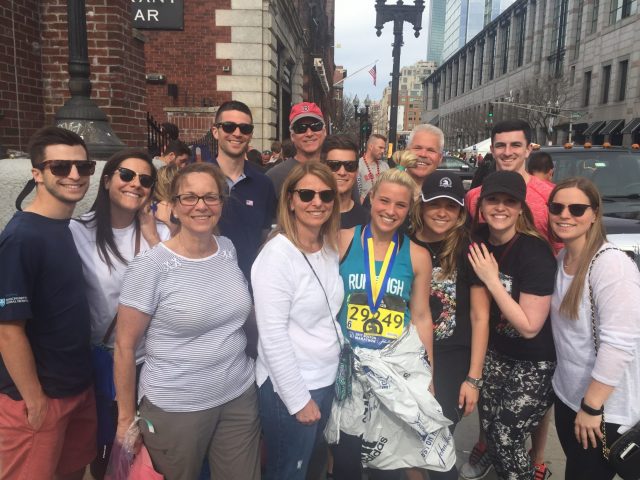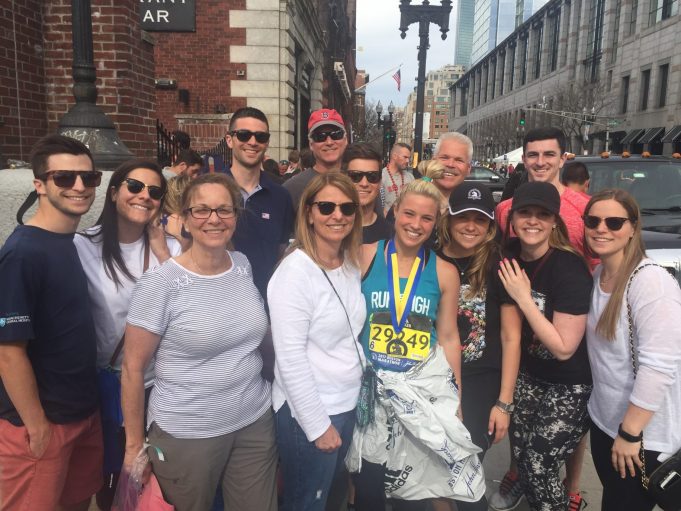 Katie Stettner finished the race with a final time of 3:44:19. She took part in a Q&A for Elite Sports NY to share her experience running in the 2017 Boston Marathon …
John Santamaria- How long have you been an active runner?
Katie Stettner: I have always been active playing sports and working out but I would say I really started running after I graduated college in 2013.
JS- How did this opportunity to run the Boston Marathon come about for you?
KS: Every year, Massachusetts General Hospital has a Pediatric cancer and Emergency Response team run in the Boston Marathon. I received an e-mail back in October stating the application to join team MGH was available and I decided to fill it out and see if I was accepted.
JS- What does the Boston Marathon/Patriots Day mean to you?
KS: To me, Patriots Day/Marathon Monday is just an overall celebration of the state of Massachusetts. It is the day marking the first battles of the American Revolutionary war and now it is also the one day that people from all over the world come together and cheer together.
JS- Tell us about the preparation process you went through for this event.
KS: MGH had a 20-week program that was available to all of their runners. However, due to my work and traveling schedule, I wasn't able to follow it all that closely. I would run 2-3 times a week, 1 long run each week and then 1-2 shorter runs. Each week I added a mile or two extra to my long runs, with 20 miles being the longest run I completed during my training. I also did indoor cycling once a week for about an hour to keep up my cardiovascular endurance.
JS- What was the morning of the race like for you?
KS: The morning of the race was one of my favorite parts of the day! All of my siblings came to Boston for the weekend and stayed at my apartment so we all got up early and were blasting music. The nerves started to kick in once I was on the bus ride to Hopkinton.
JS- Was any specific part of the event difficult for you? If so why?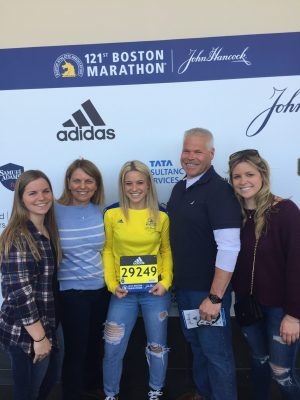 KS: I felt great up until mile 23. I started to hit a wall and my legs began to feel very heavy. Luckily the crowds are crazy the last few miles and really helped to keep me moving.
JS- Did something or someone inspire you to run?
KS: No one, in particular, inspired me to run. The last marathon Monday that I attended was my senior year in college, which was the year of the bombing. I wanted the chance to be a part of history but also give back to MGH, who had so many employees working that day to help save as many lives as possible.
JS- Tell us what it was like for you being in Boston in 2013 during and after the events that took place during that Marathon.
KS: That Monday was absolutely heartbreaking. One of the happiest days of the year in MA was tainted by a tragedy. It started as another beautiful morning ended in a city feeling terrified and vulnerable. However, after the events took place, MA really showed its strength and camaraderie. It was incredible to see the country come together and support Boston.
JS- Would you do this or another similar event in the future?
KS: Absolutely! Training was really hard but nothing compares to the feeling of crossing that finish line. It's my dad's dream to run Boston once in his lifetime so whenever I can get him to commit, I will definitely run the Boston Marathon with him.
JS- Growing up in New York were you a Yankee or Mets fan? You now live in Boston rooting for the Red Sox, what does David Ortiz mean to you?
KS: I was never a big baseball fan before I moved to Boston but my family roots for the Mets. David Ortiz aka "Big Papi" is just a great person that supports the city that gave him so much. He represents the city's strength and our pride.
We thank Katie Stettner for her time to share her experience about the 121st Boston Marathon and wish her great success in her professional and running career. Next week we will look ahead to the 2017 Long Island Marathon with longtime author and runner John Hanc who will also participate in the event.