Keenan Robinson may have been a low-key signing this offseason, but his play may turn into a long-term role with the New York Giants.
A
fter having the worst statistical unit in NFL history last season, upgrading the entire defensive side of the football was the primary focus of the New York Giants' offseason.
With money not being an issue, Jerry Reese went out and plucked talent from the free agent pool and draft.
Defensive end Olivier Vernon signed a five-year, $85 million pact to play opposite Jason Pierre-Paul and wreck havoc against opposing quarterbacks. Damon Harrison went from one locker room in MetLife Stadium for another, signing a five-year, $46 million deal to thwart the rushing attack. Reese also brought Janoris Jenkins to the Meadowlands, as his ball-hawking and game-changing ability earned him a deal north of $60 million over six years.
But the change didn't stop there. Giants brass selected Eli Apple and Darian Thompson in the first and third round, respectively. Despite being rookies, both defensive backs figured into the team's 2016 gameplan. Hell, the Leon Hall signing even gained some attention in news outlets.
But for one reason or another, Keenan Robinson — who inked a one-year, $2.6 million pact in March — flew under the radar.
At the time, it seemed as though Reese failed to, once again, address such an area of need for Big Blue. Long gone are the days when Antonio Pierce was manning the middle — and the times of the Big Blue Wrecking Crew are an even further memory — and in its place has been a collection of players that have all failed to make an impact.
Keith Bulluck. Jonathan Goff. Greg Jones. Jacquian Williams. Keith Rivers. Jon Beason. Jameel McClain. J.T. Thomas.
All linebackers who were brought to the Giants to make an impact. All linebackers who failed to do so.
At the onset, it seemed as though Robinson was going to join the long list of underachievers.
The former Texas Longhorn was drafted by the rival Washington Redskins in the fourth round back in 2009. Although he displayed elite athleticism for a player at his position, Robinson failed to make a consistent impact in DC.
The biggest reason behind that was his inability to stay on the field. Robinson has dealt with biceps, labrum, and rotator cuff injuries and also missed all of 2013 with a torn pectoral muscle. Even when he was on the field, Robinson played hurt. Entering free agency for the first time in his career, Pro Football Focus didn't necessarily endorse the Giants newest player.
"The inside linebacker position has been neglected for a number of years in Washington. The fourth-rounder invested in Keenan Robinson four years ago is the most significant investment in awhile, yet it failed to pay off. Robinson finished as our 72nd overall linebacker, with a run defense grade of 20.1 (1–100 scale). He missed almost a quarter of his tackles (15-of-70), including nine in a four-game stretch, and consistently struggled to shed blocks. Washington needs to try a different combination at the inside linebacker position in 2016."
Many even considered the low risk of a one-year, prove-it deal as a risk for the Giants.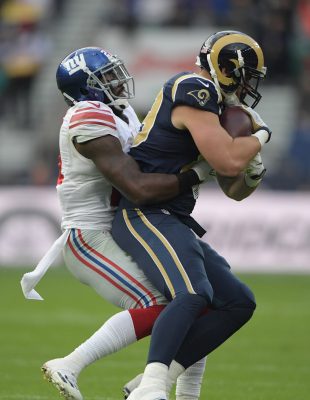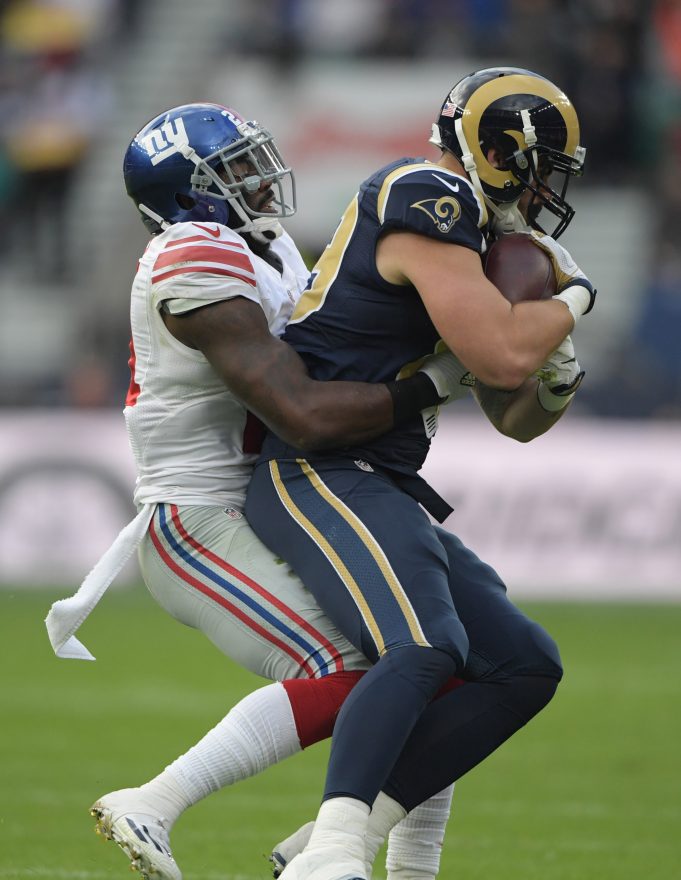 Fortunately, Robinson has done everything in his power to change everyone's mind.
Through seven games with his new team, Robinson is emerging as one of the most consistent forces on the defensive side of the football. He's currently third on the team in total tackles (37), is tied amongst linebackers with two tackles for a loss and leads all players at his position with four passes defended. Originally used solely in passing situations, Robinson has become a favorite of defensive coordinator Steve Spagnuolo, as he's been used in coverage, at the line of scrimmage, in blitzing situations and in the team's base 4-3 defense.
For those who enjoy more than the eye-test, Robinson has also been a positive player by Pro Football Focus' standards. The linebacker has graded out as either the first or second best player in three of the Giants seven games due to his presence all across the field.
Thus far, not only has Robinson been healthy, but his versatility has improved the defense. The injury bug has yet to hit him, and players usually exceed expectations in contract years. While he has a ton of experience, at 27-years old, he still has a lot of mileage on his body.
But there's no denying that he's been a standout performer. And if Robinson keeps this play up, Reese will have no choice but to figure him into the organization's future plans.